Pop quiz. Who is the best dressed Star Wars character? Is it Leia and her many outfits from slave to princess, or Luke with his simple farmboy ensemble to full Jedi Knight? It's definitely not the Wookie, who basically wears the same thing in all the movies….
The answer though, is you.
Many brands have launched their Star Wars themed apparel and if you can find more space in your wardrobe, we've got the latest scoop that Bossini Singapore is the latest fashion brand to roll out their galaxy spanning designs..
The designs are perfectly suited for the tropical weather in Singapore, and there is a little of something for everyone, from men and ladies, to kids, as Bossini's range focuses on plenty of Stormtroopers, droids and the X-Wing/TIE motifs.
Baseball jerseys aren't a staple in this part of the world, but it looks as if Bossini nailed it with their designs for the baseball jackets. Offering clean and simple lines, these would be great to wear into a cold lecture room or office, without being too loud about it.
Men's Collection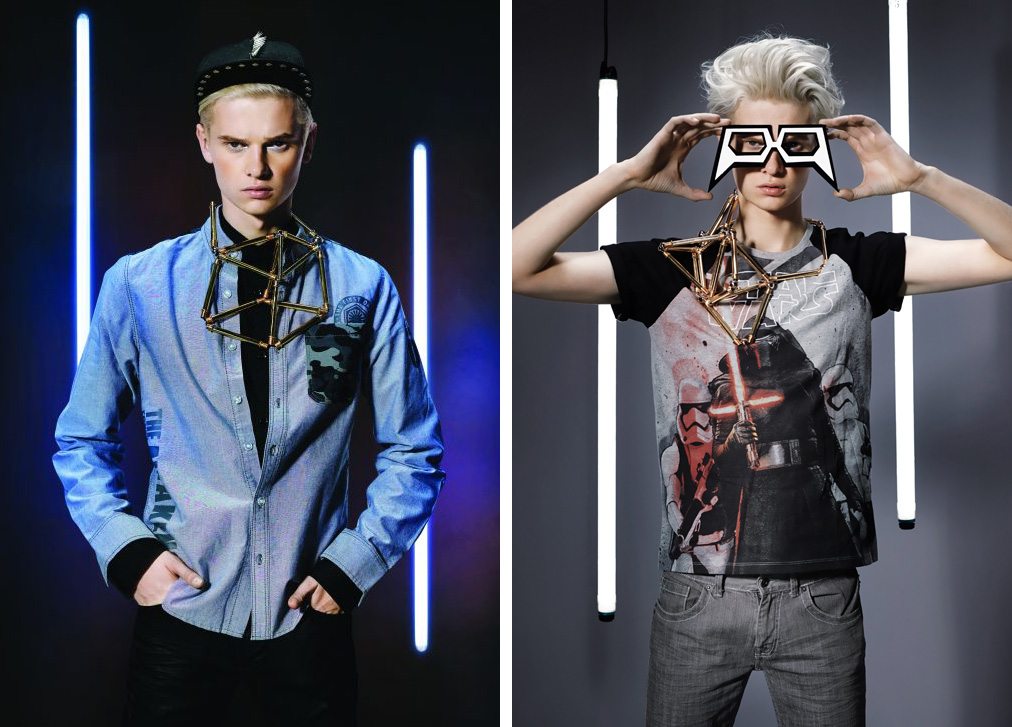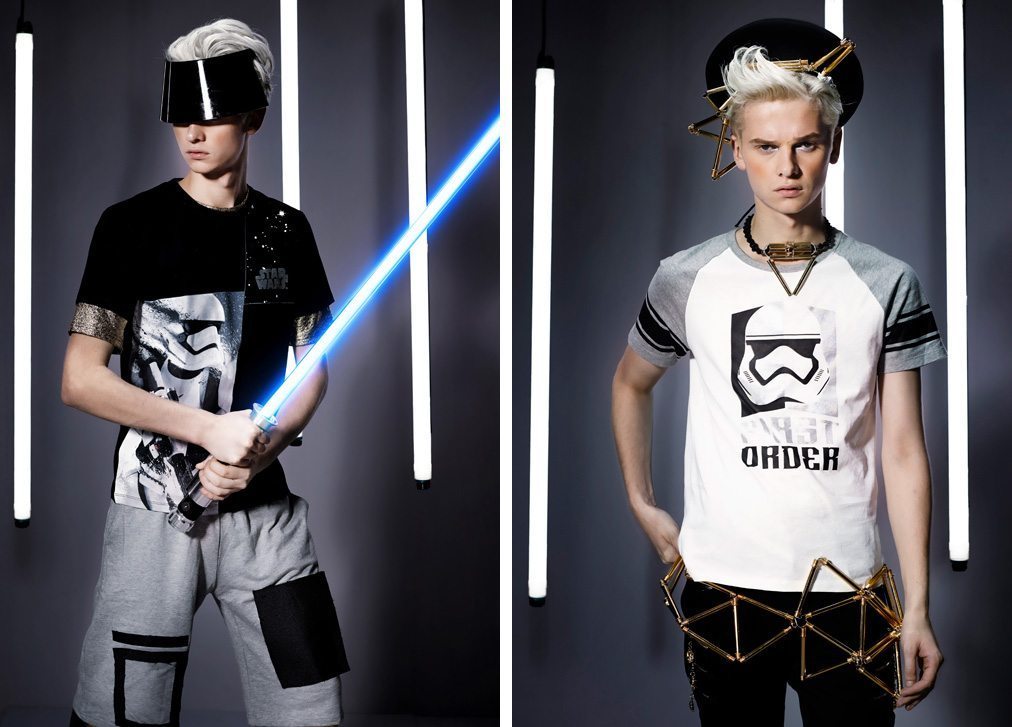 Ladies' Collection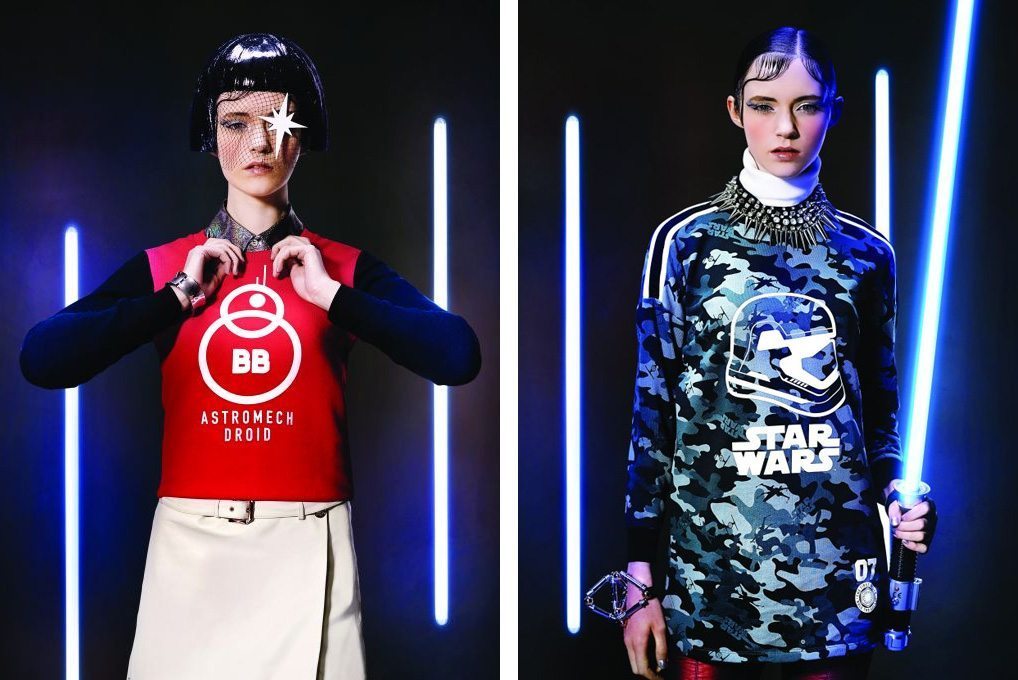 For those with young padawans in tow, the range that really takes the home run has to be the styles available for the boys and girls. It's not about you, as we're pretty sure that many a parent would be adding this to the wardrobes for their little chosen ones.
Check out the rest of the range below here:
Boys' Collection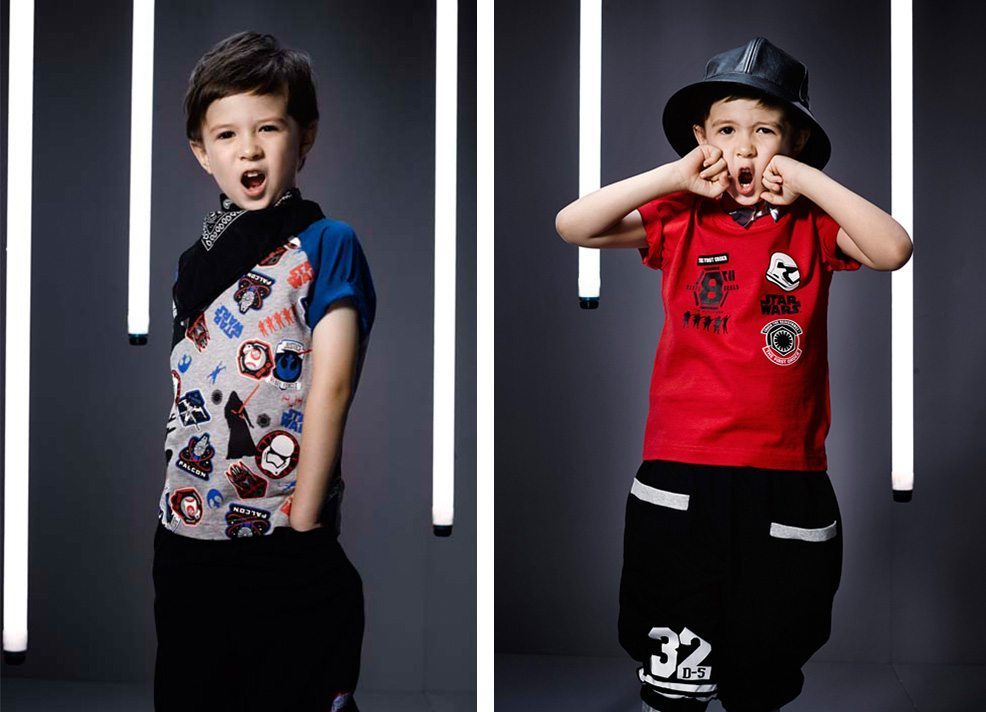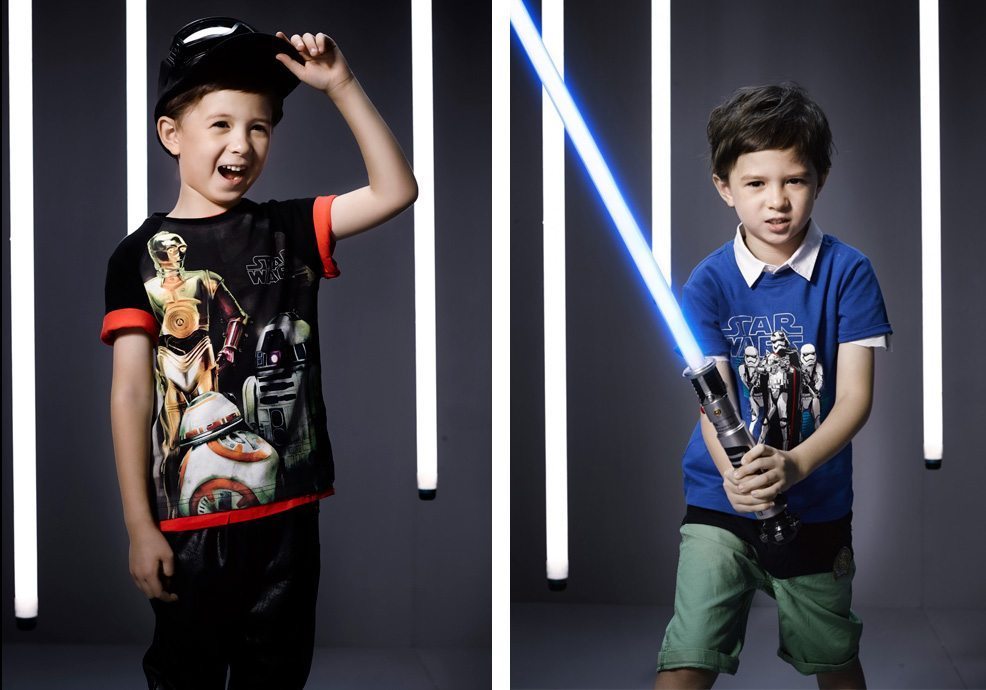 Girls' Collection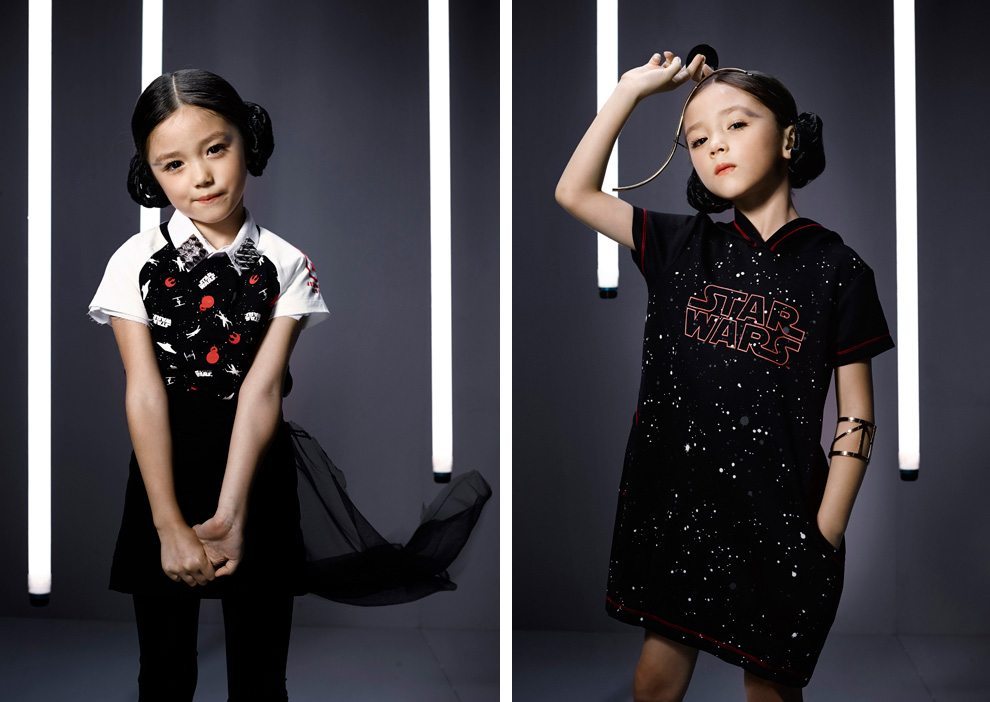 ---
Star Wars 5% Off Online Coupon
Here's the final sweetener: While most brands want to capitalise on their range of Star Wars apparel, Bossini is set on making theirs matter where it most does, in terms of price.
And here's a Jedi Mind Trick for you. It seems that you can get an additional 5% discount by simply flashing the digital coupon from Bossini's Facebook page or Instagram account and you're all set.
And if you're the one who missed out on some exclusive Star Wars merchandise because of your lack of faith, Bossini is adding an incentive for those prepared to sweep the entire rack of their new Star Wars line, in the form of an awesome collectible which can be purchased with a minimum spending at the stores.
---
Exclusive Star Wars Collectibles at Bossini
This fleece blanket looks to be the most sought after item, and clearly something Luke should have brought with him to Hoth. Featuring the presence of a First Order Stormtrooper, this blanket is available for just S$15.90, but it is an exclusive offering for the most dedicated of shoppers who spend a minimum of $120.
Hopefully, this will keep the scalpers away. The blanket looks awesome, and looks to be the perfect companion for that midnight screening of Star Wars: The Force Awakens in the cinemas next month.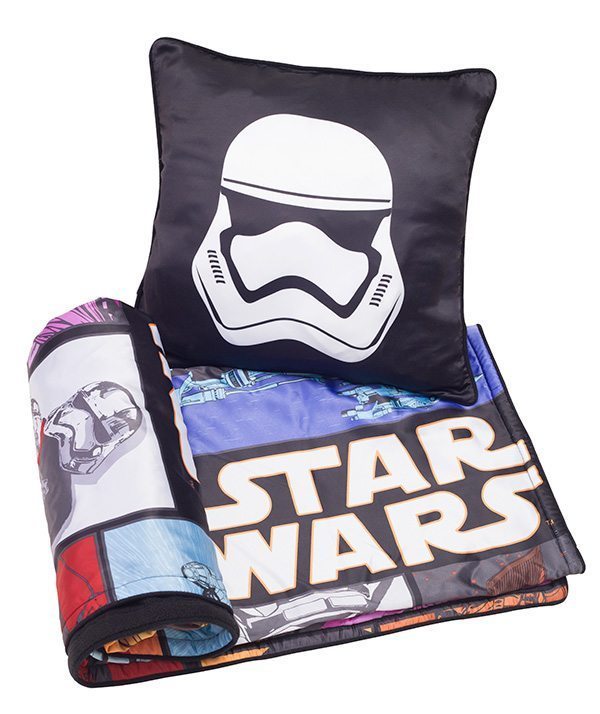 That's not all, there is also an exclusive First Order Stormtrooper Pouch going for S$35 at selected stores (Bugis Junction, Causeway Point, Jurong Point. Ngee Ann City, Suntec City and Tampines Mall).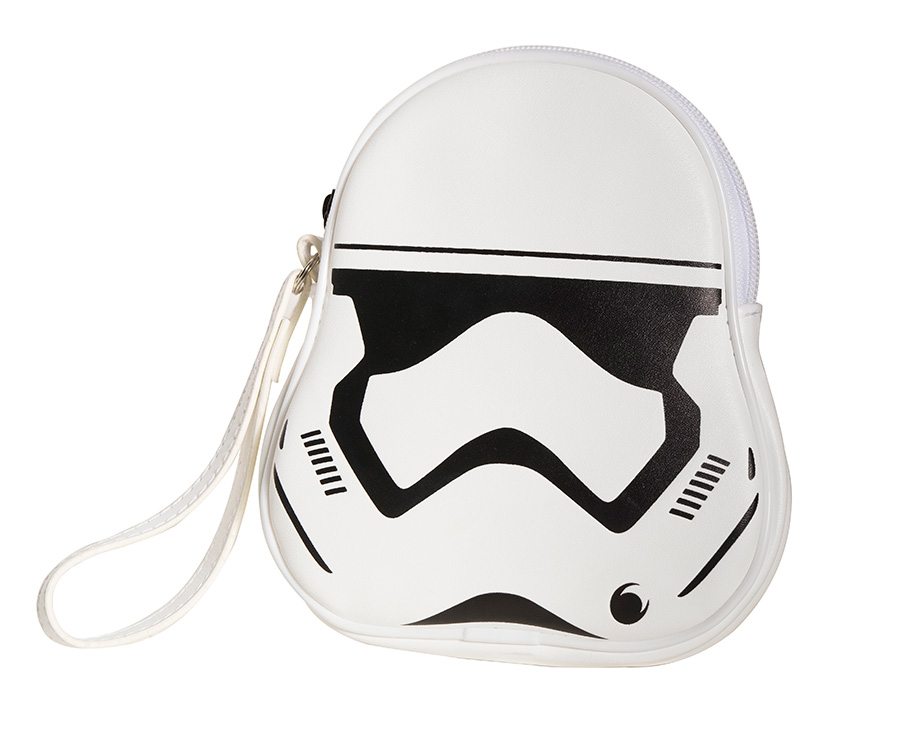 Still want more? There is also an exclusive First Order Stormtrooper Cap and Drawstring Bag going for S$39 each, at selected stores (Ang Mo Kio Hub, Bugis Junction, Jurong Point, Lucky Plaza, Ngee Ann City, Suntec City, Tampines Mall).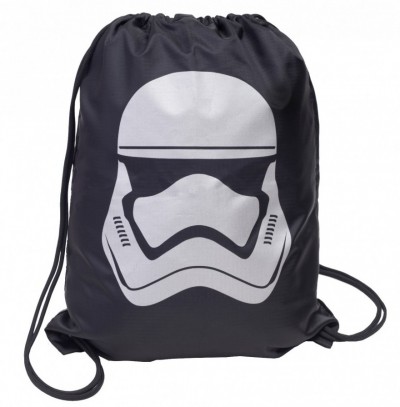 ---
Star Wars Event at Bossini Tampines Mall
To celebrate the launch of the new Bossini Star Wars line, there will be a special giveaway to the first 60 shoppers at the Bossini Tampines Mall outlet (#02-06), on 21 November 2015, from 1pm to 5pm. You'll need to spend S$100 to walk away with an exclusive collectible.
With only 60 up for grabs, better to head down early and have your credit card ready for a speedy checkout!
---
Contests to Win Star Wars Swag!
If you have done all the above but have yet to meet your raging demand for more Star Wars swag, Bossini Singapore is hosting two contests, which you should definitely check out.
FACEBOOK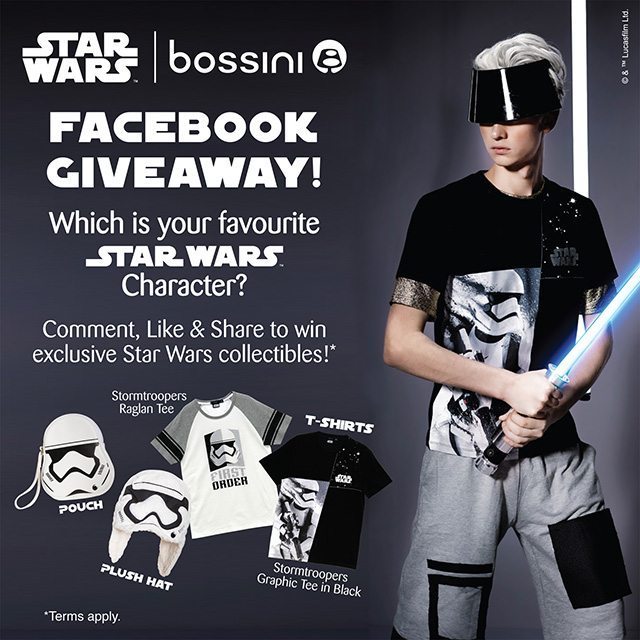 INSTAGRAM
If OOTDs are more your thing, be sure to take to Instagram and snap photos of yourself wearing your favourite Bossini Star Wars piece. Hashtag with #BossiniSGSTARWARS and pray that the Force is with you.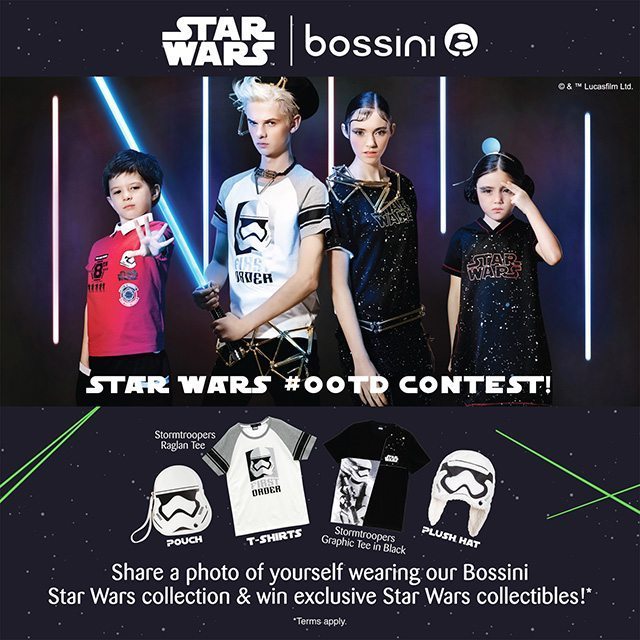 All contests will end 30 November 2014, 11.59PM, Monday.