Tucked away in a cosy corner of Singapore's CDB during the weekend of 7 & 8th Dec 2019, the inaugural BLiNK ArtFest was held at the Substation. The event seemed strategically located as the Substation is located a few MRT stops (plus a 5 minutes walk) away from Marina Bay Sands, where Singapore Comic Con was held.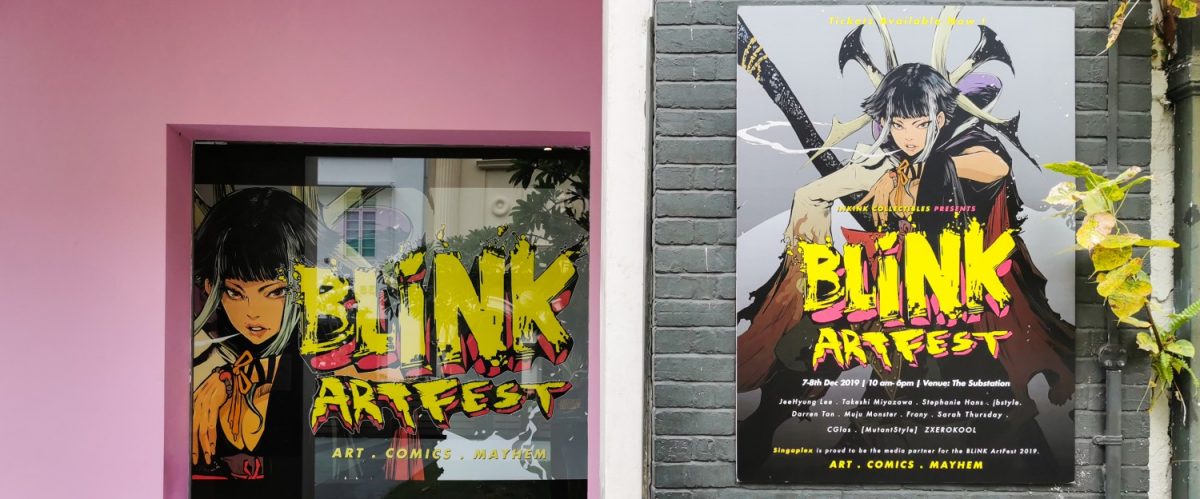 During this period, it would make sense to organise such an event catered to comic fans, as there will be many fellow geeks from overseas visiting Singapore due to Singapore Comic Con.
Attendees of the BLiNK ArtFest met at least 7 internationally renowned artists who had created official art for at least one major franchise such as Capcom, Star Wars, Marvel, DC, Fantasy Flight Games and Riot Games.
Entry to the event was $17, which included a tote bag containing an A3 sized art print as a welcome gift. The tote bag was actually tall enough to cover the whole A3 sized print, which will come in handy when protecting the several other A3 sized art prints bought during events such as this.
Upon entering the event, one could easily see all the artists' booths lined up. Despite the cosy location, the place was bustling with activity as fans took the chance to chat with their favourite artists, browse the art on display, and grab a selfie.
With most of the event's attendees being comic lovers, it made sense having a couple of booths selling comic books.
One could buy comic books with blank covers for about $10, and then bring it to their favourite artist to commission them to sketch on the cover on the spot. Each commissioned sketch can cost anywhere from $150 to $400 and sometimes even more, with the cost and time taken to complete the piece depending on the complexity of the sketch.
As the artists of the art prints were present at the event, many of them ended up receiving commissions to sketch on various art cards and blank comic book covers. As customers could seize this rare opportunity for their purchased art prints to be signed, many of the artists who were present at their own booths ended up selling quite a fair bit of their prints. Some high-valued items costing a couple of hundred dollars were also quickly snapped up by customers, such as a Sideshow branded aluminium print featuring Optimus Prime.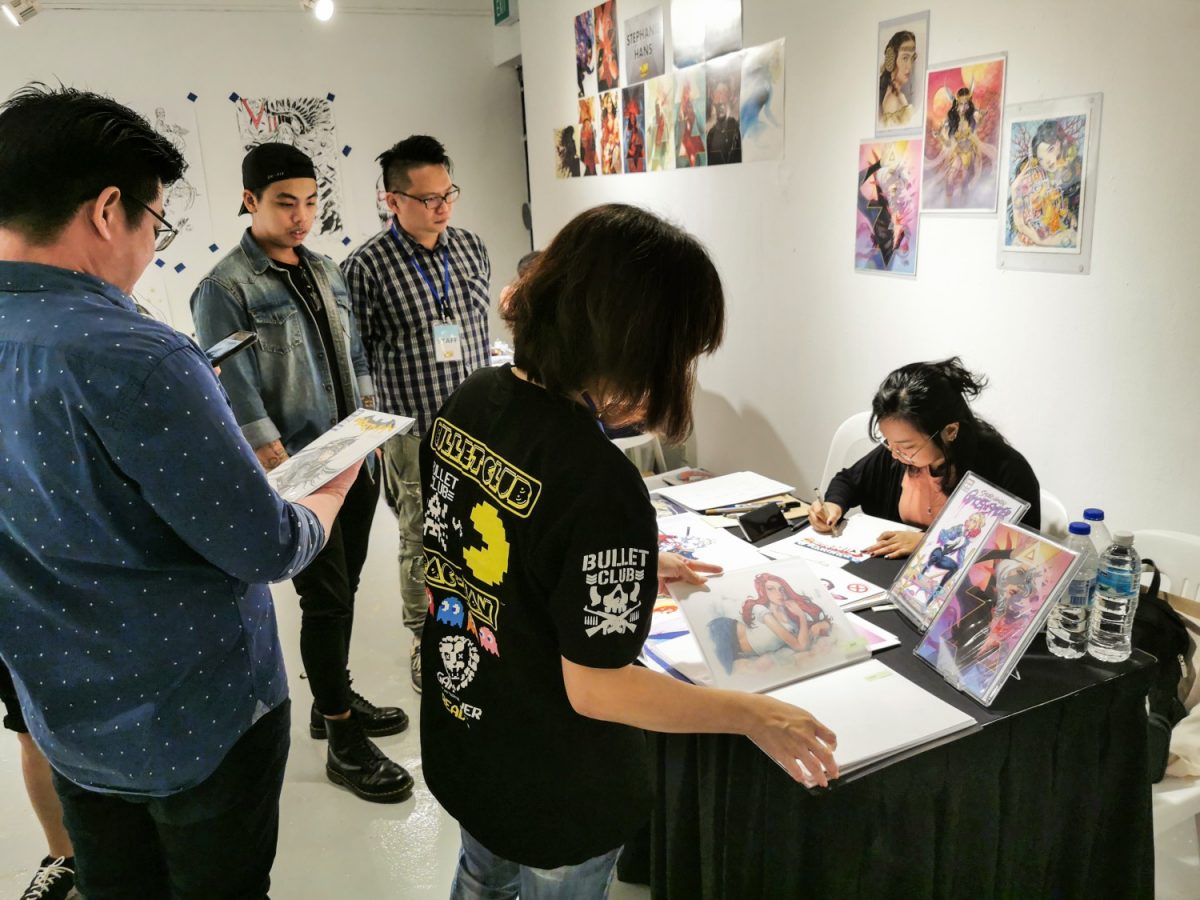 Another highlight of the event was the live sketching. It was pretty therapeutic to observe artists such as the Muju Monster breathing life into his art piece as he sketches a fanart from JoJo's Bizarre Adventure on the sketching wall.
Other's artists were also sketching trending art too. Butter Spoon drew a fanart of Kamado Tanjiro and Nezuko from the popular anime, Demon Slayer: Kimetsu no Yaiba, and Darren Tan started a sketch featuring the much beloved Baby Yoda from the Disney+ series, The Mandalorian.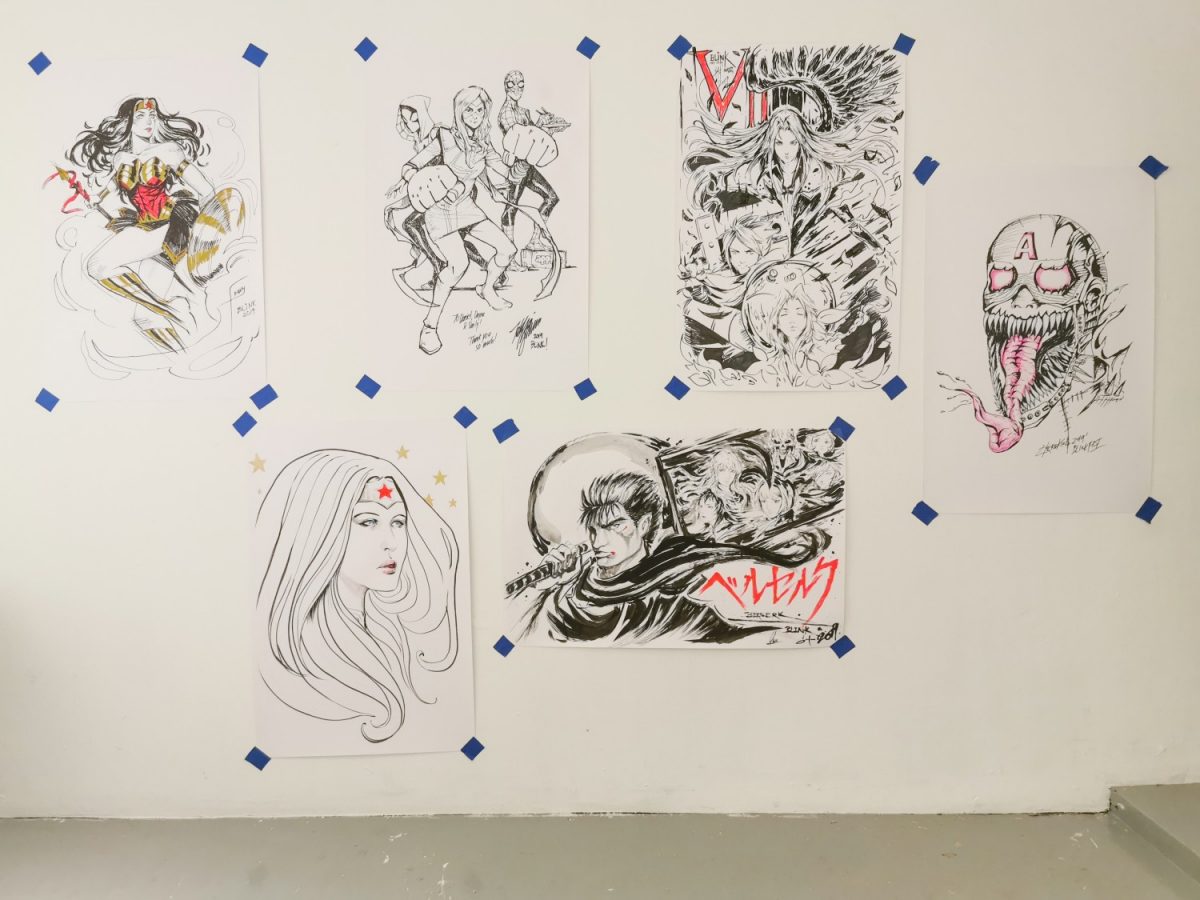 Despite having many other events running concurrently during the weekend, there was still a good amount of visitors for this event. During the early hours of the event, there was a steady stream of visitors. The crowd picked up significantly during the last 2 hours, just when most of the artists were finishing up their live sketches for display.
BLiNK ArtFest's positive attendance is the fruit of InkInk Collectibles' collective efforts over the past few years, where they have built up their community at their art gallery at Bras Brasah, on their social media pages, and even through their booths at events such as GameStart and Doujima.
Of course, the event's attendance was also fueled by the combined fanbase of each of these heavyweight artists coming down to visit them. In the future, there is a possibility that BLink ArtFest can expand even further with InkInk Collectibles' sizable network of artists to collaborate with. 
Onward to 2020 for the next edition!
SnapSniper is an avid geek who is both a huge fan of games and an even bigger Star Wars fan.