Venom may not have starred Carnage as the primary antagonist, but there's definitely no lost love for the infamous alien symbiote. Arguably the most vicious, brutal adversary of Spider-Man, the character grew to become one of the most beloved most villains of all time, climbing up the rungs of infamy after an unforgettable showing in the comic book crossover Maximum Carnage.
Streetwear and sneaker retailer BAIT seeks to honour his nefarious legacy by means of a shoe collaboration with Puma and Marvel, following a Venom-themed footwear release earlier this year (2018). Having debuted at the opening weekend of New York Comic Con 2018 that runs from October 4-7, this pair of kicks comes streaked in the iconic colour scheme of Carnage as it resides snuggly within an elegant, specially-catered capsule lettered with "SPECIMEN: CARNAGE SYMBIOTE".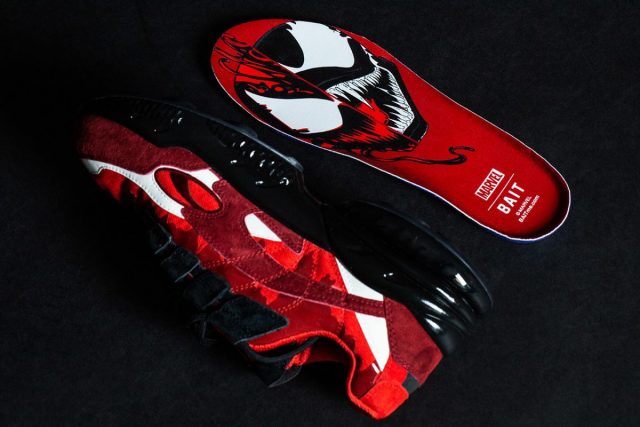 With white accents adorning the contrasting splash of red and black, the Carnage-inspired sneaker is a sight to behold. The design is heavily reminiscent of the villain's stark white eyes, and the sense of familiarity is further brought across in the form of a thematic in-sole, in which the word 'CARNAGE' is embossed on the heel.
Accompanying that is the tastefully-crafted glossy overlay on the upper that serves as the perfect nod to the symbiote's limbs; all in all, a true beauty worthy enough to be injected with the wonderous infamy of Carnage.
As with all beautiful, themed items, the "Carnage" Puma Venom is only released very limited numbers. Pre-orders at BAIT's chapter stores have already been launched on October 6, 2018, with online raffling opportunities made available for those unable to head down to the physical outlets or NYCC itself. In the meantime, here are some photos for you to feast on: