The release of Star Wars: The Rise of Skywalker in 2019 might have marked the final appearance for many characters in the Star Wars saga but as it turns out, one beloved character will soon be making his return to a galaxy far, far away.
As reported by ComingSoon, Anthony Daniels will be reprising his role as the droid C-3PO for ILMxLab's new virtual reality experience, Star Wars: Tales from the Galaxy's Edge.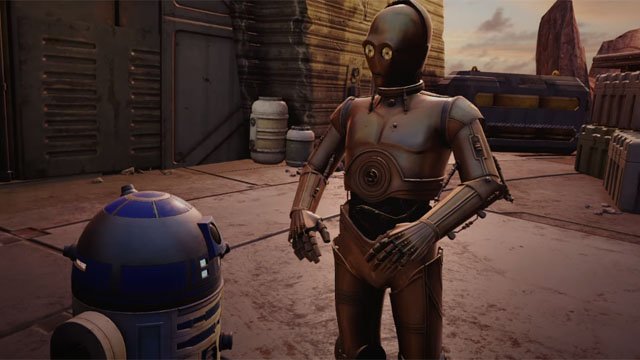 "Along with the joy of working with the super-talented team at ILMxLAB, I am so thrilled to bring C-3PO to life again in this fascinating dimension," said Daniels in a statement. "It may be virtual reality, but believe me, reality will quickly take over as players personally interact with C-3PO right in the middle of the action. I hope fans will be as amazed as I am."
Aside from C-3PO, players will also be able to interact with Jedi master Yoda in the game, in one of "Seezelslak's (Bobby Moyhnihan) legendary tales, which will transport players to different eras in the Star Wars galaxy."
Here is the official description of the game from ILMxLab,
You'll play as a droid repair technician who crash lands on Batuu after a pirate attack. In typical Star Wars fashion, you'll quickly get swept up into a grand adventure.

You can converse with Seezelslak (Bobby Moynihan) in his cantina. [And you will] be transported to other places and times in the Star Wars galaxy through his legendary tales, or, you can receive important missions to complete in the wilds of Batuu, encountering new and iconic characters along the way, like the pirate Tara Rashin (Debra Wilson).
Star Wars: Tales from the Galaxy's Edge will be launching this holiday on the Oculus Quest and Oculus Quest 2. Pre-orders for the Oculus Quest 2 are already up and shipping out from 13 October.