By now we are sure everyone has heard of Adobe one way or another. Whether you are a content creator or not, the terms Photoshop or Lightroom are ones that are often tossed around. Till now, Adobe has consistently delivered digital creative programs that are both intuitive and comprehensive. 
This time, during their latest "Sneaks" event at Adobe MAX 2019, which was co-hosted by comedian and writer John Mulaney, we are given a preview of a number of new features Adobe is developing for its Creative Cloud apps. These new features may or may not eventually land in one of their future app updates.
Here are the 11 new projects Adobe showcased during their "Sneaks" event.
---
All In
Utilising Adobe Sensei's machine learning technology, Project All In is able to eliminate the need for tripods, timers, and spending lots of time cropping a person out of one image to put them into a group photo that they're missing from. It works by studying both the images and automatically identifying the missing person. It then crops the missing person out and adds them in so that no one will be left out of a group photo.
Sound Seek
Content creators can now remove unwanted repetitive sounds from their audio clip with Adobe's newest Project Sound Seek. It works by analysing one instance of the sound and uses a deep learning model to identify other similar sounds. With just a click, all the selected sounds are then removed.
Sweet Talk
Animating a single static image with just a voiceover track is now possible with Project Sweet Talk. What is usually a cumbersome and time consuming process can now be done easily in just a few seconds. The programme takes any image file and automatically detects the subject. It then maps the subjects facial expressions to a chosen audio file and voila, an animated video is made.
Pronto
Creating an AR app often requires a lot of technical know-how and expertise. But with Project Pronto, users will be able to create AR design mockups by simply sketching onto an iPad to let non-technical designers bring their AR design ideas to life.
Image Tango
Powered by Adobe Sensei, Project Image Tango is the perfect tool for both designers and artists looking to bring their sketches to life. The programme is able to mix two different assets together to create completely new photos. Designers can now use this programme to text multiple different textures on a dress or purse they are designing.
Fantastic Fonts
With Project Fantastic Fonts, users can now easily animate and distort their text with various motion effects quickly and painlessly. It allows for the font to be infinitely customised, from the font's weight, to its length.
Go Figure
This Sensei-based body tracking programme is able to automatically detect key character points (from the arms, legs, and torso) on a person's body and transfer that person's motion from a video clip to an animation. What's done here is very similar to motion capture, but works a lot easier, without additional hardware or software.
Light Right
Getting the lighting right when shooting outdoors is often more difficult than it seems and can sometimes be nigh impossible when shooting a large-scale outdoor scene. With Project Light Right's 3D scene geometry, photographers are now able to change the lighting of a scene with AI. The algorithms in the programme identifies the geometry of the image and lets users adjust the position of the sun. Depending on where the sun is, the highlights and shadows of the image will be adjusted accordingly.
Awesome Audio
Cleaning up a raw audio recordings is a process that can often take hours using tools like Adobe Audition. With Project Awesome Audio, amateur audio recordings can now turn into professional-sounding recordings with just a click of the button. The programme uses Adobe Sensei to help enhance the audio by performing tasks such as denoising, dereverbing, and audio equalization.
Glowstick
This Adobe Illustrator plugin will provide another way for creators to enrich their artwork by letting them "paint with light". With Project Glowstick, simple lines and shapes can turn into sources of light and shadow, and is capable of influencing the colours of other objects and shapes in the image.
About Face
To find out how authentic an image is, Adobe is working on Project About Face which is able to analyse the pixels in a photo to determine if the image has been tampered with. The programme is also able to correctly identify which areas have been tampered with, revealing a heat map of the digitally manipulated pixels, and even has the option of reverting the image back to the original image.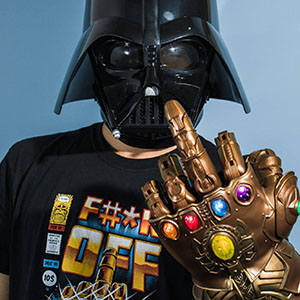 Yonk is a geek who is fortunate enough to have an equally geeky Star Wars fan for a wife, who owns a LEGO Millennium Falcon encased in a glass coffee table as their home's centre-piece.
---

Drop a Facebook comment below!