If you're someone who enjoys Magic: The Gathering, it's nice to see the game hit its 30th anniversary.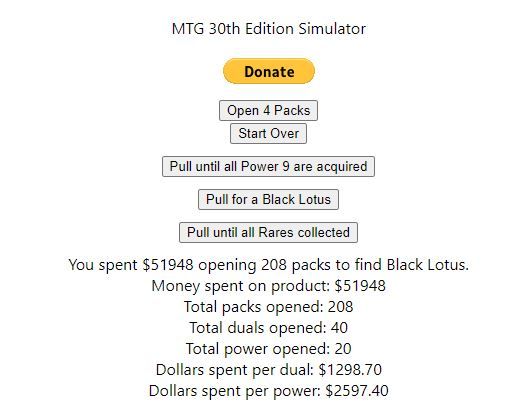 But the lead-up to the celebrations might have been a bit more controversial.
For US$999 (S$1450), collectors will need to summon lady luck to be on their side when buying a box of the Magic: The Gathering 30th Anniversary Set. Considering that each box comes with 4 booster packs, each containing 15 cards, with an opportunity to land the Power Nine cards from Magic.
Most folks outside of the game know of the Black Lotus card's renown, but the Power Nine also consists of:
Ancestral Recall
Mox Emerald
Mox Jet
Mox Pearl
Mox Ruby
Mox Sapphire
Timetwister
Time Walk
Generally, these are cards that are game-breaking as they allow players to get an unfair advantage in the game from turn one.
To celebrate Magic's 30th anniversary, Wizards of the Coast will be giving players (more likely collectors) the rush of opening and unearthing these cards from packs. But it won't come cheap.
Thankfully, with the help of a handy simulator, you will be able to get a chance to experience the 30th edition without spending a cent.
After all, spending this amount of cash is not made for most folks. This is especially so considering all the cards lean commemorative and collectible. Plus, they are non-tournament legal as well meaning you might be better off getting the singles outright. If you're the one who's taken back by the cost, this is not the product for you.
However, if you REALLY want these cards, it's available for purchase on the official Wizards of the Coast store in Singapore from 29th November onwards. For us, we'll be learning towards the Secret Lair 30th Anniversary Countdown Kit which can see good utility as you'd be able to play them in games!
Gerald currently straddles between his love of video games and board gaming. There's nothing that interests him more than trying out the newest and fanciest gadget in town as well. He dreams of publishing a board game sometime in the future!
---

Drop a Facebook comment below!