Are you ready for Ready Player One fellow geeks? We know you are, and we want you to be the FIRST in Singapore to catch Steven Spielberg's latest masterpiece.
Yes, we dare to call it that because we've had the privilege of watching this incredible and loving tribute to all things 80s, 90s and geeky, and we want to share the love!
When the trailer for Ready Player One made it debut at San Diego Comic Con 2017, geeks all around the world were treated to a glorious feast of delightful Easter eggs, and sneaky nods to existing pop culture. Spurred on by passion, and the rekindled flame of nostalgia, these enthusiasts embarked on a quest to locate as many references as possible, just based off the teaser alone.
Subsequently, the hunt further intensified as the new full trailer dropped, and fans of pop culture once again scrambled to find more Easter egg goodness – which, needless to say, was also the natural course of action for Geek Culture (check out our earlier list!).
Following the movie's premiere at SXSW, we were given the thankful opportunity to watch it before it opens in Singapore on 29 March 2018, and we have 45 pairs of exclusive tickets to a private Geek Culture Screening of Ready Player One for you.
Brought to you by Warner Bros. Singapore and Geek Culture, this exclusive early preview for Ready Player One is only open to the geekiest of fans.
Ready Player One Exclusive Early Fan Screening

Venue: GV Vivocity
Date: 23 March (Friday)
Show Time: 9pm
Duration: 140 min
Format: 2D
Rating: PG13 (Some Violence and Course Language)
In addition to the above, there will also be a pre-screening photo opportunity with cosplayers, inspired by the characters from the film, after which event-goers can upload their images on social media, alongside the hashtags #ReadyPlayerOne and #WarnerBrosSG.
Fans who come dressed in 80s-themed outfits will receive an exclusive, limited edition Ready Player One theatrical poster as well.
Guests are also invited to share their thoughts of the film after the screening, so stay back and let us know your thoughts about the movie (not to worry, we don't bite)!
Are you ready for a fun-filled night of geeky goodness? All you have to do is answer the three questions below. Remember, a seat at the table is an honour you have to earn.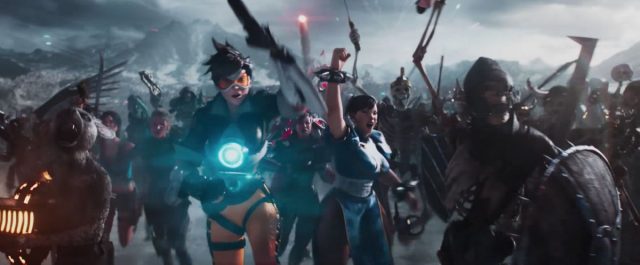 ---
ENTER NOW TO WIN
To stand a chance to win, simply complete these 2 simple steps:
SHARE THIS POST and TAG a friend you would want to watch the movie with. ->
Fill in the form below.
Give us a LIKE below if you haven't done so yet, so you won't miss out on future similar giveaways!
[GIVEAWAY HAS CLOSED]
The giveaway is open to all residents of Singapore. The giveaway closes on 21 March 2018 @23:59hrs (GMT+8). 45 lucky winners with the correct and best answers will be picked at random. The winners will be notified via email by 22 March 2018. All tickets will be collected at the screening venue on 23 March. Good luck!