You've heard of eat, drink and be merry, but why not do all of that, and get your hair and nails done as well?
Imagine stumbling into a peaceful arcadia amidst a crowded shopping mall after a long day of shopping. Lined with walkways full of luscious plants, the picturesque salon is a mini haven nestled in the heart of Singapore's shopping district. Walking on Sunshine truly lives up to its name as a one-stop beauty salon, housing a hair salon, barber, manicure parlour and cafe altogether.
Stepping into the salon, you may be momentarily dazzled by the jungle of plants and glitzy decor (Did we perhaps stumble into Wonderland?). The space may seem a little overwhelming at first but the welcoming staff soon soothe your nerves as they patiently walk you through their services. The salon offers a range of hair treatments that are inspired by the latest Korean trends, which fits in nicely with the current K-wave craze.
Hair care is conducted in a cozy corner wrapped in hanging tendrils paired with a slight rustic style that feeds to the salon's unique atmosphere. Unlike most salons, Walking on Sunshine distinctively lacks the sharp smells that ooze from various chemical concoctions; and it does its best to exude a calming atmosphere with its gentle noise level. (No more headaches from all that sensory overload.)
Fuelled by their motto of catering to every customer's needs, the salon pledges not just the best hair styling but even includes hair care into their services. As such, they have rolled out a new Miracle Aqua Treatment (Short S$280, Medium S$300, Long S$320, Extra Long S$370 *Prices are before GST). Inspired by Korean skin care products, the seven-step treatment is blended with a myriad of organic ingredients to recreate the gentle touch of nature's healing.
Behind every show-stopping hair makeover is a skilled stylist. Graduating at the top of her class from the prestigious LeeKaJa Hairbis Academy in Korea, Director Stylist Luna Kim is one of the many talents running the show at Walking on Sunshine. Placed in the capable hands of Luna and her talented assistant Nita, the duo work flawlessly to immerse guests in an hour of a unique hair adventure.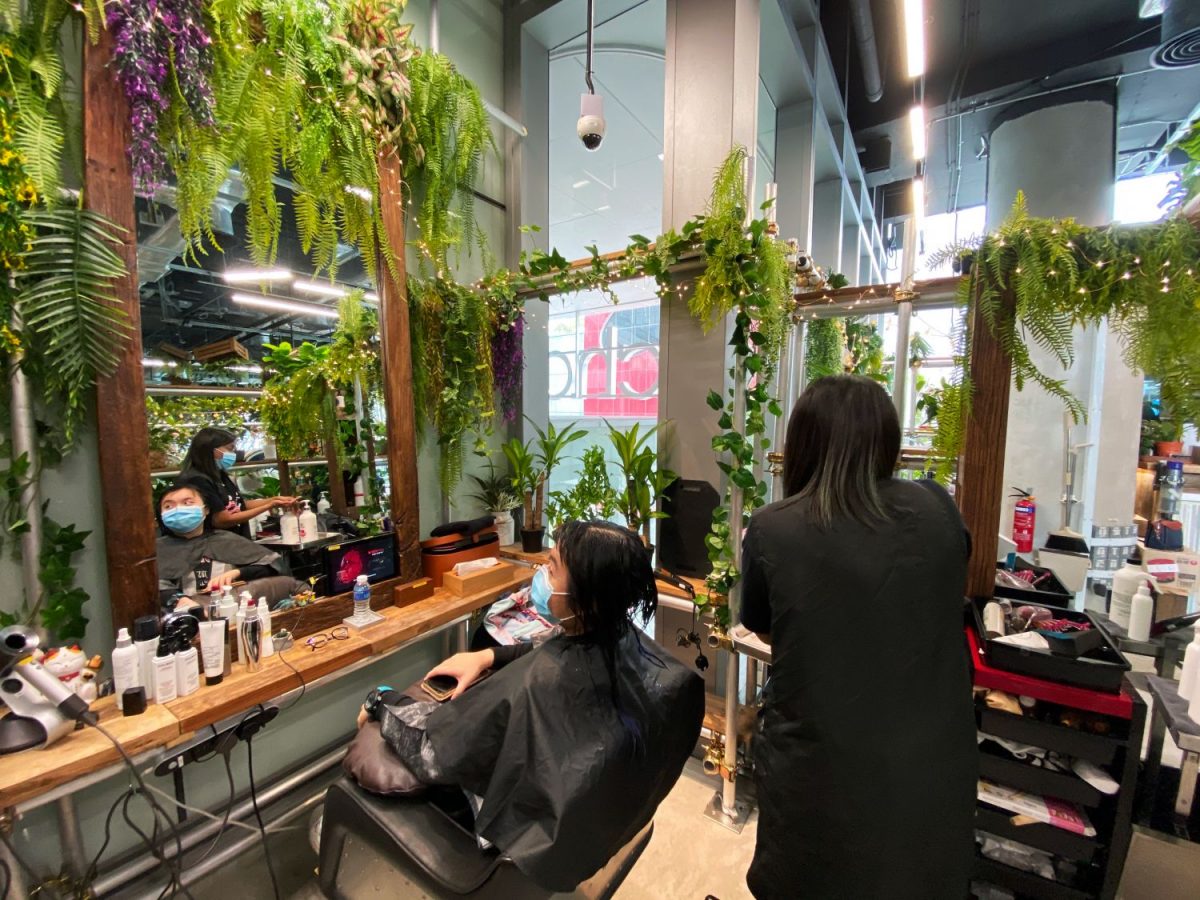 The experience starts off with being wrapped in a silken robe and then led to a therapeutic hair washing session. Nita's skillful hands allow you to sink into the oasis as she scrubs your worries away with her amazing head massage.
If you're someone who bleaches or dyes your hair often, you'll know how frizzy and brittle the strands become. The Miracle Aqua Treatment offers a solution to that as it encourages water to be absorbed into damaged hair, thus moisturizing and repairing it. The first ingredient is the highly moisturous Quebec water, a rare ingredient which provides deep moistening of the hair. The precious ingredient is complemented by Pyrennoid and Meadowfoam Seed Oil.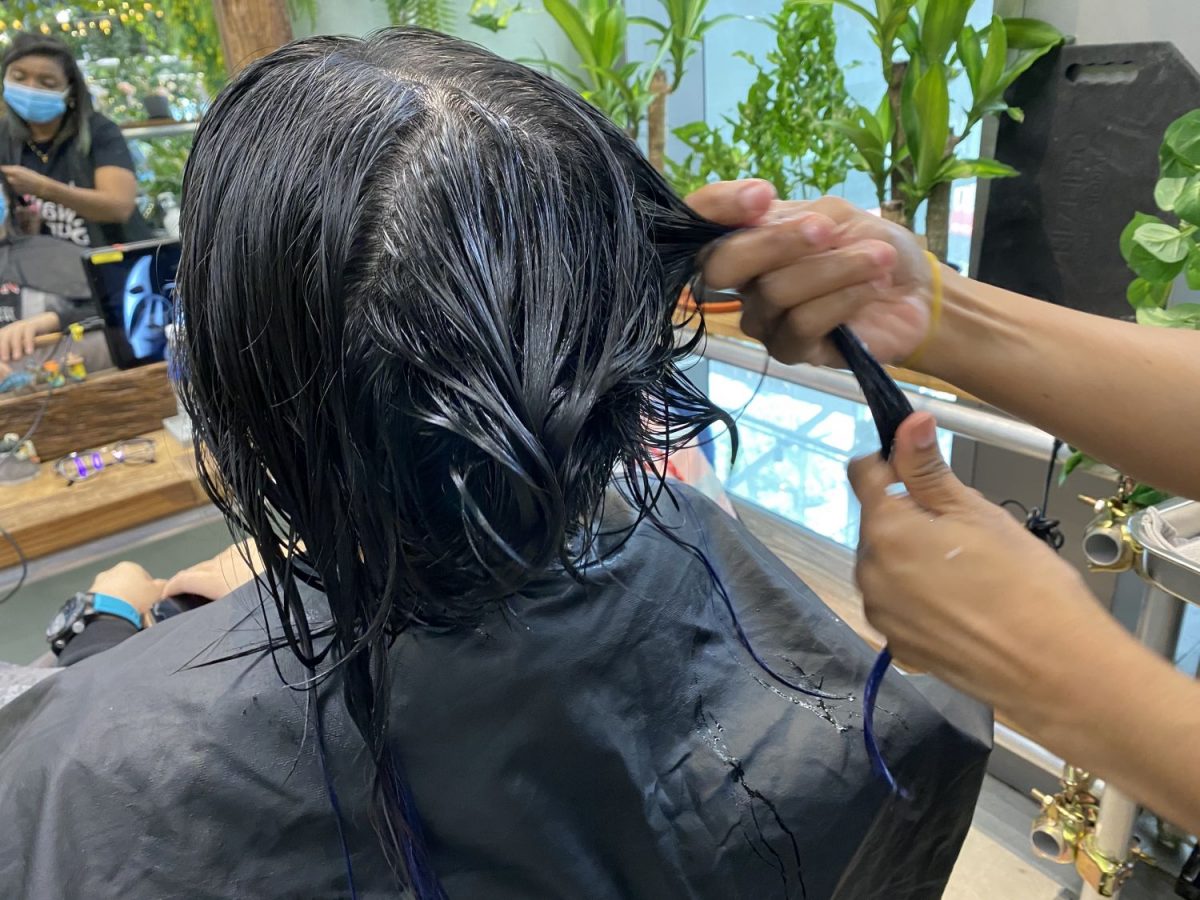 The stylists explain that Meadowfoam Seed Oil helps strengthen hair cuticles. Other ingredients thrown in the mix are rich in plant-based protein to revive bleach damaged hair by filling up the hollows; these include Sheer Butter, Avocado Oil, Macadamia Nuts Oil and Tocopherol. At certain points, you even literally have your head in the clouds as they steam your hair from behind in order to lock in the nutrients.
Yet, the one part of the treatment which really stands out is the use of the Ice Iron. The Ice Iron is a new piece of technology devised specially for this care package. Instead of using heat, it uses, yup you've guessed it; subzero temperatures to fix our hair. The frozen surface can go to -17°C and is used to recover damaged hair to its healthy state.
Expertly wielding the device is Luna who tackles the hair in swift, controlled strokes. The iron is able to bring hair to freezing temperatures which helps prevent loss of amino acids, moisture, and nutrients, allowing for deep healing. The treatment is also silicon-free and paraben-free to protect coloured hair. It's interesting to have your hair rapidly cooling on your scalp and becoming colder than an icicle to touch.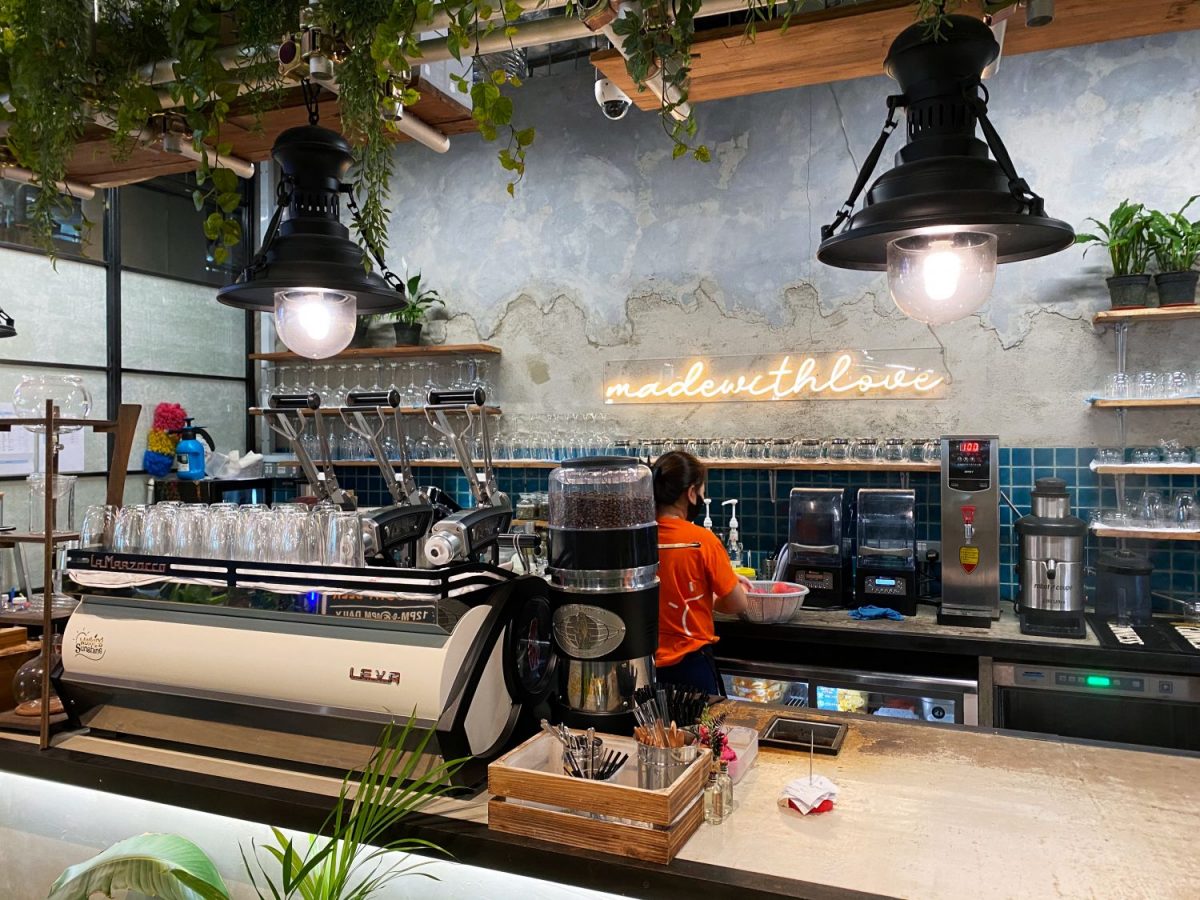 After the hair treatment, if you're feeling peckish, you won't have to rack your brains over your next meal. Under the same roof is a chic cafe which serves up mouthwatering Korean fusion dishes. Eunji Ryu, the bubbly Project Coordinator brought us to a cosy corner tucked away under the foliage. Looking at the menu, Walking on Sunshine is definitely a place that pleases not only beauty seekers but even food connoisseurs.
The menu offers salads, pasta, pizzas, meaty mains and more each with a unique twist inspired by Korean foods. The Chicken Pizza (S$18.50) with its gooey cheese and spicy sous vide chicken breast topped with an array of spices simply oozes with flavour in your mouth. The fluffy Signature souffle pancake (S$20.50) comes topped with fresh and light whipped cream and juicy fruits. The dessert tastes as good as it looks as every spoonful simply melts in your mouth.
Aside from the quality eats, the special offerings also include a range of creative drinks and Ginseng delights. An eye-catching drink is the current hot topic drink, Dalgona Coffee (S$7+). The thick smooth base topped with creamy foam and crumbled bits created flavourful textures in a drunk that's worthy of the hype. Walking on Sunshine even has an ongoing promotion for the drink now!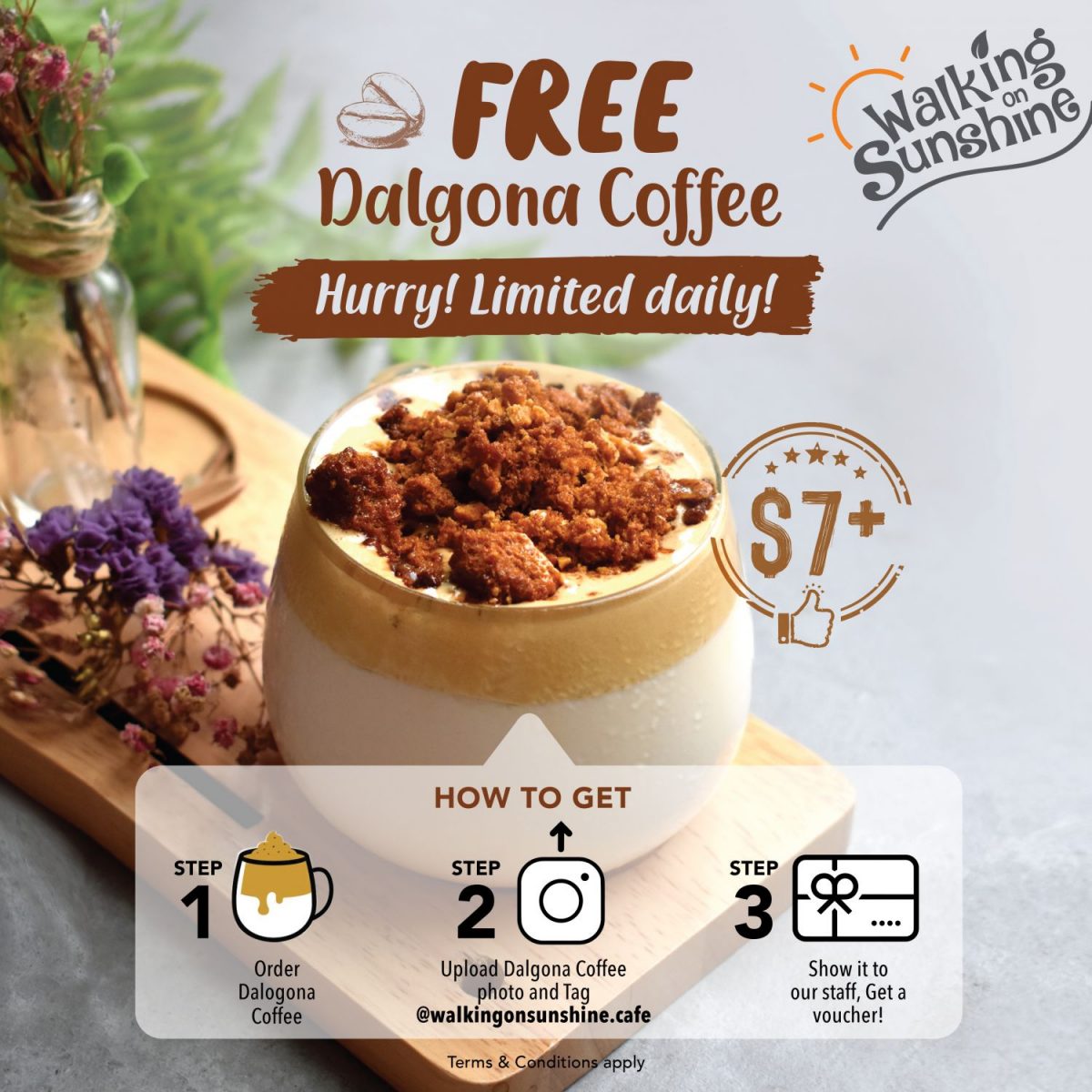 Another delightful drink is the Ginseng Latte (S$8). The bitterness of the herb is balanced out in the coffee, creating an exquisite sweet-bitter blend which warms your mouth. Beyond the Ginseng infused drinks, the cafe even offers original ginseng dishes such as Fried Ginseng with honey, cinnamon powder, and granola honey almond crunch (S$15). Eunji tells us that some fresh Ginseng is even flown in from time to time from a friend's farm in Korea!
Eunji also shares that the name, Walking On Sunshine, is inspired by the warm, shiny and happy feeling that the sun evokes. At the salon-cafe, the team greets customers with a warm welcome and engages them with easy conversations; you'll feel as though you've made a new friend when you leave the salon. Eunji's adorable demeanor along with the lovely treatment from Luna and Nita earlier certainly cements that impression.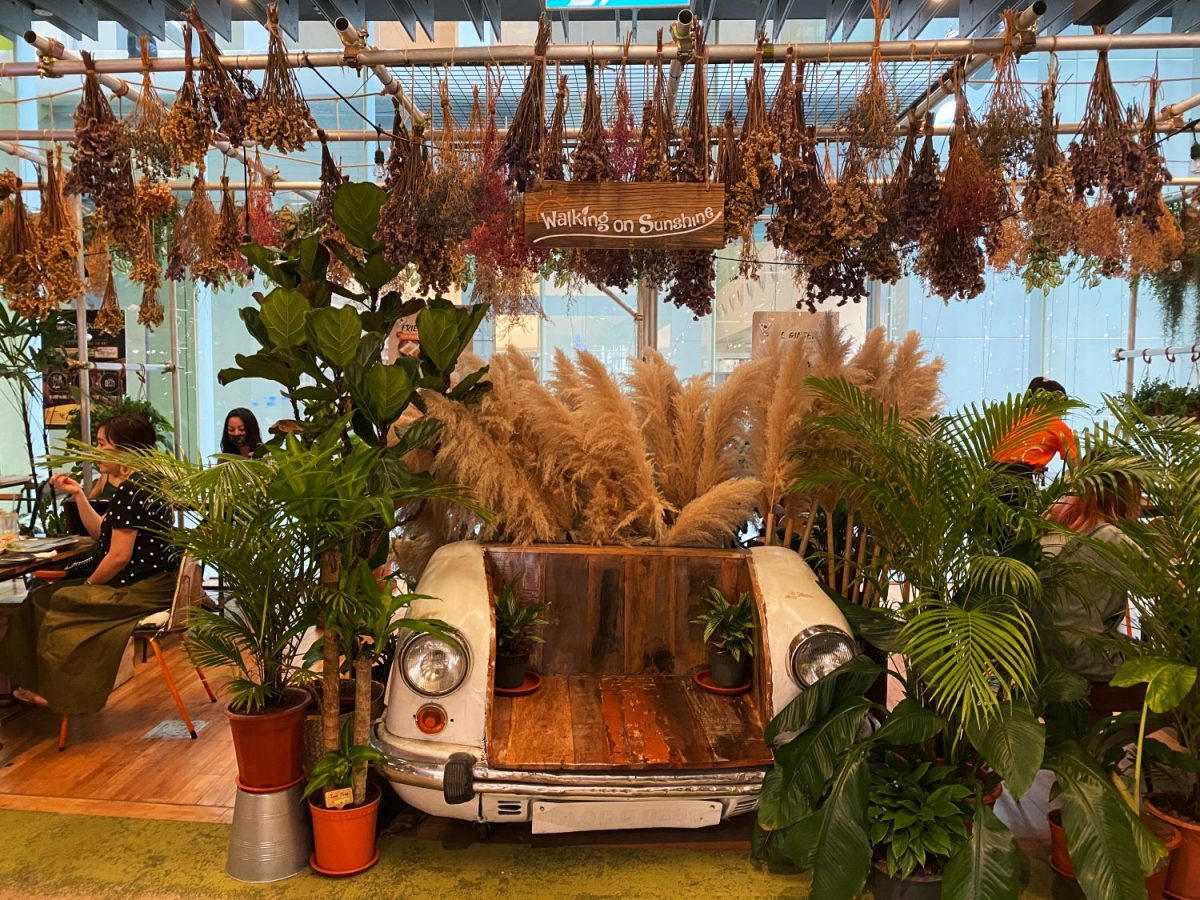 The interior theme is inspired by the combination of the contemporary yet natural lifestyle whereby the "smell of nature will take you back into the arms of Mother Gaia. Walking On Sunshine plunges you into an atmosphere of a garden in a city and brings you a new concept of beauty and dining." Interestingly, even the plants at the store are for sale and Eunji even recounts an interesting anecdote whereby a customer bought hundreds of plants from them.
Creating a gorgeous garden-concept Korean salon with a cafe featuring scrumptious food may seem like a dream to most; but, their founder Luke Yi made it into a reality. The process did come with its own set of challenges though, especially due to the current coronavirus situation. The instagrammable salon and cafe is approximately 6000 sqft large. Yet, they remain dedicated to keeping everything clean and sanitised. Customers' comfort and safety remain their top priority and they've even been awarded with the SG Clean quality mark during this pandemic!
Walking on Sunshine is truly an oasis in the middle of the bustling city. It's the perfect place to get your beauty fix and treat your inner foodie at the same time! You can even take advantage of their wonderful backdrops for creating beautiful Instagram posts and memories. Their dedication to making every experience personalised and satisfying is remarkable and translates into a warmth that befits their name.
Location: 181 Orchard Rd, #03-07 Orchard Central, Singapore 238896
Opening Hours – SALON:​ Daily: 10am – 8pm (only by appointment)
Opening Hours – CAFE: Weekdays 11am – 10pm, Weekends 10am – 10pm
Price Range: Varies depending on treatment which can be found on their website.