Check out what you might have missed from the event with our highlights coverage
On May 24th, Blizzard's newest and shiniest game, Overwatch, will finally be in the hands of eager gamers all over the world. As for lucky folks in Singapore, the fun is gonna kick off in a way that only Blizzard can conjure! The awesome people at Blizzard will be holding an Overwatch launch event on the weekend of 28th and 29th May from 3-9pm over at Capitol Theatre to celebrate. This is an event that you wouldn't want to miss especially if you have pre-ordered a copy of the game.
Head on down to play Overwatch, meet the wonderful developers behind the futuristic shooter and buy and win merch! There will also be showmatches, cosplay and many more activities for fans of Blizzard and Overwatch.
Date: 28 May to 29 May
Time: 3pm to 9pm daily
Location: Capitol Theatre | 17 Stamford Road, Singapore 178907
Prizes include PS4 consoles, controllers and Overwatch merchandise, and if the game is activated on your Battle.net account, there's chance at a SURE-WIN loot box!
The showmatch will be contested between the four teams of Exsequor, ManaSurge, TItaNs and No Use Talking, it's worth watching just to pick up tips on how to play Overwatch like the pros. It'll be interesting to see how Overwatch will position itself as the next e-sports among the professional gaming community and this should be an interesting sight.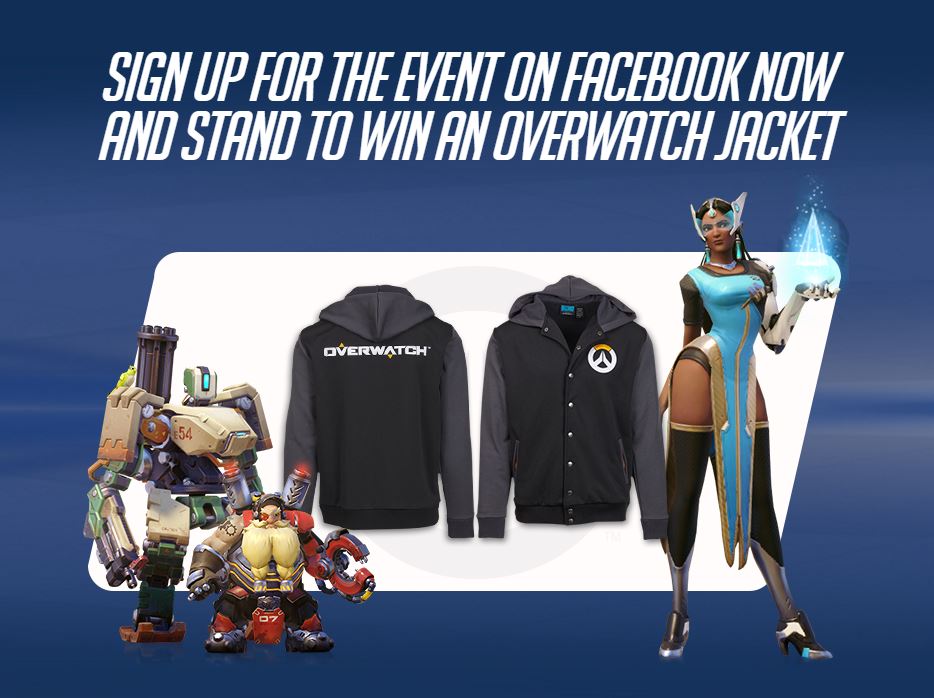 If you are excited to head down to the event, RSVP via the Overwatch's Facebook event page and to stand a chance to win an Overwatch jacket, it's that simple!
Even if you don't own Overwatch yet, there will also be special bundle deals at the event, so be sure to check them out. The fact that you might already be visiting the venue should be good enough reason to buy the game!
More importantly, if you want to be one of the lucky few to get early access to the event, head over to our Facebook post below to score a pair of Early Access Passes! We hope to see you there!
[facebook https://www.facebook.com/Geek.Culture/photos/a.193209757434681.48386.192917177463939/997332927022356/]
More information about Overwatch Launch Weekend can be found here.
Check out what you might have missed from the event with our highlights coverage