After their recent tie-ins with Shinkai Makoto's famous films, and their UTGP Pokemon T-shirt releases, Uniqlo is back with another collaboration and this time it is in conjunction with Weekly Shonen Magazine's 60th anniversary.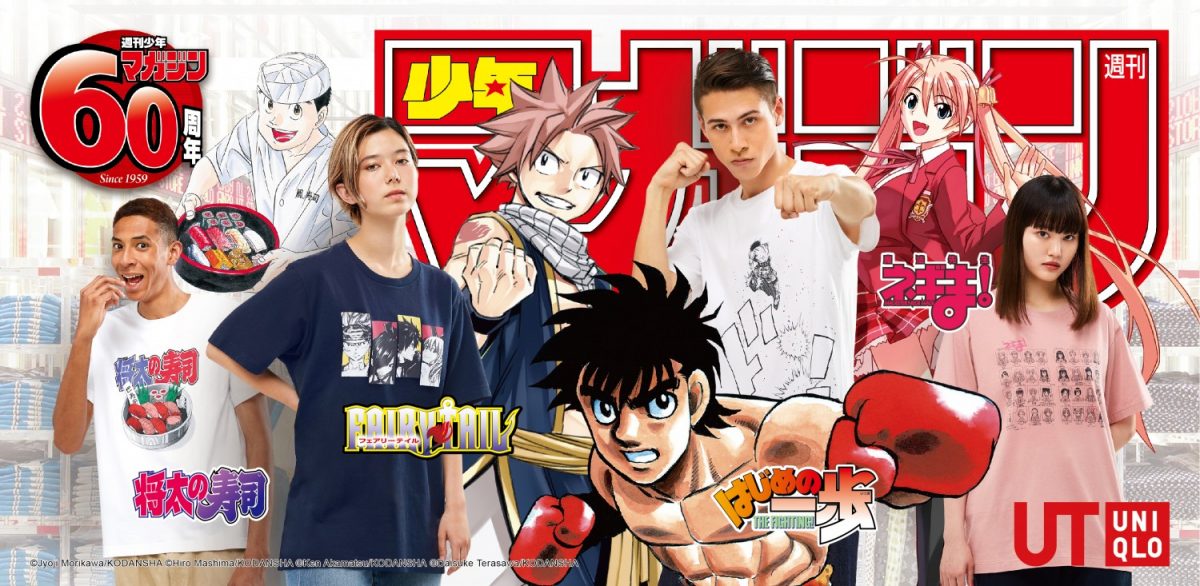 The Manga UT Collection will go on sale from August 19, and will feature over 14 designs from six beloved manga series from Weekly Shonen Magazine. Namely, Hajime no Ippo, Fairy Tail, Shota no Sushi, The Seven Deadly Sins, Negima! Magister Negi Magi, and Attack on Titans.
Fans of Hiro Mashima's Fairy Tail will be pleased to know that Uniqlo will be releasing two UT designs for the series. One of which features our four protagonists and key members of the titular guild Fairy Tail, Natsu Dragneel, Grey Fullbuster, Erza Scarlet, and Lucy Heartfilia. Meanwhile, the other UT design highlights the fearsome dragon slayer Acnologia.
In George Morikawa's Hajime no Ippo, we follow young Ippo Makunouchi as he embarks on a career in boxing to find an answer to the question, "What does it mean to be strong?" The UT designs released for Hajime no Ippo reflects Morikawa's distinctive art style, which works in tandem with important sound effects to convey the flow of Hajime's movements, and the feel of the characters.
Hajime Isayama's Attack on Titans is a series that probably needs no introduction. Who does not know about the series which involves the best soldiers of humanity fighting against monstrously huge titans whose main source of food is mankind? Uniqlo's UT design for Attack on Titans capture the essence of the action-adventure manga splendidly with the design of a massive titan bursting through a wall.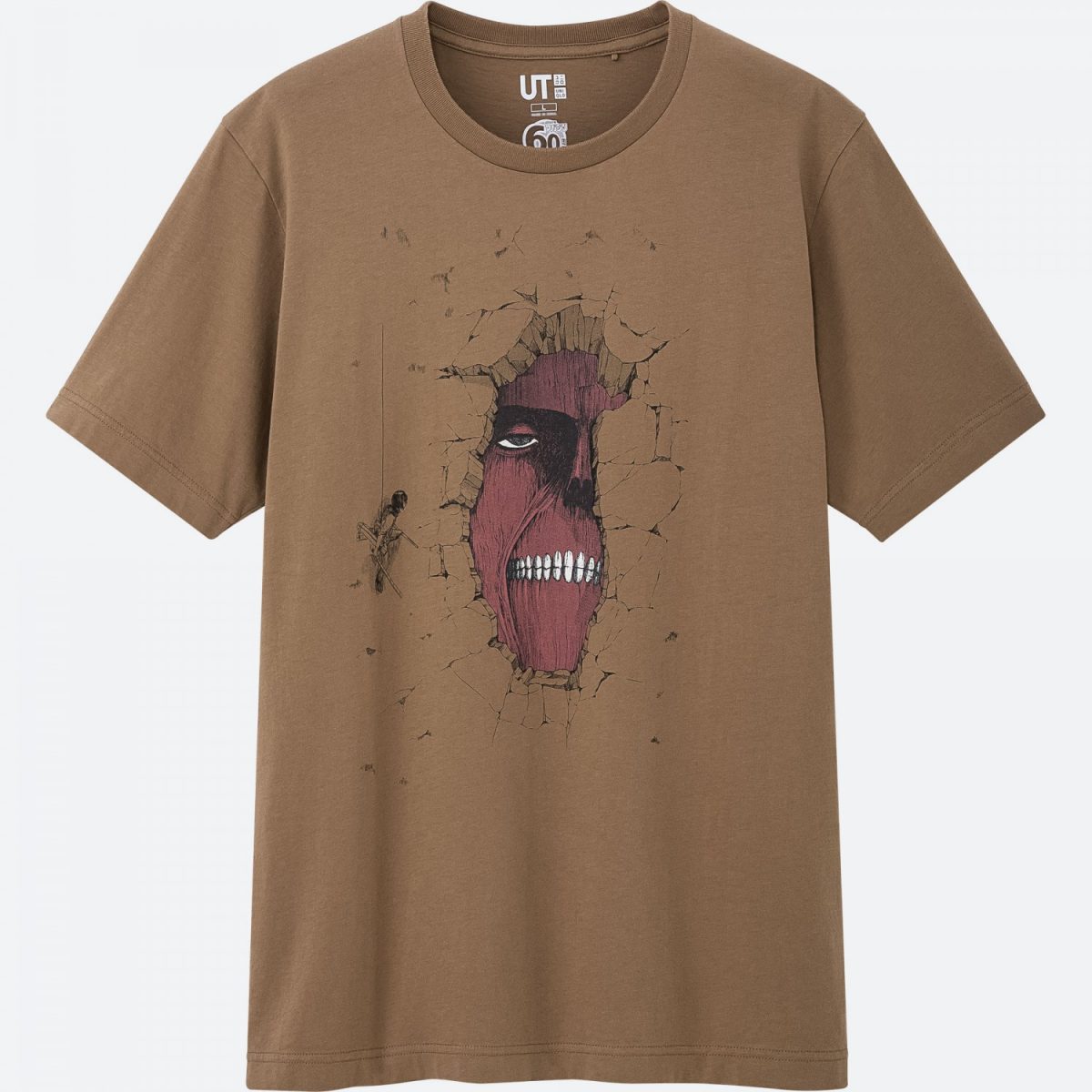 In Ken Akamatsu's Negima! Magister Negi Magi, we follow the adventures of the young wizard Negi Springfield who wishes to follow in the footsteps of his heroic dad and ends up as a teacher at the Mahora Academy's middle school for girls. One design from the MANGA UT collection shows us Negi's student roster, complete with notes he's taken about each individual student, while the other features one of the female leads, Asuna Kagurazaka, posing in front of a Pactio card.
Sushi lovers will definitely not want to miss out on Shota no Sushi, which follows the titular Shota Sekigushi on his journey to become Japan's best sushi chef. Not surprisingly, the UT designs for this series places the sushi front and centre in most of the designs, with one being a whole plate filled with sushi, while another is a little more discreet, with a single sushi and the words "Shota no Sushi" on the shirt.
Anime fans might be familiar with the concept of the seven deadly sins as characters, especially in a number of popular series such as Fullmetal Alchemist where the main villains are the aforementioned seven deadly sins. However, in Nakaba Suzuki's The Seven Deadly Sins, we are given a different portrayal of the sins, this time as the heroes instead of the bad guys.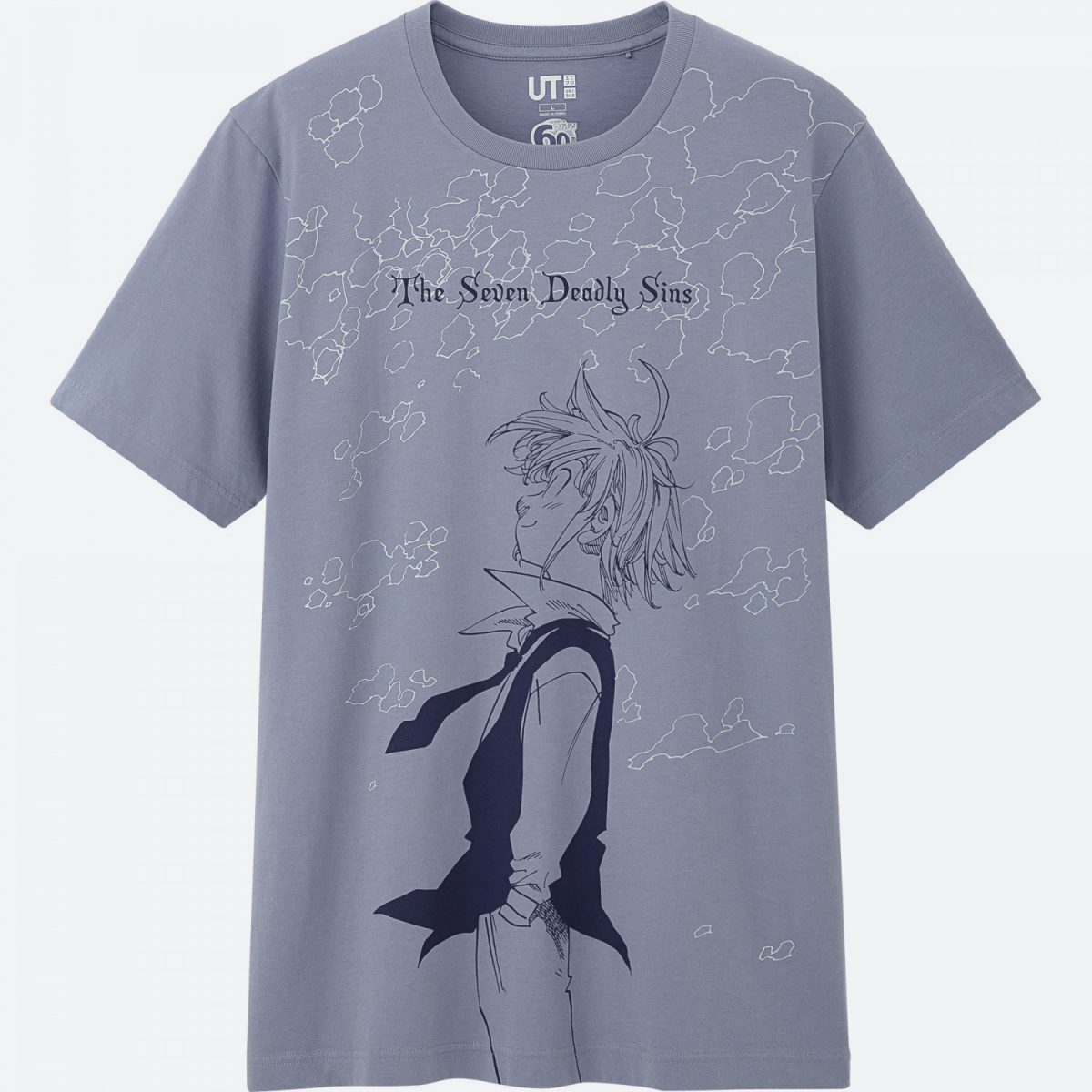 This series will have a total of five shirts released, with some notable ones being a UT featuring Meliodas, the leader of the Seven Deadly Sins. Another design worth highlighting involves a special never-before-seen hand-drawn design of Hawk, Mediodas's talking pig companion.
The Manga UT Collection will be releasing on August 19, 2019, and will be available in all Uniqlo stores and on Uniqlo's website. Each shirt will be sold for S$14.90.