The realm of foldable smartphones is still a relatively new venture even in 2020. The forerunners of the latest tech fad, Samsung and Huawei, have made developments in the foldable technology, with the likes of LG, Microsoft and Oppo all following suit in recent months.
With that in mind, Geek Culture managed to get an early look at the upcoming Huawei Mate Xs earlier this week. Where Samsung's new Galaxy Z Flip is more of a flip phone rather than a sequel to the original Galaxy Fold, the Mate Xs looks to be an upgrade to the original Huawei Mate X, bearing a very similar design and specs overall.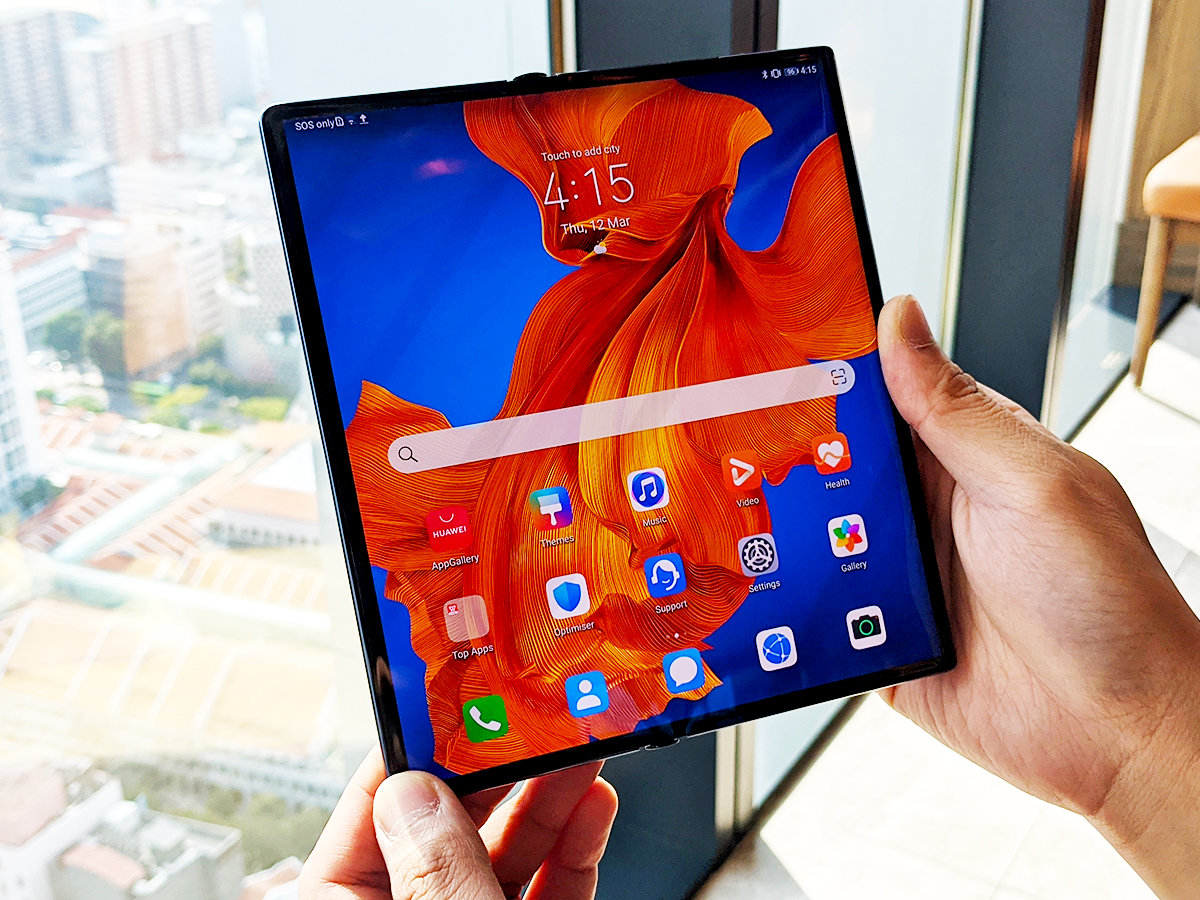 Scroll all the way to the bottom for the launch details!
---
Impressions
Right out of the box, the Mate Xs does sport a premium feel. It is available in a single colour – Interstellar Blue – and is coated with a double aerospace-grade optical polyimide, which not only looks extremely sleek, but is rather durable and smooth to the touch. But of course, this isn't something you want to be knocking into things.
The Mate Xs is undoubtedly made for a very specific target audience, particularly those who prefer a more luxurious lifestyle. Priced at S$3,788, it is certainly not for the faint of heart, nor for those who don't really need a phone-tablet hybrid. But for those that do manage to get one eventually, it's quite the head-turner, simply from the fact that it's a foldable smartphone.
Most strikingly, the Huawei Mate Xs folds outward instead of inward, as one is accustomed to with standard flip phones of old, or just laptops in general. Opening the Mate Xs from its folded state requires you to press on a small catch located on the sidebar, which releases the side of the phone and allows it to be unfolded. It does so thanks to the help of Huawei's new Falcon Wing Design hinge, a direct upgrade to the one on the original Mate X. The Falcon Wing Design comprises more than 100 interlocking parts, which, on paper, is supposed to strengthen the joint so that it doesn't buckle under pressure.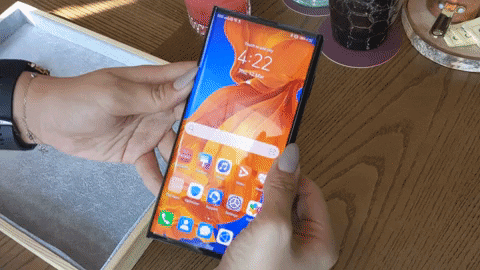 True enough, despite its flimsy exterior, folding it was surprisingly quite tough. We had to apply quite a bit of force to get it to swing open and closed. It doesn't help that the Mate Xs' inverted folding design subverts the norm of closing a book regularly. This will definitely take a good while getting used to. Though, if you're concerned about the hinge breaking after many times of mistakenly trying to flip the Mate Xs the wrong way around, the Falcon Wing hinge is tough enough to withstand such repeated force.
Despite its bulky unfolded state and weighing at 300g, it actually feels rather lightweight. This is due to its battery being split in half across the two screens, which distributes the weight evenly. The sidebar also doubles up as a grip, which allows the Mate Xs to easily be held in one hand. In this case, the lopsided design gives it an advantage over its main competitor, the original Samsung Galaxy Fold, which can be rather unwieldy due to a lack of a proper grip.
While we could go on about the Huawei Mate Xs' Falcon Wing hinge, it's time to move on to its display. Three of them, to be exact. The main, unfolded OLED display is a massive 8 inches, with a 2480×2200 resolution. This is obviously the most optimal way to use the Mate Xs, as one can enjoy the full scope of the visuals on the Huawei's EMUI 10 operating system, which is based on an Open Source version of Android 10. The colours are vibrant and friendly to the naked eye, as are fonts, which complement the massive screen real estate for your eyes to gorge upon. This makes the Mate Xs' unfolded state great for reading like a standard ebook, playing games, or catching your favourite Netflix show.
Furthermore, the main display can be split into two on the spot if you need to do some multitasking. This is thanks to the Multi-Window feature that makes full use of the display's real estate. This is perfect for power-users or folks who work constantly on their phones. What Multi-Window does is essentially provide users with two apps to work simultaneously, without having to switch between them. This effectively speeds up your productivity on the Mate Xs as it is akin to working on two separate phones altogether. That said, not all apps will work on the Multi-Window function at the moment, especially with the imported apps on Huawei's AppGallery. At the time of writing, Huawei is still working on adding more apps to its Multi-Window function.
That said, its folded state still gets a similar amount of utility. The 8-inch main display splits into two when the Mate Xs is folded; the larger of the two measures 6.6 inches, and serves as the secondary screen when using the Mate Xs like a regular smartphone. In this state, the standard functions such as photography, browsing the Net, and gaming, can be performed, and can even continue once you unfold it.
We've found this to be one of the more helpful and interesting features in the Mate Xs, as it does open up opportunities for a ton of utility when on the go. Say you're in a train reading your article/book of the day or playing a game of Asphalt on the unfolded screen, and at the next stop the cabin gets packed to the brim with passengers and you now lack the space to enjoy the full width of the main display. Simply fold it, and continue reading or playing without having to lock your phone and unlock it again. It can be done vice versa too, which adds even more value to its folding utility.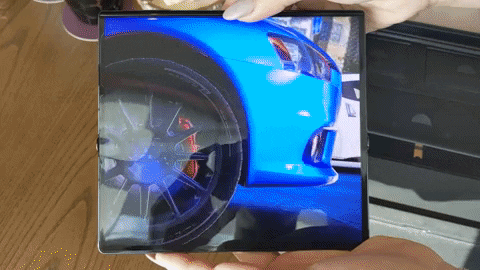 The tertiary display, located just behind, measures 6.38 inches. This screen doesn't actually get much use, as you'll mainly be alternating between the larger two screens. However, it does get some utility, especially with the camera. Like some digital cameras these days, the third screen acts as a viewfinder for the subject in front of the camera, so it allows them to preview themselves without having to rely on the photographer to keep showing them the pictures. As the Huawei representative at our hands-on event said, it's "perfect for Instagram boyfriends", and rightly so.
And speaking of cameras, the Mate Xs continues Huawei's longstanding partnership with German camera maker Leica. Unlike what ones sees on a traditional smartphone, the cameras are located on the sidebar, arranged in a vertical manner. There are three lenses (40MP wide, 16MP ultra-wide, and 8MP telephoto), with a 3D depth-sensing one as a fourth, for some sweet bokeh pictures. Interestingly, there is an inherent lack of a selfie camera; you're using all the cameras whichever way you're facing the Mate Xs.
Taking pictures on the Mate Xs is a solid experience. Though the images produced are nowhere as crisp as the likes of the iPhone 11 Pro Max, Samsung Galaxy S20 Ultra or even the Huawei P30 Pro, the sheer screen size on the main display is more than enough to get a good establishing shot of any area you're visiting.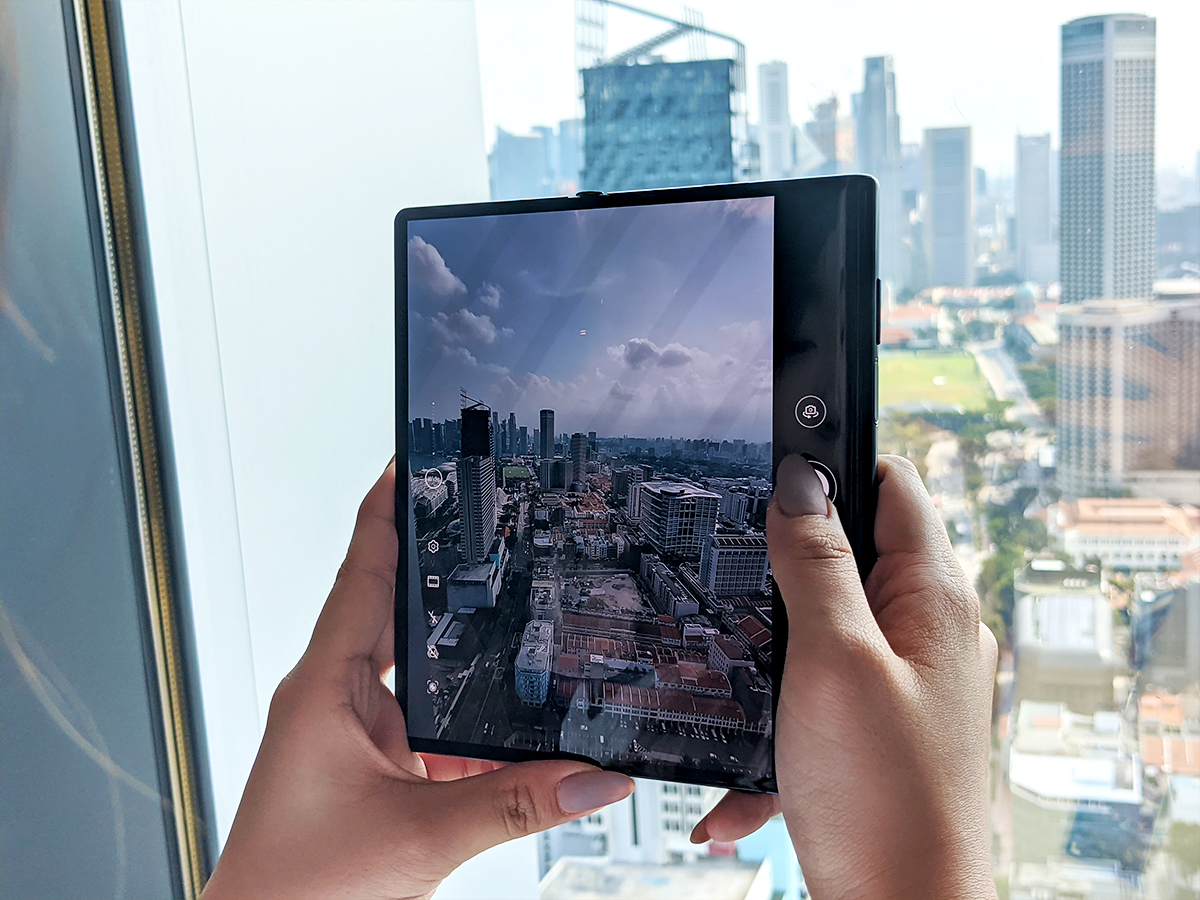 ---
Singapore Launch Details
The Huawei Mate Xs will launch on 21 March 2020 in Singapore islandwide at all Huawei Concept Stores, selected M1 and StarHub shops, consumer electronic stores, as well as the official Lazada and Shopee flagship stores. Customers are also entitled to a 1-year warranty coverage that comes with a one-time screen replacement at 50% fees waived within the first year from date of purchase. The Mate Xs will retail for S$3,788.
Additionally, customers will receive a free Huawei envelope leather case worth S$238, as well as a pair of Huawei FreeBuds 3 worth S$238 with every purchase of the Huawei Mate Xs, while stocks last.
---
Specifications
Model
Huawei Mate Xs
OS
EMUI 10.0.1 (based on Android 10)
Processor
Kirin 990 5G
Display
OLEDUnfolded: 8 inches, 2480x2200Folded: 6.6 inches, 2480×1148 (main screen), 6.38 inches, 2480×892 (secondary screen)
Camera
40MP SuperSensing camera, wide (f/1.8)16MP Ultra-wide (f/2.2)8MP Telephoto (f/2.4), OIS, up to 30x digital zoom3D Depth Sensing camera
Memory
8GB RAM
Storage
512GB, expendable up to 256GB with nano memory card (sold separately)
Battery
2x 2,250mAh = 4,500mAh55W Huawei SuperCharge
Dimensions
Unfolded: 161.3 x 146.2 x 5.4 – 11mm (Grip side)
Folded: 161.3 x 78.5 x 11mm
Weight
300g
Colour(s)
Interstellar Blue
Price
S$3,788
Availability in Singapore
21 March 2020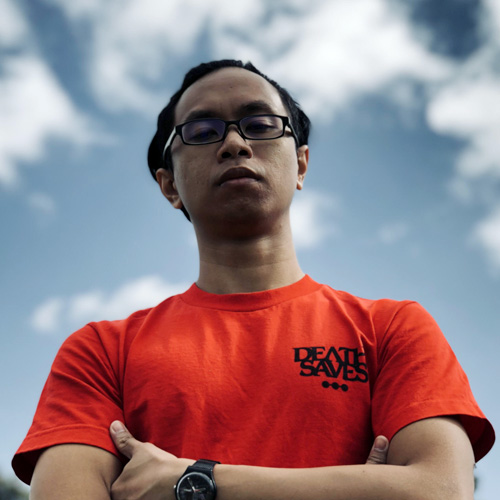 Marion has a serious RPG addiction. Sometimes it bleeds into real life; he forgets to sleep because he thinks he has a Witcher's body clock. Forgive him in advance if he suddenly blurts out terms such as "Mind Flayer" and "Magic Missile", because never once does he stop thinking about his next Dungeons & Dragons game.
---

Drop a Facebook comment below!