2018 was a great year for indie titles on the Nintendo Switch, as beautiful, outstanding games like Hollow Knight, Stardew Valley, and Dead Cells led the charge. Setting a high benchmark for quality, the genre most certainly thrived, and the industry giant is looking to build upon that same momentum.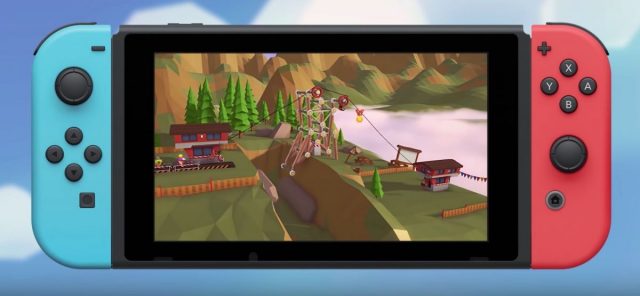 In Nintendo's very first showcase of the new year, fans were treated to a brief glimpse of upcoming works. Titled the Nintendo Indie Highlights reel, it unveiled both new and previously announced projects in all their indie glory, with some proving to be more interesting than others. It's no Nintendo Direct, but the slew of names should be sufficient for enthusiasts to get their fix of indie goodness. As per the 17-minute presentation video, the full list of announced titles are summarised as follows:
Wargroove (February 1, 2019)
Double Kick Heroes (Summer 2019)
When Ski Lifts Go Wrong (available now)
Forager (TBA)
Goat Simulator: The Goaty (available now)
Inmost (TBA)
Unruly Heroes (available now)
CrossCode (TBA)
Steamworld Quest: Hand of Gilgamech (TBA)
With choices, however come differing tastes, and here's ours – chosen based on overall hype and interest levels.
---
It's A Yes From Me!
The contenders for this category are Wargroove, Steamworld Quest: Hand of Gilgamech (obviously), Goat Simulator: The Goaty, and Inmost.
Wargroove kicked off the showcase to a great start, first introducing a anime-esque cutscene before diving into game mechanics. Belonging to the turn-based strategy genre, it features a blend of both medieval and Advance Wars elements, alongside a nostalgic tapestry of cartoonish warfare. Oh, and did we mention that Chucklefish – the developer of Starbound and publisher of Stardew Valley – will be helming this project? Sweet.
Meanwhile, Steamworld Quest is the series' first foray into the card RPG sector. It's shaping up to be rather appealing, and the visuals do bring back fond memories, but as it always is with executing new concepts, there's a risk that gameplay may not gel as well. Hopefully not, though.
Now, Goat Simulator probably needs no introduction – you are an actual goat, in a goat-filled world (to the tune of Aqua's Barbie Girl). As much as the game is bleat-antly (hah) absurd, it's also where the appeal lies in – and bundling the full game and all of the DLC only serves to boost its charm.
The beautiful atmospheric exploration title that's Inmost is looking very intriguing, and the Metroidvania style makes for a pleasant touch. Interconnected worlds, well-woven narratives, and access to three playable characters – this is a particularly noteworthy keeper.
Hmm, interesting…
CrossCode and Double Kick Heroes belong here. Where the former title features an attractive concoction of the retro anime and action platformer genre, the latter dishes out gunfire with a bizarre serving of…metal music? Fans of rhythm games would know the thrill of hitting all the notes, and also the frustration of missing that one key that would have otherwise earned them a full combo. Buckle up for a fun car ride, troopers!
Meh.
Unfortunately, the likes of When Ski Lifts Go Wrong, Forager, and Unruly Heroes failed to impress – though the first one is influenced more by individual taste than anything else.
When Ski Lifts Go Wrong takes on a physics-based approach, which is definitely not everyone's cup of tea. In general, such games are quite the personal turn-off (except Portal, you rock), but this should excite fans of the genre – slapstick humour, ridiculous building shenanigans, and all.
There's something about Forager that makes it appear…bland. Perhaps it's the art style, the oversaturated roguelike market, or the farming mechanic that basically spells out Stardew Valley – whichever the case, more needs to be shown to convince individuals to pick up the game.
Apart from the obvious Journey to the West influence, Unruly Heroes appears to be just like any other typical beat-'em-up title on the shelf, with no particular outstanding feature to distinguish itself from the crowd. Hopefully, the impression will change over time as more details get revealed.
---
While the Nintendo Indie Highlight showcase may not have stirred up a great deal of excitement, there were some pretty solid reveals that indie enthusiasts can look forward to. Undeniably, the reel seems to be of a more lackluster quality compared to last year's stream, but hey, give these titles a chance, and a pleasant surprise might just be laying in wait.
Si Jia is a casual geek at heart – or as casual as someone with Sephiroth's theme on her Spotify playlist can get. A fan of movies, games, and Japanese culture, Si Jia's greatest weakness is the Steam Summer Sale. Or any Steam sale, really.
---

Drop a Facebook comment below!

---