Trading cards are seeing a continued boom, and Ultimate Guard is certainly reaping the fruits of this interest wave. If you're into Magic: The Gathering, Flesh and Blood, and or the Pokémon Trading Card Game, the company has got your back in keeping your collection pristine.
Here's a quick list of the best accessories you should be looking out for from Ultimate Guard to ensure that your cards look good and stay safe during play and transport.
---
Ultimate Guard Precise-Fit Sleeves (Standard Size) and Katana Sleeves (Standard Size)
One of the biggest concerns of trading card players is the mixing and matching of inner and outer sleeves. After all, it'd be wise to protect a triple-dollar value card from as much abuse as possible through double (or triple) sleeving.
Starting with the standard-size Ultimate Guard Precise-Fit Sleeves, these inner sleeves are the baseline defence for your cards. As is the case with many inner sleeves, fitting them on will require some finesse, but their high detail of clarity comes in handy for players to read card text easily.
Fitting it into Ultimate Guard Katana Sleeves would be the next recommended course of action. We used the standard-size sleeves here for our Magic: The Gathering cards and they work great. These Katana sleeves are made in Japan and offer a great shuffle feel in hand.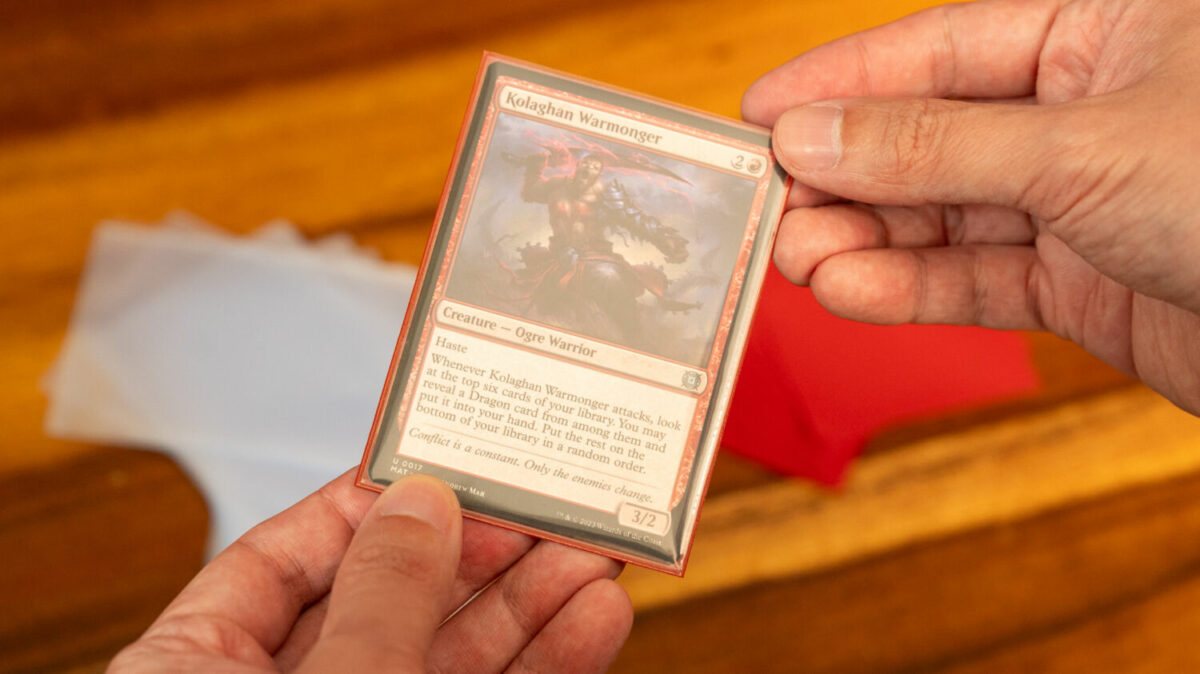 Put together, there's always a chance for the inner sleeve to ride up when inserting the card into an outer sleeve. This issue is minimised with the dual Ultimate Guard sleeve combo, though it should be noted that does still happen from time to time.
Overall the fit is precise with no wasted space in between, which is especially key when fitting your deck into a deck box of choice. Thankfully, Ultimate Guard has one of the best on the market as well.
Grab the Ultimate Guard Precise-Fit Sleeves on Amazon | Shopee and Katana Sleeves on Amazon | Shopee.
---
Ultimate Guard Boulder
If you've seen a kaleidoscope of colour in your local game store, it's probably from an Ultimate Guard Boulder. Coming in a variety of brilliant colours, the Boulders are the crown jewel in Ultimate Guard's lineup.
The Boulder comes in a variety of sizes accommodating deck sizes from 40 all the way to 100 cards. With double-sleeved cards, the fit will be precise but there's more leeway if the cards are single-sleeved, affording more space for tokens and additional accessories.
What's unique to the Boulders is its soft touch exterior that feels great to hold in hand while allowing players to keep a good grip on the treasures within. In addition, the Boulders also come in a variant with a tray for dice and counters to keep your collection tidy.
If you're starting out with your trading card collection, it's hard to consider other deck boxes once you've had a taste of the Ultimate Guard Boulders.

Grab the Ultimate Guard Boulders on Amazon | Shopee.
---
Ultimate Guard Arkhive Xenoskin
As your collection grows, it becomes an eyesore to have multiple deck boxes strewn around the shelf. While a rainbow display might appeal to some, having it all stored nicely in a discrete box is made easier with the Ultimate Guard Arkhive Xenoskin.
Encased in what is best described as leatherette-esque material, the surface of the Arkhive Xenoskin feels premium and is able to hold up to eight Boulders, with users having the freedom to mix and match the internal configuration accordingly.
The Arkhive Xenoskin spares no detail as well, lining its internals with microfibre material to give an even more luxurious touch to one's already well-protected cards, before it gets closed with a solid magnetic snap.
Grab the Ultimate Guard Arkhive Xenoskin on Amazon | Shopee.
---
While Ultimate Guard has a whole suite of accessories available, these picks would be ideal for keeping your trading card collection neat and tidy while looking great at the same time. The reasonable prices are a plus, too, making it an easy pick for staying light on the wallet!
Gerald currently straddles between his love of video games and board gaming. There's nothing that interests him more than trying out the newest and fanciest gadget in town as well. He dreams of publishing a board game sometime in the future!