After buying your first pack of Magic cards, the big question is how do you protect the ones of value? 2021 isn't the late 1990s, where good card sleeves were hard to come by. Today, plenty of brands provide a whole laundry list of sleeve products for players. One of them is Dragon Shield, who is lauded among the community for producing sleeves that are "tough as scales," while being cheaper than actual mythical objects.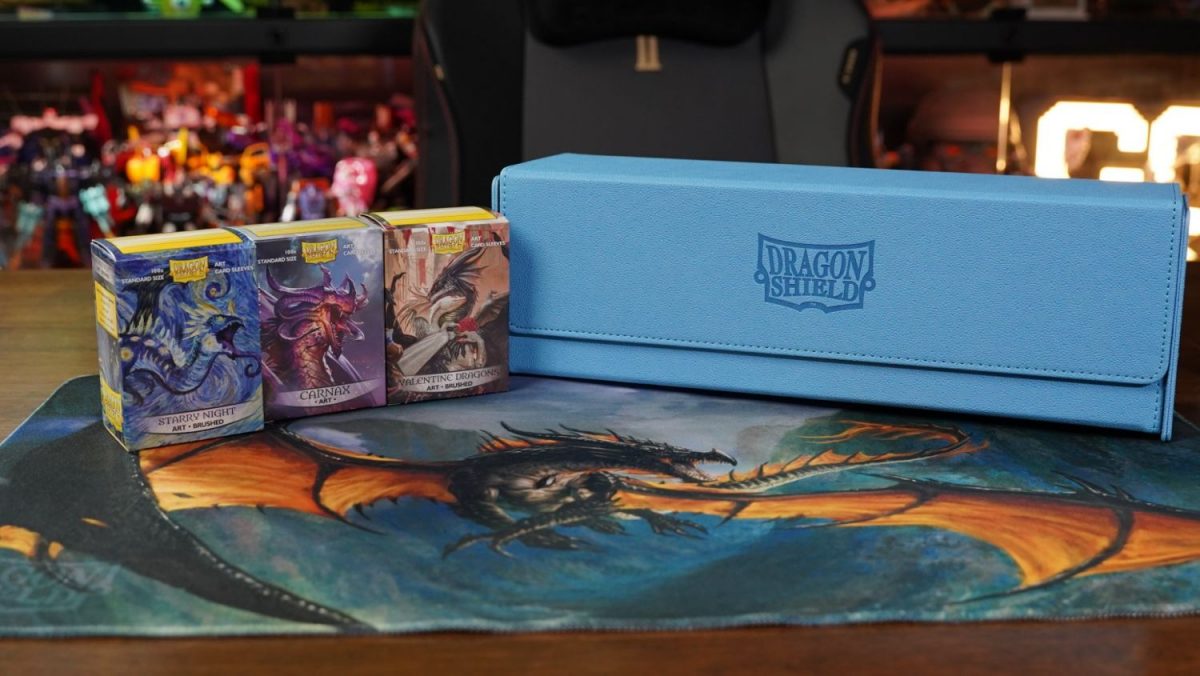 But which of their own products rules the roost? We analyse these sleeves through the eyes (and hands) of actual Magic players, so there's no guesswork involved. To start, here are the basic features:
-Fits standard poker-sized cards (63 x 88mm, or 2.5 x 3.5inch), with ample room for inner sleeves if desired.
-100-sleeve packages (just right for Commander format).
-Sturdy cardboard box to hold 75 sleeved cards (perfect for any constructed format except Commander).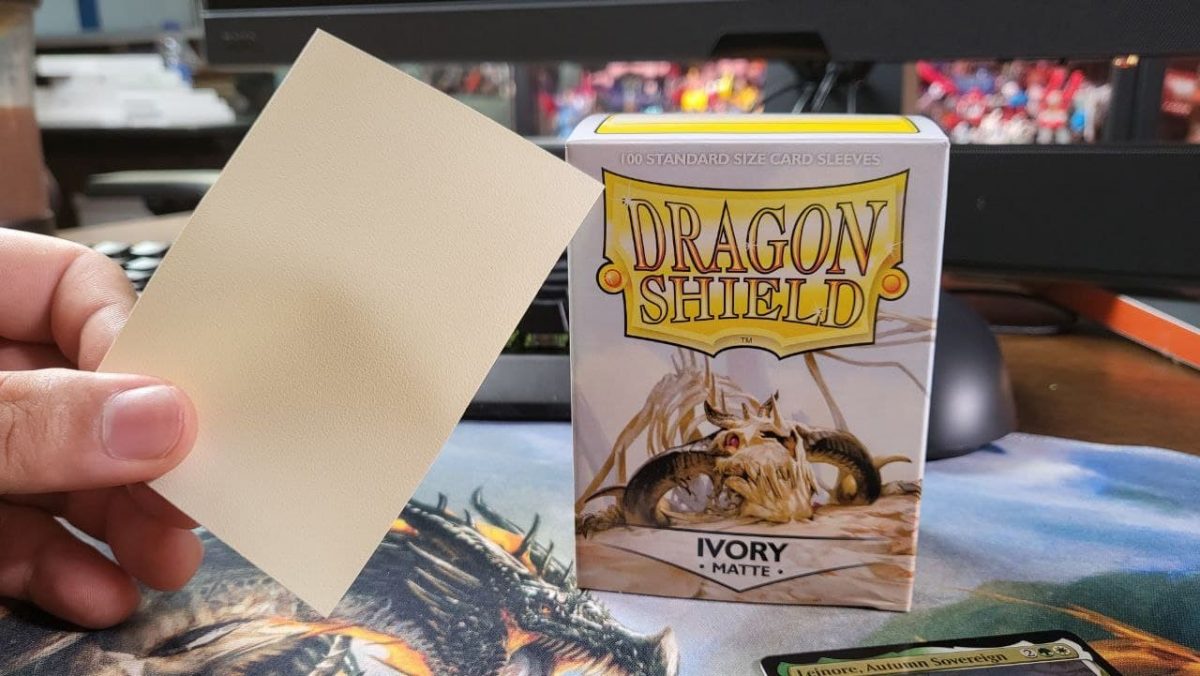 Dragon Shield's Matte sleeves are workhorses that refuse to buckle. Incredibly strong, the seams don't tear even after a hundred games. The textured backs will prevent cards sticking together, even when packed tightly in a box. Shuffling gets easier because of that, though some players have commented it can even be too smooth.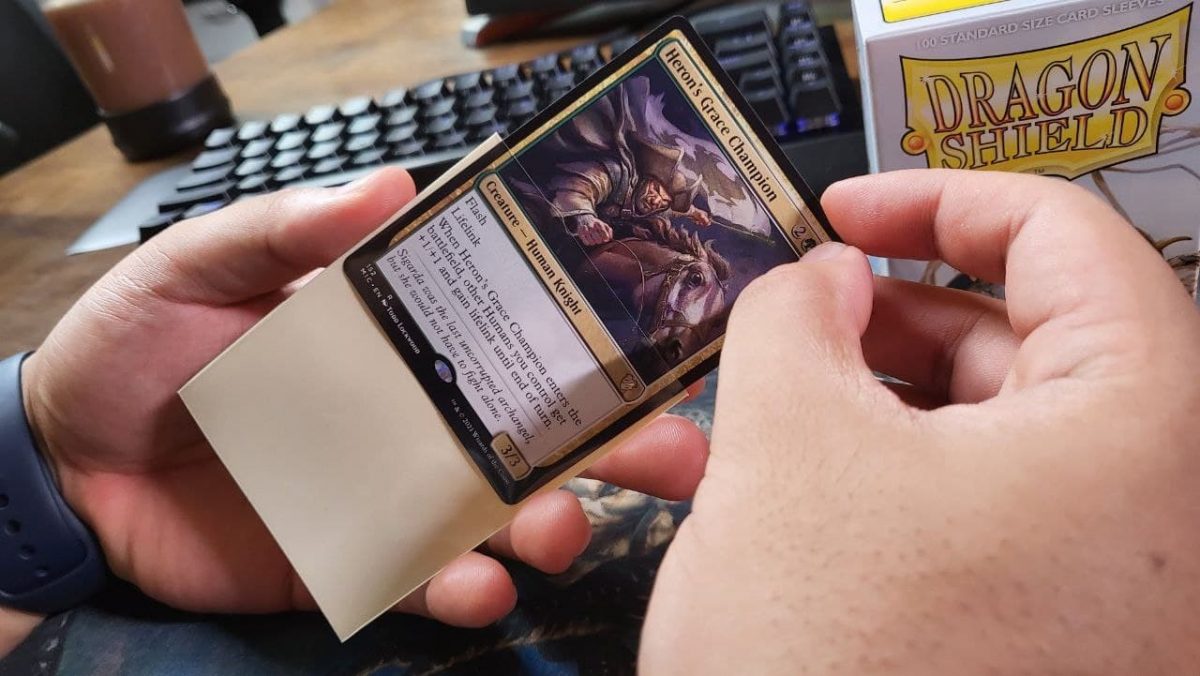 One downside to the Matte sleeves is that whatever colour you pick for the back side, that same colour will also show up on the front side. And because standard size sleeves have plenty of wiggle room for Magic cards, they will show up with an additional colour surrounding the card's black border. This doesn't bother everyone, but some do like the front face to be clear of distractions, and that means having either a black front or a colour that pairs well with black.
The easiest solution to this is to just get Black or Jet coloured sleeves, but that also makes your decks pretty much indistinguishable from each other. Imagine your carrying case with six decks all made out of black sleeves – it's tedious to find the deck you want, plus the chance of misplacing cards across decks will make sorting even more difficult.
However no one can argue against the steadfast quality and competitive price of Dragon Shield's Matte sleeves. The range of available colours is also extensive, and there's one for every player.
Perfect for: General, long-lasting play. Colour lovers. Best value for money.
Downsides: Cards slide off a little too easily while shuffling. Prickly corners when new.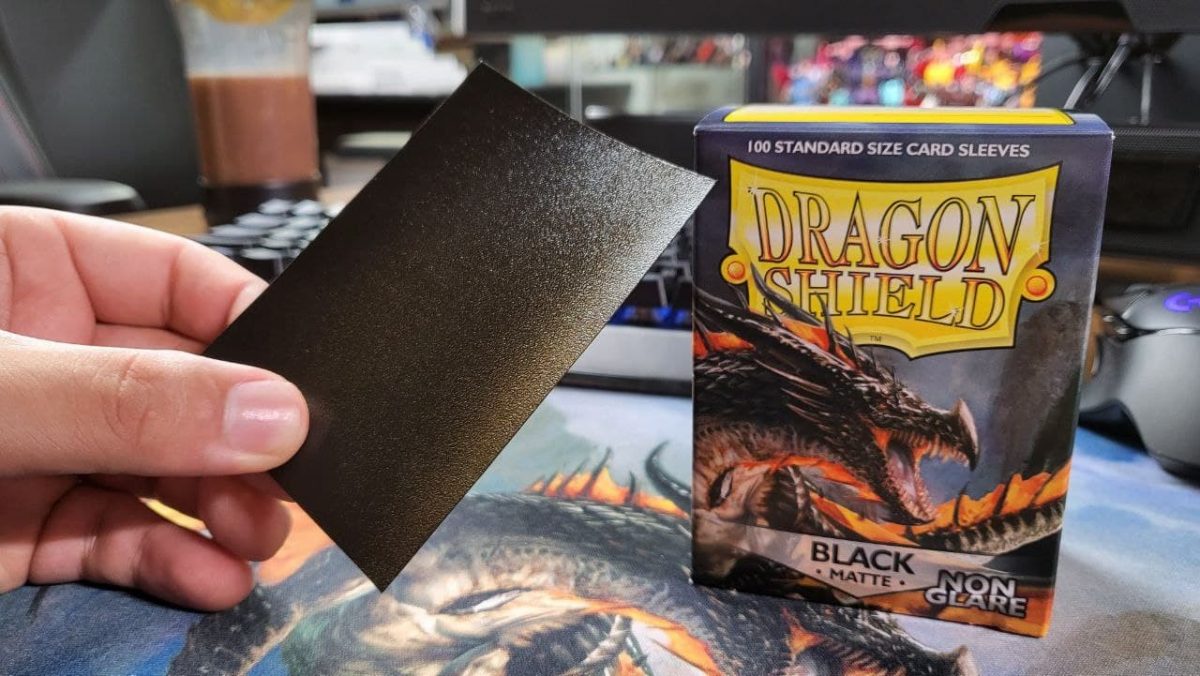 If you're a global conqueror and play frequently with online playgroups through Spelltable, your best sidekick would be the Non-Glare Matte Sleeves. True to its name, the non-glare sleeves specialise in cutting out reflective light from direct room lights. For people playing face-to-face, glare isn't a problem because anyone can simply pick up a card to cut the glare. In online gameplay or filming, that just isn't feasible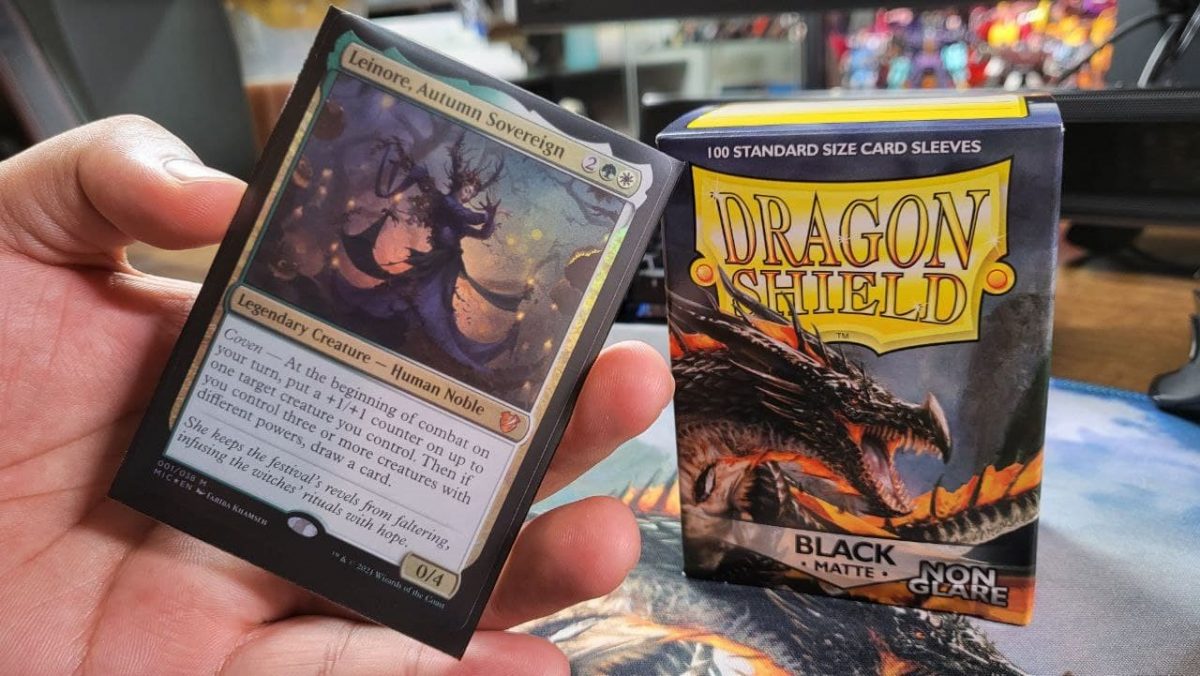 Because the non-glare sleeves essentially diffuse the light being reflected, that means foil effects on cards will also appear more muddled and less glitzy. There's a small segment of players who like to foil out their entire decks, so do bear that in mind that these sleeves will somewhat hamper the ability to dazzle your opponents into submission.
Another drawback of non-glare sleeves are the limited colours offered by Dragon Shield. There are classic black, silver and clear sleeves, but they are supplemented by only one more colour – purple. It might only be a matter of time before the entire range of colours are offered in non-glare options, but if colours are important to you, it's best to just go for the regular matte sleeves.
Perfect for: Online play. Content production.
Downsides: Reduces cards' foiling visibility. Limited colours.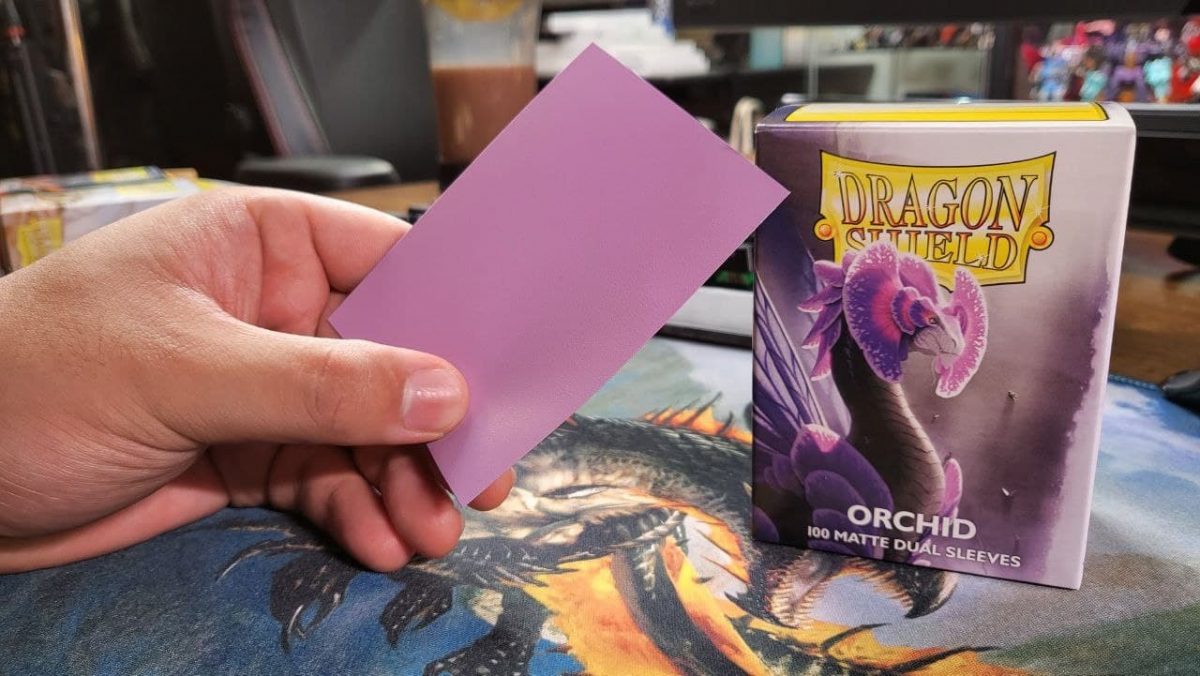 Finding out about these Dual Matte sleeves was a godsend, as though Dragon Shield knew players were disgruntled about their coloured matte sleeves being aesthetically jarring on the front side. Although they've been around since 2016, Dual Matte sleeves only became available in Asia in 2021. These Dual sleeves check almost every box you might have. They are coloured and opaque on the back, but are always black on the front, ensuring a nice blend with Magic cards.
Although it's titled "matte," the back is actually different from their Standard Matte sleeves and leans closer toward a more refined texture. What this means is that it has reduced slip while shuffling, but still prevents clumping when fit tightly in a box. It's a design improvement that most players will certainly appreciate.
The front window is still glossy like the standard matte sleeves, so this will still be great for foil decks but less ideal if you're using them on camera. Apart from the glare, these Dual Matte sleeves are Dragon Shield's best redesign that take into consideration the majority of players' needs and feedback. They're naturally going to be at a higher price point than the standard sleeves, but it's worth the cost if it fits your idea of how a sleeve should look or function.
Perfect for: Players who must have a black border on the front side, and another colour on the back
Downsides: No non-glare version (hopefully coming in the future). Currently only in 5 colours.
Art Style Sleeves – Stunning Dragon Art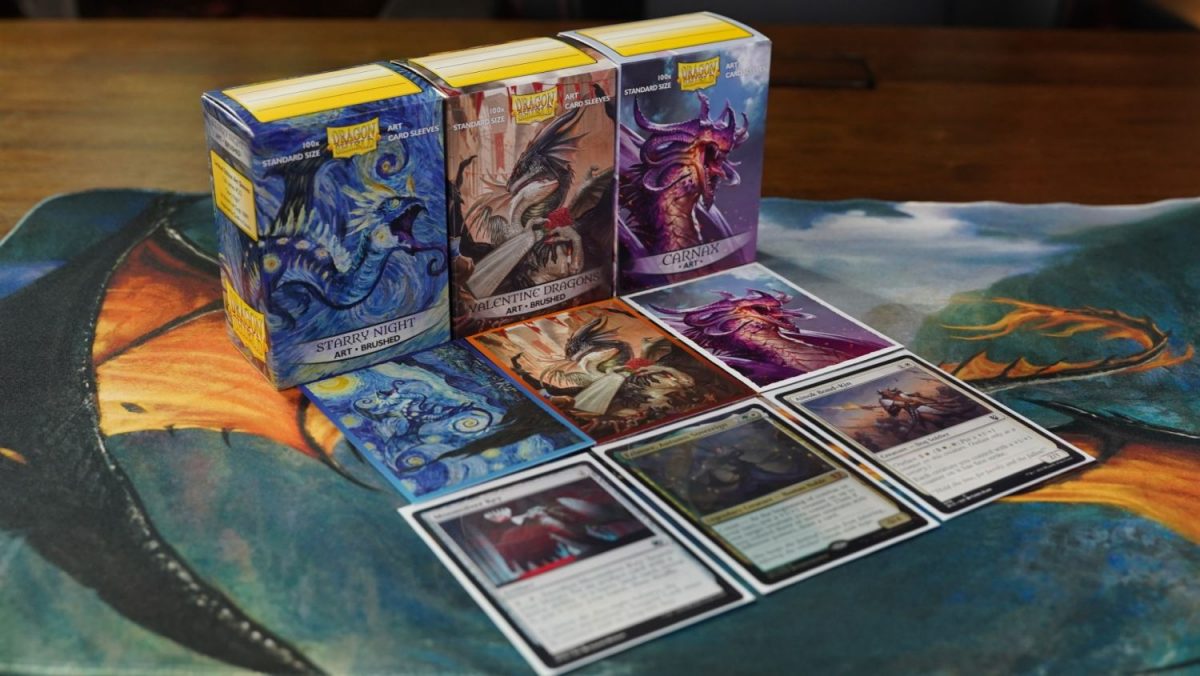 If style is the name of your game, then there's no better option than the Art Style sleeves, featuring dragon art especially commissioned by Dragonshield. You won't be able to get these art sleeves anywhere else. They come in three different backs – Classic, Matte, and Brushed, but this review will be focused on the latter.
Print quality of the artwork is top notch and is sure to be a point of admiration from your friends. If you went to a photo lab to do some professional prints from your phone's photos, there's hardly anything to nitpick between that and the art style sleeve when placed side by side.
The brushed texture on the back, though, may rub some players the wrong way. It's smooth to the touch but feels finely textured when you run your nail across. It's very different from the Matte or Matte Dual backs, and the sensation when in hand doesn't feel as gratifying. It could be that brushed material allows for better quality of printing the art, but we won't make a comparison without seeing the classic and matte art sleeves.
The biggest gripe about the art sleeves is they all have a white front, so all black-border cards will have an additional white border. Since Magic stopped using white-border cards a long time ago, the bulk of your deck will face the same white-washing issue.
Perfect for: Standing out and making a point. Beautiful art to match your playmat.
Downsides: Lacklustre brushed texture. White front face.
End Step – What to Get Next From Dragon Shield?
Dragon Shield's next big thing is the Sleeve Crafter, where you'll be able to submit your own artwork (subject to copyright) or custom design to be printed on the back. These will come with a white front, and a white border will also surround your design on the back. As the dragons have not made their way to Asia yet, we've not been able to see first-hand the quality of the print and how it compares with their regular Art Style sleeves. If you're in Europe and have bought some, do share with us your thoughts!
You might also wonder how do you store all these sleeved cards? After all, their original boxes can't fit 100 sleeved cards so you'll need some proper storage. Dragon Shield's Magic Carpet is one possible solution. They store 571 sleeved cards – good for 5 full Commander decks (or 7 Standard decks) plus spare room for accessories. It also comes with a built-in playmat surrounding the box so everything you need to play is right there (okay, you still actually have to get the Magic cards)! 
The Matte Dual sleeves look incredibly promising, and as long as they aren't priced grossly higher than the standard Matte sleeves, the Duals could very well be a recurring purchase for the next few years.