At the 2016 Singapore Toy, Game & Comic Convention, I had a chance to sit down with the incredibly talented Emma Rios, an architect turned comic book artist. Hailing from Spain where she created many self-published works, Emma is now most famous for her work with Image, including Pretty Deadly with writer Kelly Sue DeConnick, the magazine Island with fellow editor Brandon Graham, and Mirror with artist Hwei Lim.
We met at the STGCC Media Lounge, which was located in the right rear corner of the hall. She showed up a little late and a bit out of breath, no doubt due to her packed schedule. The Akiba Pop Stage performances were in full swing at the main stage, and even though that took place clear across the hall, it still made it very difficult for the two of us to hear each other properly. We nevertheless soldiered on, and I prayed to various pantheons that my iPhone would be able to pick up Emma's responses, despite the incredible level of noise (Spoiler alert: every single one of those pantheons flat out ignored me and my iPhone picked up almost nothing; luckily, I also took notes).
I began the interview by introducing myself in Spanish. Emma's eyes lit up at this, and she excitedly asked me if I would be conducting the entire interview in Spanish. I sheepishly said I would not be, because despite Spanish being my first language (my family is from Mexico), it is unfortunately no longer good enough to do anything useful with, beyond talking to my family. She playfully scolded me for getting her hopes up, and continued with the interview despite my botched effort to endear myself to her.
I began by asking her about Island. This comics magazine that she started, and continues to co-run with Brandon Graham, is a throwback to comics magazines of old. It features not just comics, but standalone art, fiction, and essays, just like the European Metal Hurlant and the Japanese Garo,  both magazines Emma said she and Brandon were inspired by. According to Emma, she and Brandon work closely together to choose the contents of each issue. Even though they bring their own perspectives to the magazine, the process is made easier because they have similar tastes and visions. Because they don't accept submissions, the duo spent time to actually go out and find indie and underground comics that they both think deserve more attention.
Emma added that Image being Image, they give her and Brandon complete creative control, so there's no uber-editor telling them what they can and cannot put in Island. In fact, their only real constraint is the number of pages they're allowed per magazine, which has shrunk from 112 pages in the first issue, to 72 pages in the latest and upcoming issues. They still pack each issue with three full-length comics and various extra bits and pieces. Emma did admit that Brandon's been doing the lion's share of curating the magazine recently, as she's been busy with some of her other projects.
Both creators put their own work into Island as well, which led to my next line of questioning about Emma's recently published collection of I.D. The comic follows the story of three people who want to transplant their brains into new bodies. It was serialized over the first two issues of Island, and then collected into a trade paperback. This was Emma's first, and only work in English, that has been created entirely by her.
When I asked her why had she decided to write about this particular topic, she said she had wanted to experiment with hard sci-fi, a genre she hadn't previously explored. Plus, she added, the field of neuroscience had seen many advances in recent years. Indeed, an entire chapter, out of a total of five, is devoted to explaining the medical science behind brain transplants. It all sounds very plausible, until you get to the end of the story and read the essay by neuroscientist Dr. Miguel Alberte Woodward, MD, that explains in excruciating detail why brain transplants are not possible, and will likely never be possible (this essay was also first published in Island).
I asked her why she had made this decision to seemingly undercut her own story and Emma noted that it was important to ask a professional to give the whole exercise a "sense of grounding". Her story is fictional after all, and having a real-world essay on the same subject actually enhanced the story, not detracted from it.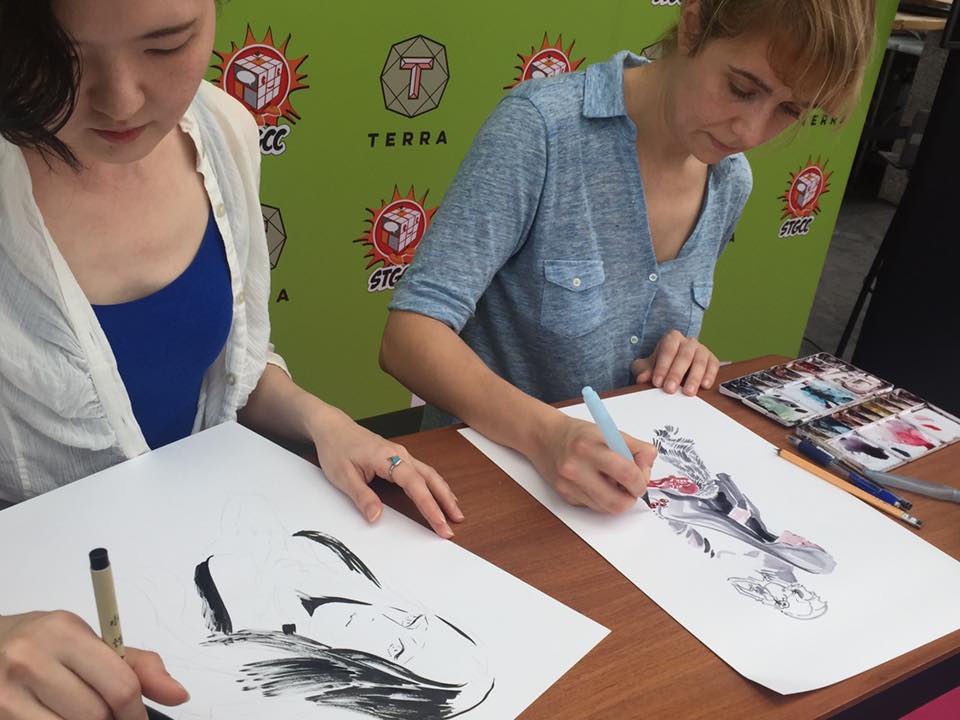 Emma has taken up three different roles in the three latest comics projects she's done with Image; as artist on Pretty Deadly, the writer on Mirror, and writer/artist on I.D. While she laughed when asked about which "job" she preferred, she said she loved them all equally. However, she did admit that it was "very exhausting" doing revising alone, and that she tended to get quite political when she didn't have somebody else there to rein her in (I.D. features a narrative with an Occupy-style movement, filled with heavily-armed police officers in the background, mixed in a situation that becomes violent and threatens the three main protagonists).
She also said that even though her official designations on Pretty Deadly and Mirror were artist and writer respectively, she shared the duties with her respective partners. Kelly Sue and Emma consistently talk about the plot and art together, giving each other the opportunity to be fully invested in each other's "jobs", she notes that Kelly Sue helps her to be a better artist. Likewise, she described her and Hwei Lim's partnership on Mirror as "writer and co-writer and co-artist and artist". And because Hwei Lim and Emma have been friends for years, their partnership came about organically.
Before doing comics in the US, Emma was self-published tons of comics at home in her native language, and for the benefit of her non Spanish-reading fans, I asked her if she had any plans to have them all translated to English. Surprisingly, Emma threw herself backwards in her chair with a short, sharp laugh and definitively said, "No, never ever." But surely her fanbase was now large enough to support such an endeavour, I countered. Simply put, she fells that those comics were simply too old and sloppy.
Like any other comic creator, she only wants to show her best work, and those comics are not her best. I tried to think of another reason for her to translate those comics, but she shot me down with another emphatic shake of her head. Sorry guys, it seems those early Emma Rios comics will never see the light of day again.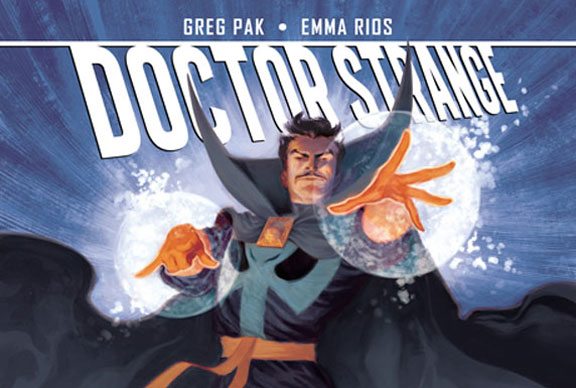 After Spain, but before Image, Emma did some work for Marvel Comics (her first major English work was the Strange miniseries, which Marvel has just reprinted thanks no doubt to Emma's ever-growing fame, and not to some small movie that is coming out in November). I asked her what she thought of the corporate vs. independent divide, having worked in both environments and she noted that in Spain, there was no such thing as corporate comics. Everyone does their own thing, and tries to get a publisher (or self-publishes), the same way a prose writer would. As an architect by training, she thought she would always be doing comics for fun, and to express herself, so she was very happy to have an opportunity to make enough money doing comics and nothing else.
Comics have always been important to her as she had learned to read by reading comics (like many of us have). At Marvel, she learned many non-creative things, like scheduling her time properly and financing. And for would be artists, here's an interesting tidbit from Emma – because she'd been drawing for fun, she hadn't previously known how many pages she could draw in a day until she started working for Marvel. In a work-for-hire situation, she didn't have to worry about marketing and promotion and could focus on just drawing. So thanks to the page rates offered by Marvel, she not only made enough money to become a full-time comics creator, she also made enough money to focus on her creator-owned projects, which can be much more rewarding, but also carry a lot more risk for the individual creator. Because of this, she said she got a fair deal with Marvel.
In a creator-owned situation, the creator has a lot more freedom. She has final say on her projects, and she can decide to work with her friends without clearing it with anybody first. On the other hand, she also has to do her own marketing and promotion, which takes away from her creating time. She also has to deal with her insecurities about whether or not what she is creating is actually any good. In a for-hire situation, this is mitigated by the presence of an editor who has the final say on everything, meaning the pressure is split among those involved. In a creator-owned situation, it all boils down to the creator.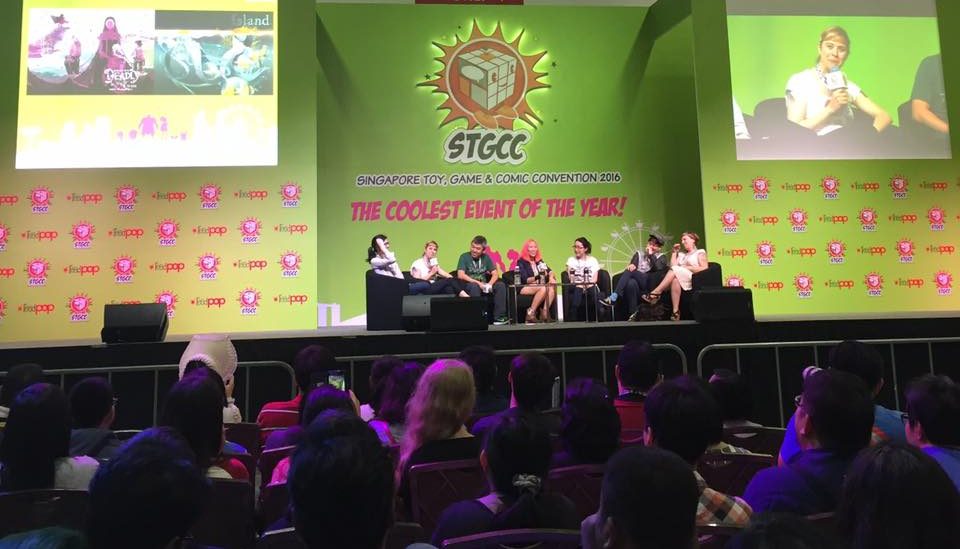 Finally, I asked her about being a female creator in a predominantly male industry (there had been an all-female panel earlier in the day that touched on this topic) and Emma let out a sigh. She said she had often been made to feel different and weird simply because she was a woman, both in her native Spain and in the US. She felt that women were questioned more often than men about the work they were doing, but she has something she wanted all men everywhere to know.
"We are normal," she said. "We are not something strange."
I thanked Emma for her time and watched her walk out of the Media Lounge and towards the Books Kinokuniya booth. She had signed at their booth earlier, but was not scheduled to be there at that particular time. She nevertheless sat down and proceeded to sign Kino's stocks for fans. Maybe that's why she was late for this interview, because she made an unscheduled stop somewhere for the benefit of others.
She thanked the Kino staff profusely, before being whisked away by an STGCC volunteer to her next scheduled event, where she would probably arrive a little late, and a bit out of breath.
---

Drop a Facebook comment below!