Reed Exhibitions describes the Singapore Toy, Game & Comic Convention as combining "the best of pop culture from East and West to Asia, uniting the worlds of comics, anime, toys, collectibles and games."
But does it really? I can certainly see the anime, the toys, the collectibles, and the games, but where are the comics?
I was asked to pen my thoughts on STGCC, to focus on comics, and it took me awhile to actually write it. I really should have done it immediately after the convention was over, but I had to work through my feelings on the subject first.
I've been going to STGCC every year since it started in 2008, which was also the year I moved to Singapore. It was a much smaller convention than I was initially used to, having just come from New York, but it was fun and intimate. It gave me the chance to meet many local comics creators for the first time, many who would later become friends and associates, like Lim Cheng Tju, Troy Chin, Ye Zhen, Andrew 'drewscape' Tan, Ken Foo, and Sonny Liew.
When Reed Exhibitions took over two years later, in 2010, the entire community was excited as we hoped this meant a show more akin to their US shows, like NYCC and C2E2, with big-name western creators and a bigger and better Artist Alley. Reed has mostly delivered on the big names, with creators such as Matt Fraction, Gail Simone, Andy Diggle, Kieron Gillen, David Mack, Adam Hughes and many others gracing STGCC with their presence.
The Artist Alley, however, has been a different story, with lesser and lesser local and regional comics creators taking part. In fact, comics in general seem to consistently be the smallest part of the convention, even with the big names.
This year was no different. It saw what is likely the most big-name guests from around the world at any STGCC ever, with headliners Emma Rios, Brooke Allen, Phil Noto, Haruhiko Mikimoto, Jacob Chabot, Stephanie Hans, Tom Taylor, and Nick Spencer all in attendance. There were many more panel events featuring these creators that also featured a few local and regional creators like Lim Cheng Tju, Hwei Lim, Gary Choo, and Sonny Liew.
But despite these stars, only three booths on the main floor actually sold any comics: Heroes and Villains, Philippines-based Comics Odyssey, and Books Kinokuniya, making a return after a five-year absence (and their first at Marina Bay Sands). Gone are the days of Marvel, DC, or Diamond booths.
And Artist Alley once again felt bereft of comics. Reed's official press releases stated "2016's edition will see more than 160 Artist Alley participants from 12 countries." But the programme guide given out at the convention itself featured only 69 booths, most of which were not comics. By my estimate, only about 30% of the booths were comics-related, including those by Sonny Liew, Gene Whitlock and Wayne Ree's Global Beards, Andimoo Studios, Formosa Comics, Jerry Teo's Rex Regrets, and Ye Zhen's Singapore Hip-Hop Horror Comics. The rest was equally split between official merchandise and not-so-official merchandise.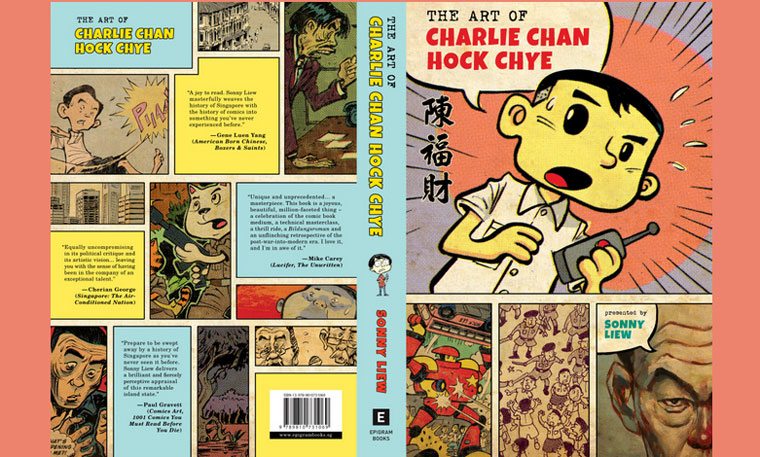 Why are Asian creators who are constantly making new comics, like Troy Chin, Benjamin Chee, and Ken Foo, opting to stay away from STGCC? Even Sonny Liew, who was a featured guest at STGCC this year, and the first winner of the Singapore Literature Prize for The Art of Charlie Chan Hock Chye, decided to throw an alternative "comics convention" this month called Speech Bubble. Its goal was to focus more on local and regional creators, a sentiment some comics creators feel STGCC not only lacks, but seems to have no interest in even attempting to court.
(Full disclosure: my wife and I are participating in Speech Bubble and running two children's events).
Sonny says that this issue has been building over the years, but Reed does not seem to have any interest in changing things.
"Having seen firsthand all the work involved in organising something like Speech Bubble, I can appreciate the amount of work involved in running STGCC, the number of balls they have to juggle. But we've been giving Reed feedback on how things might be improved for a long time now, and their responses have been polite, but nothing really ever seems to change", noted Sonny, who had a table at Artist Alley.
"Reed is a big international organization that runs a lot of events each year, but I think they need to appreciate that the Singapore comics scene has its own peculiarities, and can't be run along the same template as a con in, say, New York – and that they need to engage with the local community – publishers, creators, bookstores etc more. Maybe what they're doing now is commercially viable enough that they don't need to change anything – but as the biggest pop culture convention in town, they do have the opportunity to do more, and I hope they will be open to dialogue with us."
What does this mean for me as a comic fan? Even though STGCC is bigger than it's ever been (it moved to Level B2 at MBS this year to accommodate the bigger space); even though Books Kinokuniya made a triumphant return; even though there were more big names featured (who I definitely enjoyed meeting), I was once again ultimately underwhelmed by the focus given to that first 'C' in STGCC.