Taking place two days after May the Fourth, Singapore will be getting her very own Star Wars run!
Disney Singapore and Lucasfilm are hosting Singapore's first Star Wars Run to the Little Red Dot, and why not, since we've had Justice League, Pokemon, My Little Pony and One Piece runs?
Participants will be able to choose between the Light side or the Dark side for this run with race distances covering 4.5km and 10km – which is actually pretty long for a fun run!
Details are still murky at this juncture apart when it comes to costs. If you have been waiting in anticipation for this like us, head on over to the organiser's page for a pre-pre-race registration to get ahead of the queue. Or so they say.
One can only hope that somewhere towards the end, they'll recreate the meridian trench and start pelting runners with green water bombs before crossing the finish line.
There will probably be 2 medals for runners, so grab a partner and sign up for both if you really want to collect every Star Wars memorabilia out there.
May the Force be with you and there's five months from now to get into shape!
---
Update #1:
There's one more week to pre-register for the run, and the folks at Disney/Lucasfilm have revealed the two sets of goodie bags awaiting participants.
If you're a fan of the Empire, complete the run in a grey t-shirt with red accents, black sling bag, and a plushie. The Dark Side Pack also includes a towel.
Followers of the Jedi Order will get a white shirt with blue accents, a white sling bag and a plushie. The Light Side Bundle also comes with the same towel.
The dark side or the light. Which path will you follow? #StarWarsRunSG Register your interest now to the STAR WARS™ RUN Singapore 2017: www.starwarsrun.sg

Posted by Star Wars on Friday, February 3, 2017
As you can see from the images above, only a Darth Vader and Yoda plushie are shown. We're not clear if there are only 2 designs, or if, like the Changi Airport giveaway in 2015, there will be multiple designs.
From the looks of the plushies, these are also brand new ones, and not a re-use of an existing one for fans.
Once we find out more, we will update this article.
---
Update #2:
Here's a look at all the important details you need when signing up for the run!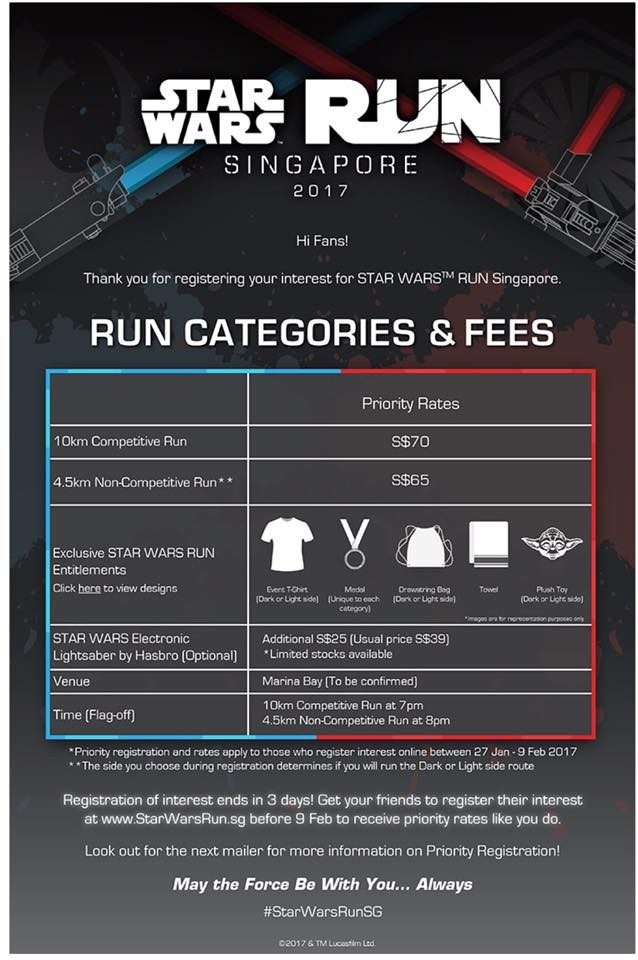 ---
Update #3:
There are 4 medals revealed for the run! Which would you want?
Gerald currently straddles between his love of video games and board gaming. There's nothing that interests him more than trying out the newest and fanciest gadget in town as well. He dreams of publishing a board game sometime in the future!
---

Drop a Facebook comment below!