Over in Las Vegas, tech companies of all types are showcasing their latest to the thousands of attendees at the annual tech conference this week. And if you want to experience even a snippet of that, head over to the Sonos pop-up event at the Atrium @ Millennia Walk, to open up your ears (and eyes).
With the slogan "Sonos Makes It Home", the company is bringing home their cosy yet spacious booth in the middle of the complex. Here's what you can experience from their exhibition space.
Multi-Room Experience
Think speakers and the idea of a wired speaker linked to an amplifier comes to mind, but as one of the pioneers of smart speakers, Sonos paved the way for a home to have linked speakers.
If you need just one, the user can channel music to a speaker via an app. But the network speakers also make it possible to play audio through all of the speakers, and there's no better way than to experience it on your own.
The Sonos speaker system marries surround sound and Wi-Fi connectivity into one smooth blend that allows users to connect two, or even up to thirty-two, if you're that kind of crazy, to mix up how you like your sound arranged.
The pop-up features two room setups that simulated a home theatre system, and a gaming one respectively.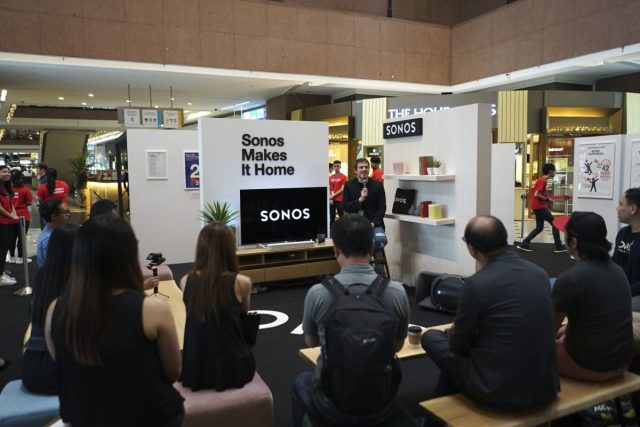 If you're a fan of voice- and Wi-Fi-controlled sound systems, then you're in for a treat. If you've never heard of the concept, even better. All this is done using the Sonos App that can be downloaded on mobiles. With it, you can pair speakers under the same Wi-Fi.
Alternatively, multiple users can have access to the sound system, and use each unit either collectively, as in watching a movie together, or independently, if you all want different kinds of music to listen to at the same time.
With one Sonos One unit, you've got yourself a solid speaker. Supporting Alexa voice control (which is currently not available in Singapore), you can remotely play your favourite tracks on Spotify and you'll have a sound (heh) time.
Gaming Room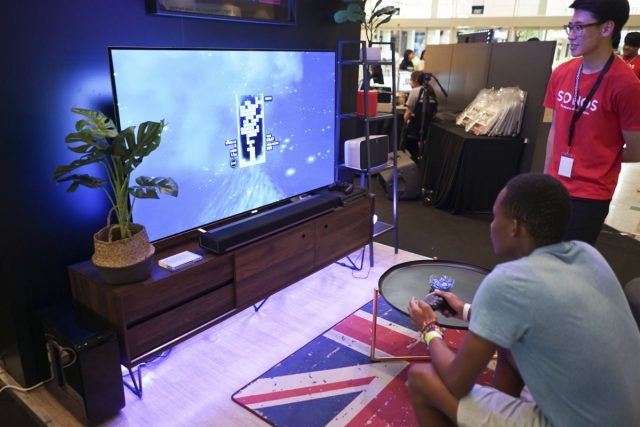 3.1 Setup:
Hooked onto the TV was a PS4 as well, with Tetris Effect booted up. It was a scintillating experience of colour and sound, as every block that hit the surface echoed a tune and kept the beat going.
With every few bars that were cleared, the music got progressively more elaborate, adding more highs on the Playbar and more booming bases on the Sub, both of which combined to great effect and provided tons of immersion.
Home Theatre Room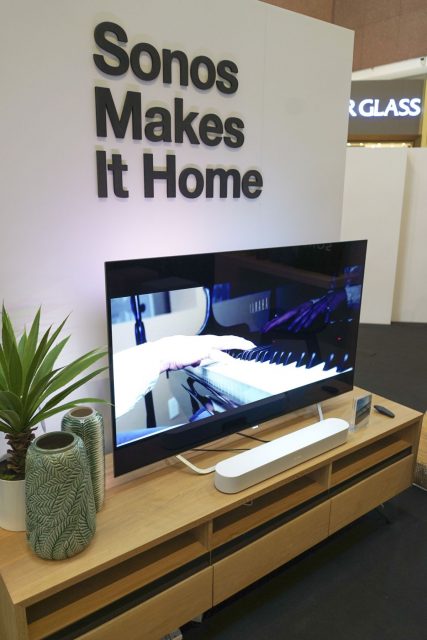 5.1 Setup:
Sonos Beam
Sonos Sub
2x Sonos Ones
Playing on the TV was the jewel robbery scene from Fantastic Beasts and Where to Find Them, and through it, elements of the 5.1 setup were gradually introduced. And what an immersive experience it was.
First, the scene started off with the Beam, giving a full frontal sampling of the mids and highs. Then the Sub was introduced when growling could be heard, highlighting once again the powerful, floor-rumbling lows it provides.
Then, as icing to the aural cake, the two Ones, mounted on stands to the flanks of where we were seated, were introduced, rounding off the hearing pleasure train we were entreated to.
Other Cool Stuff
Check out this turntable and the new Sonos Amp set-up, which is slated to be available in February. When hooked up to a Sonos Play:5, playing all your vinyl hits will never sound so good.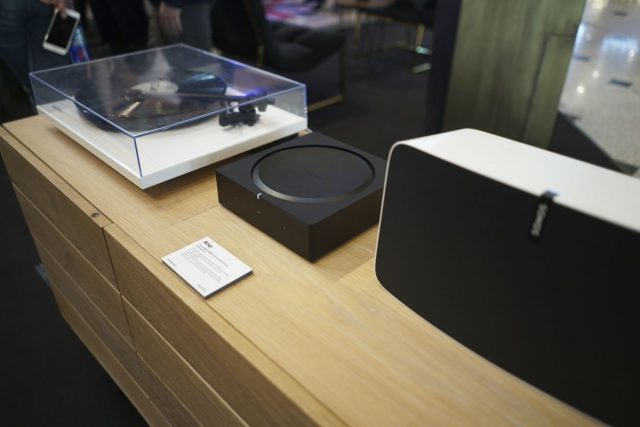 Sonos also recently did a collaboration with Danish furniture design company HAY, who came up with alternate pastel colours to the Sonos Ones. Now you can beautify your Sonos collection with some warm, homely colours, instead of the usual blacks and whites.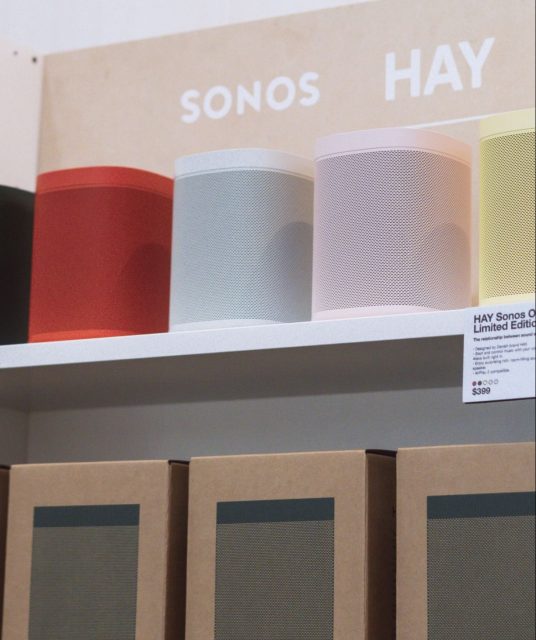 ---
Interview with TC Acoustic CEO, Christian Honegger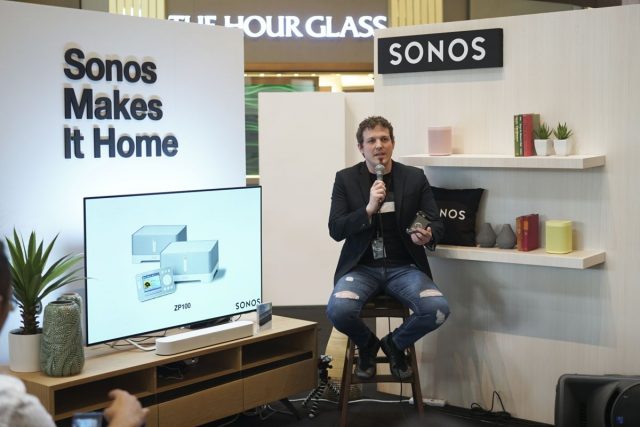 Amidst the enjoyment of the chill atmosphere made by the music and sounds provided by the Sonos speakers, we had a chat with Christian Honegger, CEO of TC Acoustic (TCA), the regional distributor for Sonos in Asia.
When asked about what makes Sonos stand out among its peers in the sound and music industry, Honegger cooly answered with a simple sentence: "We are agnostic".
"What Sonos wants to do differently is to be open", he pointed out. "We want to work with Google; at the same time, we're going to work with Alexa; at the same time, we're going to work with Siri. In China, they have other voice services and assistants that are already being integrated into Sonos."
"Other brands have a long legacy of great audio, but now find it hard to catch up with the smart speaker system, so they usually decide to go with Google, Alexa, or whatever."
Honegger elaborated that at Sonos, consumer choice is paramount to the Sonos home experience.
"At home, you may prefer Google but your wife prefers Alexa. When your children grow up, they may have a different voice assistant. Sonos doesn't want to make this decision for the consumer."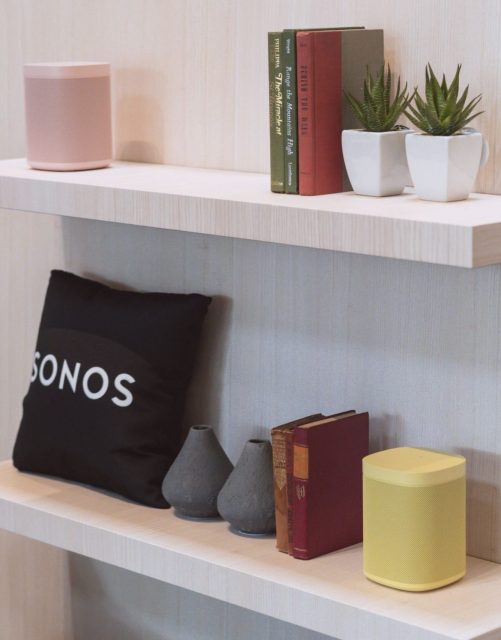 Another important aspect of Sonos' design philosophy, Honegger explained, was that Sonos "always designs the product with the home in mind."
He fleshed out the statement with a personal anecdote involving him and his wife, who "never gives me a hard time for putting in Sonos because it just fits into the home."
"Some speaker designers – especially American ones – design an amazing speaker. When they come to Singapore, where the homes are half the size of American homes, and how do you fit in this speaker, right? You must have another room for this."
Hence, the development of the ergonomic Sonos speakers that offer quality sounds for both the individual and the family in mind.
Naturally, however, the challenge of communicating the idea of a multi-room sound system to consumers still poses a problem to the folks at Sonos, though not nearly as bad as it was a decade ago, Honegger shared.
"'Multi-room' was not a term people would associate speakers with. At that time the most popular speakers were iPhone docks. You put it in one room and then it's there."
"But then you suddenly say 'Hey, you can put them all over your house and they can play at the same time, they can even play different songs at the same time'. It was very hard to communicate that and it's still something that we're trying to refine right now."
Despite the communication hurdle Sonos faced back then, they've come a long way, especially with their current lineup of speakers.
And with voice assistants coming to Singapore's shores very soon, Singaporeans can soon enjoy the complete Sonos experience at the comfort of their own homes.
---
In such a cosy space, the Sonos pop-up event was certainly a treat for the ears. Sonos continues to reel in consumers by the day with its ergonomic home-centric sound systems and does so in minimalistic style.
Have time to spare this week? The Sonos pop-up event is open until January 11, from 10.30am to 9.30pm each day at the Atrium Space @ Millenia walk. More details to be found here.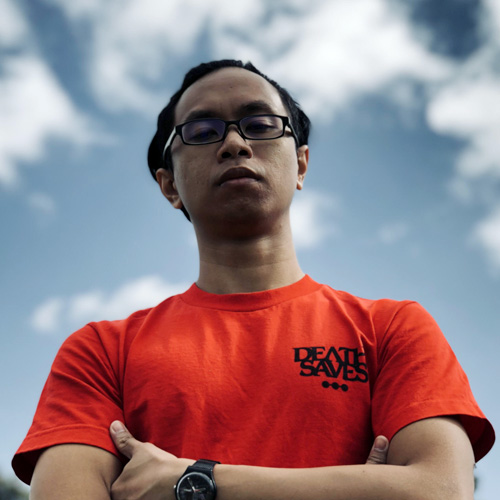 Marion has a serious RPG addiction. Sometimes it bleeds into real life; he forgets to sleep because he thinks he has a Witcher's body clock. Forgive him in advance if he suddenly blurts out terms such as "Mind Flayer" and "Magic Missile", because never once does he stop thinking about his next Dungeons & Dragons game.