[UPDATE 7 November 2016: Winner Announcement! Congratulations to Lee Mei Yii, Cleon Wong, Jonathan Gwee, Rohan Jay, Byron Tan, Allen Lawrence, Amadeus Poh, Eric Milledge, Loh Hui Hsien and Zhang Jie! Please check your email for prize redemption details.]
There are many terrible ways to die in science fiction. Transporter accident; decapitation via lightsaber; boiled in acid by the Alien Queen; being made to watch Dr Who on repeat; getting sliced apart by the chainsaw bayonet…
And you get to do the last one in the brand new Gears of War 4 game (read our review here), exclusive to the Xbox game console. We had the opportunity to dissect the minds of three members of The Coalition, and stay for dessert later, as we have surprises in store for Gears of War fans in Singapore.
---
What was the inspiration for the "3D Printer" Fabricator in the new Horde Mode?
Rod Fergusson, Studio Head, The Coalition
The inspiration for the Fabricator was really driven from gameplay needs. We wanted to make the Horde more emergent, so instead of just having fixed fortifications that you activated, we wanted to allow players to build what they wanted, where they wanted, when they wanted – so we needed a mobile construction device.
We also wanted something that was big enough that you could take cover on if necessary. The Fabricator "trunk" was born and from there the art team made it look really cool. Gears of War being a science fiction game, we didn't feel like it was too crazy to have a "3D printer meets Star Trek replicator" type device when we've already had invisible cloaking robots who rip doors for you.
Kirk Gibbons, Art Director, The Coalition
Building on Rod's comment, the art team's goal was to satisfy the gameplay needs as well visualize a technology that was believable in the Gears of War world. Additionally, we wanted the color space and forms to connect with the language of our new DBi technologies.
Now that the game is already gold, what were the features or nuances you wanted to put into the game, but couldn't?
Rod Fergusson, Studio Head, The Coalition
Gears of War 4 represents the beginning of a new saga for the franchise, so fortunately we didn't have the pressure of "You have to cram everything into this version!". Scope management is something that happens throughout the entire development cycle where you're always adjusting what features will be in or out as project unknowns become known. Fortunately, as we look to the future, anything that we loved that didn't make the cut will have the opportunity to live again in a later version.
The Hammerburst has seen yet another change since the last game. Why change it up to a three-shot burst weapon this time around?
Ryan Cleven, Lead Multiplayer Designer, The Coalition
With the new Hammerburst, we tried to find a distinct role for the weapon. Keeping it a single shot weapon like it was in Gears 3 meant that it would be similar to the new Markza Mk 1 and EMBAR. We returned to the original Gears of War Hammerburst for inspiration, which was a six shot burst weapon. This weapon was more of a submachine gun style gun while we wanted the Gears of War 4 version to be longer range than the Lancer. The three shot burst allowed us to give a really heavy, classic Gears of War feeling with a weapon that filled the gap between the Lancer and longer range rifles.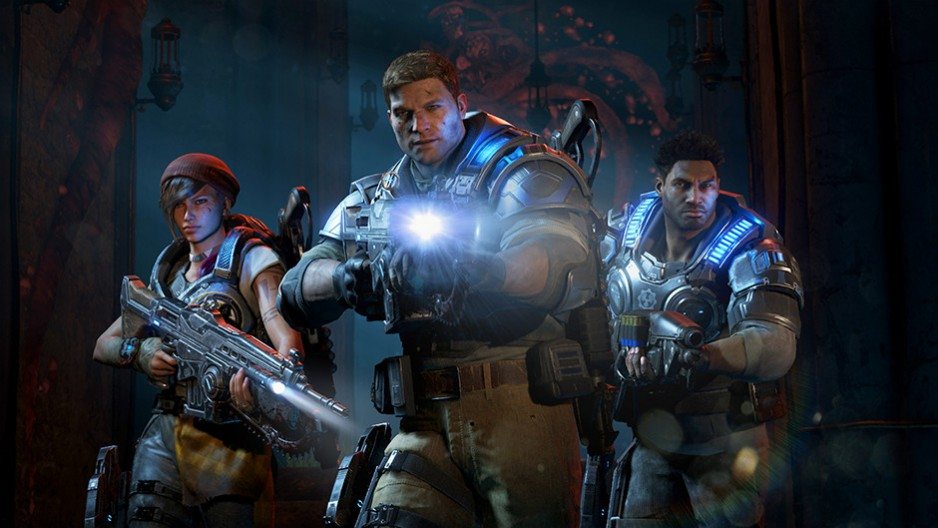 The new enemies the Swarm seem similar to Locust. Was this a conscious decision to keep it "old school", since the Locust or enemies similar to them is core to the series?
Rod Fergusson, Studio Head, The Coalition
Part of it has to do with the gameplay mechanics of a Gears of War game, another part has to do with our lore that people should learn about while playing Gears of War 4.
The game starts off in a bright area, then devolves down to dark chasms and ruins ala the first Gears. From an art perspective, how do you make the game look more interesting given these conditions?
Kirk Gibbons, Art Director, The Coalition
In terms of bright and dark, we took great care in crafting and designing our lighting and color to support and drive the emotions of the story. In the beginning, we have not had war for 25 years and there is a feeling of hope in the world displayed visually by sunnier, brighter and warmer lighting conditions. As our heroes progress past meeting Marcus at his farm and journey into the depths of the catacombs, mines and the dam, the story gets darker and more tense.
Likewise, our art direction and color changes to colder, tenser blues to reflect the journey of our characters. However, as JD, Kait, Del and Marcus enlist the help of the Old Delta crew and the mechs in Speyer, we return to the warmer colors once again to show renewed hope that propels our heroes to the finale.
Which weapon(s) and loadout will you see players use more in Vs. mode and in Horde mode? Cast your predictions!
Rod Fergusson, Studio Head, The Coalition
Well we already know that Versus is going to be all about the Gnasher shotgun. My guess is that the Engineer is going to be a popular choice for Horde given the need for fortifications to survive the 50 waves of enemies.
Ryan Cleven, Lead Multiplayer Designer, The Coalition
I expect we will see more Overkill usage in both Horde and Versus modes. The Overkill paired with either an EMBAR or Markza Mk 1 create a very effective combination of short range power and long range reach.
---
GIVEAWAY:

WIN 1 OF 10 LANCER PIZZA CUTTERS!

And as promised, here is our weapon for you, for you to carbo-load so that you can be like Marcus or JD, or whichever Gears of War character you like.

We have 10 sets of these Limited Edition Gears of War 4 Lancer Pizza Cutters, for 10 lucky Gears fans.
To stand a chance to win, simply complete these 2 simple steps:
SHARE THIS POST and TAG a friend (or more) you would like to have pizza with. ->
Fill in the form below.
Give us a LIKE below if you haven't done so yet, so you won't miss out on future similar giveaways!

The giveaway is open to all residents of Singapore, and closes on 6 November 2016 @ 23:59hrs (GMT+8). 10 lucky winners will be picked. The winners will be announced here and be notified via email by 7 November 2016. Good luck!
---

Drop a Facebook comment below!