Oppressive beauty standards, hate comments and constant objectification – just how many monsters do women have to battle on a daily basis?
The effect of unreasonable societal pressures that call for women to look, act and feel in certain ways just to fit into society's preconceived notion of what is considered beautiful has inevitably contributed to the toxic culture of women getting shamed for not adhering to what is considered the societal norm. To take a stand against such toxic culture, prestige beauty brand SK-II has started a movement to declare that there should be no competition in beauty in what is aptly called the Beauty is #NOCOMPETITION campaign.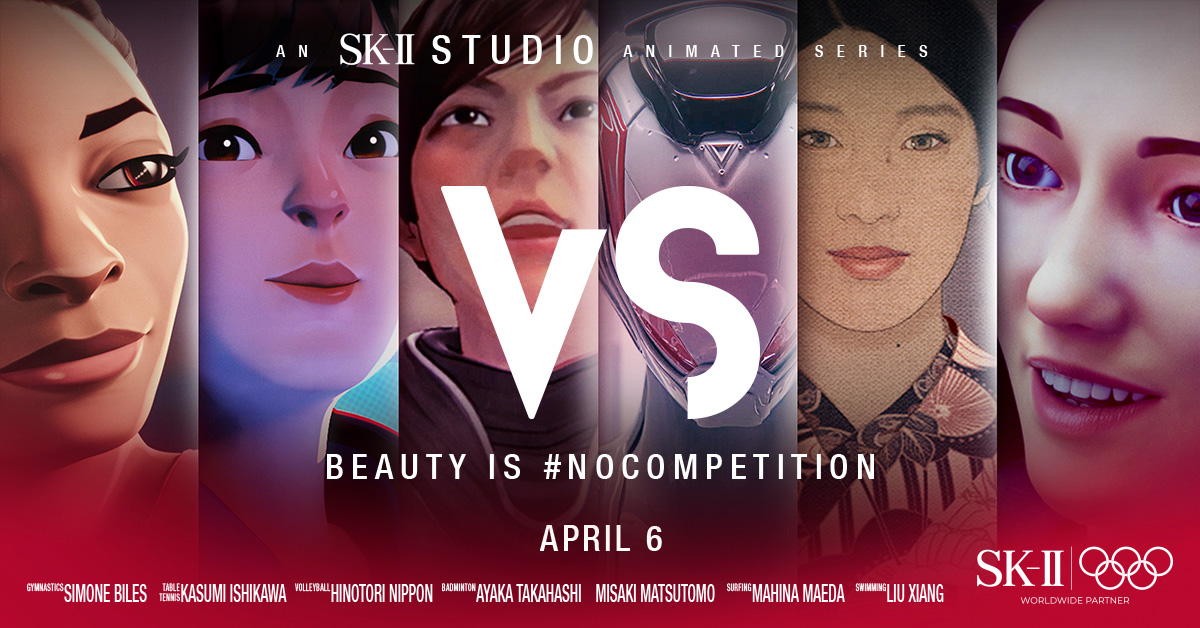 As part of the campaign, top Olympic athletes have joined hands with the brand to denounce toxic competitions in beauty by sharing their personal experiences on their social channels and declaring that they are done with competing in beauty, but they are not stopping there. The brand recently released the trailer for "VS" – an SK-II STUDIO animated series, that features Olympic athletes and their own take on the toxic competitions in beauty that they each have had to overcome.
This six-part animated series focuses on six Olympic athletes, Simone Biles, the world's most decorated gymnast with 30 medals under her belt; Liu Xiang, a 23-year old competitive swimmer with a world-record in the women's 50m backstroke; Ishikawa Kasumi, a table tennis player and two-time Olympic medalist; badminton duo and Olympic gold medalists Ayaka Takahashi and Misaki Matsutomo; Mahina Maeda, a professional surfer for Japan; and Hinotori Nippon, who is part of Japan's National Volleyball team.
While the athletes live and breathe competition in their professional life, the message in SK-II's Beauty is #NOCOMPETITION is about the everyday life, and the need to stop the senseless and pointless competition when it comes to concepts of beauty. It is also about conveying the importance of inner beauty, and the value of letting self-love and self-respect help to create your own definition of beauty, outside of what society dictates is the norm.
Leading up to the release of "VS" – an SK-II STUDIO animation series, the trailer for the series features snippets from each of the six episodes. Audiences will find the featured competitions in beauty familiar as the athletes battle beauty trolls, pressure, image obsession, rules, limitations, and machine-like mindsets in the series. Interestingly, SK-II STUDIO has chosen to personify each of the toxic beauty challenges plaguing the Olympic athletes as larger than life kaijus – the Japanese term for strange beasts, likely inspired by the fact that this year's Olympics will take place in Tokyo.
Indeed, many of these toxic mindsets and competitions instilled by unrealistic societal standards can often feel like giant, indomitable monsters looming over us, and anyone who has watched a kaiju movie can tell you that these giant beasts are anything but easy to defeat.
SK-II hopes that by showing each of the six athletes successfully overcoming their kaijus, the animated series will inspire women to step away from these toxic competitions in beauty that pressure us to conform to societal norms, and step up to redefine what beauty means to them individually.
From what we've seen from the trailer, it seems the episodes will be set in a sci-fi cyberpunk-esque world, with some episodes featuring full-on robots and giant metal gears, while others are so colourful and vibrantly animated we couldn't help but be reminded of some of our favourite animation series.
We appreciate that a prestigious beauty brand like SK-II has taken a step in leading such an important conversation in such a unique way. While we are super pumped about the animated series, it is up to us as individuals to stop perpetuating impossible and exacting standards of beauty, and expecting each and every one to fit in nicely. It looks like we will definitely be in for a wild ride throughout all six episodes when the series finally drops.
Audiences can subscribe to SK-II's YouTube channel to catch the series, and visit the Beauty is #NOCOMPETITION website to find out more about the campaign.
---

Drop a Facebook comment below!