Unable to contain your excitement for the upcoming That Time I Got Reincarnated as a Slime: Scarlet Bond movie? Fret not, Singapore's Daijoubu Café will hold its first-ever anime collaboration with the film's release worldwide, so fans can get to dine like a slime before it drops on 12 January 2023 in Golden Village cinemas.
From now till the end of February 2023, That Time I Got Reincarnated as a Slime (also known by its short name TenSura) enthusiasts will be able to enjoy a themed menu of food, desserts, and beverages that are all in the shape of Rimuru, and narrate his adventure while dining with their favorite TenSura characters.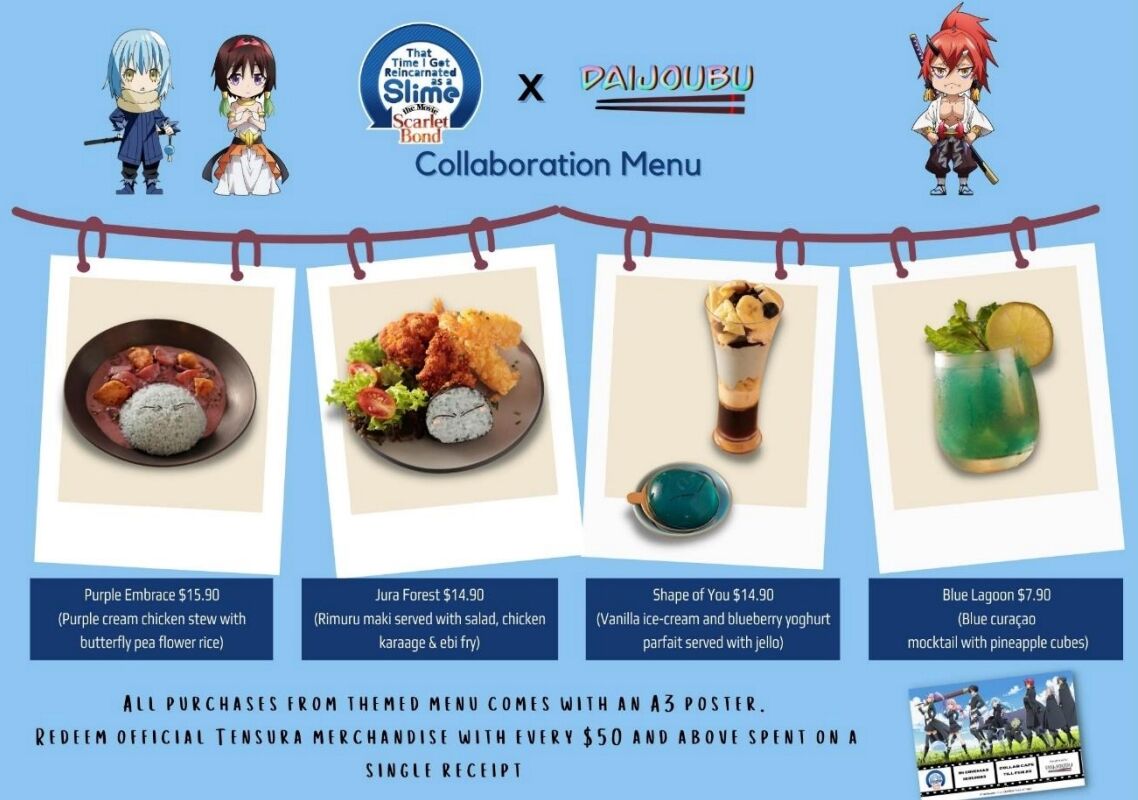 For the main course, try the Purple Embrace (S$15.90), a creamy chicken stew with sweet potato and purple carrots, served with Rimuru-shaped Japanese rice that has been dyed blue with butterfly pea flower water. The reference here is to Shion, who frequently cradles Rimuru in his slime form beneath her endowed assets. Because of her talent boost, diners need no longer worry about getting indigestion after eating the meals.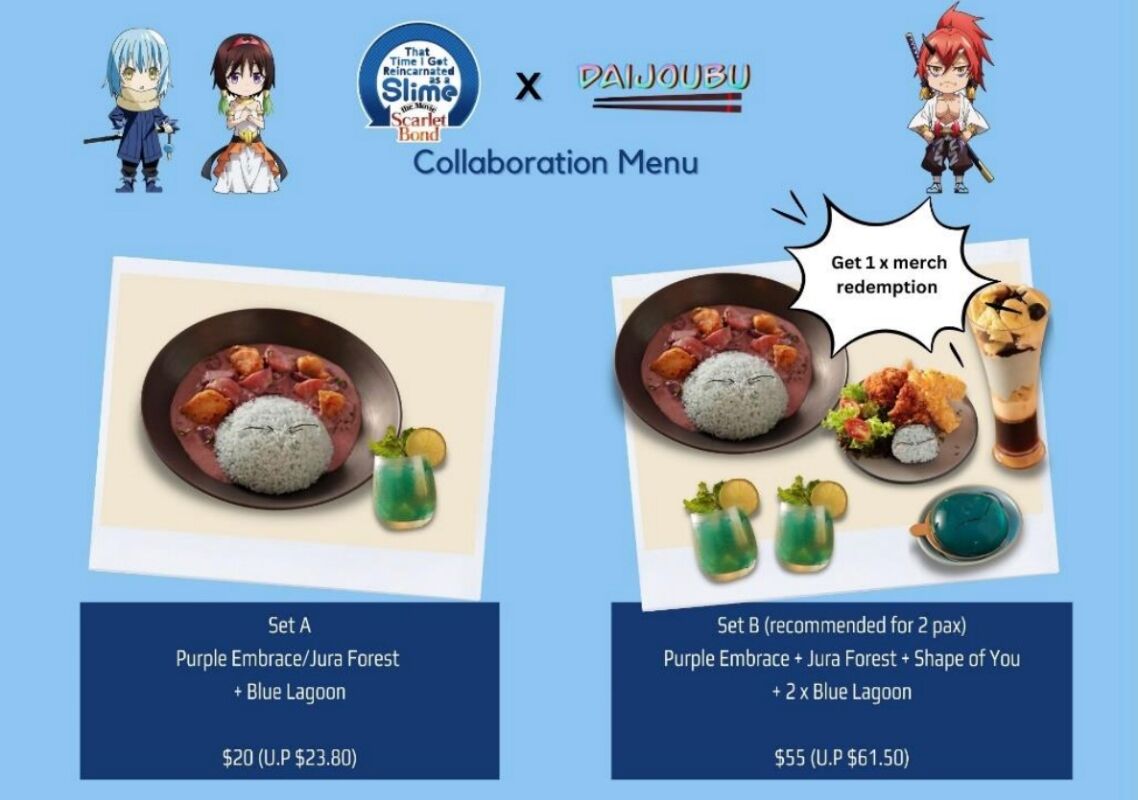 The combination platter Jura Forest (S$14.90) comes with chicken karaage, ebi tempura, and a side salad accompanied by a Rimuru maki with adorable expressions. Cool off with a fruity Blue Lagoon curaçao mocktail (S$7.90), which Rimuru himself is known to love in the anime.
Finally, cool off with a specially crafted parfait called Shape of You (S$14.90) that contains a wide variety of flavours and textures. The dessert summarises Rimuru's transformation from a slime to a Demon Lord as well as the emotions he felt while trying to establish a world where humans and monsters may coexist.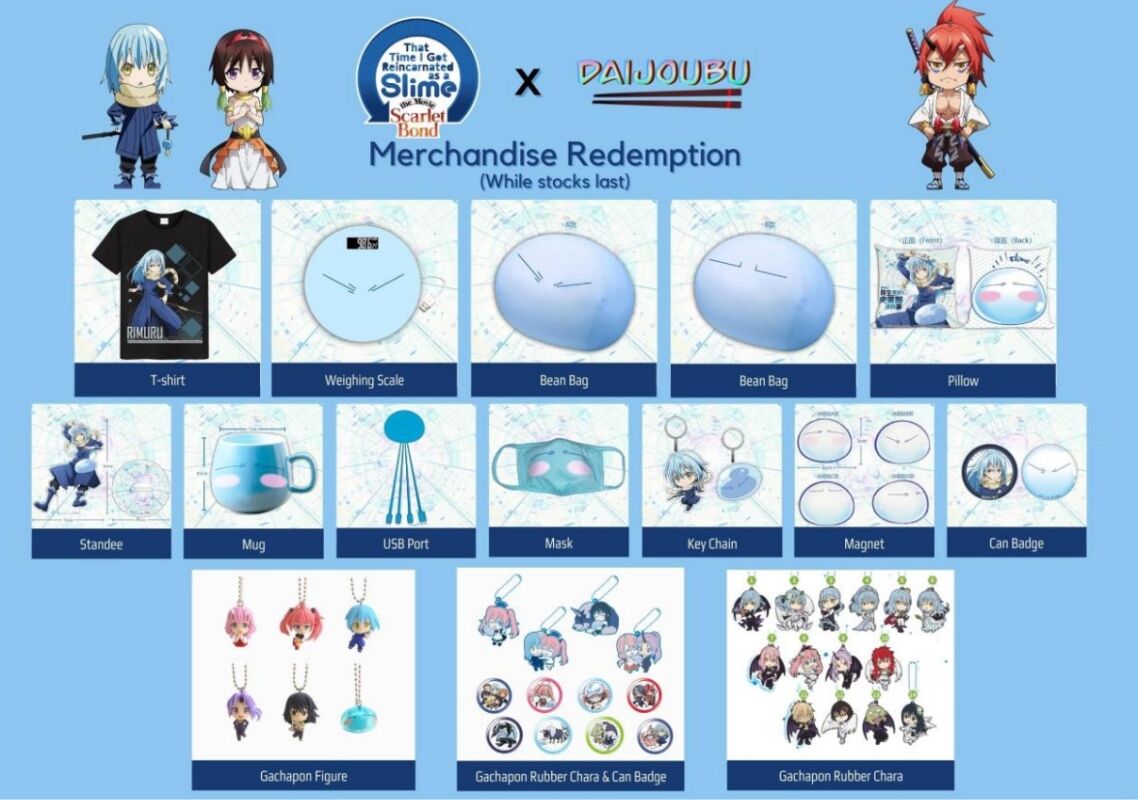 All orders include an A3 poster, and a single receipt purchase of S$50 or more qualifies diners to redeem a variety of Tensura goods while stocks last. Big fans of the anime can also participate in the weekly quizzes that will test their knowledge for a chance to win a S$40 life-size Rimuru plush.
Since the number of slots is limited, be sure to make bookings early at the official Daijoubu Café website.