If there's one thing the pandemic has cemented into everyone's behaviour, is the dying need to Netflix and chill. As streaming picks up and services like Disney+ and HBO Go gain popularity amongst the masses, the only thing a consumer has to do to take their at-home viewing experience to a whole new level, is a stunning TV, great soundbar and hey, even a projector if you're that bougie. If the cinema experience is what you're lacking, then don't worry, Samsung has got your back.
In 2021 Samsung's latest lineup of Neo QLED 8K and 4K TVs, Soundbar lines and The Premiere projector are out to redefine home entertainment. The new TV lineup is anchored by the flagship QN900A 8K and the QN90A 4K models that push the large screen experience to the next dimension by delivering vibrant colours, deeper blacks and incredible sound wrapped up in a stunning slim and 99% screen bezel-less design.
Ranging from S$9,199.00 to S$30,999.00, the Neo QLED 8K series is mighty in sound, visuals and size. The 85″ QN900A 8K model is the largest and most lavish amongst the lineup with a price point of S$30,999.00. The 75″ TV goes for almost half the price at S$18,499.00 and the smaller 65″ TV goes for S$13,499.00. The NEO QLED QN800A 8K models on the other hand go for S$18,499.00 for the 75″ and S$9,199.00 for the 65″.
Of course, the hefty price tag does not come without reason.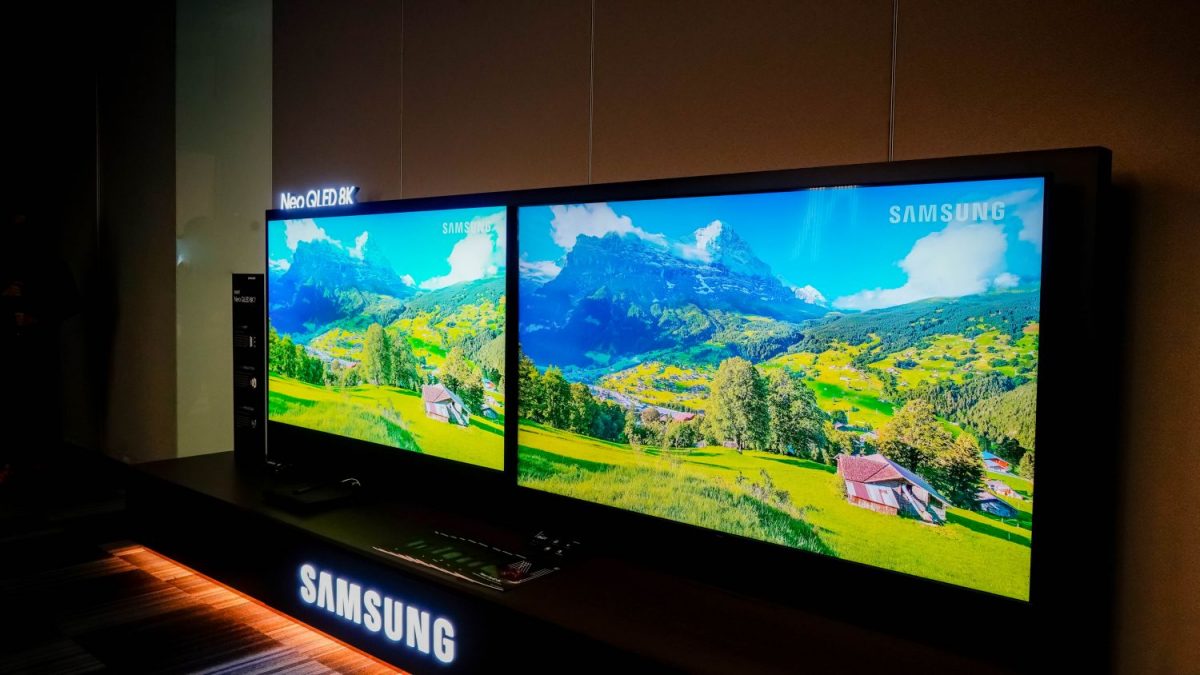 The new line includes new upgrades like an anti-glare and anti-reflection coating that gives viewers optimum visibility at almost every angle regardless in the day or night.
At first glance, content on-screen are definitely a whole lot brighter and colours on the screen are vibrant when compared to older models. The differences are evident and noticeable as night and day. The desire to upgrade will definitely hit you hard – if you don't believe us, check out the TVs in store when you can.
For movie buffs, the room-filling audio feature and Object Tracking Sound Pro feature in the NEO QLED 8K TV means that sound will follow the movement of objects seen on screen and give viewers an immersive experience when catching the latest films. SpaceFit Sound feature also means sounds produced from the TV will specifically tailor to the room and space and provide an all-surrounding sound experience.
New to the TVs are also the Multi View feature that allows users to essentially split their screens. Viewers can watch their favourite free-to-air TV programmes, enjoy music videos via the built-in YouTube app or binge their favourite Disney+ series all at once if they wish to. Taking things further, viewers can also mirror their mobile devices on the TV when in Multi View too. Sports fans, that means you can watch the game and keep track of the score too. Multi View supports both Android and iOs devices too so no one feels left out. Viewing up to 4 screens in Multi View, all users have to do is ensure the mirroring devices are connected to the same internet network.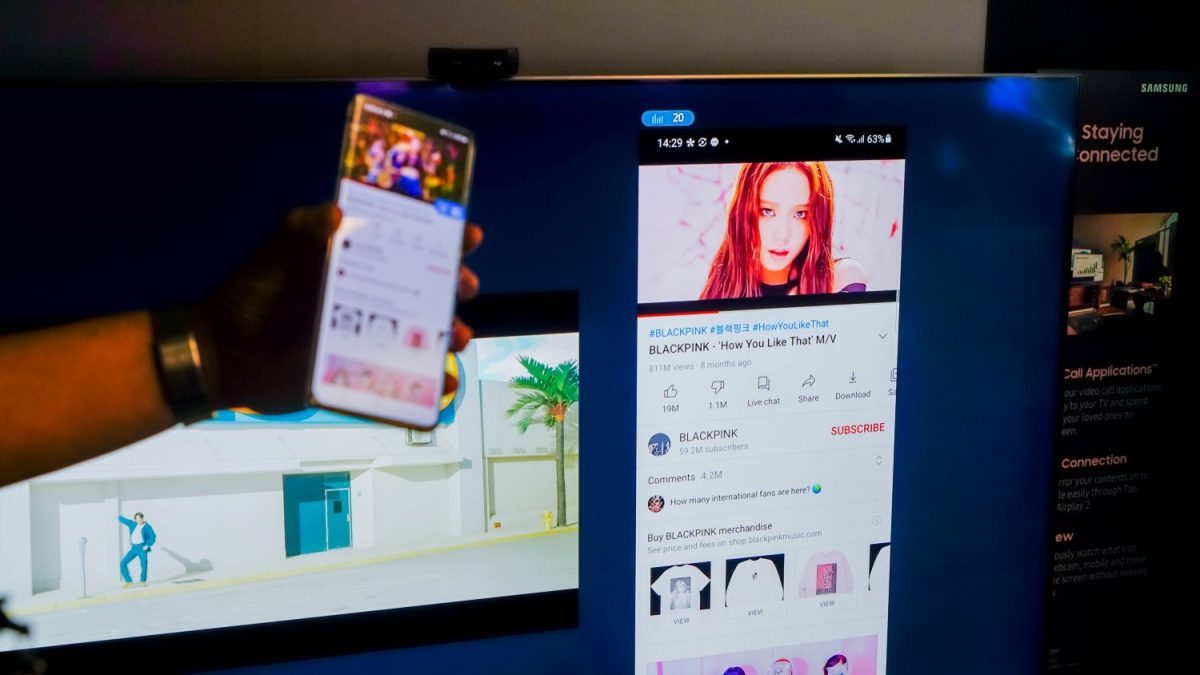 Come May, viewers can also video call their friends and family via the TV when Google Duo becomes available on Samsung's TVs. Webcam sold separately, of course.
For those who are on a budget, you can still enjoy all these features on the NEO QN90A and QN85A models. Ranging from S$3599 for the QN90A 50″ TV to the S$14,999.00 85″ QN90A 85″ TV, users can still enjoy all the brand new upgrades with the only exception of viewing the content in 4K instead of 8K.
If the TVs haven't already blown your mind, then let us introduce to you the new series of Soundbars. The QSeries Soundbars includes exclusive Q-Symphony tech which works in tandem with Samsung TV speakers to deliver a perfect 3-dimensional sound experience with Dolby Atmos.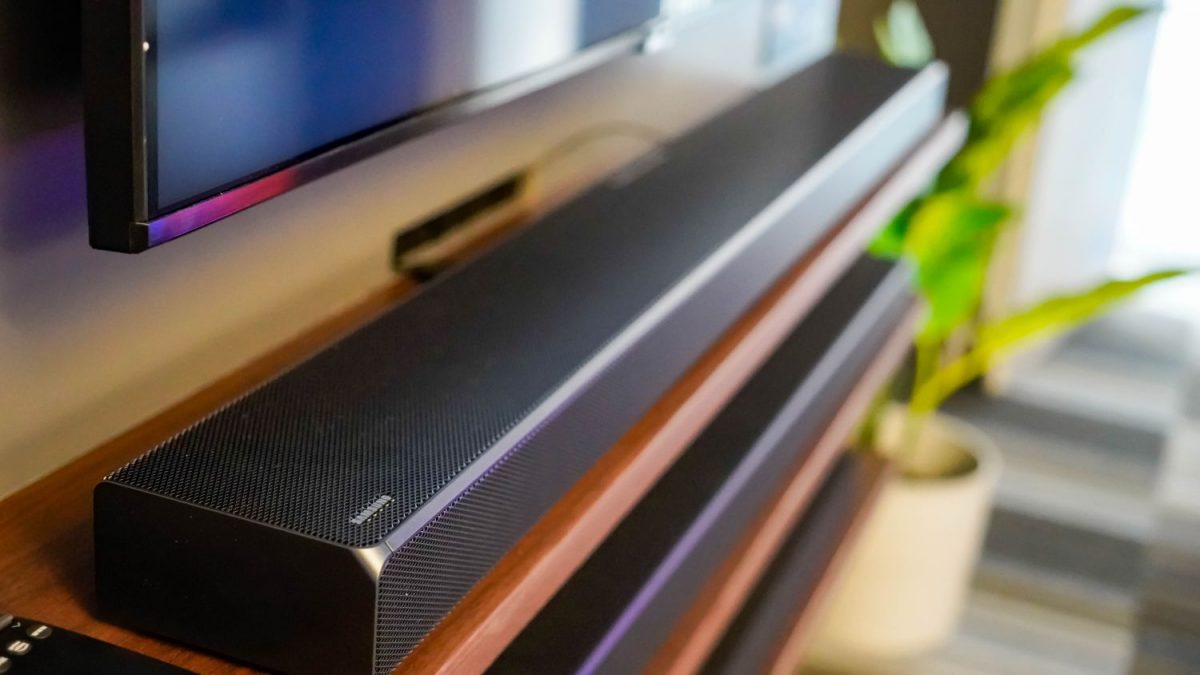 The Q950A soundbar costs S$1,199.00 and is the world's first soundbar to boast 11.1.4 channel surround sound. The Q900A on the other hand comes with 7.1.2 channel sound and costs S$1,599.00. Both of these soundbars also have SpaceFit Sound+ and will auto-calibrate TV sound to its optimal settings and fill the room with sound.
The real magic happens when you pair one of the QSeries soundbar and QLED Samsung TV together. Turn on Q-Symphony mode and it will uniquely operate both the TV and soundbar speakers to play simultaneously for a multi-dimensional surround sound effect. Cinemas, who? We don't need you anymore.
During the demo, we were given the opportunity to watch a few videos of street cars and a thunderstorm. Sound boomed from every angle regardless of where we're seated and it feels like we were right there where it happened. The performance of the soundbar and the TV combined was enough to exceed expectations, we can only imagine how realistic and immmersive the sound experience would be if we were seated in an enclosed bedroom or a HDB living area.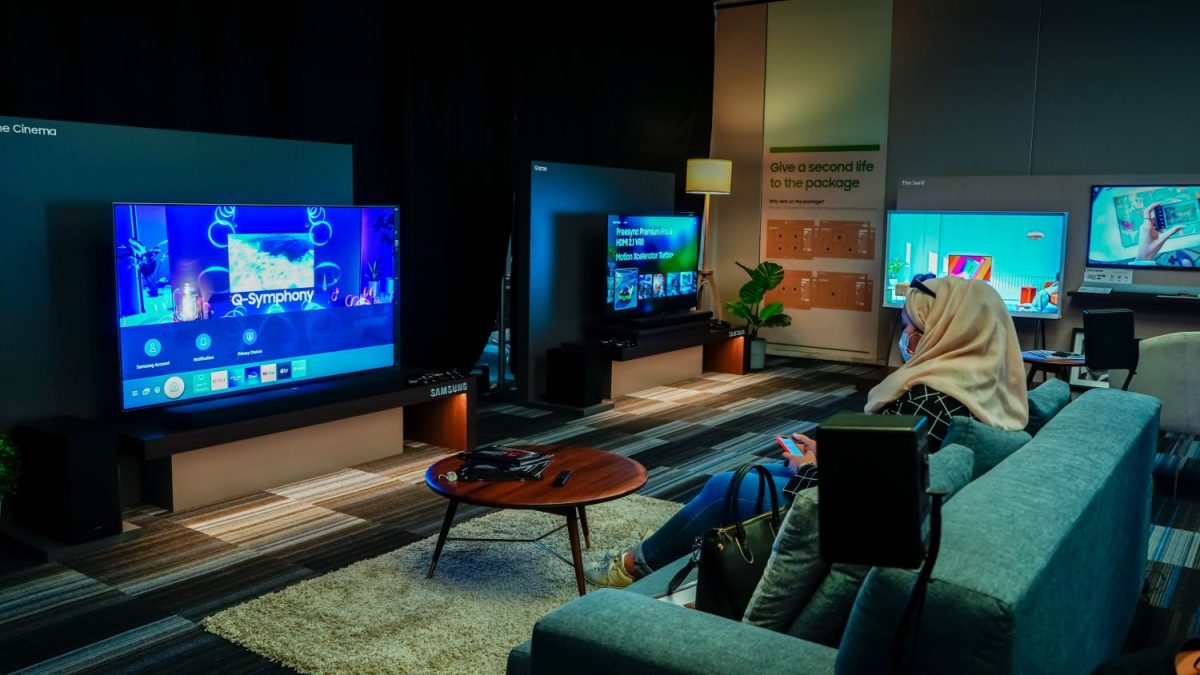 If you're not in the market for a new TV, then maybe Samsung can tempt you with their new projector, aptly titled The Premiere. The Premiere gives users a movie premiere feel with the ability to project 4K content onto screens and walls up to 130 inches.
When one thinks of a projector, it's natural to think about an ungodly machine sticking out of the ceiling. Well, The Premiere is an elegant projector that gives you the freedom to arrange your space however you like. Its simple design makes it easy to fit any room, of any aesthetic. In fact, you could just sit it simply by a wall.
The Premiere is easy to install and creates a massive screen even when positioned close to a wall. Whilst certain projectors need to be mounted further away from a screen or a wall to create a 100″ big image, Samsung's The Premiere projector requires a minimum throw distance of 24cm to achieve the same result.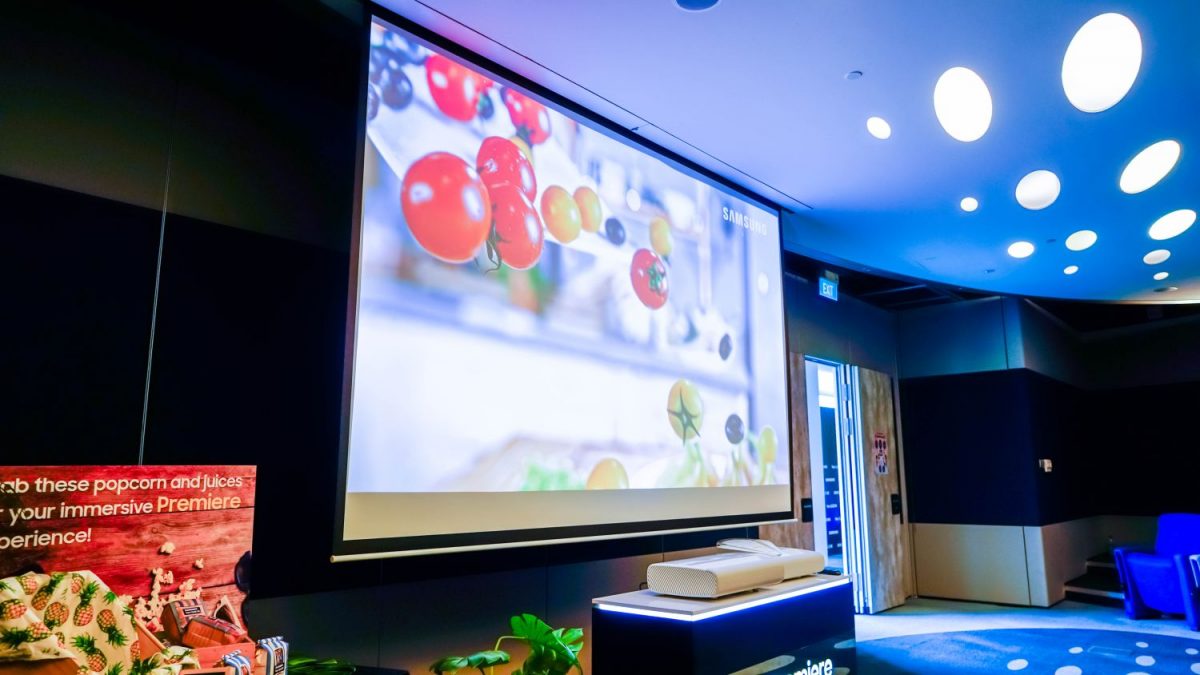 The Premiere is the world's first HDR10+ certified projector with triple laser technology and can be mounted directly in front of a wall or a screen. Unlike other projectors, this bad boy features powerful built-in woofers and Acoustic Beam surround sound, making it one of the best projector cinema experiences available today. Coming in two models – the LSP7 (S$6,999.00) and the LSP9 (S$12, 999.00) – The Premiere is meant to elevate your movie nights to a full-on cinema experience from the comforts of your own home.
The LSP7 can project from 90 to 120 inches wide, whereas the LSP9 projects from 100 to 130 inches wide and includes Acoustic Beam technology.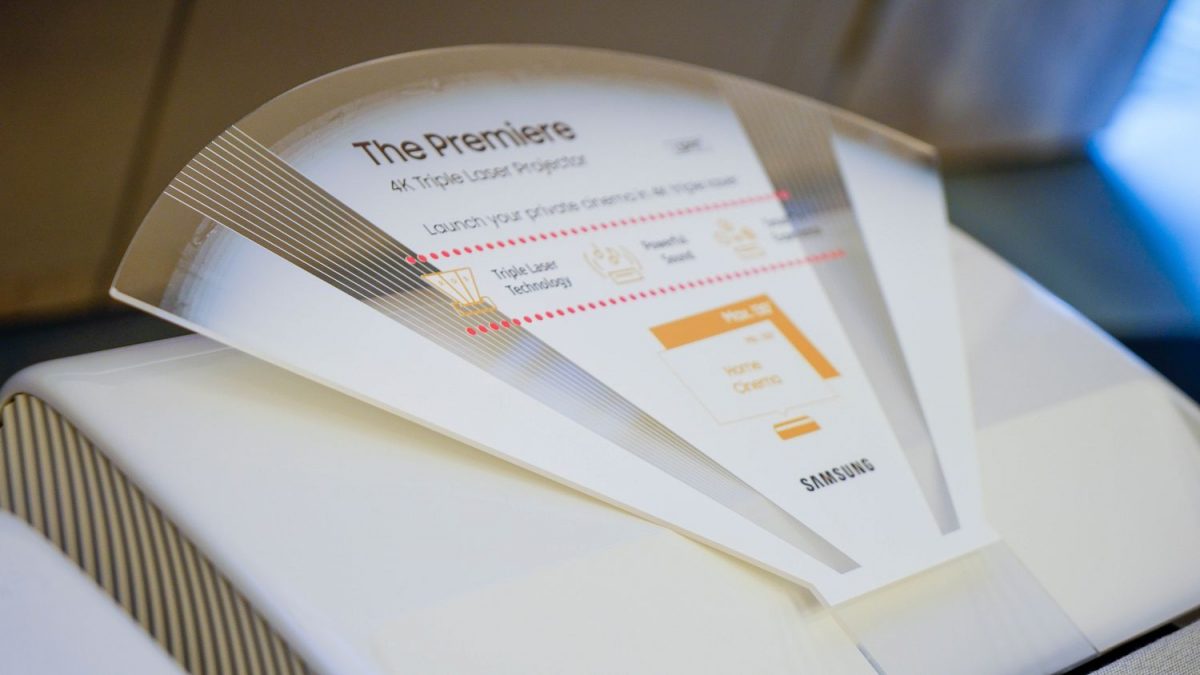 Samsung's new 2021 lineup is sure to change the way consumers Netflix and chill back at home. Once you experience the new Neo QLED 8K TVs, the new QSeries Soundbar and The Premiere projector, there is no going back. Not to regular TVs. Not to the cinemas.
Samsung's 2021 TV and Soundbar Lines, as well as The Premiere are now available in Singapore.
---

Drop a Facebook comment below!