Back in the day, surround sound systems were a big deal. Sound cards allowed you to plug an extra pair of speakers to function as rear speakers, and eventually, they also accommodated a full 5.1 setup. For gamers who used a setup like this, it made a ton of difference as you could hear explosions, footsteps and sound effects from all around you.
But a lot of people are gaming on laptops right now, and the holy grail of gaming sound has got to be replicating this feeling of immersive sound in a pair of headphones. Cue the Razer Kraken Tournament Edition, and its THX Spatial Audio, that promises to recreate positionally-accurate sound in a 360 sphere around you – and at a very affordable S$159.90 price tag.
Comfort
The first thing you'll notice when you put on the Kraken TE is that it's very comfortable. The unit is lightweight, comes with these soft squishy ear cups and a fat padded headband. The end result is a pair of headphones that barely feel like they're on your head. There's enough pressure to keep them in place, but not so much that your head feels constricted like when your mom nags at you.
Having worn them for gaming sessions, the headphones have also taken through a more extreme stress test by using them for virtually the entire day. With commutes to work wearing them while playing my Nintendo Switch or watching Netflix, then keeping them on at work while simultaneously enjoying my music and blocking out annoying colleagues. And then again for the trip home.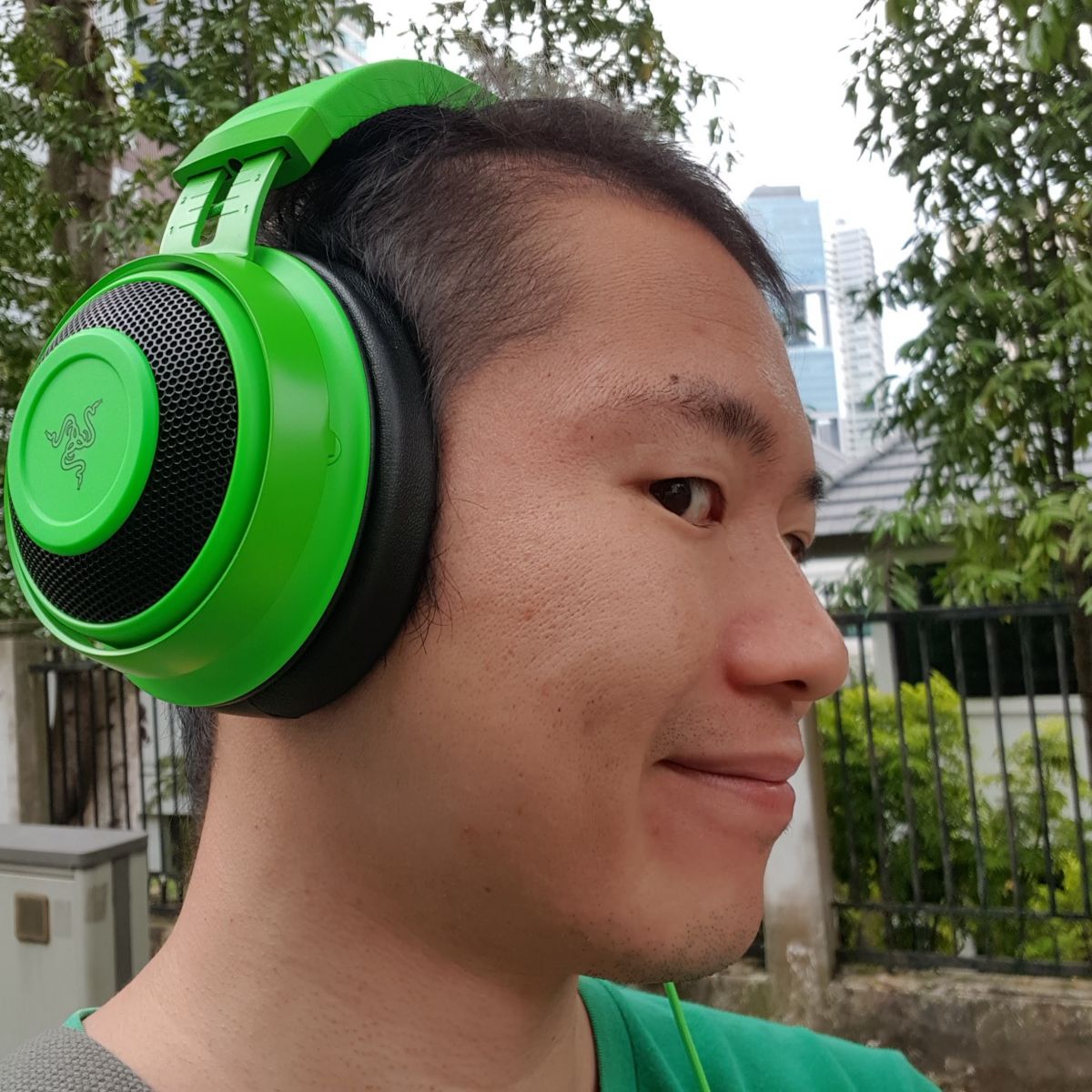 The the Kraken are pretty comfortable, even when worn for pretty much the whole day (minus lunch hour and meetings). On-ear phones sometimes press my ears too much and they feel a bit sore after extended use, but these over-ear cups didn't do the same. Living in a humid climate, owners of similar headphones will get the hot sweaty ear feeling which we are all too familiar with. Even after a 20-minute walk in the sun! The Kraken TE's ear cushions have some kind of cooling gel layer in them that regulates heat, and evidently, they work pretty well.
One feature I couldn't test personally was this indent in the padding to accommodate people who wear glasses. I get this feeling Razer assumes most of their customers stare at computer monitors a lot and suffer from myopia.
But I found a colleague who does and whacked it over her head (on hindsight, I should've informed her first). Anyway, she told me that it wasn't applying much pressure on her frames at all.
Sound
Now the second most important thing you want out of some headphones would be good sound. This is where it gets a bit tricky. While the bass was pretty solid, the high and mid notes sort of blended together, and it wasn't very clear. After using it a bit more though, this feeling faded away and didn't register much after that. It still isn't super awesome sound or anything, but it is far from a deal-breaker – especially as gaming headphones.
The big selling point of the Kraken TE is the USB amp that comes with it. Instead of your headphones plugging straight into your PC through the standard 3.5mm jack, the Kraken TE is supposed to go into this little rectangular amp, which then plugs into your PC via USB. The amp also acts as a remote control with various buttons and rockers built in.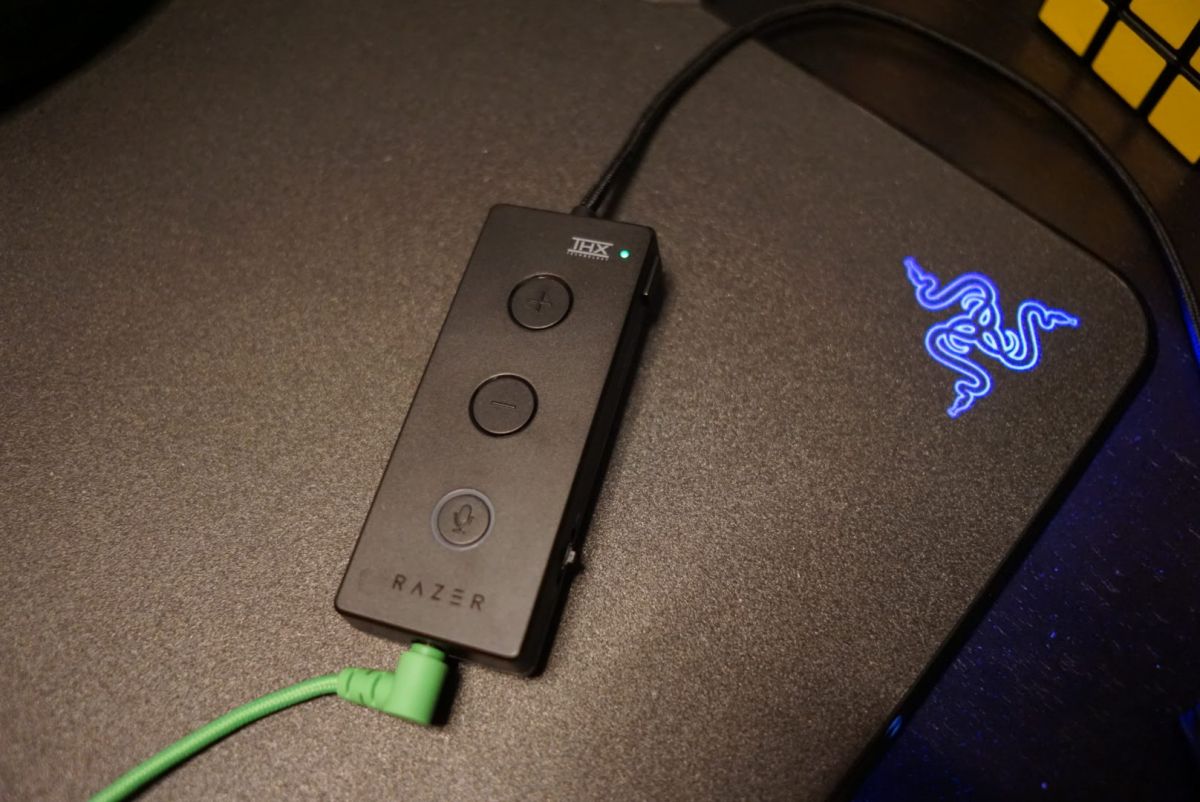 On the face are three large buttons to adjust your volume up and down, and to quickly mute your mic. On the left side is a rocker to adjust your bass level. On the right is a button to quickly toggle the THX spatial audio on and off, and another rocker to adjust the balance between game audio and your teammates' chatter – it's like a volume control to lower the music without lowering your teammate's voice as he yells "Leeroy Jenkins!"
Razer paid a pretty penny to acquire THX from George Lucas, and has put that technology into creating spatial sound in headphones. Does it work? Yes and no. Yes because you go into a game like Call of Duty and you do feel immersed in a war zone with explosions and gunfire happening all around you. It's definitely not just in front of you – but no, it'll honestly be hard to tell if you're getting shot at from behind or directly from the side. Having I've tested it out by looking away from an NPC talking to me, the direction of the dialog does shift, but the question is if anyone can distinguish the sound's origins with their eyes closed.
If you're depending on audio cues to know instantly where to swivel and point your gun at, then you'll probably still need to go old school and set up a 5.1 system. If you're was still living in a bachelor pad and could set up speakers, please go for that.
But if you're okay to jump into a sea of sound and just be content with having things come from all around you, then this will do just fine. After indulging in several games, including Destiny 2, COD: Modern Warfare Remastered, and World of Warcraft, the headphones so make it sound as if you're in the thick of things.
The microphone works. Some people have said it doesn't work great, but in my opinion, if you can communicate effectively with the other people, then it works just fine. You're playing games and chatting, and it's not like you're recording your rap demo with it.
With Razer's Synapse software, you have the ability to customize the sound settings and play with mixers… but to quote the meme: "Ain't nobody got time fo' dat."
Build and other features
After lugging this thing around with me every day for a couple of weeks now, the aluminium frame still feels pretty sturdy. If you're going to work it like a mule and use it for your PC, Nintendo Switch and work computer, then it's likely to push through and not let you down, which is a good thing.
The completely retractable microphone is also a godsend, because one can easily pull it out for gaming or phone calls, and then push it back in when you just want to listen to music. When you bring it around with you and sometimes sling it on your bag, that convenience is just so appreciated. Plus, you don't really want to walk around in public with an obvious headset, like some telemarketer or something.
That said, the Kraken TE is kinda chunky. The ear cups are massive, and the same padding that makes it so comfortable also takes up a lot of space. Unlike headphones designed to be used on the go, the cups don't rotate or fold in. You'll just have to carry it around as is – and it's not exactly the most compact shape.
It is a bit hard to fit into any bag smaller than a full-sized backpack or a medium-large tote.
Also, that cable tends to get tangled in stuff, especially if it's not currently plugged into your phone or Switch (or maybe I'm just really spoiled by wireless Bluetooth headphones).
With the review unit being a ridiculously bright green model (because Green Means Go!) and it does tend to attract slightly longer stares from people on public transport – and could potentially clash with your outfit. But there is also a muted black version if you don't like attention and/or if you really like to accessorize with your clothing.
None of these issues will be much of a problem if you intend to only use it while gaming on your PC though.
One last thing: the Kraken TE is so large and bulky that you can't comfortably drop it around your neck when not in use, unless you have a super slender long neck like Gal Gadot. On my regular-length neck, it's a bit constrictive, so one might have to take it completely off if a quick conversation with someone is absoultely necessary.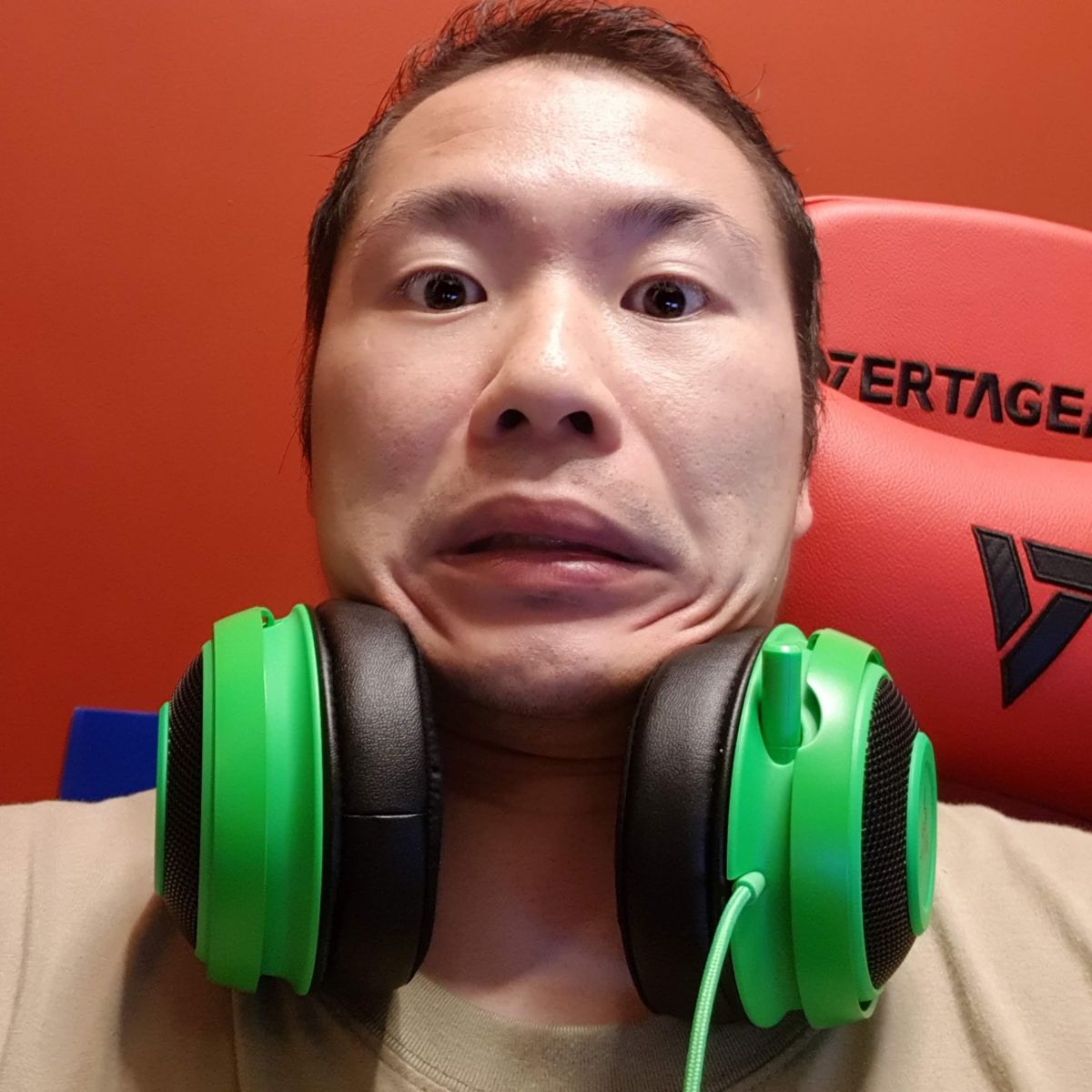 Conclusion
At S$159.90, the Razer Kraken Tournament Edition headphones really deliver a big bang for your buck. These are the headphones that you'll be able to use comfortably for hours and hours, whether you're watching a Godfather marathon on Netflix or waiting for Fallout 4 to load. The THX spatial sound isn't perfect, but does enough to immerse you into a virtual environment, which is good enough for most gaming.
GEEK REVIEW SCORE
Summary
A very comfortable and immersive pair of headphones for its price.
Aesthetics -

8/10

Build Quality -

8.5/10

Performance -

8.5/10

Value -

9/10
---

Drop a Facebook comment below!