Tom Clancy's Rainbow Six: Siege is a title largely dominated by the European and North American teams, but it seems fate has favoured the underdog in the quarter-final draw of the Rainbow Six Pro League in Tokoname, Japan, as Singapore-based Aerowolf pulled a surprise win over Spanish heavy-hitter Giants Gaming.
Featuring the best teams from the US, Europe and APAC, the Rainbow Six Pro League is the team shooter's most prestigious competition in the world, held traditionally on European and North American terrain.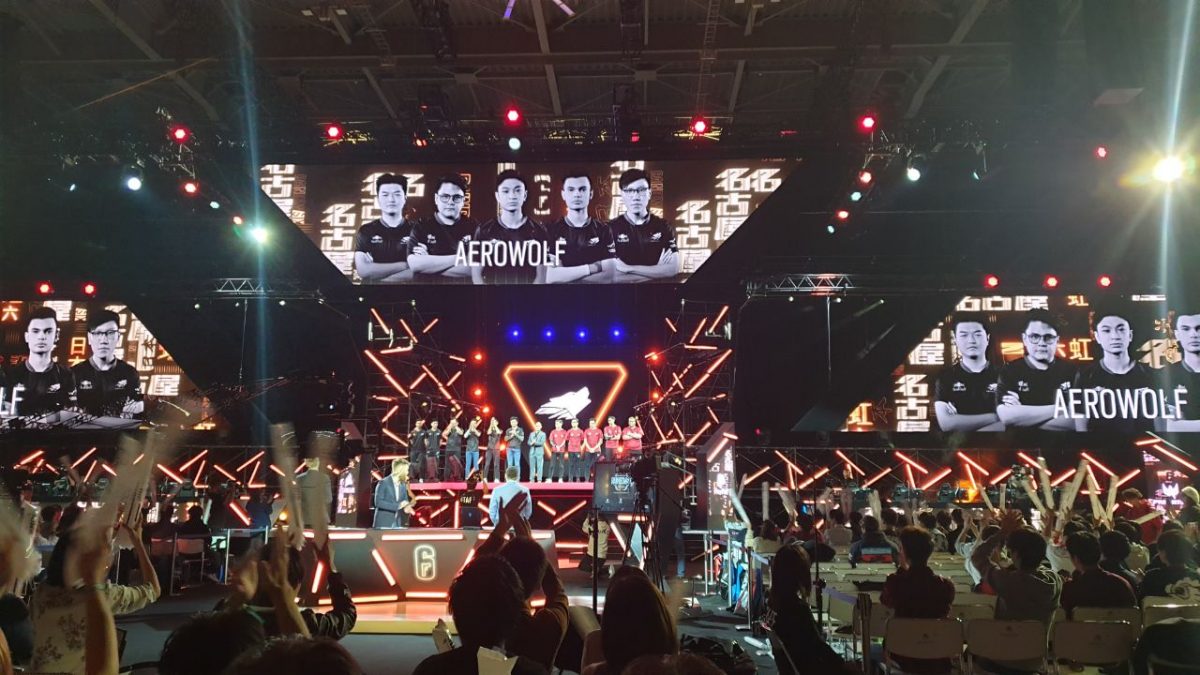 The thrilling three-hour match saw the five-man crew bringing out the big guns to power their way to a 2-1 victory, showing their opponents that Asia-Pacific picks are most certainly a force to be reckoned with. The game kicked off to a good start, as Aerowolf quickly climbed to a 5-1 lead with a good show of teamwork and clutch wins. All was in order, until it wasn't.
Giants Gaming, in an impressive bout of calm and patience, slowly closed the gap, establishing their dominance through chains of double kills and exceptional positioning. While the Singapore team stagnated in their performance, the other flourished, eventually taking the first round 8-6. Aerowolf player "MentalistC" put up an extremely fine, MVP-worthy performance, but alas, the victory remained out of reach.
With the second set, the pressure was on the latter to deliver – and they did in the first few stages, albeit at a slow pace. A sense of deja vu soon set in, however, as the Giants were determined to catch up, levelling the scoreline to 4-4, then 5-5 on the Villa map. The see-sawing didn't stop, and both teams kept each other on their toes to reach a nail-biting 7-7 stalemate. At match point, Aerowolf managed to keep their cool, and fought their way to an 8-7 victory, rendering the crowd at Aichi Sky Expo – the hosting location for the Pro League – wild. Teammate "Speakeasy", in particular, stood out a lot here.
The plot would later carry over to the deciding match, in which Aerowolf continued to take the lead, before Giants turned the score around. At 5-5, it looked as though another 15-stage round was in store, and excitement levels hit a new high as the duo duked it out at the final, final point. The Giants more than impressed with a double kill, but it wasn't even to stop the local team from securing their semi-finals spot.
Between the heart-stopping moments and the numerous match points along the way, Aerowolf's victory was a hard-fought, well-deserved one. And while they did an excellent, excellent job, credit also has to be given to fellow APAC team Wildcard, who despite losing to Dark Zero Esports, showed great grit and remarkable prowess on the stage.
This, alongside Aerowolf's recent win over regional champion Nora-Rengo and veteran team Fnatic in the Rainbow 6 APAC Finals, certainly makes for the team's best season yet, and a much-needed encouragement. But the challenge is far from over, as they are poised to face DarkZero Esports, who managed to pull an upset win against esports veterans FaZe Clan.
If there's anything today's matches showed, it's that it's too early to be writing anyone off, though. The route ahead for Aerowolf is far from a smooth one, but the team's been defying odds, so who's to say that they won't stand a chance at the finals?
Congratulations on a job well done, and all the best for the semi-finals!
Header image courtesy of ESL.
Si Jia is a casual geek at heart – or as casual as someone with Sephiroth's theme on her Spotify playlist can get. A fan of movies, games, and Japanese culture, Si Jia's greatest weakness is the Steam Summer Sale. Or any Steam sale, really.
---

Drop a Facebook comment below!