Forget crossing the causeway to have good food (not that you can anyway), as Malaysia's most outrageous food expert and renowned celebrity chef, Datuk Chef Wan, is bringing specialty Malaysian dishes to our island shores.
Forget about hawker culture and who owns the rights to it, as the flamboyant celebrity chef, who has hosted TV shows around the world, including East Bites West in the United Kingdom, and has opened numerous restaurants, including the defunct 1 Market at Plaza Singapura, is using the best of Malaysian cuisine to remind Singaporeans what they have been missing across the Causeway, by working on a limited collaboration with Penang Culture Singapore.
"I have worked very closely with Penang Culture's chefs to create this menu and am confident that they are able to execute them to perfect Malaysian taste," said Datuk Chef Wan in a statement during a recent media tasting. "Travel to Malaysia may not be on the books right now due to Covid-19, so why not let Malaysian food come to you."
From 15 January to 28 February 2021, Singaporeans can have a taste of the award winning chef, host, actor, restaurateur and entrepreneur's stellar recipes and dishes that can only be found in the Singapore restaurant.
Of course, after 35 years of experience in the culinary industry, Chef Wan's collaboration with Penang Culture is no simple meal that can be easily found in Malaysian eateries here. This gastronomic partnership will see five unique signature dishes presented – Nasi Goreng Emak (Mum's Fried Rice), Massaman Beef, King Tiger Prawn Rendang, Mackerel in Spicy and Sour Gravy and Stir Fried 4-in-1 Vegetables with Sambal.
It's no secret that Datuk Chef Wan's owes his unique taste buds and special cooking skills to his mother, so the highlight is homely dish, Nasi Goreng Emak (S$18 per portion), a comforting plate of fried rice with anchovies, eggs and kang kung. As simple as it sounds, the dish packs a punch with a strong flavour of the anchovies in every bite.
Fried with sweet and spicy sambal, the spice doesn't come through as strongly as it looks. But don't get confused, as the spice and flavour is noticeable with just the first bite, but people with low tolerance of spice would still be able to enjoy this plate of fried rice inspired by the renowned chef's very own mother.
Massaman Beef (S$28 per portion) is a traditional Thai beef curry dish where the beef is simmered with spices like coriander, fennel, cinnamon and star anise. Datuk Chef Wan's version includes evaporated milk and peanuts, to give the tender beef dish added richness. It's not your beef rendang, but this is a delectable gem and the evaporated milk in the dish helps to take the spicy level down a notch and the peanut adds a nutty flavour to the curry that lingers in your mouth even after you've cleaned out the dish.
While beef rendang is a popular Malay dish that is a must try whenever you head into a Malaysian restaurant, Datuk Chef Wan is switching things up with seafood, and with the unique King Tiger Prawn Rendang (S$28 per portion) dish, seafood lovers can sink their teeth into succulent King Tiger prawns cooked over medium heat with turmeric and coconut milk.
Unlike other rendang dishes, this King Tiger Prawn Rendang is cooked until a fragrant dry stock forms around the juicy prawn. Each bite into the rendang coated prawn is an explosion of spices of the stock and the sweetness of each prawn, and if you like the crunch, why not bite into the shell as well?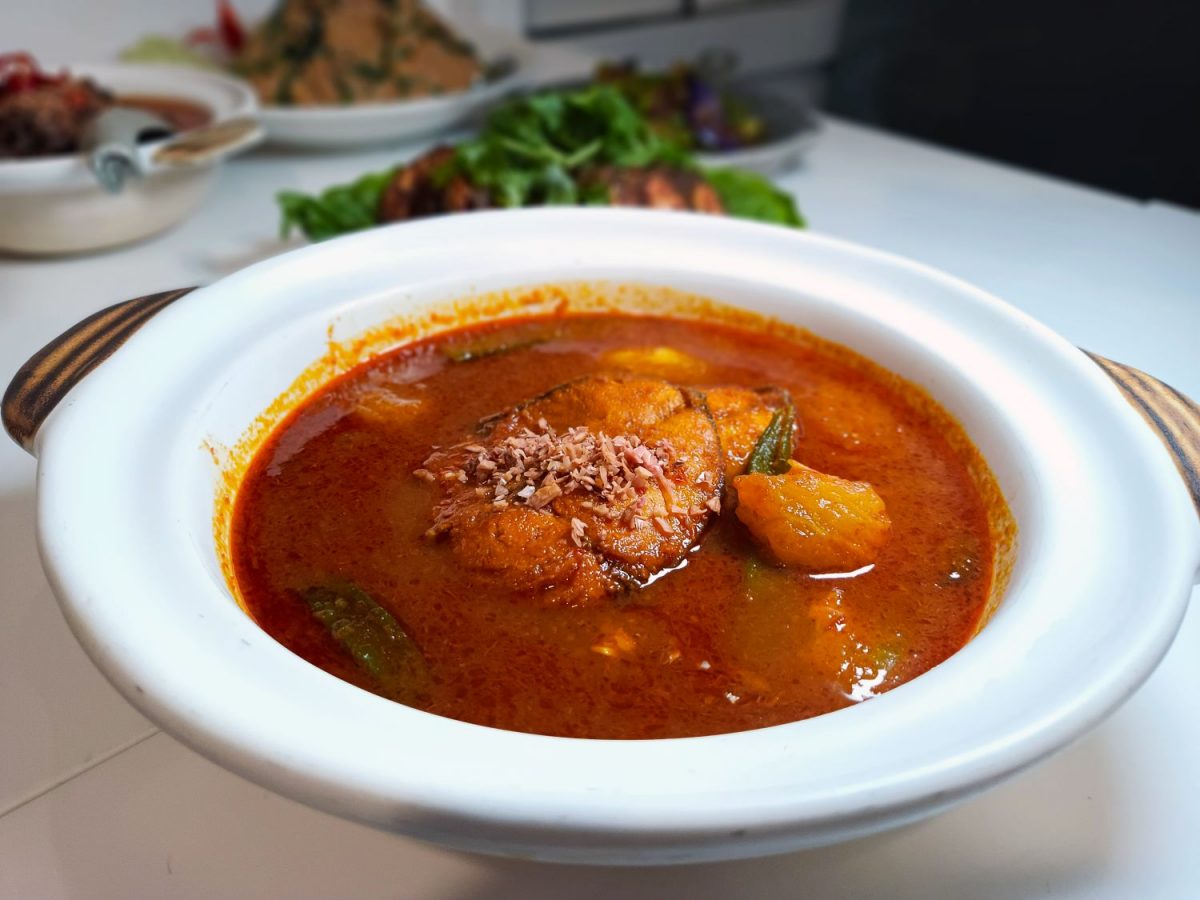 Playing with yet another classic dish, Datuk Chef Wan's Mackerel in Spicy and Sour Asam is a reunion of Laksa gravy and Asam Pedas (Spicy Tamarind Fish). For S$28 per portion, the Mackerel in Spicy and Sour Asam is exactly what you can expect – fresh mackerel cooked in a hearty, thick and heavy spicy and sour sauce. The mouthwatering fish curry packs a punch in spices as well as a swift kick in tanginess with kaffir lime leaves, lemongrass and laksa leaf cutting through the fragrant dried shrimp paste base.
The thick curry is best eaten with Nasi Goreng Emak rather than regular white rice if you'd like to treat your taste buds to a spicy seafood party. Though, no one is going to stop you if you like to slurp it down like a soup or dip your bread into it.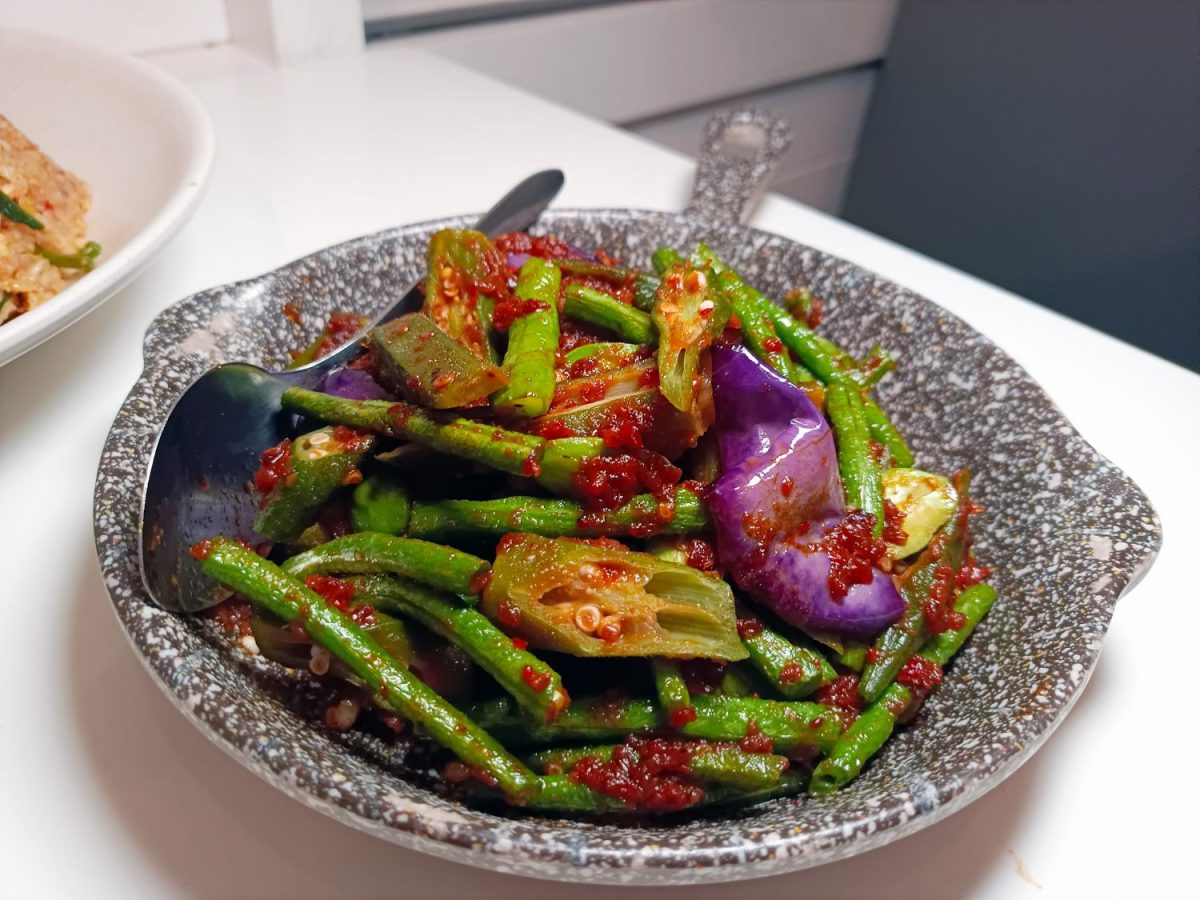 Lastly, Stir Fried 4-in-1 vegetables with sambal (S$18 per portion) is a crunchy delight of 4 different types of vegetables – long beans, petai beans, eggplant and ladies fingers – dressed with generous red chillies and dried shrimp paste, all stir-fried with shallots and dried prawns. If you're not a fan of vegetables, this dish is bound to change that as the taste of spicy shrimp penetrates the stir-fried vegetables wholly.
All of Datuk Chef Wan's signature dishes are served in large portions that are perfect for sharing. Whilst the dishes can be purchased ala carte, having these special dishes as a set menu comes with a special 25% discounted price of S$90 (U.P. S$120) and feeds up to 4-5 pax.
Taking things further, customers who purchase the full set menu will be entitled to join Datuk Chef Wan's live cooking demonstration conducted via Zoom (while seats last). This is perfect for fans of the chef or folks who want to upgrade their cooking skills. In the Zoom masterclass, the fabulous Datuk Chef Wan will be teaching you new recipes, cooking tips and tricks and more.
These signature dishes by Datuk Chef Wan are available at all Penang Culture outlets (NEX, CompassOne, White Sands, JEM and VivoCity) for a limited time only from 15 January to 28 February 2021.
---

Drop a Facebook comment below!