Singaporean home-grown and leading standing desk company Omnidesk is back, with the launch of a new series of ultra-premium Solid Wood Live Edge height-adjustable desks.
Exclusively available only in Singapore, the Omnidesk Ichi (One) collection, which will be made available from today, offers a duo of ultra-premium Live Wood Desk models that pay homage to mother nature with its design and materials used.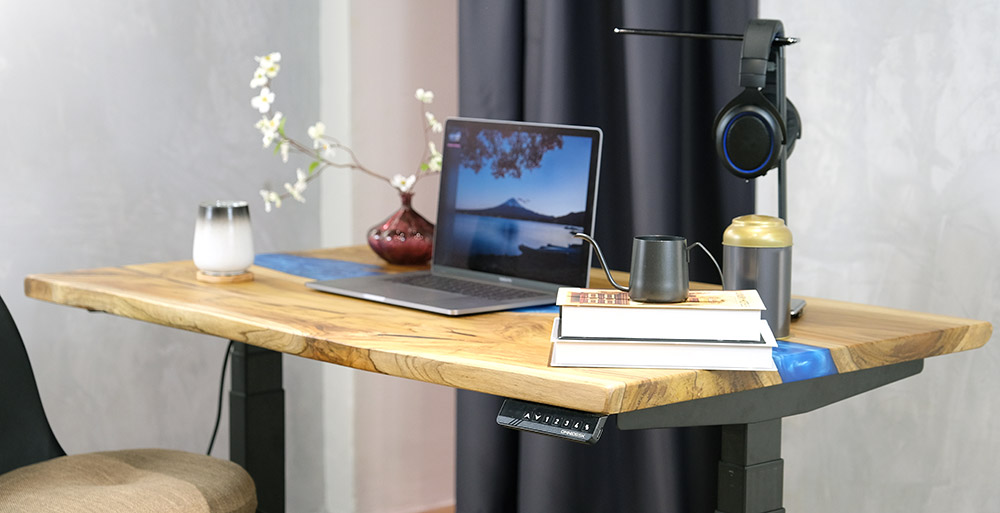 Given the immense popularity of the previous Wildwood collection, the Omnidesk Ichi collection perfectly aligns with the company's strategy of elevating its offerings into the world of luxe workspaces and home offices alike.
The word 'Ichi' means One or singularity in Japanese and the company hopes to embrace the stoic monolith of mother nature and distil it into a single desk that will elevate the user's space.
Having such deep respect for nature, the company has curated every single step of the creation process to ensure the preservation of nature's beauty in every detail. Each desk from the Ichi collection is unique by virtue of its naturally occurring shape and pattern, therefore, it's safe to say that each single desk is made truly one-of-a-kind.
The collection is made up of two adjustable desks. Starting with the Omnidesk Amé(雨), the desk is made up of Rain Trees that is found in the sweltering jungles of South America. Also known as saur wood in this part of the world, the name "Rain Tree" was given by indigenous tribes of the area after making use of the tree as a place of refuge and safety against rainstorms.
Visual wise, the Rain Tree's timber possess a beautifully warm golden sapwood on is outer section while gently juxtaposed by a rich dark heartwood at its very centre. With careful preservation and treatment of the wood during production, Omnidesk was able to retain its natural tenacity and resistance to water, fungus, bacteria and even mould.
The Omnidesk Amé is available in 48″, 60″ and 72″, with an exclusive launch price of S$1,650, S$1,800 and S$1,950 respectively.
Additionally, Omnidesk Kawa (川) is also another option to choose from. Made of Teak that is known for its strength, durability and elemental resistance, this piece of hardwood plays a major role in naval history.
Commonly found in the humid country of Indonesia, Teak trees are characterised by their thick trunk and a wide-spreading crown. The timber of this specific tree is a rich dark heartwood with some variations of honey-golden and even buttery tones of wheat and amber in their outer sapwood.
The standout bit here, aside from being thinner than the saur wood, is the blue resin used across the length of the table, to give the illusion of a river running across the length of the table. The resin is not fully opaque, and some light can shine though, giving the resin a crystaline shine.
Similar to the Omnidesk Amé, Omnidesk Kawa is carefully preserved and treated during production to maintain the famed world-building tenacity that it possess while still preserving its beauty in all its glory.
The Omnidesk Kawa is available in 48″, 60″ and 72″ with an exclusive launch price of S$2,200, S$2,550 and S$2,900 respectively.
Due to the unique shape of each piece of wood, as well as the resin on the Kawa, the Omnidesk Ichi (One) collection can't be purchased like any other Omnidesk products. A dedicated service has been set up to accommodate potential customers. Those interested in the collection may set an appointment through Omnidesk's collection page, and indicate the type and size they are planning to purchase.
They will then head down to the showroom, and select the piece they want, from the available tops available. That said, Omnidesk is aware that some folks might want table tops of different dimensions, including wider or bigger ones, and a level of customisation is available.
The new Ichi (One) collection is definitely not only just a unique addition to elevate workspaces but also to pay respects to nature's beauty. For more information about the new series, head on to Omnidesk's official website.