Before his days as X-Men's Professor Charles Xavier, Sir Patrick Stewart impressed audiences with his portrayal of Captain Jean-Luc Picard in Star Trek: The Next Generation. Spanning across 1987 to 1994, the 178-episode series pushed the character, alongside William Shatner's Captain James T Kirk, to become two of the franchise's top stars.
In fact, the duo's overwhelming popularity saw them appearing in four additional feature films – Star Trek Generations, Star Trek: First Contact, Star Trek: Insurrection, and Star Trek: Nemesis – before Stewart hung up his space suit for good. That didn't stop fans from hoping for a return of the beloved Starfleet officer, however, and it seems the time has finally come.
It is an unexpected but delightful surprise to find myself excited and invigorated to be returning to Jean-Luc Picard and to explore new dimensions within him. Read my full statement in the photo. #StarTrek @cbsallaccess Photo: @shervinfoto pic.twitter.com/8Ynuj3RBNm

— Patrick Stewart (@SirPatStew) August 4, 2018
During a surprise appearance at the annual Star Trek convention in Las Vegas, the actor took the stage to announce that he'll be reprising his role as Picard for a new Star Trek series on CBS All Access. He later proceeded to update his Facebook and Twitter pages with the news, stating how he feels ready to return to the fray – much to the joy of the community.
As expected, the plot details are being kept under wraps for now, and a ballpark premiere date for the untitled production has yet to be announced. What's known, though, is that the upcoming instalment is set to tell the story of the next chapter of Picard's life, which puts the timeline after the events of Star Trek: The Generation, instead of a prequel or reboot. A yea more than a nay, we think.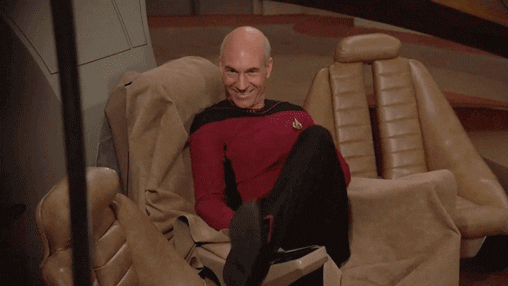 Joining Stewart in his double role as executive producer are Alex Kurtzman, James Duff, Akiva Goldsman, Heather Kadin, Rod Roddenberry – son of Star Trek creator Gene Roddenberry – and CEO of Roddenberry Entertainment Trevor Roth. Kurtzman, showrunner of 2017's Star Trek: Discovery, expressed his enthusiasm at Stewart's return, stating:
With overwhelming joy, it's a privilege to welcome Sir Patrick Stewart back to the Star Trek fold. For over 20 years, fans have hoped for the return of Captain Jean Luc-Picard and that day is finally here. We can't wait to forge new ground, surprise people, and honour generations both new and old.
As Star Trek fans, we are certainly looking forward to the production. Oh, and a very warm welcome back, Sir Patrick Stewart!