[ We have the updated and official visuals over here – LEGO Star Wars UCS Millennium Falcon 75192 Official Visuals ]
"You're all clear, kid, now let's blow this thing and go home!"
Everyone knows this quote, as it's when a smuggler became a hero.
And it looks as if Lego is setting fans up for something amazing.
Back in April, there was a seemingly innocuous post on the LEGO Subreddit –
TL;DR it talked about a re-release of the UCS Millennium Falcon. You know, the one that came out years ago and is being sold in secondary markets for US$5,000. It had all the merits of a massive leak but since the details were released on 1 April, of all days, many within the thread called it a hoax.
However, we have it on good authority that the post is accurate, and we will be seeing a brand new Ultimate Collector's Series Millennium Falcon in 2017.
Here are the facts that we have established with our insiders:
The image above is visually similar to internal LEGO decks we've seen in the past
The price is indeed accurate at €699.99. This makes it the most expensive LEGO set ever released at retail
The price for Singapore should come in between S$999.99 – S$1199.99
The Ultimate Collector's Series 75192 Millennium Falcon will have the highest piece count for any LEGO set at 6XXX pieces. Until final release, this set is currently gunning for the crown of highest brick count for any LEGO set as well
Release is slated for late Q4 2017, just in time for the next Star Wars movie!
That's as much as we can reveal for now but based on our past experience, we are confident this piece of news should be spot on.
So what you can do between now and then apart from saving up for this MASSIVE set? You could always find room in your home for the Ultimate Collector's Series 75192 Millennium Falcon, we hear that a coffee table is a good option –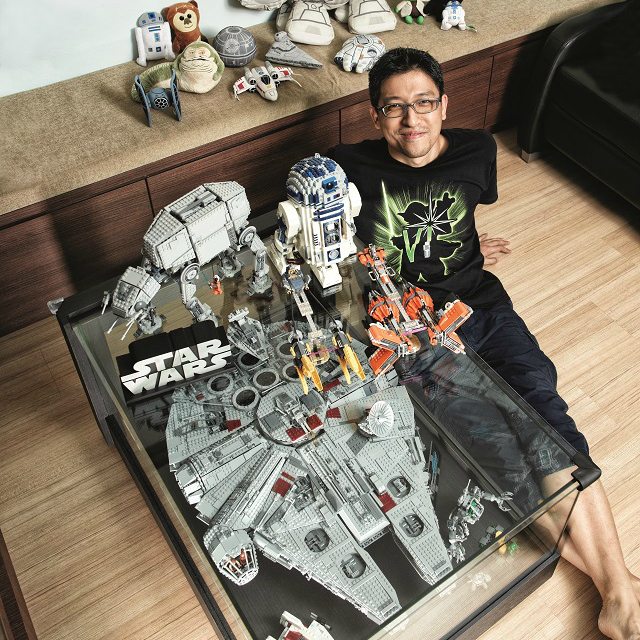 Regardless of the price, it's been 10 years since the last release of the older UCS Millennium Falcon and its price has appreciated considerably. So much so that LEGO has become a better investment product than even gold in some circles. While it's likely the prices for the brand new set might be cheaper overseas, box collectors and LEGO flippers might be more inclined to purchase one in their own local market.
Come Q4 2017, the new Ultimate Collector's Series 75192 Millennium Falcon probably might be supply restricted and it wouldn't be surprising if stores limited it to only one purchase per customer.
---
75192 Millennium Falcon™
Ages 16+. 7,541 pieces.
SGD$1209.90 – US $799.99 – CA $899.99 – DE 799.99€ – UK £649.99 – DK 6999.00 DKK
Travel the LEGO® galaxy in the ultimate Millennium Falcon!
Welcome to the largest, most detailed LEGO® Star Wars Millennium Falcon model we've ever created—in fact, with over 7,500 pieces it is the biggest LEGO model ever sold! This amazing LEGO interpretation of Han Solo's unforgettable Corellian freighter has all the details that Star Wars fans of any age could wish for, including intricate exterior detailing, upper and lower quad laser cannons, landing legs, lowering boarding ramp and a 4-minifigure cockpit with detachable canopy. Remove individual hull plates to reveal the highly detailed main hold, rear compartment and gunnery station. This amazing model also features interchangeable sensor dishes and crew, so you decide whether to play out classic LEGO Star Wars adventures with Han, Leia, Chewbacca and C-3PO, or enter the world of Episode VII and VIII with older Han, Rey, Finn and BB-8!
Includes 4 classic crew minifigures: Han Solo, Chewbacca, Princess Leia and C-3PO.
Also includes 3 Episode VII/VIII crew minifigures: Older Han Solo, Rey and Finn.
Figures include a BB-8 droid, 2 buildable Porgs and a buildable Mynock.
Exterior features include intricately detailed and removable hull panels, a lowering boarding ramp, concealed blaster cannon, 4-minifigure cockpit with detachable canopy, interchangeable round/rectangular sensor dishes, upper and lower quad laser cannons, and 7 landing legs.
Main hold features a seating area, Dejarik holographic game, combat remote training helmet, engineering station with turning minifigure seat and a doorway build with passageway decoration.
Rear compartment features the engine room with hyperdrive and console, 2 doorways, hidden floor compartment, 2 escape pod hatches, engineering console and an access ladder to the gunnery station.
Gunnery station features a minifigure gunner's seat and detachable hull panel with fully rotating quad laser cannon. An additional quad laser cannon is also mounted on the underside.
Also includes an informational fact plaque.
Features a new cockpit canopy element.
Classic crew weapons include Han's blaster pistol and Chewbacca's stud-firing bowcaster.
Episode VII/VIII crew weapons include Han's blaster, Rey's small silver blaster and Finn's medium blaster rifle.
Change out the features and crew characters to switch between classic and Episode VII/VIII versions of the Millennium Falcon!
Open individual hull panels to access the detailed interior while retaining the overall exterior appearance.
Slide the panel to reveal the concealed blaster cannon.
Turn classic Leia's and Han's head to reveal their breathing mask decoration.
Makes the perfect intergalactic toy or flagship display model.
Measures over 8" (21cm) high, 33" (84cm) long and 22" (56cm) wide.
Gerald currently straddles between his love of video games and board gaming. There's nothing that interests him more than trying out the newest and fanciest gadget in town as well. He dreams of publishing a board game sometime in the future!
---

Drop a Facebook comment below!