Stop signing up for a new telco plan folks, as a new player is ready to enter the fray.
Internet service provider MyRepublic has been gunning for a spot as a telco company since 2014, but it has had to settle for being a mobile virtual network operator. Having announced that it is partnering with Starhub earlier this month, similar to the arrangement between Circles.Life and M1, which allows MyRepublic to use Starhub's existing infrastructure to provide mobile services, the company has introduced plans for its service.
The catch? It's only open to current MyRepublic users and their friends and family for now. MyRepublic customers and those who registered their interest in MyRepublic Mobile 2 years ago are receiving emails containing 5 promo codes, giving them access to sign up for the plans on MyRepublic's website and share the codes with friends and family.
There are two plans – Uno, which comes with 1GB of data at S$8/month, and Ultimate, which comes with 80GB of Data for S$80/month.

Both are no-contract plans that come with 1000 minutes of talk time and text messages, but the standout feature here is the boundless data. This means that even if you use up your plan's data inclusions, your data won't be cut off completely but its speed will be reduced, but still allow you to still surf the web, check emails, use Google Maps, stream music, and text and call on Whatsapp.
Gone is the shock at exorbitant prices charged for exceeded data usage or sudden data cut-offs. Data speeds may be capped after exceeding, but it seems like speeds will still be reasonable so this can even be considered unlimited data of sorts, and in any case, 80GB of data is already plenty. Users who sign up will receive their SIM cards by mail and can connect to the network immediately.
You can apply to port your existing mobile number from another telco to MyRepublic free of charge by selecting "Keep my existing number" as you are signing up for a plan online. Just ensure that you do not have an existing contract with your previous telco to avoid hefty early termination fees!
Should you need more data at regular speeds, one-time and monthly data boosters can be purchased as add-ons.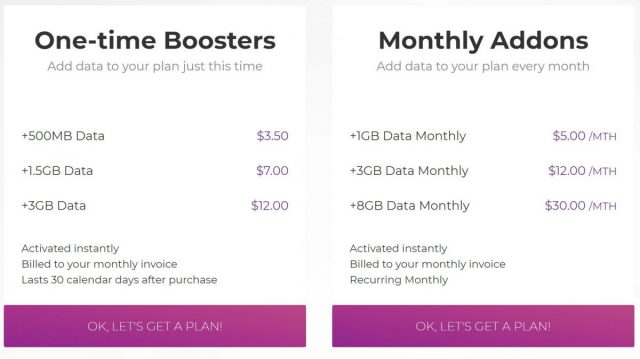 With so many mobile plan options from so many providers out there right now, it's a race to see who can provide the most data at the lowest price. In March, Circles.Life unveiled their $3/day unlimited data add-on, a flexible option for those who need an extra boost on certain days. Take a look at the comparisons between the biggest data options currently on offer from the three virtual operators and three telcos in Singapore.
Provider
MyRepublic
Circles.Life
Zero Mobile
StarHub
Singtel
M1
Basic Plan Price
(SIM only,
no contract)
$8/mth
$28/mth
$40/mth
$24/mth
$20/mth
$20/mth
Data Inclusion
1 GB
3 GB
9 GB
3 GB
3 GB
2 GB
Unlimited Data Options
Ultimate Data Plan: 80GB, $80/mth
$3/day add-on
Unlimited data plan: $75/mth
Unlimited Data on weekends
$39.90/mth Data x Infinity add-on (+$10.70 setup fee, min. 24 mth sub)
Unlimited data plan: $98/mth (only for 12-mth contract)
Data Throttling
Yes, after exceeding inclusions
After 100 GB
Yes, data cap unspecified
After 10 GB
After 50 GB
Yes, data cap unspecified
It may not be unlimited per se, but MyRepublic's boundless 80 GB for $80 plan is one to consider for those looking for more data on their phones. They intend to launch more plans for their commercial launch but aren't sharing details on when and what kinds of plans they may be at the moment. So until then, only those with the promo codes have the chance to grab these plans from MyRepublic.
---

Drop a Facebook comment below!