It is not everyday that you see a company pull a rabbit out of a hat, much less a literal one, and the tie-up between Singapore's Mighty Jaxx and Seoul-based tattoo artist Goodmorning Princess looks set to bring toy collectors down the proverbial rabbit hole, with their new line of whimsical collectible series.
Known for his cute and minimalistic art designs, Goodmorning Princess has created a legacy whose works surround a parallel universe called Goodmorning Town. Citizens here – mainly animals personified – only know love and peace and lean on each other for support and simply exist as some of the cutest original characters created by the inner world and imagination of the artist.
Art comes in many forms, from collectibles, oil paintings, clay sculptures and of course, tattoos, where ink is the medium and the human is the canvas. Still, there is a longevity when it comes to getting inked and while folks can own a piece of art forever, permanence on one's body may not be everyone's cup of tea, no matter how cute said art can be.
Now, this is where Mighty Jaxx comes in as they are seeking to bridge the divide between subcultures into the physical realm.
The collectible company is bringing tattoos to life in the form of 3D physical art, starting with their latest work with tattoo artist Goodmorning Princess where collectors can not only own a piece of art on their body, but also in the comforts of their own homes.
Goodmorning Princess has over 346,000 followers on Instagram and has established a following of his own where devoted fans from all over the world would hop on a plane and cross oceans just to get a Goodmorning Town character tattooed on their body, but if you'd like to own something by Goodmorning Princess without flying, fans can get Chief Cottontail, the first ever citizen of Goodmorning Town on MightyJaxx!
While the seemingly innocent citizen is depicted as looking like regular doodles one can expect in a sketchbook, there is a chubby attraction to this new animal, especially when mixed in with the fluffy, at times squishy, but all the time quirky, cute, and wholesome with a little bit of naughty humour injected into them.
The inhabitants of Goodmorning town are more than standalone creatures! Every time Goodmorning Princess does a tattoo, he sees it as giving his customers a soulmate. The inspiration for his designs comes from everyday life: photos, lived experiences, conversations with customers, basically anything that sparks his imagination and it seems like the artist's belief in universal cuteness is shared worldwide.
The Chief Cottontail collectible is carefully sculpted to maintain the same light-heartedness and minimalism of Goodmorning Princess' doodles while ensuring that it is still an adorable piece that will fit on any shelf.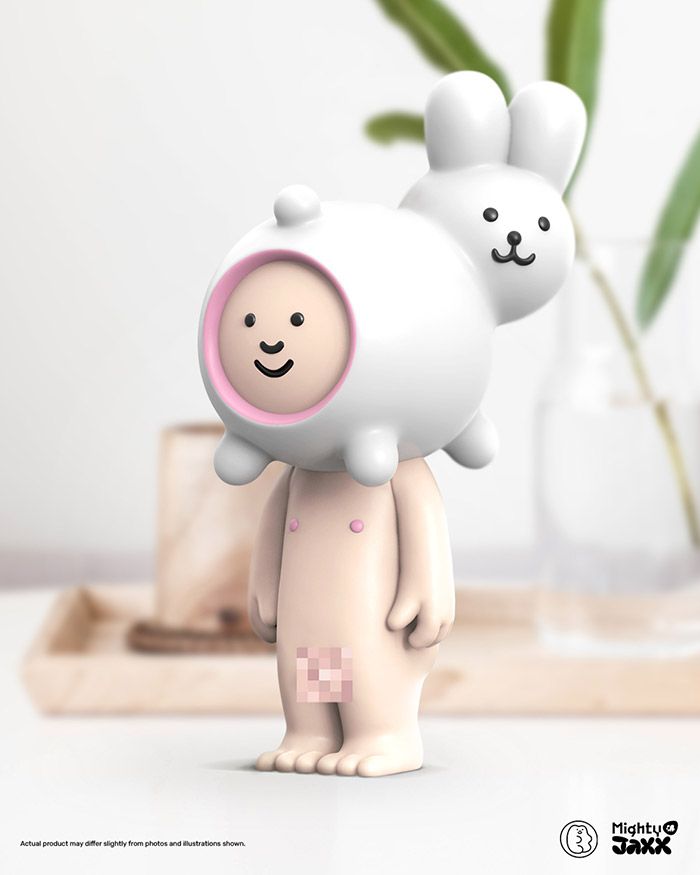 Chief Cottontail appears in full nude but wears a bunny on his head – a constant reminder of his duty as the chief. The collectible comes as an 8-inch vinyl art toy and is a limited edition piece only available on Mighty Jaxx's website.
The first of what fans can hopefully expect to be a full series, Mighty Jaxx and Goodmorning Princess' Chief Cottontail collectible is now available for US$169.
---
This article is brought to you together with Mighty Jaxx.
---

Drop a Facebook comment below!