In comic books, superheroes look after humanity, but in the real world, we look after ourselves, but what if there's a way to do both? If you are a massive Marvel fanboy, and cannot get enough of Iron Man or Captain America, Korean water purifier expert Ruhens has just the thing, with the Ruhens V Marvel Edition Water Purifiers, which serves up its industry-leading home water purification system under the colour scheme and designs of two of the Avengers most prominent members.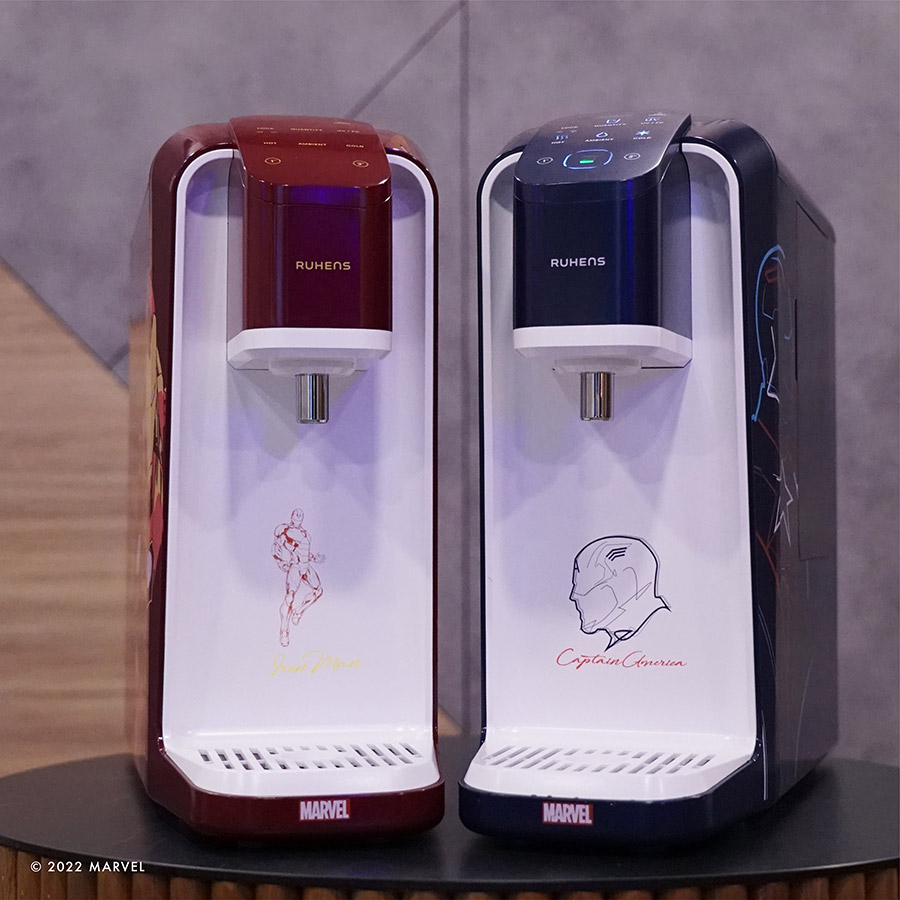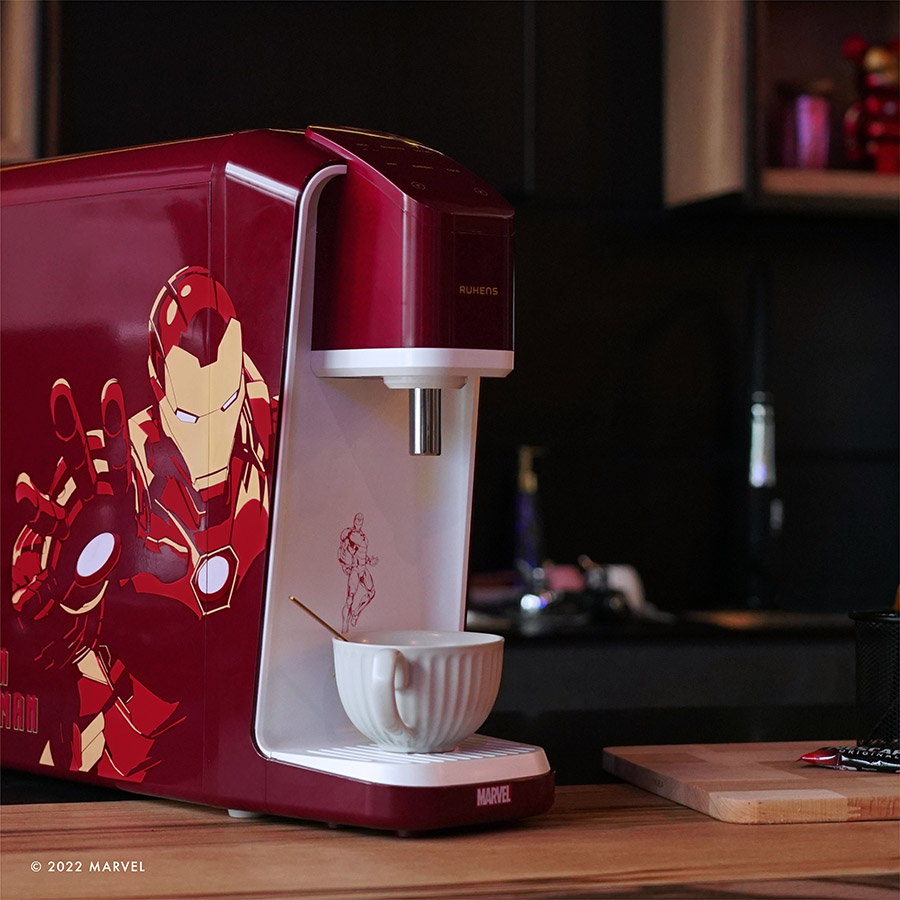 Known for their many water cleaning systems, the Ruhens V system is the brand's top-of-the-line system, offering multi-functional hot and cold water purification systems. Now, water from the tap is perfectly clean to drink in Singapore, but for many households, it's not the cleanliness of the tap that matters, but the hundreds of meters of metal pipes that the water flows through, before ending up in your kitchen. And that's where the purification process starts, by cleaning the water that enters your home, removing any remnants or bacteria that could have been picked up along the way.
With the limited edition Ruhens V, available in the designs and colours of two of Marvel's most popular heroes –  the rich red of Iron Man, or the cool blue of Captain America – you can stay hydrated and protected at the same time. These Marvel-inspired water purifiers would look right at home next to any of your Marvel collectibles, except that these are more suited for your kitchen, so unless you have those in your kitchen, you can now further assemble one of these centrepieces in your kitchen.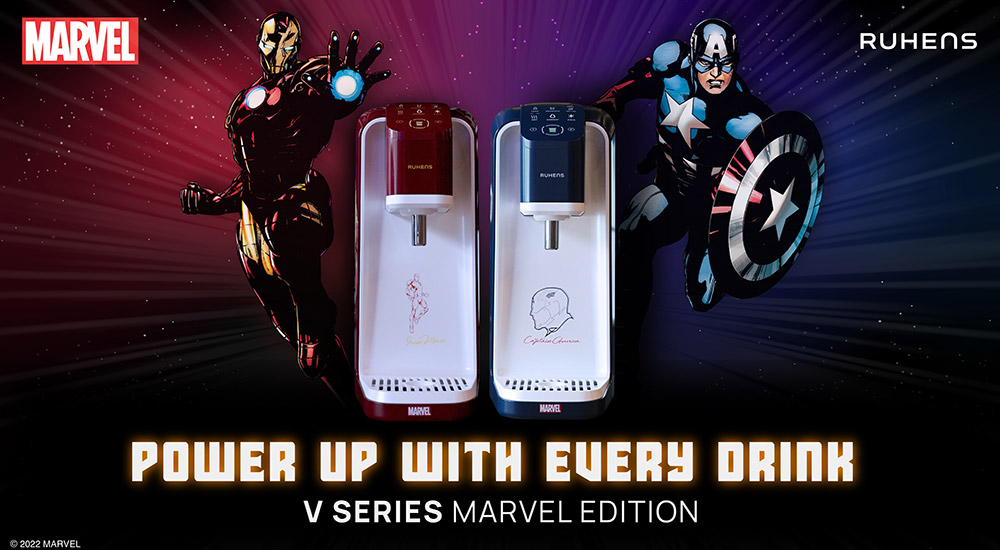 The Ruhens V are tankless systems that connect directly to your indoor plumbing, so these water purifiers do not take up a lot of space, fitting in well with the minimalist look that's trendy these days. Its dimensions of 432mm(h) x 160mm(w) x 514mm(length) is roughly the size of a medium-tower CPU casing, or in kitchen appliance language, smaller than your microwave, and about the size of an airfryer, making it easy to set up on your kitchen counter top.
Both these units have been exclusively designed in Singapore, and contain all the bells and whistles that would make Tony Stark proud, including a multi-choice automatic dispenser, a one-press UV sterilisation feature, and even an energy savings mode.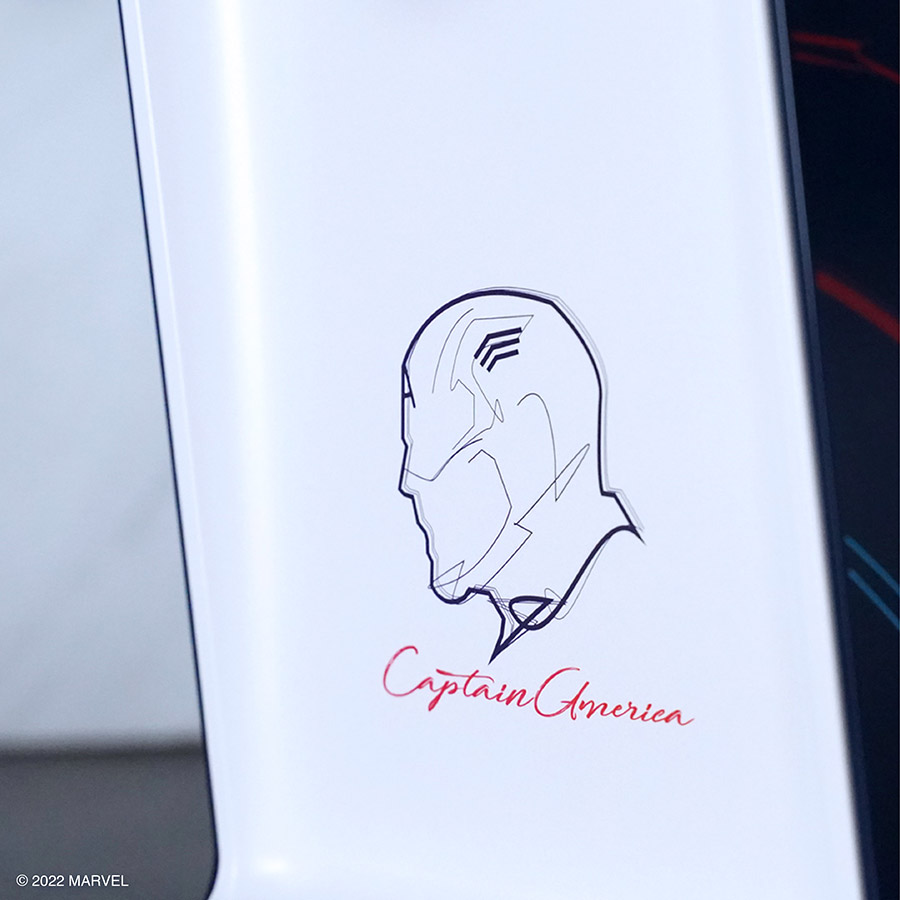 The Ruhens V is perfect for the family, as everyone doesn't just get one hot water or cold water option. No, that's too mundane. The Ruhens V lets you dispense water in five different temperatures: 4°C, 27°C, 40°C, 60°C, 87°C.
You can easily get a cup of cold water for a hot day, hot water for your cup noodle supper, even just-nice temperature to prepare your baby formula, with a few button presses. Since the Ruhens V also automatically dispenses in either 120ml, 550ml or 1,500ml, you can easily prepare an extremely large bowl of instant noodle (we won't judge), no fuss, no mess.
It is also fitted with two types of filters that remove sediment as well as bacteria and viruses. These filters can be automatically sterilised with its UV light function, making maintenance a cinch. The machine will also notify you when the filters need changing, which can be easily replaced at home by yourself. And while it's not as cool as Iron Man's nanotech, the water faucet is detachable, which allows you to rinse away any accumulated dust from your home's surroundings.
The Ruhens V's eco mode also reduces power consumption by 30% to just 63W, saving the environment and your wallet. Robert Downey Jr. would be proud.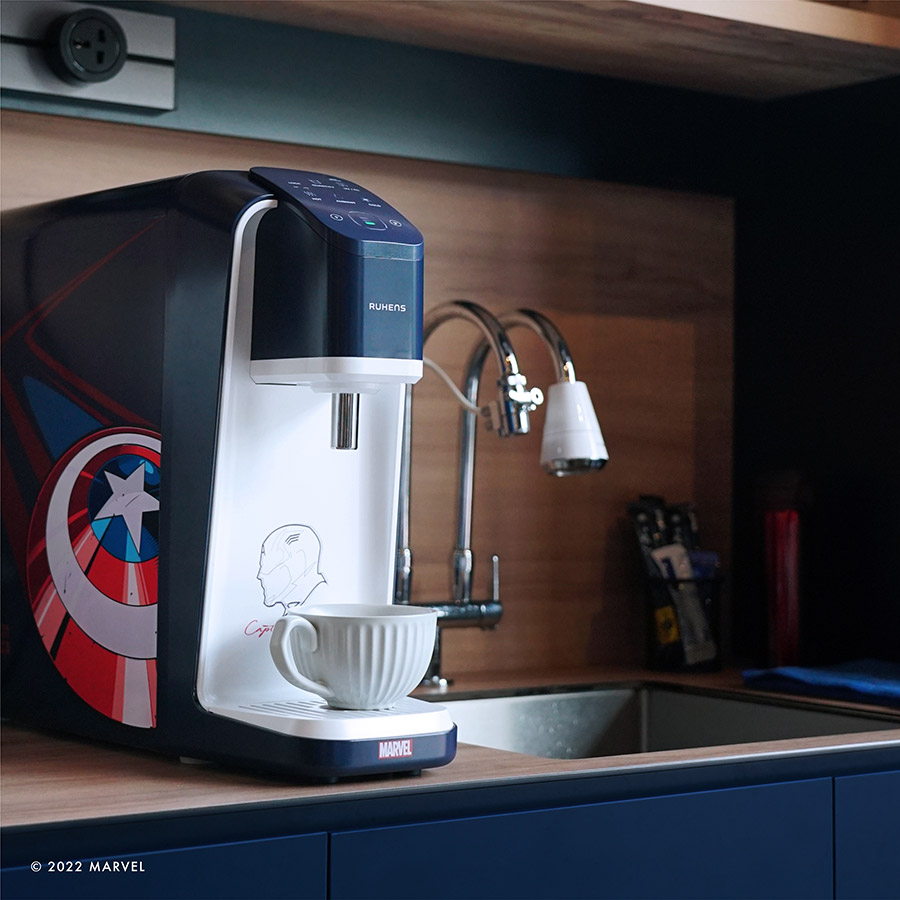 With all these features and bling, the Ruhens V Marvel Edition Water Purifiers offer protection for the whole family for just S$2,799, including three years' worth of replacement filters. If you want these heroes at your disposal, Captain America's version is out now while Iron Man's version is currently up for pre-orders. If you prefer a less fancy design, the Ruhens V also comes in five other colours if you want less Marvel-lous options, or simply prefer it to match your kitchen aesthetic and colour scheme.
---
This article is brought to you together with Ruhens.
---

Drop a Facebook comment below!