LG Electronics has just unveiled its 2022 gram series of laptops, which includes refreshed models for its 17″, 16″ and 14″ gram clamshell laptops, 16″ and 14″ gram 2-in-1 convertibles, and a new 16″ +view portable monitor.
Before we dive in, let's just mention this — LG should consider rebranding the series because it's really hard to market names like gram and +view. We get that the name screams lightweight and the whole digital nomadic lifestyle thingy, but by golly, it is really darn confusing.
"Hey what did you think about the gram?"
"Which one? The Instagram, Telegram, MSG from the market, or the LG laptop?"
That said, let's look at what LG has in store for 2022.
LG gram Clamshell Laptops
Externally, the 2022 gram laptops don't look too different from its 2021's lineup, with this year's chassis coming in three colours — black, grey and white. Their specifications however have been updated. The 2022 models come equipped with Intel's 12th generation processors, Intel Iris Xe GPUs, Gen4 NVMe SSDs and 16GB LPDDR5 RAMs, with claims that the new models perform a cool 22% better compared to last year's models.
The 17″ (17Z90Q) and 16″ (16Z90Q) models have 2560 x 1600 resolution IPS panels, while the 14″ (14Z90Q) model gets a 1920 x 1200 resolution IPS screen. The screens give 99% DCI-P3 colour, are anti-glare and reach 350 nits in brightness during typical usage.
Like most laptops launched this year, the LG grams also come with software to auto-lock the screen when the owner is away, and an intruder detection system to prevent over-the-shoulder spying by random strangers. To optimise video conferencing, the models also come packed with a full HD webcam and AI-noise cancelling speakers.
It goes without saying that the grams are on the lower end of the weight spectrum, with the 17″ only weighing 1,350g – lighter than many other brands' 14″ laptops. The 17″ also gets up to 17.5 hours of use time. If portability is the most important thing you need, the LG gram got you covered.
As a bonus, these laptops also ship in eco-friendly packaging, which can be reused as a desk calendar and pencil holder. Pretty neat.
LG gram 2-in-1 convertible laptops
LG's version of the laptop-tablet convertibles that some users love, the gram 2-in-1 models come with the usual Windows OS as well as software for drawing and notetaking with the LG Stylus Pen (Wacom AES 2.0) to help you get the most out of the tablet mode.
The two 2022 convertible models sport similar specifications to the clamshell models, with the exception of the screens. While the resolutions remain the same — the 16″ (16T90Q) at 2560 x 1600 and the 14″ (14T90Q) at 1920 x 1200 — these are touch IPS displays, with 300 nits brightness at regular use, and don't have anti-glare, so don't try to use them under the sun.
They weigh slightly heavier compared to the equivalent clamshell models, with the 16″ at 1,480g and the 14″ at 1,230g, but are still pretty light as far as convertible laptops go. Battery life is a respectable 18.5 and 20 hours respectively.
The convertibles only come in black.
LG +view portable monitor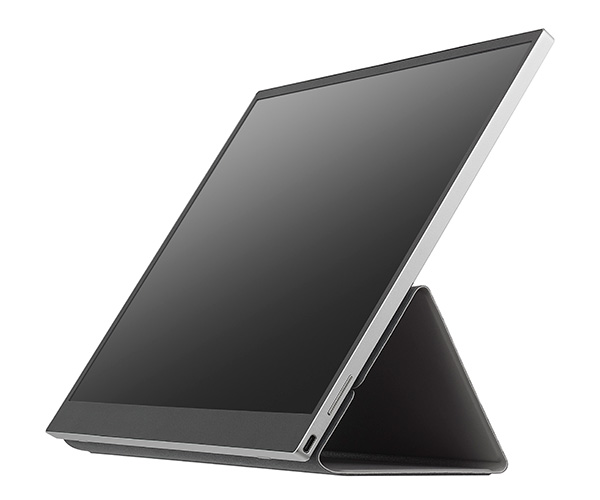 The new entry to the series, the 16-inch (16MQ70) +view portable monitor is aimed at bringing the multiscreen experience of your home/office workstation to wherever you choose to be.
The display can support 2560 x 1600 resolution on an anti-glare IPS screen with a 99% DCI-P3 colour coverage and 350 nits brightness.
The screen can be used in either horizontal or vertical orientations, and is best paired with the 16″ gram to double your screen workspace. It connects to your laptop via USB-C and will draw power from the laptop's battery since it does not has its own power source.
The +view portable monitor only comes in silver, which is somewhat unfortunate since it doesn't match any of the colours of the laptops.
Here's a quick rundown of the prices.
Model
Resolution
Storage Size
Price (i7 processor versions)
17″ gram (17Z90Q)
2560 x 1600
512GB
1TB
S$2,699
S$2,899
16″ gram (16Z90Q)
2560 x 1600
512GB
1TB
S$2,599
S$2,699
14″ gram (14Z90Q)
1920 x 1200
512GB
S$2,199
16″ gram 2-in-1 (16T90Q)
2560 x 1600
512GB
S$2,899
14″ gram 2-in-1 (14T90Q)
1920 x 1200
512GB
S$2,699
16″ +view (16MQ70)
2560 x 1600
–
S$499
The new LG gram laptops lineup will be available from the end of May in Singapore, at LG official brand stores on Lazada and Shopee as well as all authorised retailers: Best Denki, Challenger, COURTS, Gain City and Harvey Norman.