Esports is on the rise. The idea of playing video games competitively for big bucks is a dream many individuals aspire to reach.
However, the realities of the space and the sport in general is still a tricky realm to navigate.
Despite being in Bangkok and prepping for their big match at this weekend's Lenovo Legion of Champions' regional competition, Team Rayning Jelly Bears, who are representing Singapore and part of the 12 teams across the Asia Pacific fighting for the top prize of US$7,000, the five teammates, age between 18 and 25, have no illusions that win or lose, there is no professional career in esports for them.
This is despite the fact that Singapore has been giving an increased amount of attention towards competitive gaming and esports in recent years, from *SCAPE providing educational programmes for aspiring gamers and casters to hone their skills and explore their passion in the industry, as well as the emergence of more esports tournaments in Singapore, such as last year's PVP Esports Tournament, which was co-organised by Singtel and Razer.
While the gaming scene has evolved, the embrace of esports as a career is still nascent in Singapore. Unlike South Korea, Europe or the United States, the Republic has only just started to recognise competitive esports, mainly due to recent movements, such as the inclusion of esports tournaments at the Asian Games, but the team says that Singapore is just not ready to cultivate a healthy esports ecosystem just yet.
"There is probably a future, but not at the moment." notes 25-year-old Low Jun Wen who is currently working in an e-commerce business, to the agreement of the whole team.
Things will turn around in the next decade, though the team will be too old to compete.
So what can be done to foster a greater appreciation in esports?
Besides cheekily asking for an increase in the prize pool, the teams feels that Singaporeans might want to follow in Korea's footsteps, if the country wishes to reach the level of popularity esports has in Korea.
"They have a good fanbase," explains Bryan Lim, a 21-year-old student, who plays as a top-laner for the team.
"Every time they play, they'll have people shouting "Let's go! Let's go!" team coach Aaron Lau adds.
This is a sombre reminder that despite actions taken over the past few years to bring positive attention to esports, it is not enough to erase decades old perception of gaming, and how some feel that it is still just a waste of time which ultimately results in a lack of support for esports gamers in Singapore.
When further asked if they intend to pursue a career in esports, all of them shook their heads and said they would rather continue studying and find a stable job in the future.
"Singaporean parents don't support their kids on this. [They feel] that it's just a waste of time and there there's no future in this," Low explains.
On another note, RJB remains positive for their first match, which is against Malaysia, on Friday.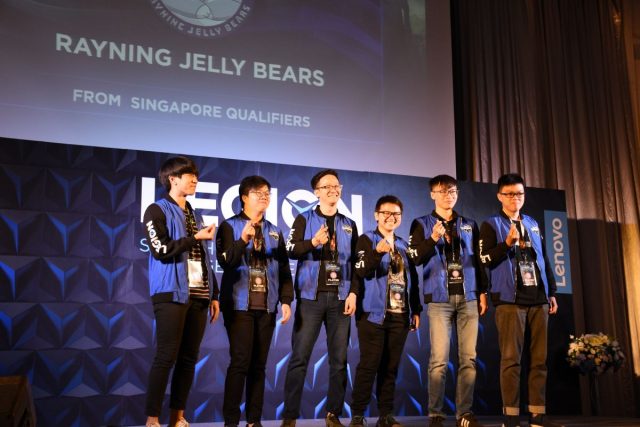 Team Malaysia, otherwise known for their team name Duckondrug, seems to be the team RJB is dead set on beating. This is due to both teams playing together often on the same server on League of Legends so they are both more than familiar with each other.
However according to RJB, they feel that the team that has the highest chance of winning is most likely Team Korea, aka Awe Star, who according to RJB, are "professional gamers" who have put in a lot more practice then them.
That is not to say that RJB has been slacking off. Coach Lau says that they have been hard at work training for the past few weeks. They practice as a team at least two to three times a week, which is not an easy feat considering that most of them are still students, with assignments and exams to take care of. One of them, 21-year-old Alvin Tan, is still serving his National Service.
The Legion of Champions Series III (LoC III) will be the first competition the team will be competing in together. Prior to this, Tan has also competed in and won the 2017 Singapore League Series, while RJB's fellow mid-laner, the 18-year-old Winston Tai has won the qualifiers for the first Legion of Champions before, back in 2017.
Despite having members with experience competing in competitions before, 21-year-old student Lim Zheng Ying, whose team members all called their 'carry', says that, "We have the potential to be [in] the last place, but also to be the first if we all play well."
This will be the third year that Lenovo is holding the Legion of Champions and it will be happening from January 25 to January 26. Teams from 12 countries across the Asia Pacific have made their way down to Bangkok to compete in this competition. The prize pool also includes five Lenovo Legion Y530 gaming laptops, worth USD$5,000.
---

Drop a Facebook comment below!