Singapore and Malaysia gamers get ready – it's time to answer, once and for all, which nation has the better food. Okay, maybe it won't get to that cultural aspect of conquest but players are in for a historical journey of a lifetime, by rewriting it. If you've ever wondered how things could turn out differently, it's time to battle it out and claim victory in King Of Nations, a turn-based strategy card RPG, whose introduction is no less than timely this national month (Singapore's National Day is on 9 August, while Malaysia's is on 31 August).
In King Of Nations (KON), gamers will take on the role of a lord and collect heroes along the way. The heroes will then be geared up to fight bloodthirsty battles and take down enemies which come in their way.
In a first for the series, the game studio has chosen to introduce localised heroes in the game, and "Mat Kilau", a legendary Malay warrior, will head the pool of hero selections so Malaysian players can indulge in their very own favourite leader. Following the success of Mat Kilau – Kebangkitan Pahlawan the epic Malaysian blockbuster that broke local box office at home and across Southeast Asia, this legendary character is sure to garner massive support from fans all around.
The game studio has been thorough in their job, and detail-oriented in designing Mat Kilau, with the Malay hero wielding a keris (traditional Malay dagger) and dressed in silat-inspired costumes. As if these weren't enough, this marks the first time "Mat Kilau" is used in any mobile game in the world! How will the regional historical hero measure up to formidable nemeses from other nations?
We all know the old adage "teamwork makes the dream work", and in KON, players will gather heroes and by placing them in the right formation, their true prowess will be unlocked and stronger enemies will not even stand a chance! In this exciting clash of strategies, it's up to you to build your league of heroes from across different nations including Japan, Ancient Greece, Europe, Egypt, China, and Japan, and rewrite the world's history book with mythical characters?
Besides being able to battle legends from the East and West with their favourite heroes, players get to enjoy exclusive rewards. This free-to-play game allows players to enjoy promotions where they can login for 7 days to get 5-star Demonic Athena for free, and have 300 recruitment tickets for 7 days. Sounds tempting? It doesn't end here! Players can also receive tonnes of login rewards and play endless game events!
All these lovely offerings will only sound disappointing if it can only be played on an alien computer with technology 50 years ahead of us. Fret not! The developers have thought this through and have designed KON to be played smoothly on any handheld device even if it only has 480MB to spare. No more long loading waits and buffering. Players can expect to jump in and battle their enemies in the blink of an eye and take part in simulations, boss fights, and even start arena and story modes in a jiffy. Less waiting, more playing!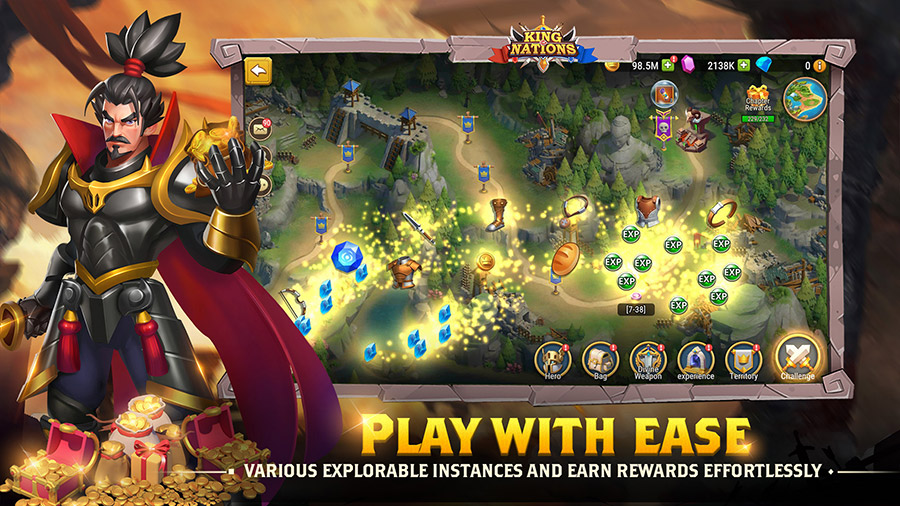 Bored with mythical characters which have no relevance to us? Historical heroes from ancient civilisations will be used in KON. Just throw in a mix of Caesar, Alexander The Great, Oda Nobunaga, Genghis Khan, Zhuge Liang, Sun Tzu and etc, you have a plethora of historical heroes. If that doesn't make your heart pound and your fist bumping the air, nothing else would.
The game studio has also made teamwork a clear goal in the game. By forming alliances with the right strategy, the team's powers will grow exponentially. Plus, what's teamwork without friends? Players can now form meaningful alliances with friends and conquer maps together in simulated life gameplay (SLG).
Bosses! While they can sometimes be a pain in the a*s, it's a challenge serious players look forward to. There will be a long line-up of bosses waiting to be challenged and it's up to the player to finish them off. Do they have what it takes to be the best strategist in KON?
People these days have virtually no extra time on their hands and they could do with some automation in the game. While they're away, their heroes and armies will still be fighting in the background so all they have to do is just login, push a button, and reap rewards. On top of that, the free-to-play game offers promotions to users which include login 7 days to get 5-star Demonic Athena, 300 recruitment tickets in 7 days and the likes of it. Hero, congratulations on staying with us until the end! This shows you're worthy of a valuable gift from us.
Use the code below to redeem an in-game gift pack worth SGD4 / MYR13 now!
"KONNATIONAL"
King Of Nations is available for download on Google Play and App Store now. For more information on King Of Nations, check out the official website, Facebook page, Facebook Group, Instagram and YouTube channel.
---
This article is brought to you together with VNG Games.