The end of the Skywalker saga in Star Wars: The Rise of Skywalker this Christmas will no doubt be the talk of the town for, arguably, the following year. It is no surprise, seeing as it is the culmination of over four decades of geekdom, and we all have high hopes for it to send off its iconic cast of characters in style.
The recent Force Friday unveiled a slew of new Star Wars toys by Hasbro, including the likes of the Star Wars Black Series Luke Skywalker Helmet, and the Black Series 6-inch scale action figures. However, the new Star Wars Galaxy of Adventures 5-inch action figures aren't anything to scoff at, either.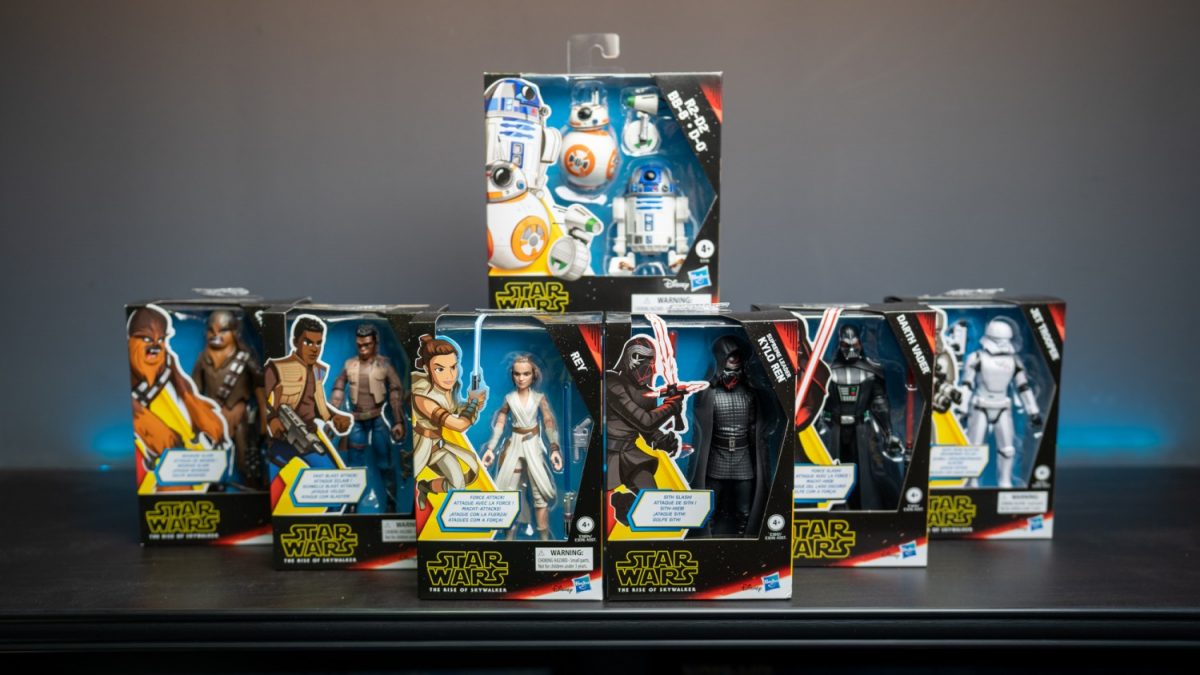 Based on the ongoing 2018 animated web series of the same name, the Galaxy of Adventures figures bear the hallmarks of the child-friendly, cartoony designs of the show's iconic characters from the various one-off episodes.
Each of the humanoid figures come with at least 10 points of articulation, and one or two accessories that can either be worn on the body or on the hands. Additionally, they all come with some form of wind-up mechanic (typically, swinging waists for lightsaber wielders and swinging arms for blaster users) that puts the "action" in action figure — a trait long forgotten by a lot of other action figure series these days, and should prove a breath of fresh air.
---
The new trilogy's poster girl, naturally, comes front and centre of the Galaxy of Adventures action figures. She comes with her lightsaber inherited from Luke Skywalker, as well as her trusty blaster sidearm, which can be holstered on her waist.
Like many of the Force users in this series, she can be swing sideways by winding up her torso. Perfect for swinging her lightsaber in typical fashion.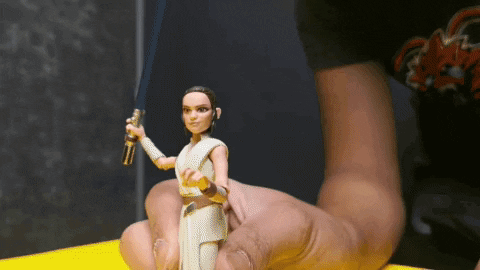 Standing sharply alongside Rey is her good friend and companion Finn. The former First Order Stormtrooper is proficient with a blaster, which his action figure comes with, as well as a satchel that can be slung over his head.
Finn's right arm swings upwards, making it look as if he is ready to blast anyone to oblivion if they get too close. Also, you can simulate some form of Mexican standoff with this guy.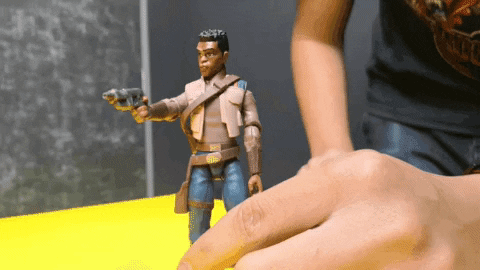 Ah, Chewy. Everyone's favourite Wookie is back, with a fuzzy new Galaxy of Adventures action figure. While his old buddy Han Solo has already bitten the dust (bless his fictional soul), Chewbacca's trusty bowcaster still makes an appearance.
As befitting of his physically-strong nature, Chewbacca's two arms swing downwards, which is ideal for pummelling Stormtroopers in the face.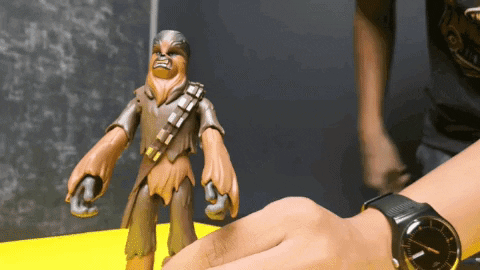 The new trilogy's main antagonist also, naturally, makes an appearance as a Galaxy of Adventures action figure. In keeping with his new Supreme Leader status, his helmet bears the cracks lined with his angry Force energy seeping through. His signature crossguard lightsaber is a staple in any action figure of his, and this series is no different. His cloak can also be removed as well, for additional poseability.
More importantly, however, is the fact that he can also swing sideways, like Rey. Just remember to remove his cloak before you do, or he won't be able to move at all.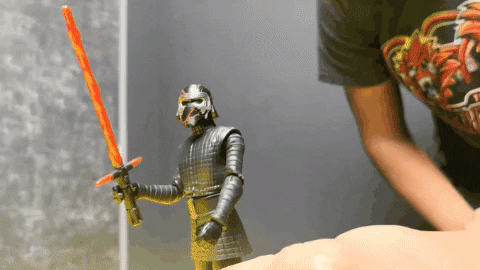 Arguably the most iconic of the lot is none other than Darth Vader. Whether live-action or cartoon, Vader looks satisfyingly menacing, with the angular art style further enhancing his iconic helmet. He wields his equally-iconic red lightsaber, and his simple setup is all he needs to look cool.
As with all other lightsaber wielders in this series, Darth Vader swings sideways when wound up.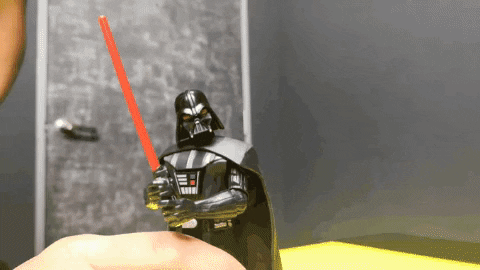 One of the newest First Order Stormtrooper variants that will make their debut in The Rise of Skywalker also features here. Like Darth Vader, the Galaxy of Adventures art style highly accentuates the Jet Trooper's streamlined look, especially on its helmet. It comes equipped with a triple-barrelled blaster, which looks cool as well.
Similar to Chewbacca, both of the Jet Trooper's arms swing when wound up, but upwards instead of downwards. We think it helps with the swimming when the Jet Trooper is underwater (we jest, please don't actually try that at home).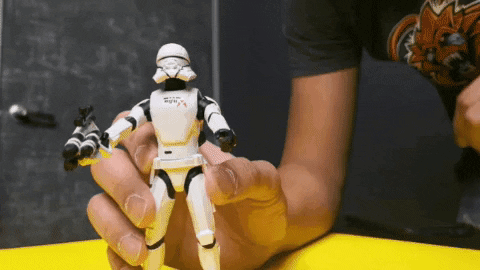 This is arguably the most interactive (and probably the most fun) entry in this series. There are two main components to this piece, with the Stormtrooper itself being the first (which comes with its own mini-blaster), as well as the new speeder bike variant, the Treadspeeder (which comes with a single projectile, as well as a detachable front hood.
The best part is that both components are interactive. The Stormtrooper's right arm swings upwards, like Finn's.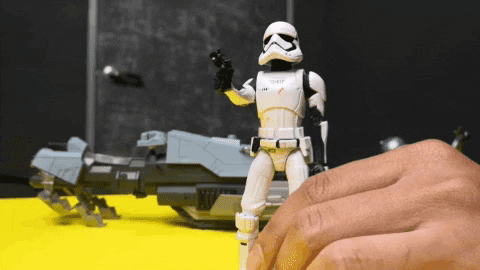 But the true clincher here has got to be the Treadspeeder. It not only can be moved around thanks to a wheel at the bottom of the caterpillar treads, it, more importantly, can be used to fire the projectile in front, as well as eject the front hood and the Stormtrooper riding on it when you press a catch on the back.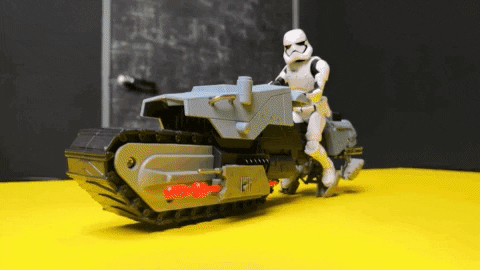 Rounding off the new Galaxy of Adventures action figures is the cute and iconic trio of R2-D2, BB-8 and D-0, all of whom will appear on The Rise of Skywalker. While they don't necessarily have any wind-up mechanics, they still come with 1 – 3 points of articulation, and can be moved around.
R2's legs, in particular, can pivot, you can simulate how it moves in the movies. BB-8 and D-0 don't move, sadly, but they still make great table decorations.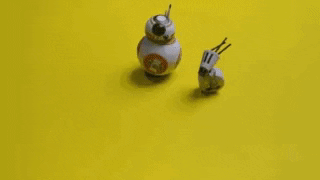 ---
In any case, the new Star Wars Galaxy of Adventures action figures are a must-have, especially if you have a kid who is a Star Wars fan. Or you could get them yourself, if you just love to collect all things Star Wars.
Star Wars: The Rise of Skywalker premieres on December 19, 2019 in Singapore.
---

Drop a Facebook comment below!