It may be a few months before Halloween season is in full swing, but preparation is already well underway over at Universal Studios Singapore for the scariest time of the year – Halloween Horror Nights 8! Back with a theme of "Infinite Fear", this year's event promises more immersive terror and stunt scares than ever across five horrifying haunted houses, three live shows, and two scare zones.
---
Stranger Things
For the first time ever, Universal Studios has teamed up with Netflix to bring to life the critically-acclaimed series Stranger Things, and this is set to be the most highly-anticipated haunted house.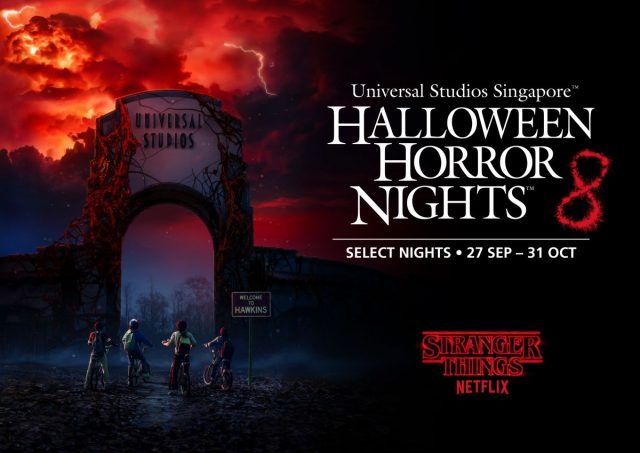 The house is themed around season 1 of the show and will feature the most thematic rooms to date. Ready your baseball bats to face the Demogorgon, as guests will get to relive twelve iconic and chilling scenes such as the flashing Christmas lights in the Byers' home, the Upside Down woods, and Hawkins National Laboratory.
---
Killuminati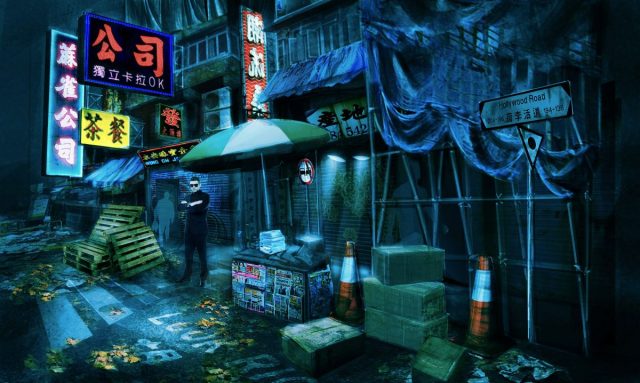 The other four haunted houses will be centred around Asian horror, arguably the scariest sub-genre of horror in the world.
The Killuminati house transports guests into the world of a Chinese secret society of bloodthirsty vampires in Hong Kong. As guests journey through, they'll experience plenty of stunts and scares in the highly interactive house as they uncover what it takes to become part of the cult. Guests will finally get face-to-face with the divine leader of the cult: Lu Xi Fa (get it… Lucifer).
For the first time, the house will also feature a theatrical pre-show, where guests participate in a sacrificial ritual of birthing. We got a sneak peek of the birthing ritual at a media preview, and it was a horrific display where a gruesome, bloody creature burst forth from a sacrificed woman's womb in classic Alien chestburster fashion.
Guests will experience the same ritual, but on a much larger scale. They can expect to be ripped out of their comfort zone, even separated from partners and friends to be placed on different paths with secret rooms, and the chance to get an immersive 1-on-1 experience with defectors plotting to take down Lu Xi Fa.
---
Pontianak
Ask any Singaporean, and they would know the story of the long-haired female ghost, Pontianak. The creepy folklore from Malay mythology has versions all across Southeast Asia, and it can't help but send a chill down your spine.
Pontianak is finally getting her own haunted house, where thrill-seekers are sent to a Malay village and encounter, almost chapter by chapter, the stories of Pontianak. From how she was resurrected, to the banana plantation she resides in and her terrorizing killing spree, the house feeds off all the superstitions you heard growing up.
---
Pagoda of Peril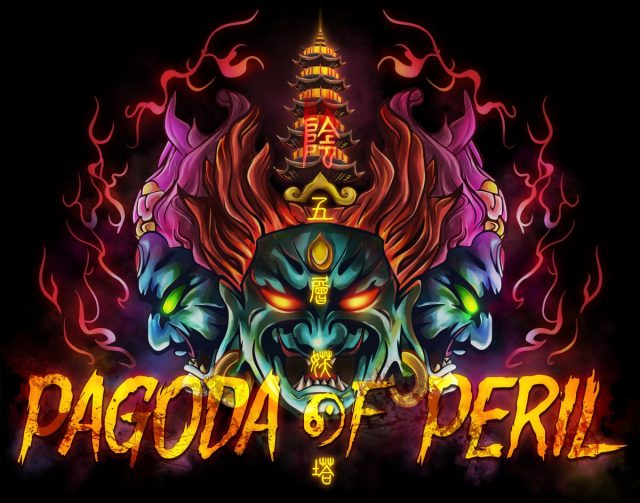 Pagoda of Peril is another Chinese-themed house where guests encounter the iconic demon Yin who traps and feeds off spirits for eternal power. A more fantasy-based house than the others, guests will travel to different realms in the pagoda such as the world of spirits, demons, beasts, and Yin's lair featuring a jade maze.
These worlds will be haunted by demonic creatures and trapped spirits roaming the prison, which will comprise not just of scare actors, but also larger-than-life puppets.
---
The Haunting of Oiwa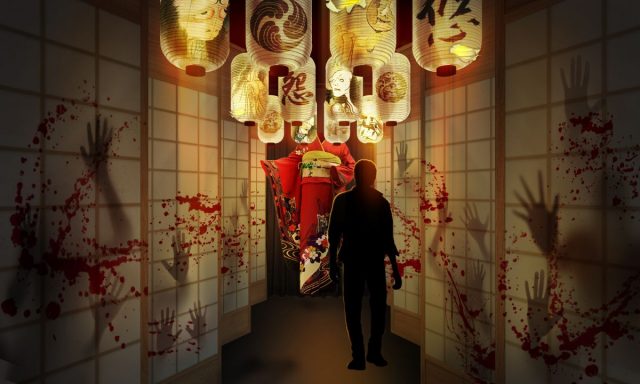 Based on one of the most famous Japanese horror stories, The Haunting of Oiwa house brings guests back in time to Edo-era Japan and the tale of Yotsuya Kaidan. As the story goes, Oiwa is poisoned by her unfaithful husband and returns as a vengeful ghost with the iconic deformed face, haunting her husband with her image everywhere he looks.
To achieve this apparition like-effect, Universal Studios is employing hologram technology to create the floating spirit and lets guest come face-to-face with Lady Oiwa.
---
Scare Zones
Two zones of the park will be converted into immersive Scare Zones. New York will be turned into Apocalypse: Earth, inhabited with vines and foliage and laden with a path of destruction as Mother Earth exacts her revenge for the horrors mankind has laid on the planet.
Cannibal will take over the Egypt zone, where guests can witness a tribe of man-hunters, inspired by true stories of cannibalistic Ugandan warlords, as they kill and devour the bodies of rivals.
---
Live Shows
Scaremony will kick things off at the Hollywood Lagoon Stage, set at Eight Lake Psychiatric Hospital where guests make their way through the creepy hospital halls populated with unwilling patients and screaming apparitions.
The Blood & Bones show at the Cannibal zone showcases the gruesome ritual as the tribe's chief sacrifices their human capture, which gets possessed by ancestral spirits before their feast.
If all the screams get too much, take a break at DEAD Talks at the Pantages Hollywood Theater. A play on TED Talks, join charismatic Gideon Grim, Motivational Death Coach as he offers highly effective scaring tips in a witty seminar-style show packed with illusions, dancing, and acrobatics.
---
Zombie Laser Tag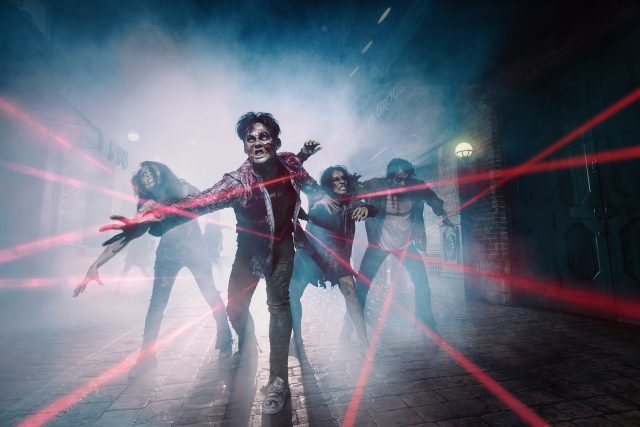 Back by popular demand, Zombie Laser Tag returns bigger and better. Relocated to a new location at Lost World, the arena is twice as large as last year, and guests enter as a team of 8 to battle a bloodthirsty army of zombies.
Led by a drill sergeant, you'll need to work as a team to find clues and crack the code to ultimately save the Earth, all while navigating an obstacle course and fending off zombies.
Zombie Laser Tag is a separate ticketed experience priced at S$38 per participant.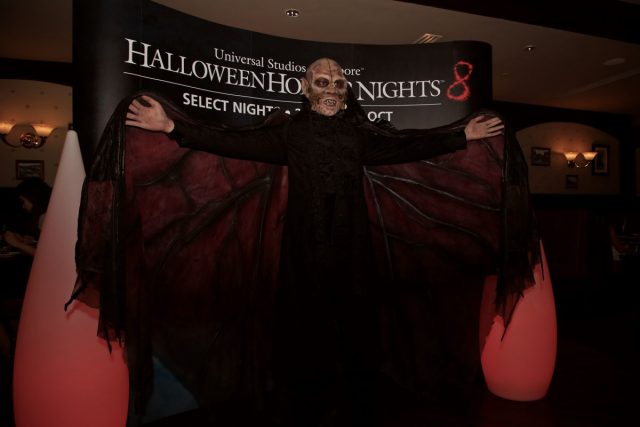 Leading up to the event, Universal Studios Singapore is producing a series of original short horror films that were shot in Thailand. These films aim to showcase the stories and characters of this year's haunted houses, and will be released between July and August on Resorts World Sentosa's social media pages.
Halloween Horror Nights 8 will run for 18 nights from 27 September to 31 October 2018. Early bird ticket can be purchased from now till 12 August at S$55 (non-peak) and S$65 (peak), while standard tickets are priced at S$58 (non-peak) and S$68 (peak).
It's never too early to get into the Halloween swing of things, and for more information and tickets head over to the Halloween Horror Nights 8 website.
Joyce is a language nerd whose idea of a good time includes speed-solving Rubik's cubes and binging Netflix, all fuelled by drinking many, many mugs of tea.
---

Drop a Facebook comment below!

---