Think filmmaking and the standard concept of 'lights, camera, action" come into play but while camera technology and the action, or special effects, on film have advanced greatly, the same cannot be said for simple lighting. While it makes up one of the crucial elements of photography and videography, especially with the rising popularity of content creation in today's world, the use of lights has not changed, except that getting the right lights for the job can still be a challenge.
Be it making videos for your social media platforms, an online video meeting via Zoom or even having a professional photoshoot, poor lighting can ruin an otherwise perfect shot. This is where Zhiyun, a brand known prominently in the gimbal market, offers a solution with a pair of new chip-on-board (COB) LED lights, the Molus G60 and Molus X100.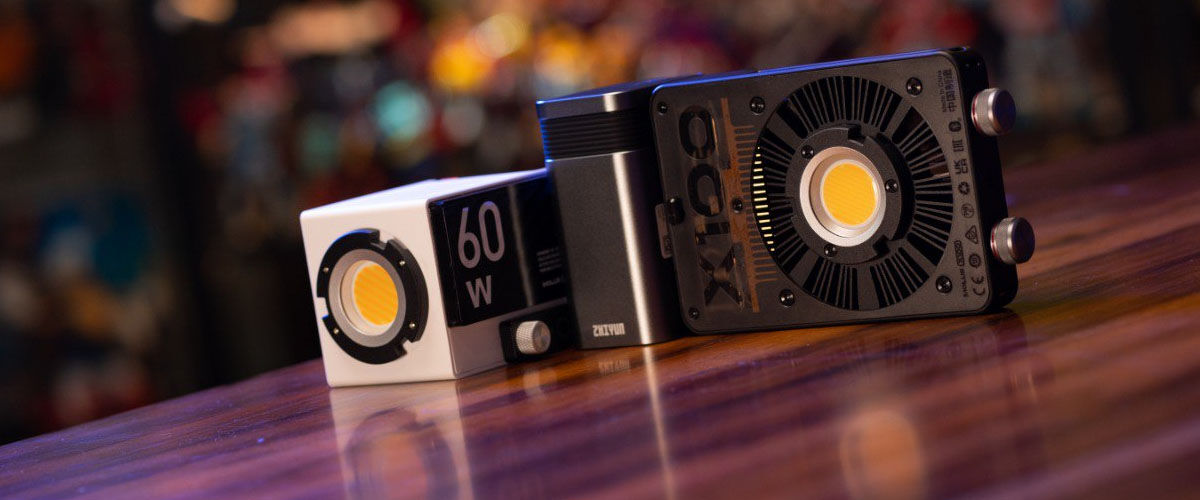 If the Molus series doesn't ring a bell, it's a wordplay on 'More Lux', which it more than lives up to. You'd be surprised by the sheer amount of brightness that these lights offer, with the X100 and G60 providing up to 3,881 lux and 2,376 lux of brightness respectively – and even more so, when the accompanying reflector is attached (more on that later).
Wait, so what's a lux and how does it compare to a lumen, which is what most folks are familiar with when it comes to measuring brightness? Well, the amount of light (lumens) may be bright, say on a flashlight, but in photography or videography, light has to be cast over a larger area for the camera to pick up a balanced lighting. Thus, light intensity is measured in terms of lumens per square foot (footcandles) or lumens per square metre (lux).
And if their lux does little to tickle your fancy, then their size will, as they are both compact enough to fit into your bag along with your camera and gear. This is a key feature which leaves one with no excuse without having to lug around heavy lighting gear to shoots ever again.
The Molus G60 measures just 90.6 X 67 X 66.95mm, which is small enough to fit in the palm of your hand. Meanwhile, the X100 is only slightly larger, at 144.5 X 94 X 36.1mm, but works great to cast light over a larger space.
Packing 100W of power, the X100 is Zhiyun's most powerful light to date. It rocks a retro, dark-tinted aesthetic, weighs 385 grams, and exudes a premium feel due to its solid plastic and metal components like the heat sink and fan grate. The size and mass are what one would expect from a light that delivers 100W, a result that isn't often seen on such a compact form factor. The Molus X100 delivers 3,881 lux without a reflector and up to 17,317 lux with the reflector attached. The light offers dimming from 0 to 100 per cent and a Correlated Colour Temperature (CCT) range of 2,700 to 6,500 Kelvin (K) that can be manually adjusted with the two knobs on the left. All of these adjustments can be viewed on the LCD Screen next to the fan.
Considering their portable form factor and impressive light performance, you'd also expect these lights to pack quite a fair bit of heat. Yet across several tests of real-world performance, including a professional photoshoot done by local photographer Barry Seah featuring a stunning motorcycle and a devilishly handsome model (yours sincerely), proved otherwise, with the X100 and G60 handling the tasks without any hiccups. Part of the magic can be attributed to Zhiyun's use of various cooling technologies, such as the DynaVort Cooling System, which deploys gyroscope modeling heat sinks and field-oriented control (FOC) fans. Simply put, the lights come with intelligent controls to prevent overheating.
In our photoshoot, the brightness level was kept to a comfortable 40 to 50 per cent, with the camera handling the rest of the exposure settings. Taking the Molus X100 Pro Kit out for a spin yielded positive results, where the light was slightly warm to the touch, which is nothing that would prompt a knee-jerk reaction. As mentioned, the DynaVort Cooling System does kick in from time to time to prevent overheating and keep the fans whisper quiet.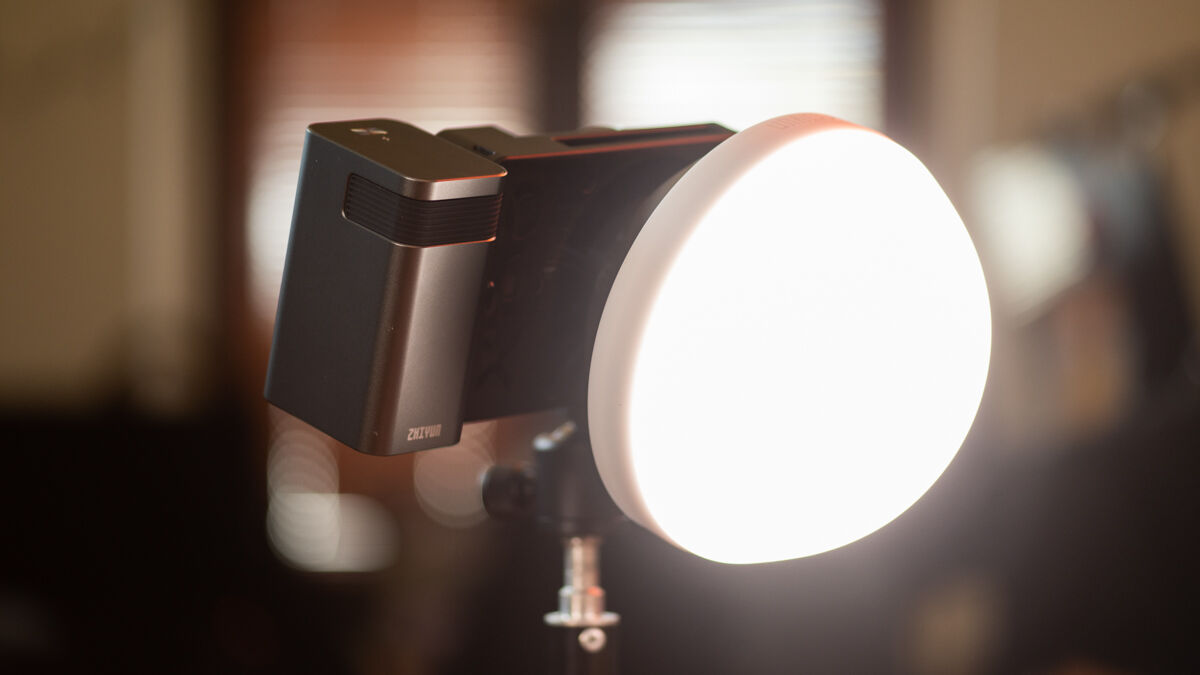 On paper, the Molus X100 features a Television Lighting Consistency Index (TLCI) of ≥97 and a Colour Rendering Index (CRI) of ≥95, but it's difficult to determine how well it can render colours to the naked eye. Matching the colour temperature of the light to the white balance on the camera proved to be an easy affair – a rating that would delight the more experienced cinematographers. Another piece of good news – the lights are also flicker-free.
As the intensity is very strong, there will be more of a concentration towards the centre of where the light shines. But with a soft box attached, the intensity of the light completely changes allowing it to diffuse and scatter producing a more even and soft light.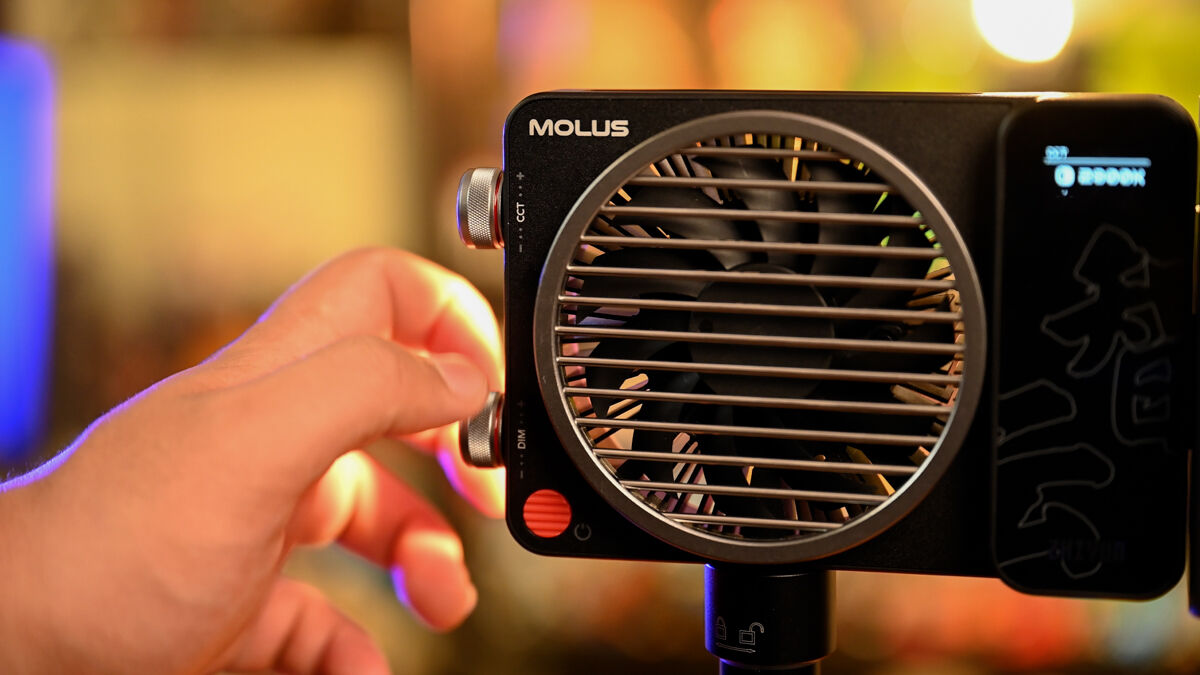 Zhiyun also has added two quarter-inch threads on the main unit to allow users to use various tripods or even selfie sticks to mount the light, alongside the earlier mentioned Bowens Mount Adapter, allowing them to use other lighting modifiers that they already own.
Then we have the smaller Molus G60 cousin, the smallest COB light to date. Even more compact than the X100, it has a maximum output of 60W and follows the same colour temperature range of 3,200 to 6,500Kelvin (K). As with colour accuracy, it features a high CRI index of 95 and a slightly higher TCLI rating of 97, ensuring that colours are reproduced accurately.
The G60 is truly impressive with its compact and tiny form factor similar to the size of a Rubik's cube. Sporting a flashy overall look reminiscent of Wheatley from the game Portal 2. It rocks manual dim and CCT dials, and an LED screen. A quick click of the dim settings cycle through zero, 50, and 100 per cent. Each jump on the CCT dial increases the CCT levels to preset values of 2,700K, 5,500K, and 6,500K, with the light offering a maximum brightness of 7,960 lux (tested at 5,600K at one metre with reflector).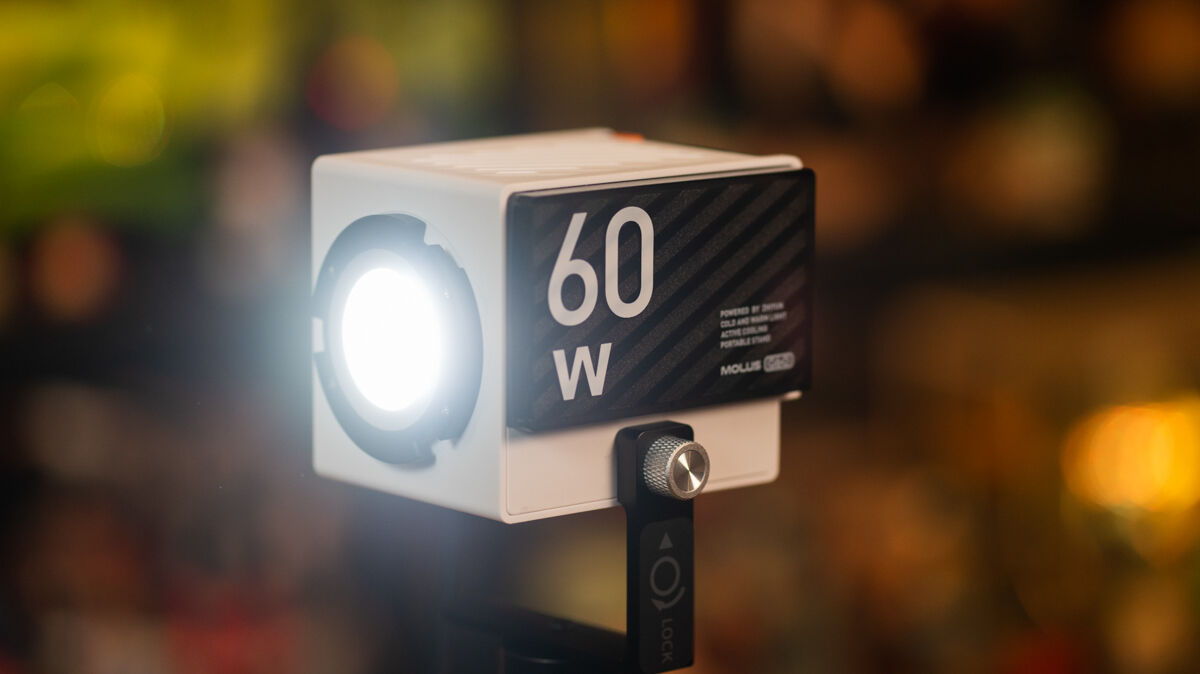 Powering the G60 is simple: users can either use the AC adapter, or a compatible USB-C powerbank with PD fast charge.
As mentioned, the G60 is also compatible with ZY mount light modifiers, with the standard kit offering a diffuser along with the reflector. An included Bowens Mount Adapter can be used if you already own third-party Bowens-mount lighting modifiers which is a big plus.
For what it's worth, the G60 serves its purpose well. Having one light isn't enough for most situations, but this piece of equipment works competently enough as a complementary light, as seen from its highlighting of certain motorcycle parts in the pictures below.
The star of the show here is Barry Seah, a professional photographer who captures motorcycles, their owners and their stories. He goes by Motorgrapher so do check him out.
What we want to achieve is a 'macho man badass' vibe, which requires a more high contrast, grunge-style look, as this enhances muscle definition on the model (look carefully – it's there. Somewhere.) while showing off the features of the motorcycle. The tricky part about lighting up the motorcycle is that we don't want to light up areas such as the battery, the mirrors and the wiring – we want to highlight the things we love and obscure the unimportant. So in this case, we focused on the tank, the cylinders, the headlight and of course the wheels.
We used a pair of G60 units and an X100 for this scene. The X100 with a dome diffuser on the right side gives that gradual fall off on the front of the bike, the subject's face and arms (look at those triceps). A G60 unit attached with the mini reflector and a table top tripod stand set low to the floor aimed towards the cylinder of the bike to give it some highlights. Finally, we aimed a G60 attached with the mini softbox set adjacent to the X100, to highlight the tail end of the bike.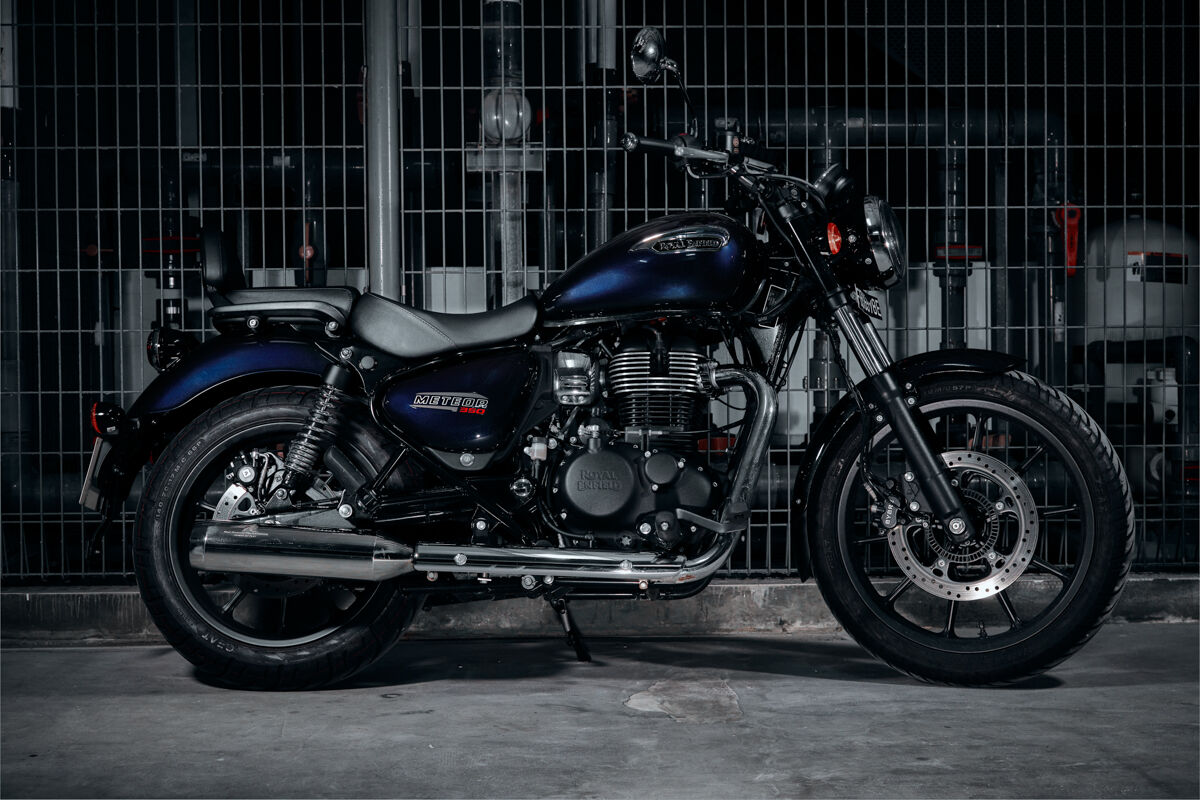 Indoor lighting situations are where the G60 shines the brightest (pun intended). Zhiyun has really made it easy to set up the light without taking up too much space, so activities like live streaming, online meetings, and videos with talking heads stand to benefit most from its form factor.
What's cool too, is the fact that you can attach various lighting modifiers to these lights, which includes Zhiyun's own light modifier ecosystem (ZY mount) like its own Mini Reflector that comes out-of-the-box with its standard set. Chip in another S$80, and the package comes complete with an additional Mini Softbox, Handheld Tripod, Storage Bag, and a Bowens Mount Adapter that enables professional strobists, photographers, and videographers to conduct a more comprehensive range of light shaping in their sets.
At S$530 and S$300, the Molus X100 (Combo Kits) and G60 (Standard Kit) are priced for convenience and Zhiyun made the right choice when it comes to making these lights ultra-portable, offering a handful of battery and direct power options. First, there's the Grip Battery in the Molus X100 Combo Kit, which offers straightforward ease of use: remove the rubber door bay on the right-hand side, expose the contact points, slot the Grip Battery in and boom, it turns into a portable powerhouse with no additional wires or cables, perfect for outdoor shoots where power can be a hard commodity to come by.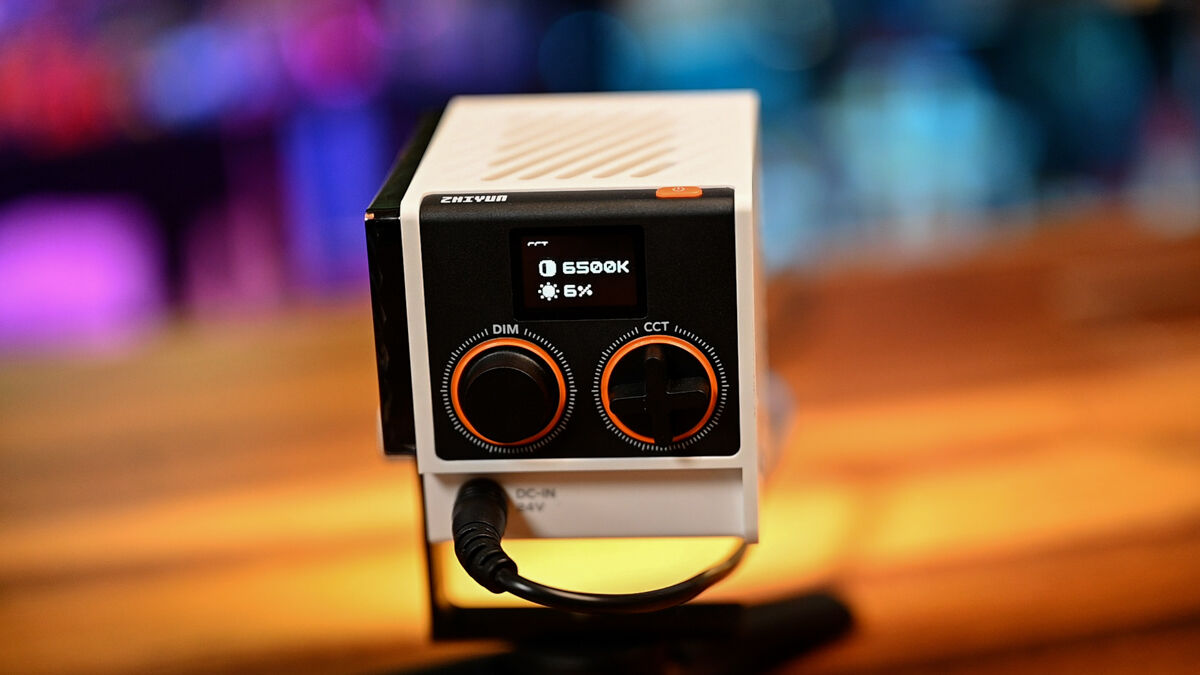 You can also plug in the included AC adapter for all-day power, or opt for the more unique option of using a PD fast charge USB Power Bank that supports nine-volt wattage. The Grip Battery performed the best in terms of portability, packing plenty of power for a good two to three-hour shoot. It should be noted though that this only lasts about 30 minutes at full brightness, with quick charging taking roughly 2 hours and 24 minutes to reach 100 per cent.
A bonus feature here is the Zhiyun Vega App made exclusively at this time for the Molus X100 and G60 units. This neat little app works pretty well once paired with the latter via Bluetooth, and lets you adjust the dim and CCT remotely. Additionally, the app allows the colour temperature of the light to match a scene using a smartphone camera. It also sports Bluetooth mesh control support and boasts a connection to multiple X100 devices, links them with one another, and synchronises the settings without having to go through slow and complicated setups manually, which is ideal for a one-man crew.
With the Molus X100 and G60, Zhiyun presents a versatile pair of nicely-wrapped gifts that fits most situations where lighting can make or break your content. Whether it's run-and-gun shoots, outdoor photography or just simply elevating your Zoom meetings with some professional lighting, the Zhiyun Molus X100 and G60 can do it all – and more.
Check out our photo gallery to see more of the Zhiyun X100 and G60 in action!
---
This article is brought to you together with Zhiyun.