What do martial arts star Jackie Chan, acting legend Chow Yun-fat, manhua characters Uncle Choi and Old Master Q (老夫子), Cantopop singer Leslie Cheung and comic book character Hua Yingxiong have in common?
Hong Kong, of course.
The bustling city has a rich cultural history – including in modern pop culture – and gave birth to a long list of famous actors, singers, and comic book characters. An ongoing festival is now celebrating the region's rich contribution to modern pop culture, educating and sharing the best artistic and creative output that Hong Kong has to offer.
Mention movies and most would think of Hollywood, but when it comes to action cinema, Hong Kong was and is still the one to beat. While American movies have dominated the landscape, Hong Kong cinema has always stayed close on its heels, finding and building a niche in slapstick comedy, martial arts action, and cops-and-criminal narratives, among others.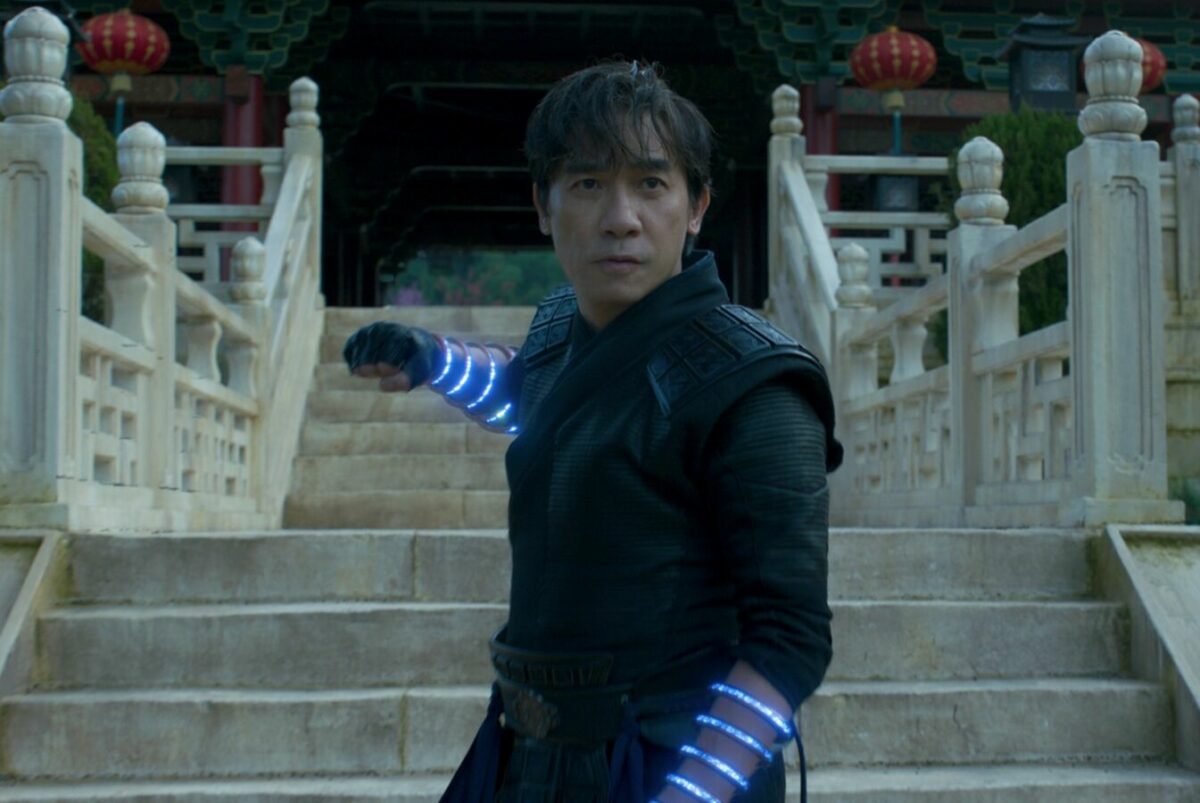 And slowly but surely, its presence found a foothold in Hollywood. Bruce Lee was one of Hong Kong's first international stars, paving the way for the likes of Chow Yun-fat, Jackie Chan, Jet Li, Donnie Yen, Daniel Wu, and Tony Leung Chiu-wai, to name a few, to subsequently break new ground in Western productions – some more recent than others.
Other renowned Hong Kong stars, such as Andy Lau, Maggie Cheung, Nicolas Tse, Anita Mui, Leslie Chung, and Stephen Chow have grown to become household names within Hong Kong and across Asia, while directing greats John Woo, Tsui Hark, and Wong Kar-wai have gained a global cult following over the course of their career.
The rise of Hong Kong cinema didn't go unnoticed on the world cinema stage. Gunfu (a portmanteau of 'kung fu' and 'gun') elements, an important ingredient of the craft, featured heavily in The Matrix trilogy, while Infernal Affairs caught the attention of Warner Bros., which later acquired the rights for a Martin Scorsese-directed remake, The Departed.
It hasn't been the easiest ride, but the many decades of rich history leaves plenty to take pride in, and the inaugural Hong Kong Pop Culture Festival, running from 29 March to 18 November 2023, seeks to celebrate the city's journey over the years, while honouring its roots, with a focus on its golden era days during the 1980s to 1990s and the development of a distinct, diverse pop culture identity.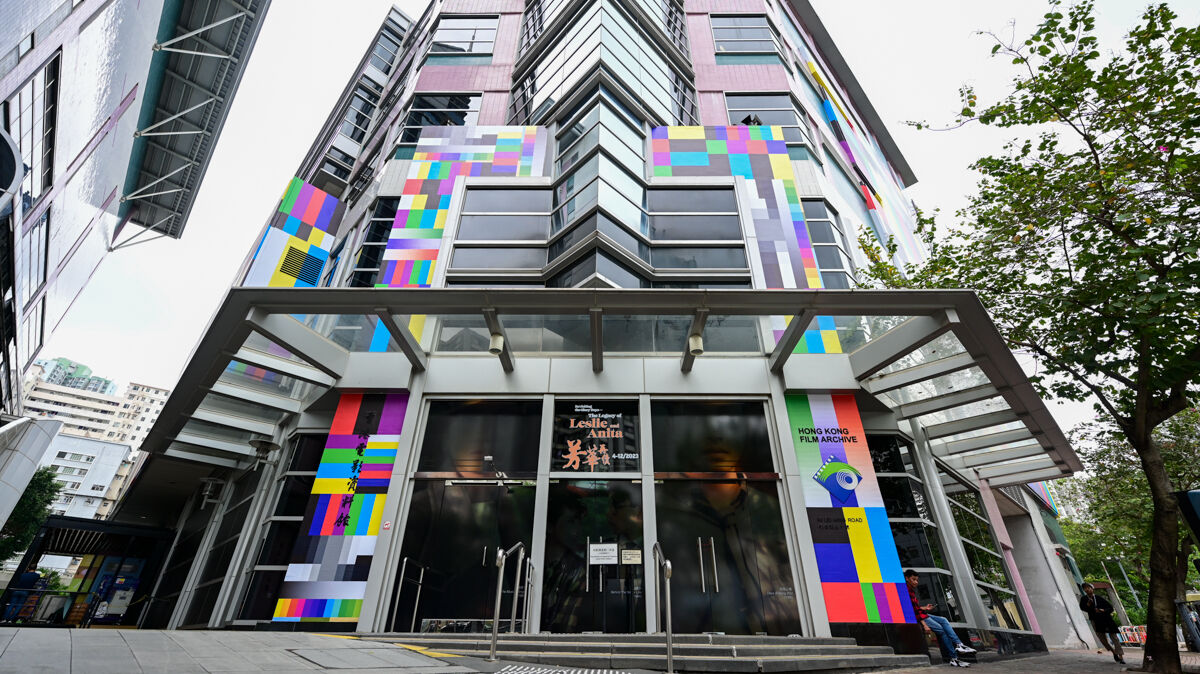 Part of this growth can be attributed to Hong Kong comic books, or manhua, an important yet often overlooked element of Hong Kong cinema. While Western works have always been more popular on the global stage, the local scene has its fair share of iconic titles that inspired adaptations on the big screen. The Tango Between Images – Hong Kong Films & Comics Exhibition pays homage to these works, as it transforms the Hong Kong Film Archive building's Exhibition Hall into an artwork showcase from 24 February to 8 October.
Heading past the glass doors reveals an immersive space that takes visitors on a psychedelic viewing experience. It's easily the most eye-catching installation here, with the rest of the exhibition painted in muted tones of red. To the right, an impressive illustration featuring iconic comic book characters and their adaptation counterparts – live-action or otherwise – stretches across the wall, serving as an introduction for those less acquainted with the local scene.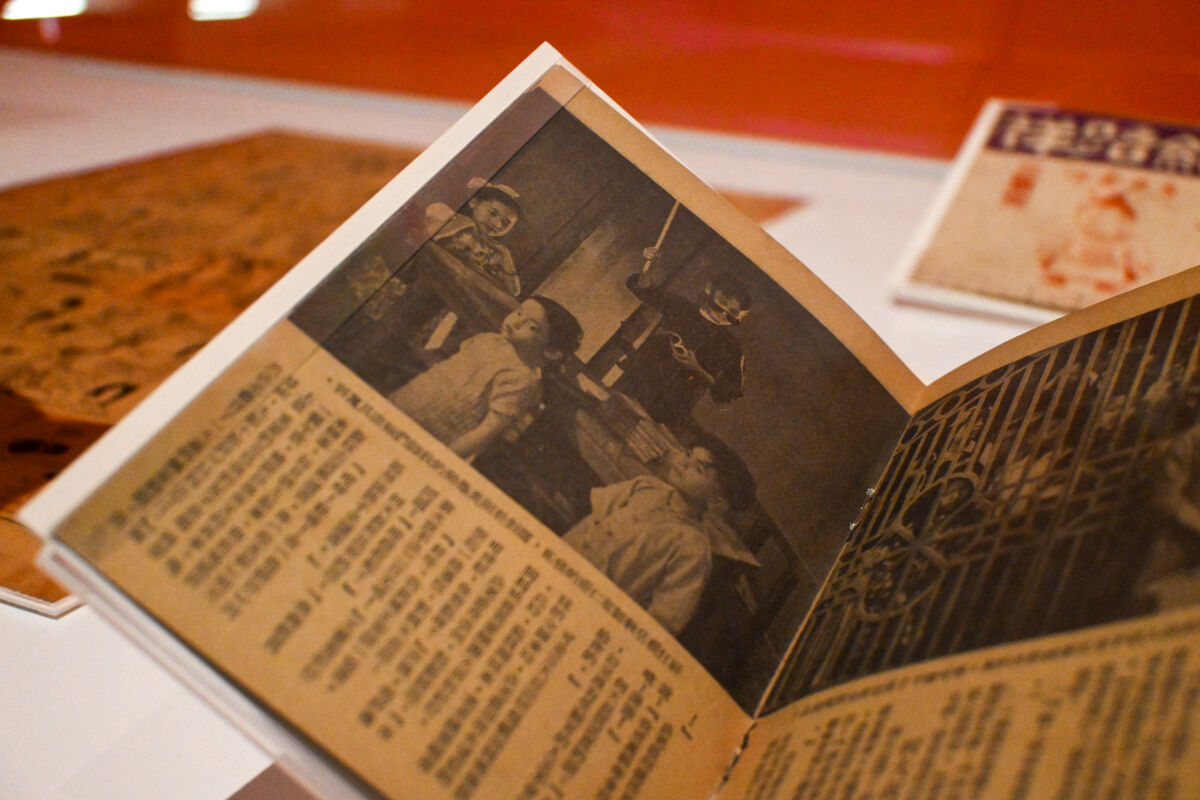 The sections are accompanied by glass displays showcasing various contents, from original manuscripts and coloured comic book pages to special illustrations. Of the list, two are particular standouts: a photograph of Bruce Lee as a 10-year-old child, and scaled down weapon models used in the filming of 1998's The Storm Riders (风云), the wuxia fantasy movie adapted from Ma Wing-shing's manhua (Chinese comic) series, Fung Wan, otherwise known as Tian Xia (天下). The iconic comic book series, Old Master Q (老夫子), also takes centre stage here.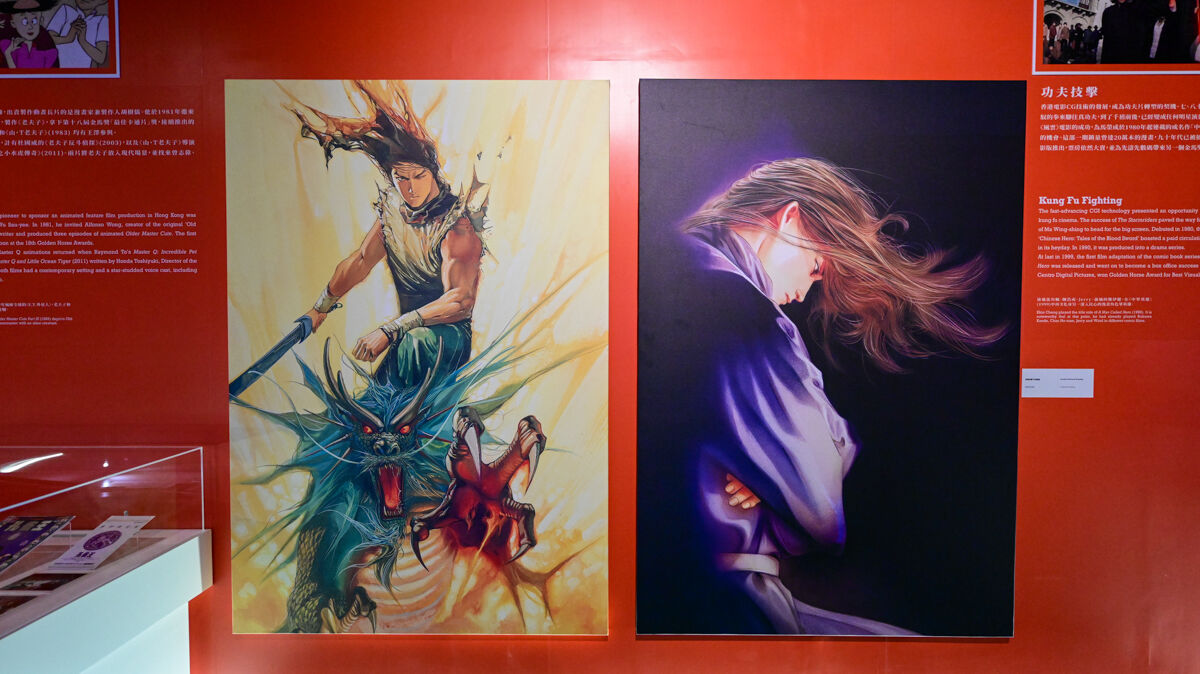 Standing tall amidst the case exhibits is a collection of the most popular visual novels and comic books over the years. Spanning different genres, it includes selected issues of Fung Wan, Teddy Boy, Feel, Oriental Heroes (龙虎门), and more – all of which have joined Fung Wan in the leap to the silver screen. Teddy Boy, for instance, served as inspiration for the Young and Dangerous film series, while Oriental Heroes is perhaps better known by its literal English translation, which was adopted for use in the Donnie Yen-led film Dragon Tiger Gate (2006).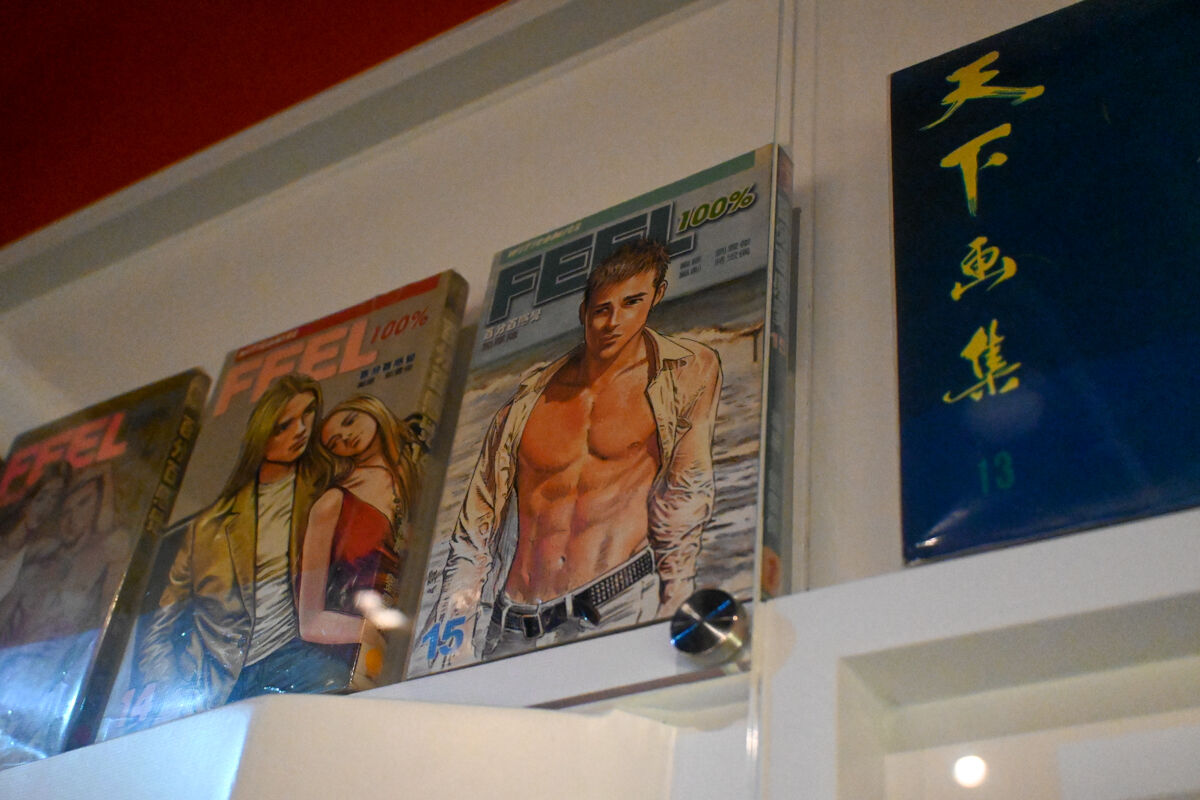 Those seeking to learn even more about the comic-to-movie adaptations, meanwhile, can head to three viewing booths that delve into the making of these projects. Primarily focused on director interviews, these videos offer a look into behind-the-scenes proceedings, from the ideation stage to the final execution.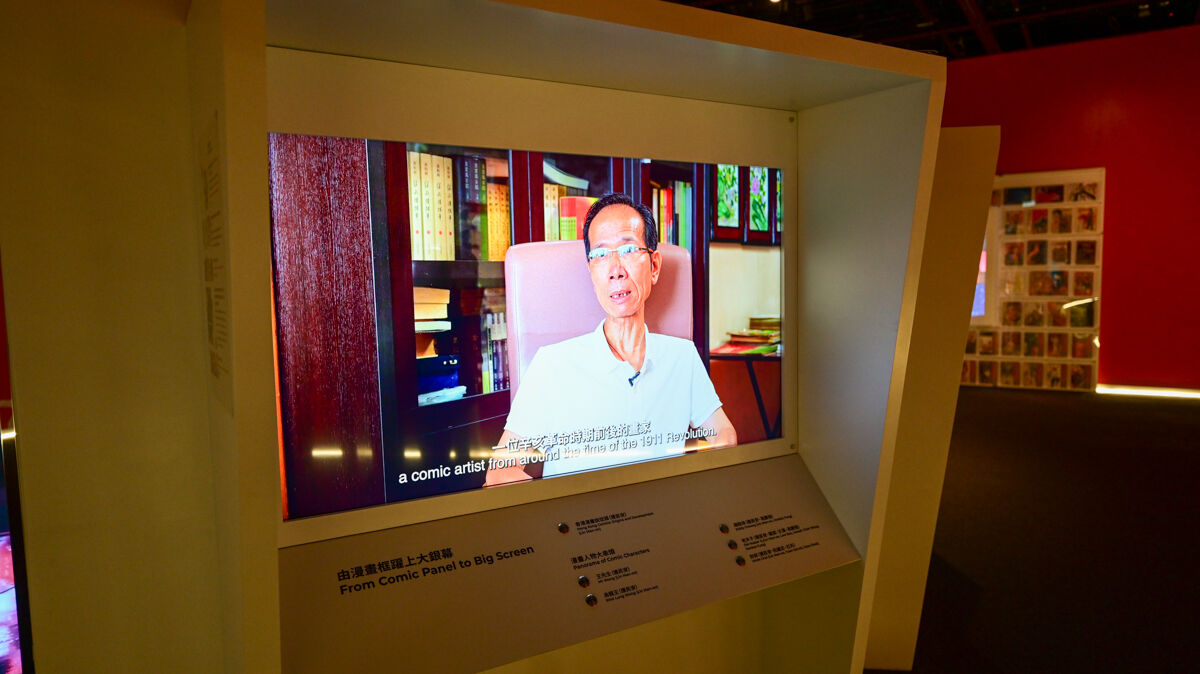 The Tango Between Images exhibition is but one part of the experience, however. Now open to the public, the From Panel to Big Screen – Panorama of Hong Kong's Comics-Inspired Films programme has treated fans to special screenings of Much Ado About Nothing (1960), Old Master (1965), and The Raid (1991), which will soon be joined by the following works:
3 June: Saga of the Phoenix (11am), Mack the Knife (7pm)
1 July: Initial D (7pm)
2 July: The Stormriders (11am), A Man Called Hero (7pm)
5 August: Master Q 2001 (11am), The Great Detective Sherlock Holmes – The Greatest Jail-Breaker (3pm), Storm Rider – Clash of Evils (7pm)
2 September: Young and Dangerous (11am), Feel 100% (3pm), Dragon Tiger Gate (7pm)
Do note that while the exhibition is free of charge, the film screenings have an admission fee of HK$45.
As with Hollywood, each passing era has its fair share of big-name actors and up-and-coming stars. Going into the golden era, Cantopop star Leslie Cheung remains one of the most well-loved and celebrated names in Hong Kong's music and film industry, charming plenty with his larger-than-life personality, uncompromising commitment to being himself, and versatility in his craft. The singer-actor redefined societal and gender norms both on stage and on reel, dazzling audiences with flamboyant, androgynous performance outfits, and captivating viewers with bold roles in Wong Kar-wai's Happy Together (1997) and Chen Kaige's Farewell, My Concubine (1993).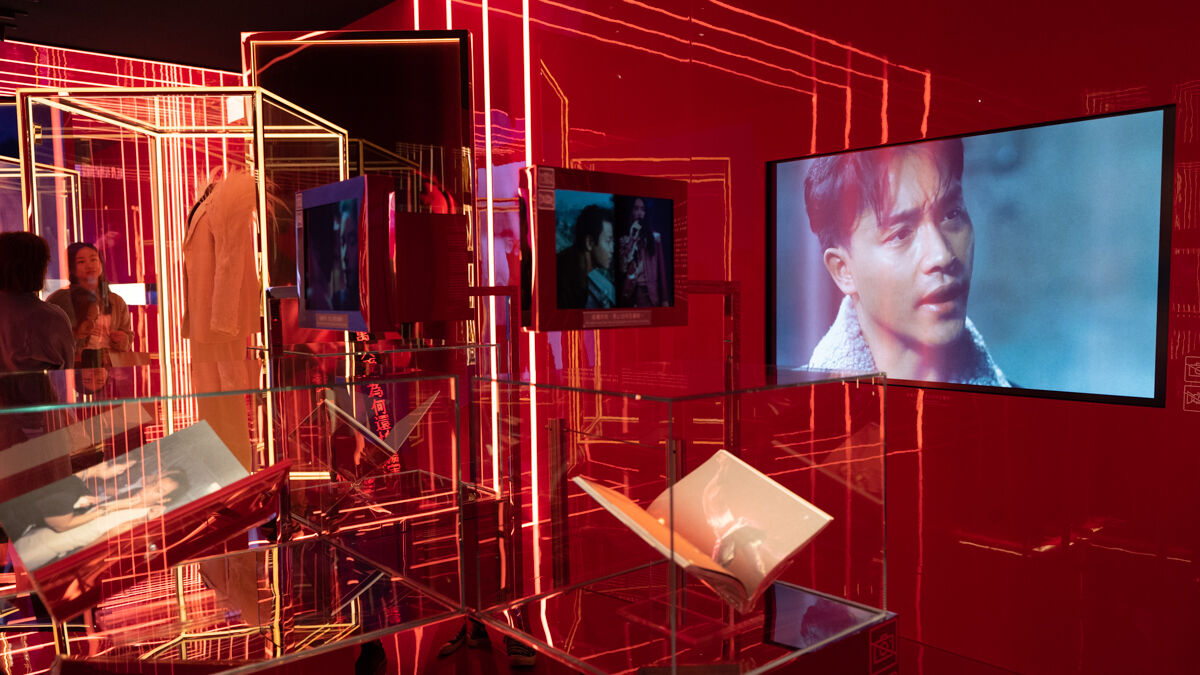 It's been 20 years since the pop culture icon's unfortunate demise, but the mark he left behind remains indelible. The Miss You Much Leslie Exhibition serves as a love letter to his person and legacy, and is set to run from 29 March to 9 October at the Hong Kong Heritage Museum. The free-for-all event is an immediate head-turner, drenching its entrance in bright, neon hues that seemingly reflects the late superstar's vibrant and bright persona. On the right side of the wall is a list of Cheung's discography, with red hues – symbolising his fiery passion for the craft – greeting users as they step into the space.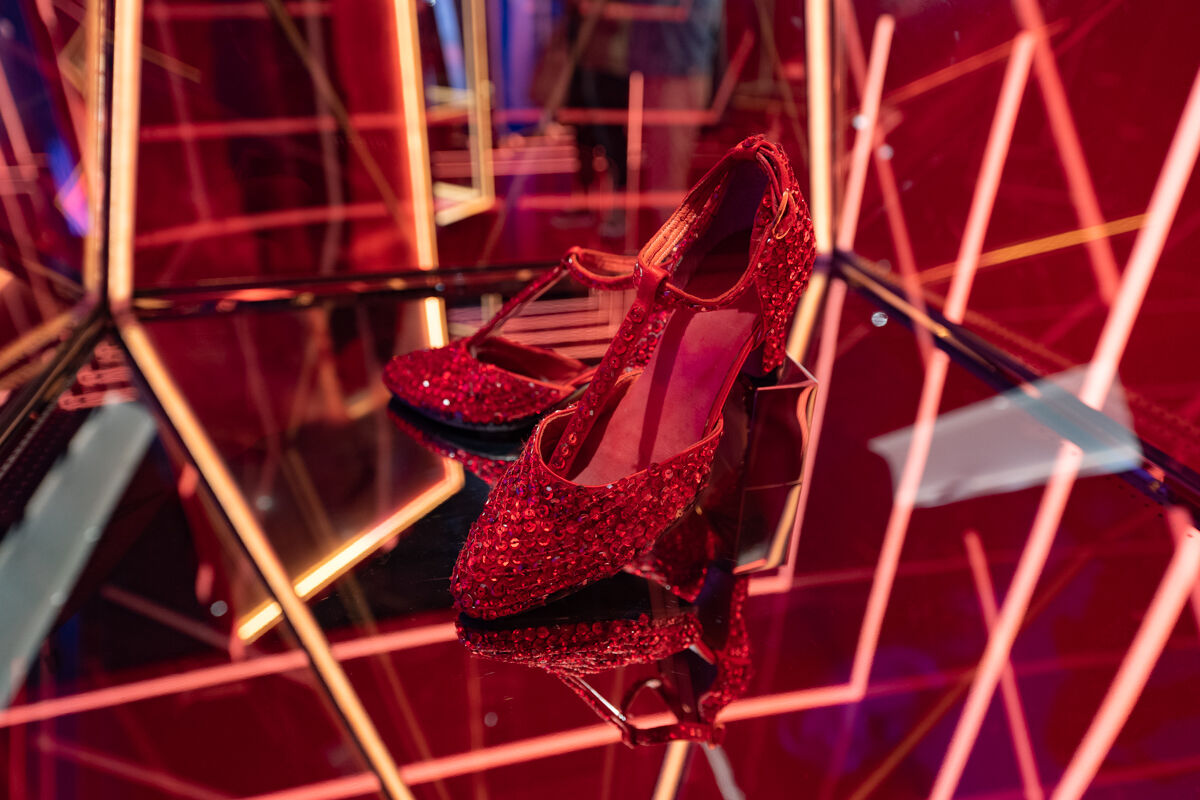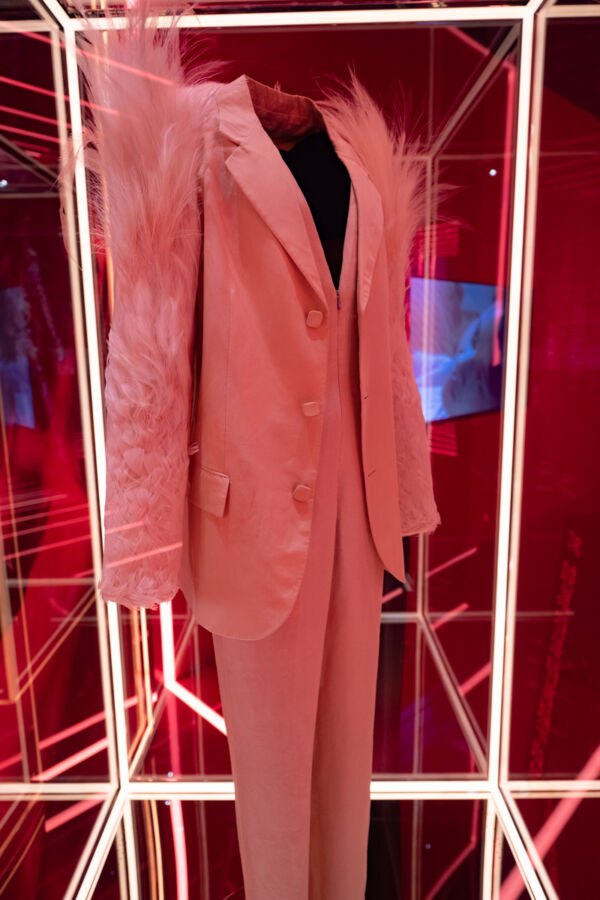 Encased vinyl records, cassette tapes, music awards, personal memorabilia, and more line both sides of the walls, while iconic stage costumes are displayed in all their glory. In particular, the famous pair of red high heels worn during his 'Red' performance in Live in Concert 97 should bring back some memories for fans, alongside the white feathered outfit that took to the stage during his Passion Tour concert in 2000, which kept in line with the theme "From Angels to Devil".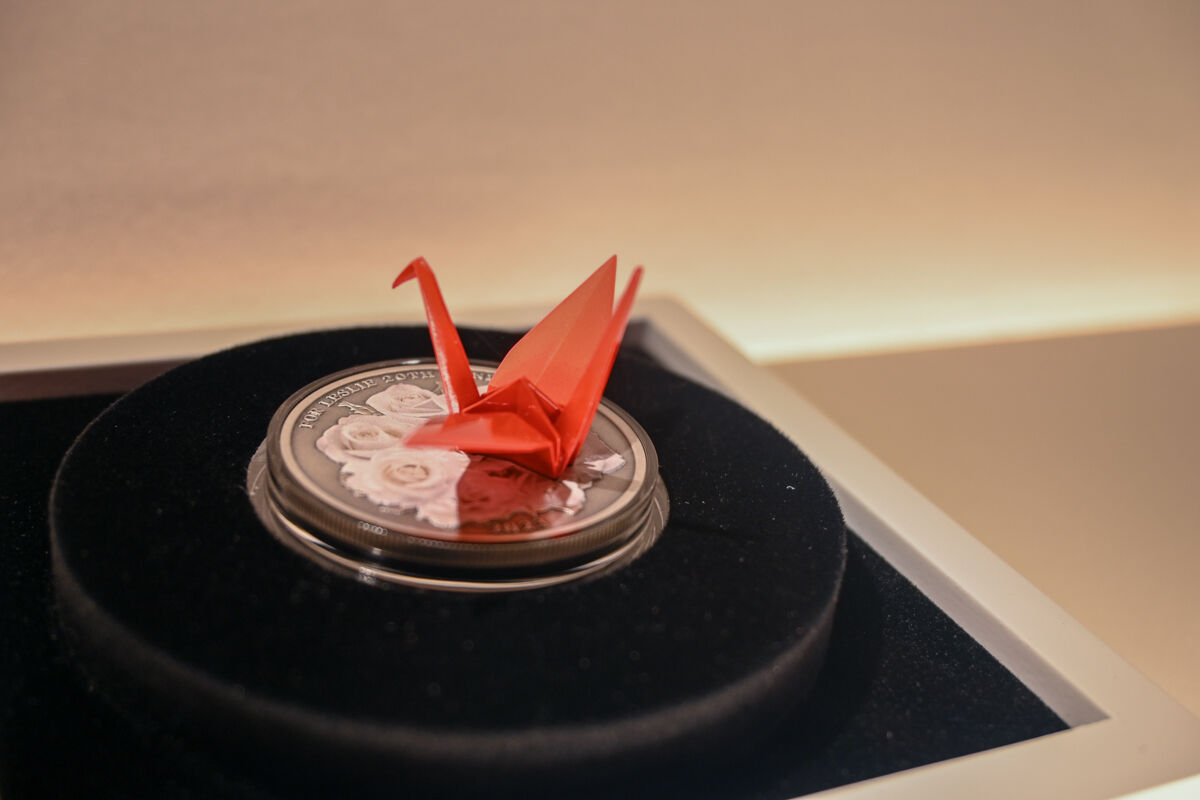 The exhibition has also included some specially curated photographs of him for a more personal and intimate touch, lending a human quality to the character who lies beneath the superstar facade. A handful of 20th anniversary commemorative items are displayed as well, including an origami crane medal – calling back to the two million cranes folded by fans to commemorate Cheung's 10-year passing in 2013.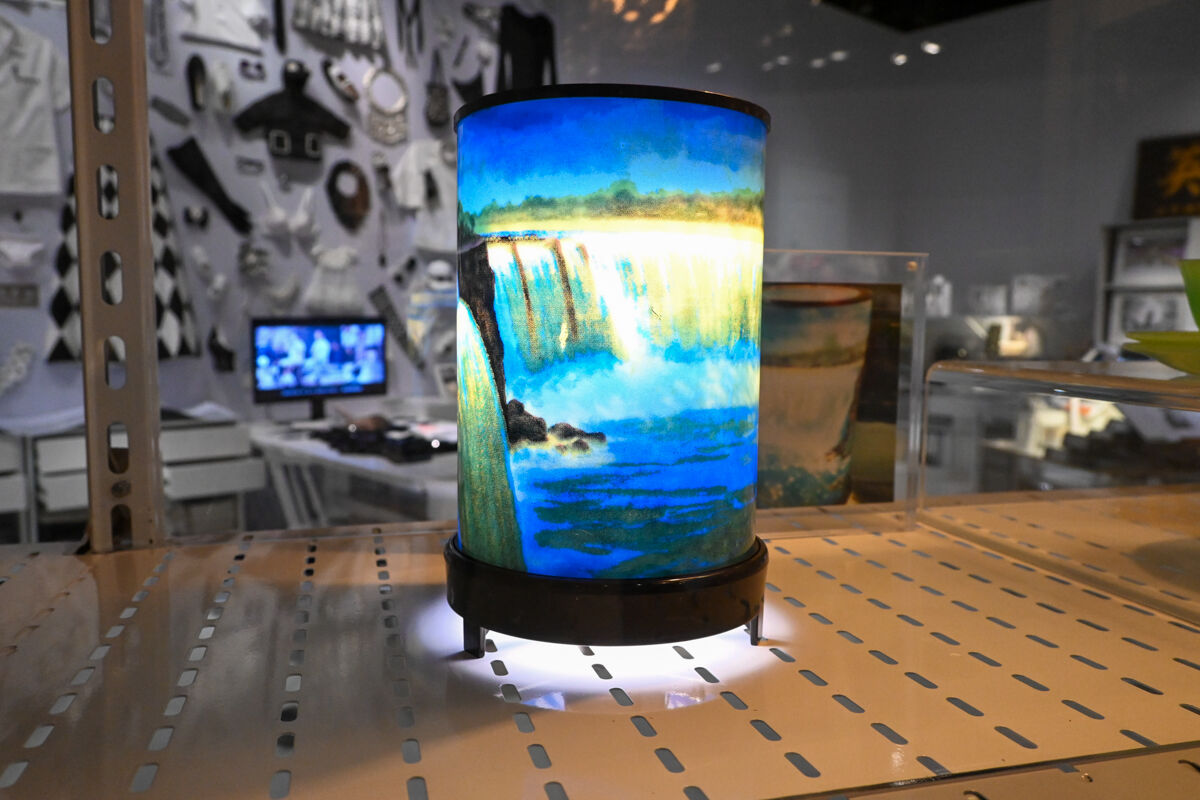 Part of his on-screen charm is remembered in the Out of Thin Air Exhibition, which takes visitors on a behind-the-scenes tour of Hong Kong's celebrated film industry. There, the iconic lamp from Happy Together (1997) is put on display, but the journey starts from a stylish entrance that comes decked out in sketch lines, pencil illustrations, and storyboard panels.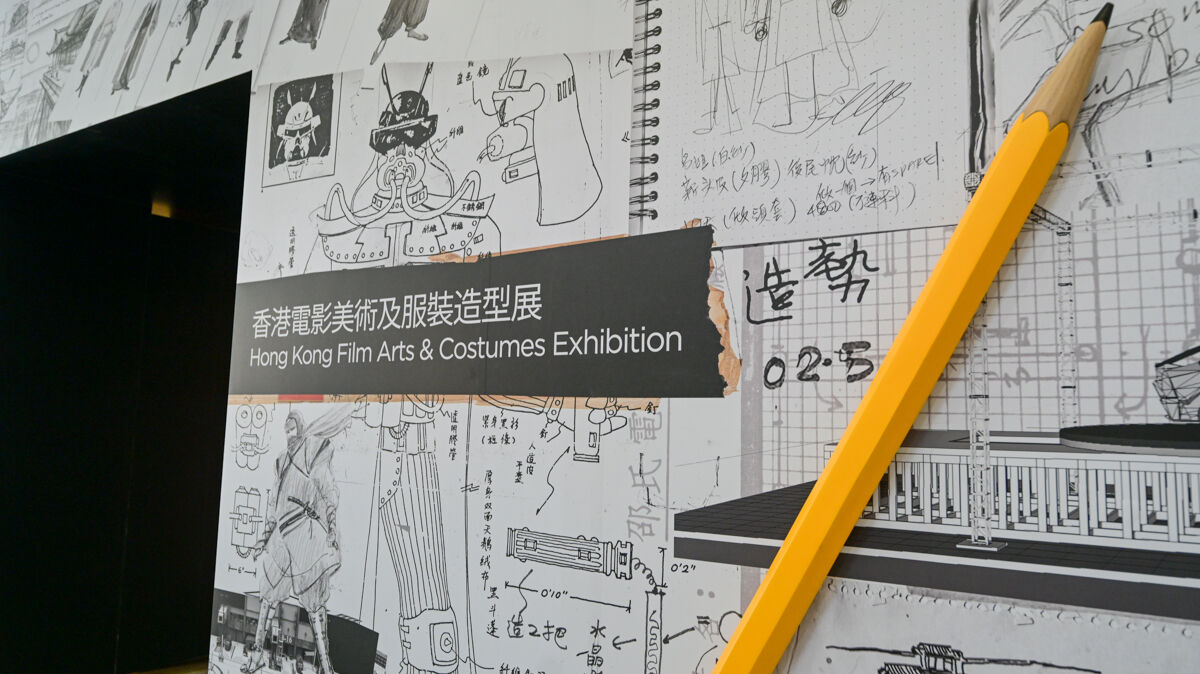 Open to the public for HK$10 from 3 May to 4 September, it divides the first floor of the Hong Kong Heritage Museum (Thematic Galleries 1 and 2) into eight segments that each highlights different aspects of the filmmaking process. Entering the space reveals the introductory Once Upon a Time, where concept art, photographs, movie stills, and other related visuals adorn the walls.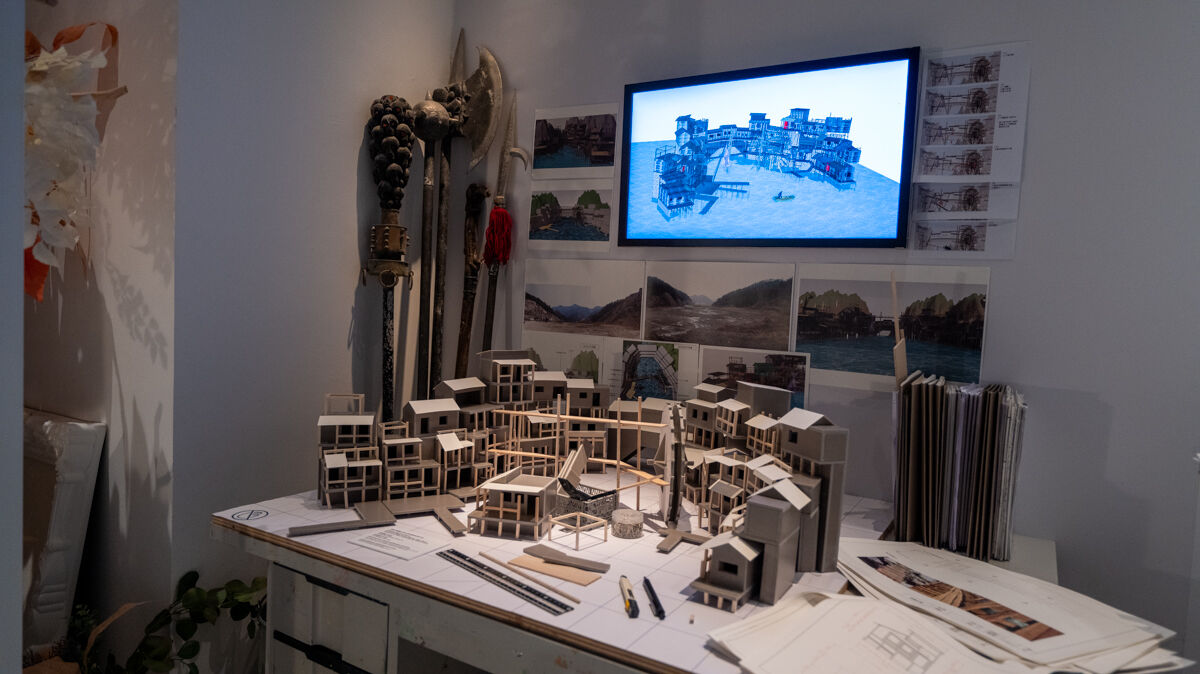 Head further in, and the workings of art directors await. Focusing on the craft of bringing imagined worlds in screenplays to life, the Setting the Scene section features set design elements and their development over time, such as the set construction of Line Walker 2: Invisible Spy (2019), and computer graphics rendering and work-in-progress model of the fishing village set of 2013's Journey to the West: Conquering the Demons.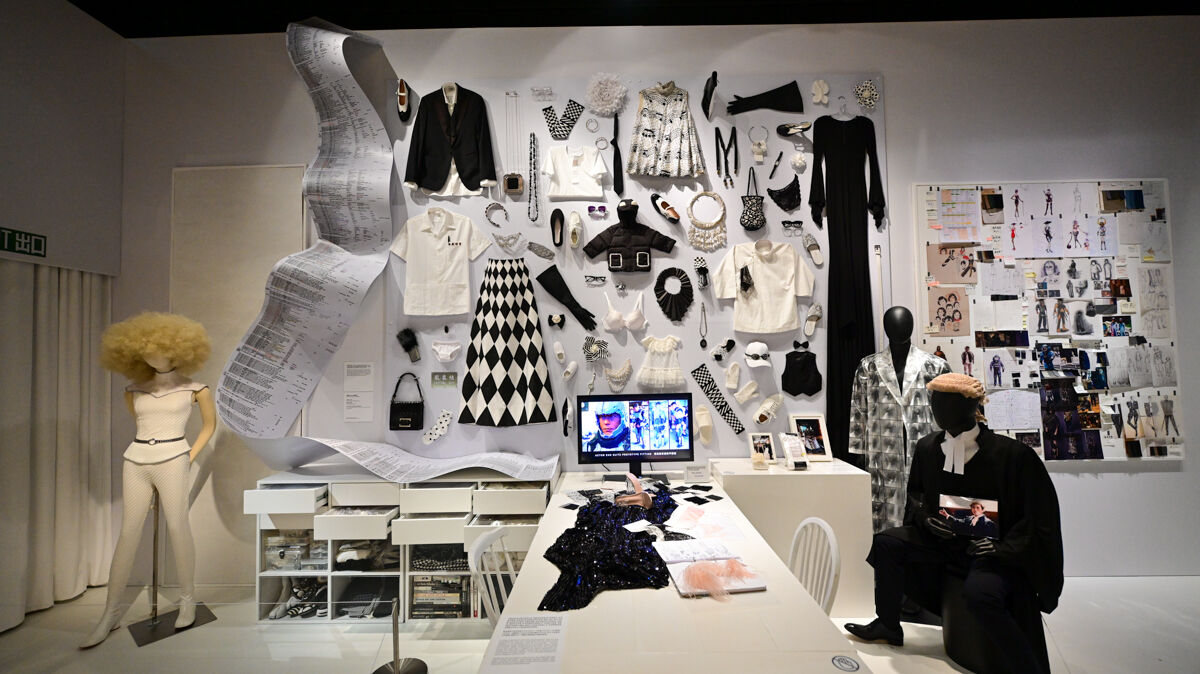 Props are the stars of the next showcase. Aptly titled Cabinet of Curiosities and stretching into World in the Making, it plays host to a curated selection of iconic props, interesting creations, costume mock-ups, and more. The large-scale horse model used in Young Detective Dee: Rise of the Sea Dragon (2013) is one of the biggest standouts here, with the see-through material – offering a look at the interior mechanics – wrapped around parts of the build making for an especially cool sight.
The From Head to Toe zone is where the mock-ups get turned into reality. In addition to contemporary, period, and vintage clothing, tools, and apparel, it also showcases wigs and materials for prosthetic makeup. Take a closer look, and fans might spot some familiar sights, such as the hairdo of 2004's Kung Fu Hustle's landlady.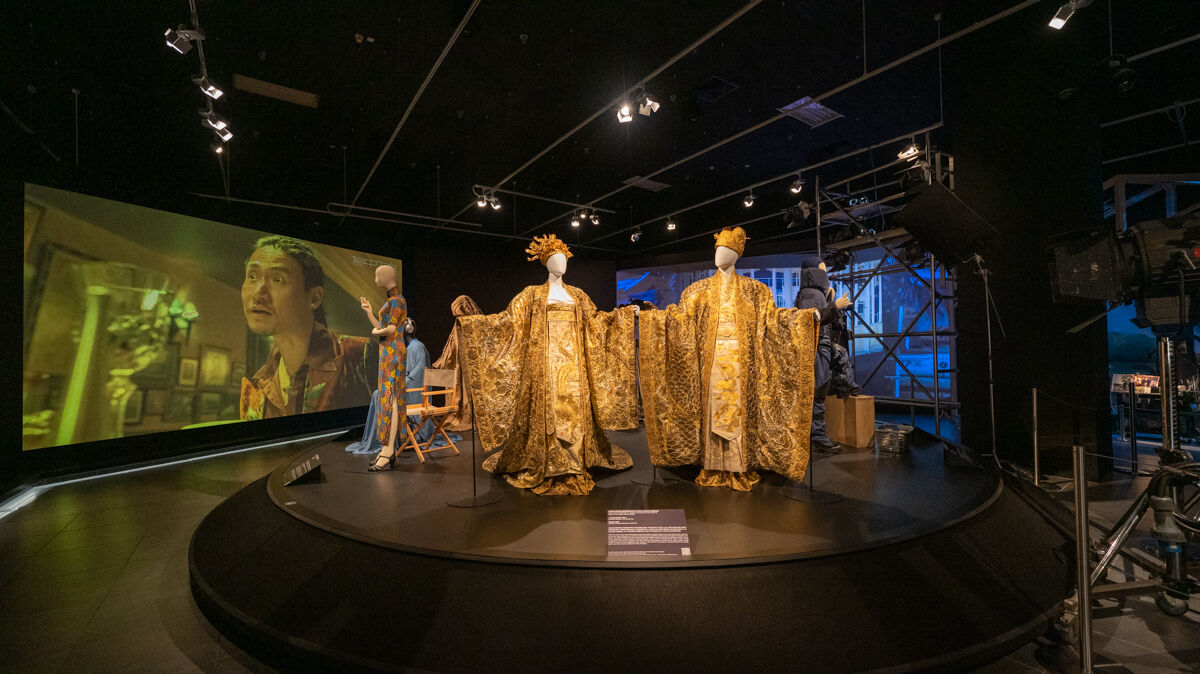 Rounding up the experience is the On-Set Moments segment, which comes split in three parts: a stylised set comprising scenes selected from eight films – Cageman (1992), In the Mood for Love (2000), Detective Dee and the Mystery of the Phantom Flame (2010), Rigor Mortis (2013), Aberdeen (2014), Office (2015), Mad World (2017), and Warriors of Future (2002) – a costume collection, and a looping video containing selected clips from over a hundred Hong Kong films. An impressive gathering of masterpieces, it's a majestic presentation of some of the most popular outfits throughout the years, including:
Maggie Cheung's red period costume in Hero (2000)
Cora Miao's green raincoat in Love in a Fallen City (1984)
Brigitte Lin's smuggler lady costume in Chungking Express (1984)
Chow Yun-Fat and Gong Li's emperor and empress court robes in Curse of the Golden Flower (2006)
With a host of celebratory events, the Hong Kong Pop Culture Festival is off to a great start in its first year. The wide highlight coverage, from comic books and local films to behind-the-scenes exploration, promises a well-rounded programme that honours a long-running legacy. For Hong Kong citizens, it serves as a return to its cultural roots; for visitors, it offers an eye-opening glimpse into a world that has had – and continues to have – a hand in shaping the global cinema stage.
The Hong Kong Pop Culture Festival is currently ongoing and will end on 18 November.
---
This article is brought to you together with Hong Kong Tourism Board.