[UPDATED with StarHub's comments below] The HBO Go app on Google Play has been updated. The monthly subscription is S$13.98, which will be billed directly to your Google Play account. The service is auto-renewed each month, unless you opt to cancel it.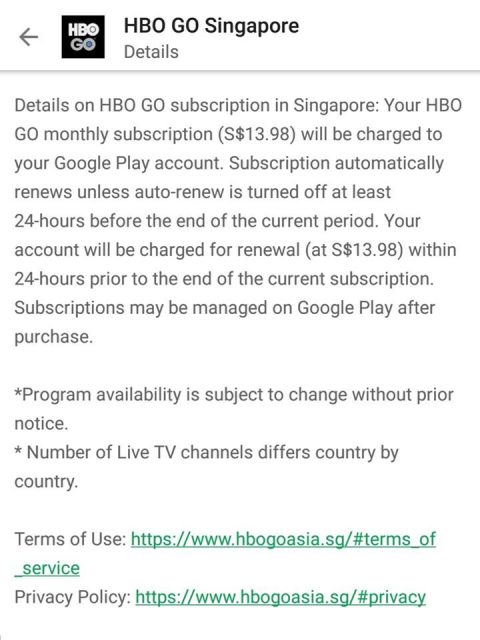 The latest cord-cutter in the ever-changing cable TV industry is none other than leading American premium channel, HBO.
Geek Culture understands that HBO Asia will no longer tie access of its HBO Go content streaming app to StarHub Cable, and offer Singaporeans a standalone subscription via the app itself.
This means that those who want to catch HBO exclusive titles, including Westworld, or the upcoming final season of its hit series, Game Of Thrones, can subscribe to the monthly service, without signing up for Starhub's other programming, or contact StarHub. Plus, there is no need to subscribe to a set-top box as the HBO Go app works on Android and Apple devices.
While local prices have not been revealed, it is understood that monthly prices will be equivalent to the monthly charges imposed by Starhub. HBO Pack subscribers used to pay around S$19 to include HBO titles to their monthly cable offerings.
In the US, subscribers are charged differently for HBO Go access, depending on their cable TV package. Interestingly, Starhub recently reduced their prices for HBO to around S$14 a month for their subscribers, so there is a possibility of reduced prices for HBO Go subscribers.
As with current content streaming services such as Netflix and Amazon Prime, HBO Go's content library in Singapore will be geo-fenced, so movies and TV series available on the platform will differ by market.
Currently, HBO Go is available in Hong Kong, Indonesia, and the Philippines in Southeast Asia, but only Hong Kong offers a subscription that is not tied to cable TV packages.
When contacted, a spokesman for StarHub noted that "StarHub and HBO have been longstanding partners since 1993 and we recently renewed our partnership yet again".
"StarHub TV remains a key platform to catch the full suite of HBO shows. We added a brand new channel RED BY HBO, while simultaneously lowering the prices of the Supreme Box Office Pack and HBO Pak so that our customers can enjoy even more HBO programmes at better value," said a spokesman for StarHub.
StarHub TV customers enjoy complimentary access to HBO GO when they subscribe to HBO Pak or Supreme Box Office Pack, with StarHub TV Go VAS. Customers interested to subscribe to HBO GO can also do so via StarHub and have it charged to their StarHub bill, and the fees will also be pro-rated accordingly if they unsubscribe. From 1 February 2019, all new or recontract customers who sign up for the HomeHub Plus will receive six months free HBO Pak subscription plus six months complimentary HomeHub Plus subscription and free 24-month StarHub TV Go VAS.
Likewise, HBO Asia has now teamed up with Singapore network Singtel to bring your favourite shows such as Game of Thrones, True Detective and Westworld, with previews of all six channels across the month of February.
The HBO Go app is currently available on Apple's App Store.
---

Drop a Facebook comment below!