First they made him dangerous. Then they made him mad.
I've mention about this movie a couple of times before, and it originally started out as an Indiegogo campaign to raise funds to back the film. It is now officially getting a theatre release on 8th April 2016. Check out the full new trailer for the movie, now renamed as Hardcore Henry.
What makes this movie different from the 101 other action flicks releasing in 2016? Well, the entire movie was shot entirely from a first-person view. I believe this is the first time ever that anyone has done a full length movie in first-person, and it stars Sharlto Copley.
And.. here's the movie synopsis:
Strap in. HARDCORE HENRY is one of the most unflinchingly original wild-rides to hit the big screen in a long time: You remember nothing. Mainly because you've just been brought back from the dead by your wife (Haley Bennett). She tells you that your name is Henry. Five minutes later, you are being shot at, your wife has been kidnapped, and you should probably go get her back. Who's got her? His name's Akan (Danila Kozlovsky); he's a powerful warlord with an army of mercenaries, and a plan for world domination. You're also in an unfamiliar city of Moscow, and everyone wants you dead. Everyone except for a mysterious British fellow called Jimmy (Sharlto Copley). He may be on your side, but you aren't sure. If you can survive the insanity, and solve the mystery, you might just discover your purpose and the truth behind your identity. Good luck, Henry. You're likely going to need it…
More information on the movie can be found via the official website here.
And I'm loving the official poster too, can't wait to catch it! Here's hoping not to many folks suffer from motion sickness after sitting through the entire 1.5 hr movie in FPS view.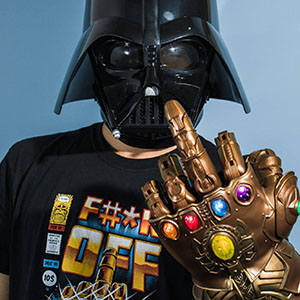 Yonk is a geek who is fortunate enough to have an equally geeky Star Wars fan for a wife, who owns a LEGO Millennium Falcon encased in a glass coffee table as their home's centre-piece.
---

Drop a Facebook comment below!