A jack of all trades, or a master of one? When the laptop market is oversaturated with tons of options, it's important to pick an approach and shape a core identity. For MSI, the approach has always been to cover all bases, with its 2023 range of laptops designed to satisfy different work and play demands – or both.
The selection can be daunting to customers, however, especially for those who are new to the Taiwanese tech giant's offerings. From the Stealth 14 Studio to the Creator Z16 HX Studio, here's a quick guide on the best MSI laptops for specific areas of gaming, productivity, and everything in between.
---
For The Gamers
MSI Pulse 15: The ultimate gaming beast
Leading the charge for gaming suite is the MSI Pulse 15, which packs a powerful punch with up to a NVIDIA GeForce RTX 4070 graphics card and a 13th Gen Intel Core i7 processor. The 2.3kg flagship comes highly recommended for GPU-intensive endeavours or competitive gaming, with a 15.6-inch QHD display (2,560 x 1,440) and 240Hz refresh rate offering smooth, blazing fast visuals.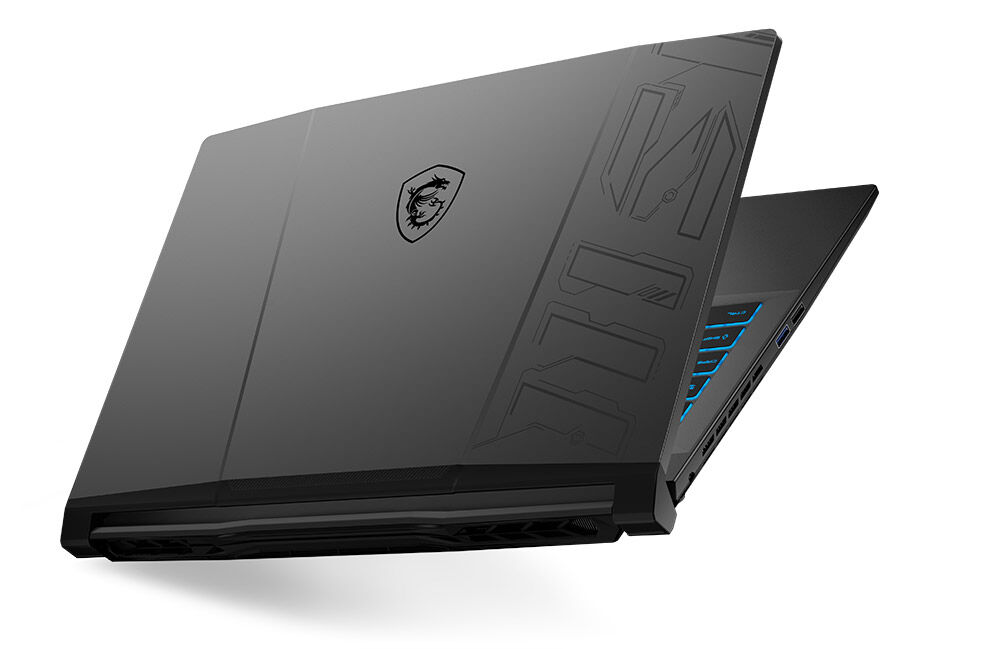 Adding a touch of the RGB bling is a four-zone gaming keyboard with highlighted WASD keys and specially-designed keycaps, while the wide selection of ports (1x USB 3.2 Gen 1 Type-C/DisplayPort, 2x USB 3.2 Type-A, 1x USB 2.0 Type-A, 1x HDMI, 1x RJ45, and 1x 3.5mm audio jack) is a convenient bonus. The price to pay for enjoying the ultimate gaming adventure? A S$3,399 starting price.
---
Performance and portability don't always go hand in hand, but the MSI Stealth 14 Studio strikes a fine balance between the two. Tipping the scales at 1.7kg, it marries an RTX 4060 GPU and 13th Gen Intel processor with a compact form factor, and projects the combined lethality through a 14-inch QHD+ display (2,500 x 1,600). Like the Pulse 15, the laptop offers a 240Hz refresh rate, making it a great companion for fans of first-person shooters, competitive titles, and other fast-paced games, anytime and anywhere.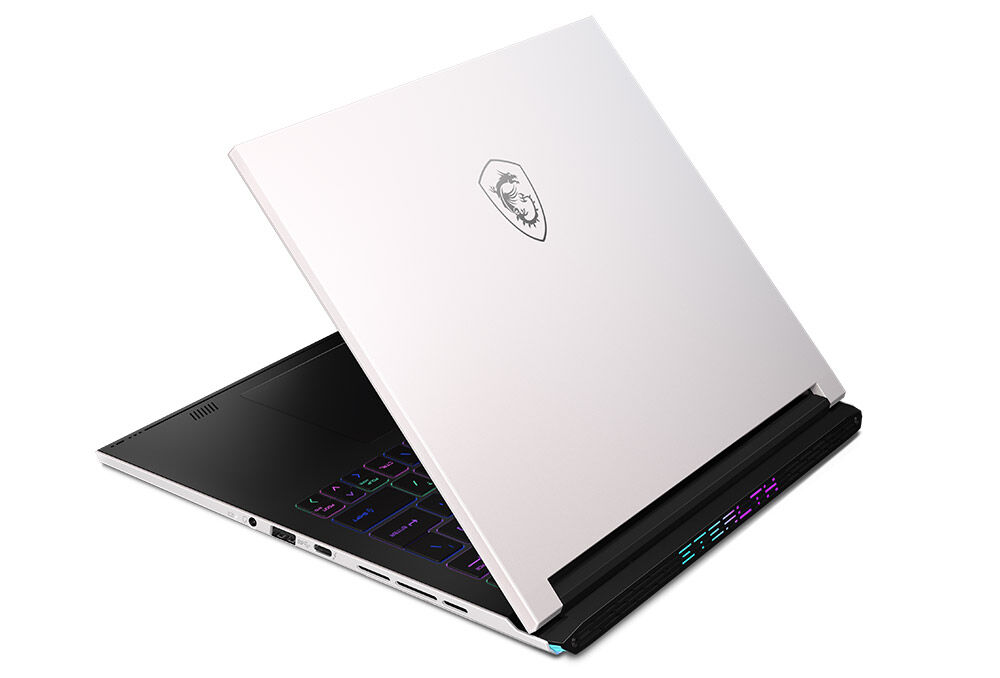 The 16:10 aspect ratio, meanwhile, sets aside more real estate than the conventional 16:9 outfit. With a larger viewing screen, users will be able to bask in both the visual and hardware glory of various gaming worlds from S$3,099.
---
MSI Katana 17: Bigger screen for a sharper edge
Sometimes, size matters. The MSI Katana 17 (read our review) presents an alternative for users who prefer a larger display, and comes decked out in a 17.3-inch FHD display (1,920 x 1,080) with a 144Hz refresh rate, an RTX 4060 GPU, and a 13th Gen Intel Core i7 processor. There's also a 4-zone RGB gaming keyboard included on the 2.6kg laptop, much like the Pulse 15.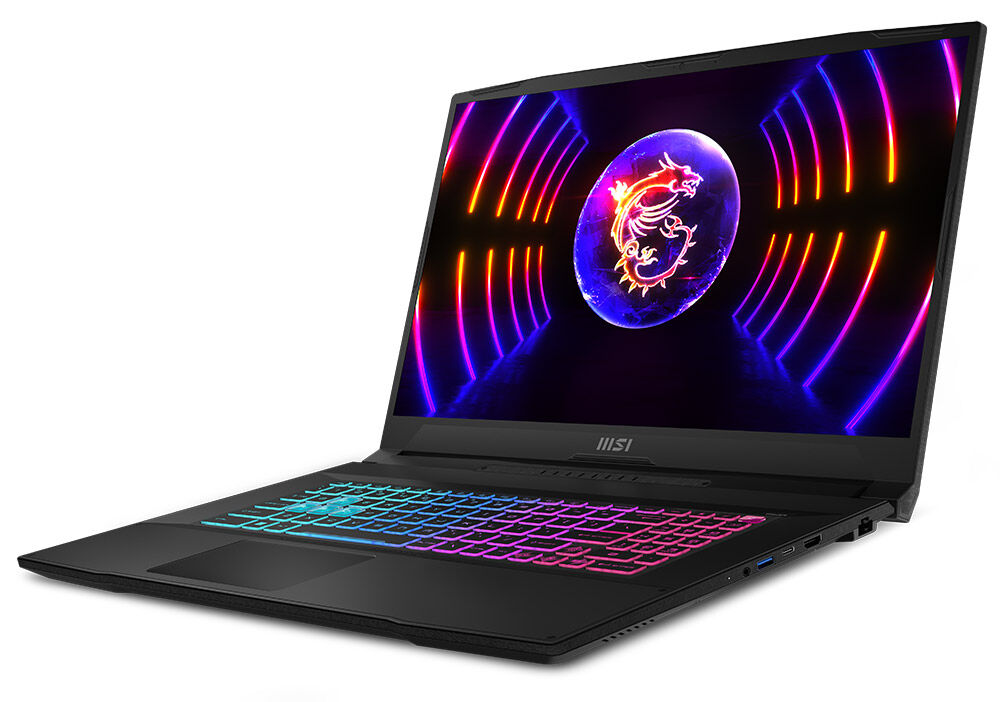 Lending a welcome touch of flexibility to function is the MUX Switch, which allows individuals to shuttle between powerful gaming performance and efficiency with a single click. The entire package retails for S$2,899, and includes other notable features like 1TB of storage and 16GB of memory.
---
Keeping in line with its name's thematic relevance, the MSI Cyborg 15 takes after the cyberpunk aesthetic to present sleek, stylish translucent keycaps and chassis components. The see-through design charms with cybernetic-like trims and sci-fi accented elements, while the base is accompanied by stylised texts hidden in the ventilation openings that both paint a distinctive, eye-catching picture.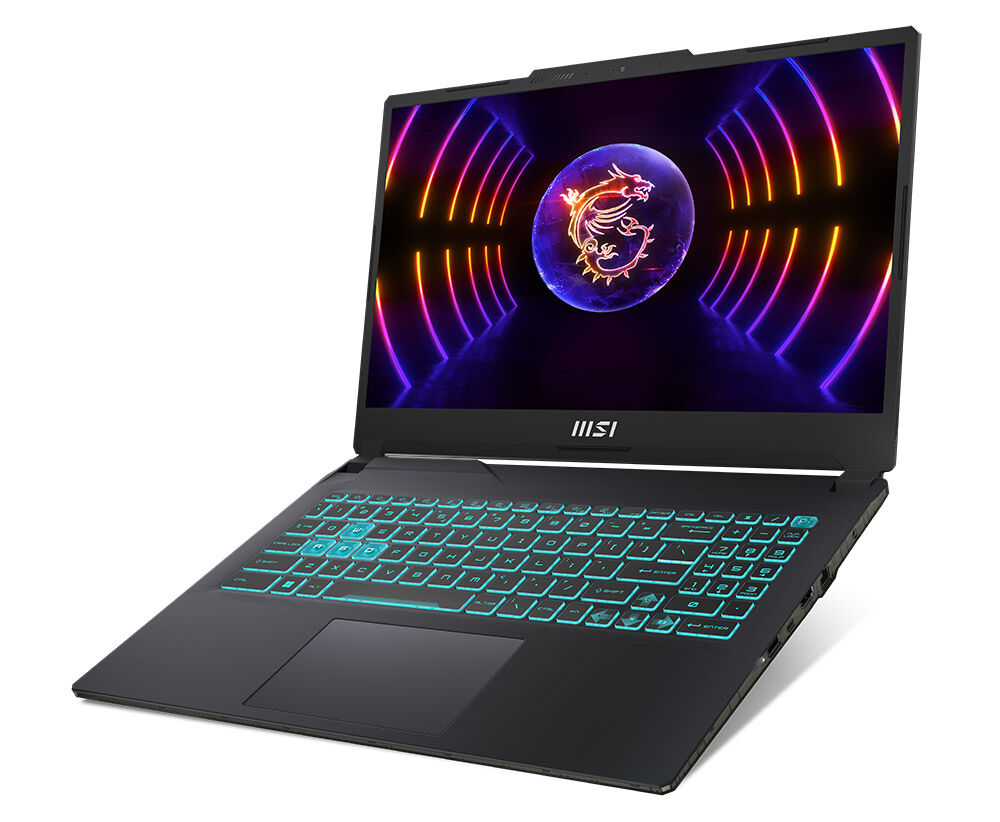 But it isn't just a good looker. Under the hood, the 1.98kg trooper houses an RTX 4060 GPU and a 13th Gen Intel Core i7 processor, and combines them with a 15.6-inch, 144Hz FHD display, allowing users to experience top-of-the-line gaming – and look good at the same time. Set aside S$2,299, and this bad boy is yours to keep.
---
MSI Thin GF63: Elevating the casual gaming experience
For those looking to enjoy some horsepower without having to dent the wallet, the MSI Thin GF63 strives to be the ideal everyday carry. At just S$1,699, the laptop is great value for money, with its RTX 4050 GPU and a 12th Gen Intel Core i5 processor offering an edge in casual gaming.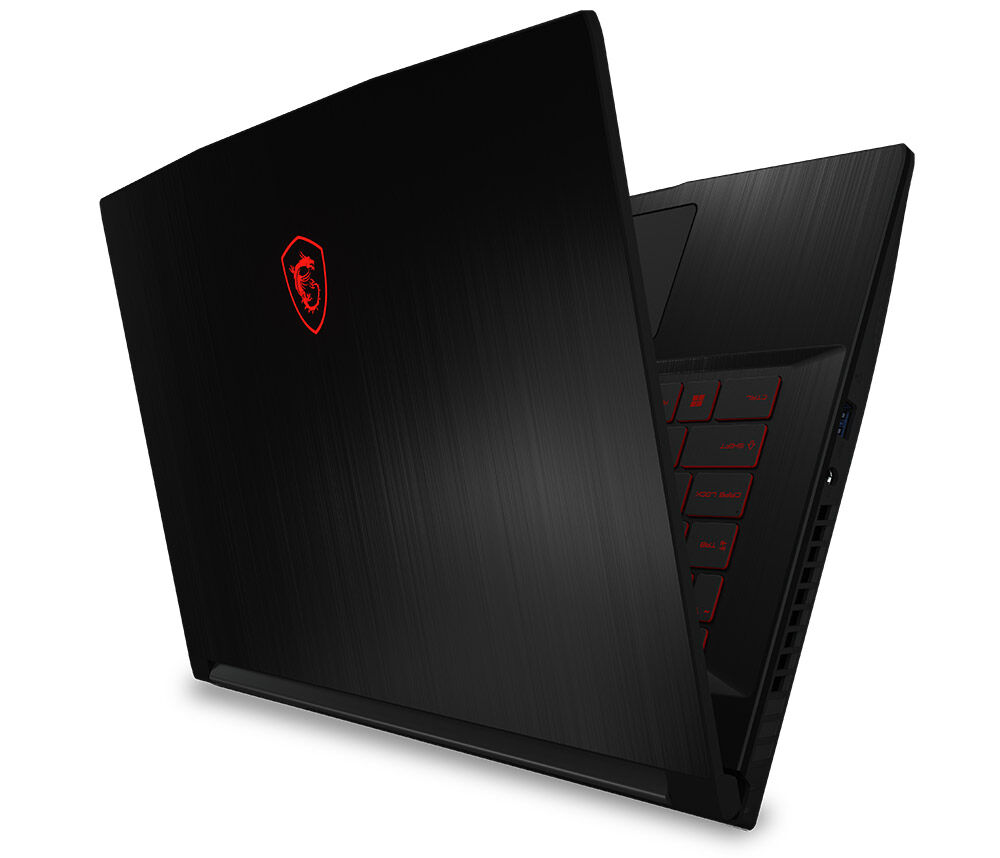 The display is no slouch either, sporting a 15.6-inch FHD resolution and a 144Hz refresh rate. Who said gaming on RTX 40-series devices has to come at a premium? Not MSI, that's for sure.
---
For the Creative Professionals
If there's such a thing as powerlifters in the world of laptops, the MSI Creator Z16 HX Studio would be carrying everyone else. Weighing 2.35kg, the bundle of horsepower and blazing speeds is well-equipped to handle all the heavy lifting for content creation, from 3D rendering to video editing. An RTX 4060 GPU and the latest Intel Core i9 processor work to deliver the boost, while the 16-inch QHD display (2,560 x 1,600), certified to cover 100 percent of the DCI-P3 colour gamut, ensures sharp and accurate visuals.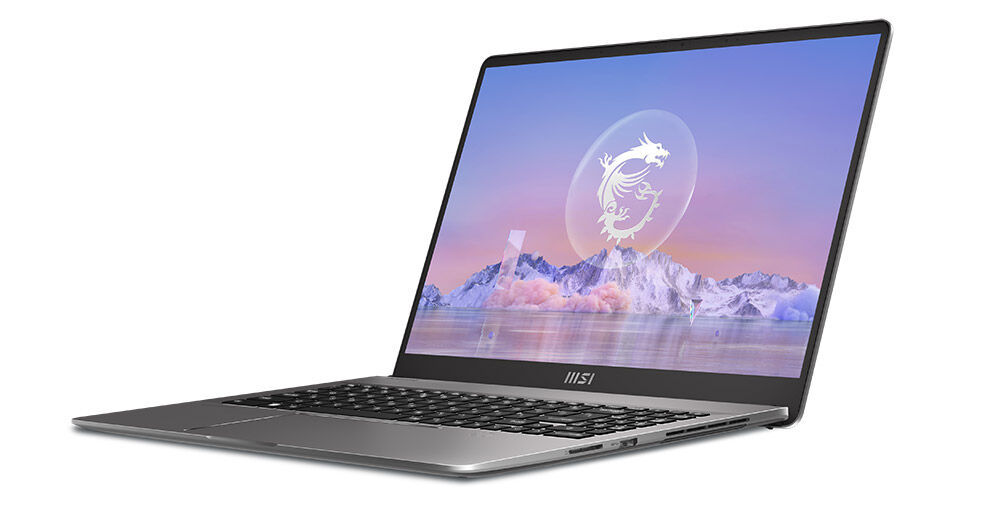 The 16:10 aspect ratio comes as an added bonus, offering more viewing room for creative professionals and enthusiasts to review and execute their ideas on the screen. Taking after its creative nature, the workhorse is also designed to look good with its sleek, rounded edges, subtle detailing, and elegant body – all of which amount to a S$3,999 price tag.
---
The MSI Summit E13 Flip Evo is productivity made easy. Leveraging on the versatility of its 360-degree hinge, the lightweight convertible allows work to be done in multiple ways, be it viewing content in the traditional head-on manner, typing with the display laying flat on a surface, or as a tablet.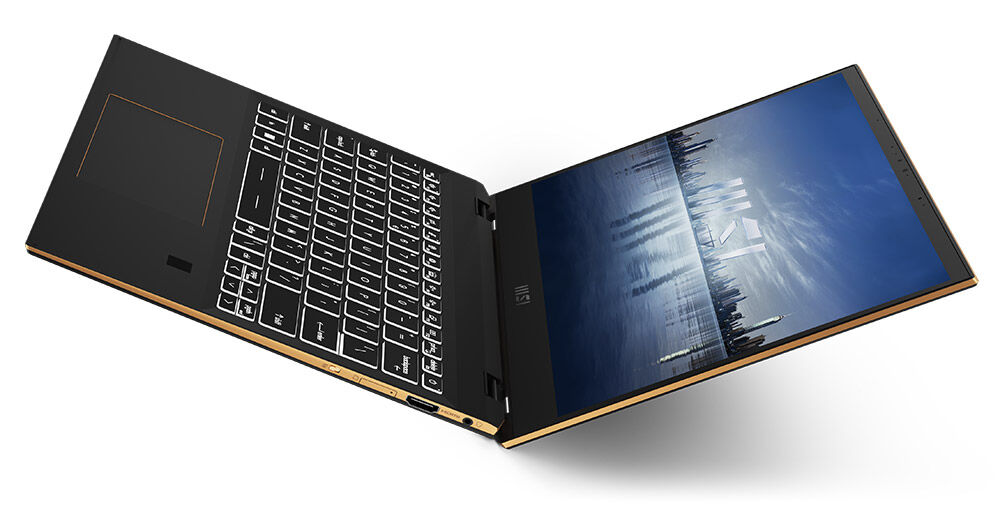 Adding a welcome touch of convenience and functionality is the MSI Pen, which combines the features of a stylus and presentation remote. Armed with 20 hours of battery life, a 14-inch FHD display, and a slate of I/O ports, the hybrid device – available at S$2,299 – is ideal for individuals who are always on the go.
---
MSI Prestige 13 Evo: The everyday carry for on-the-go productivity
The best everyday carry of the lot, however, is the MSI Prestige 13 Evo. Coming in at an impressive 990 grams, the S$2,199 ultrabook brings processing power from the latest Intel Core i7 CPU without compromising on performance. Don't be fooled by its ultra-slim profile, for it promises a 16-hour battery life and military-grade durability.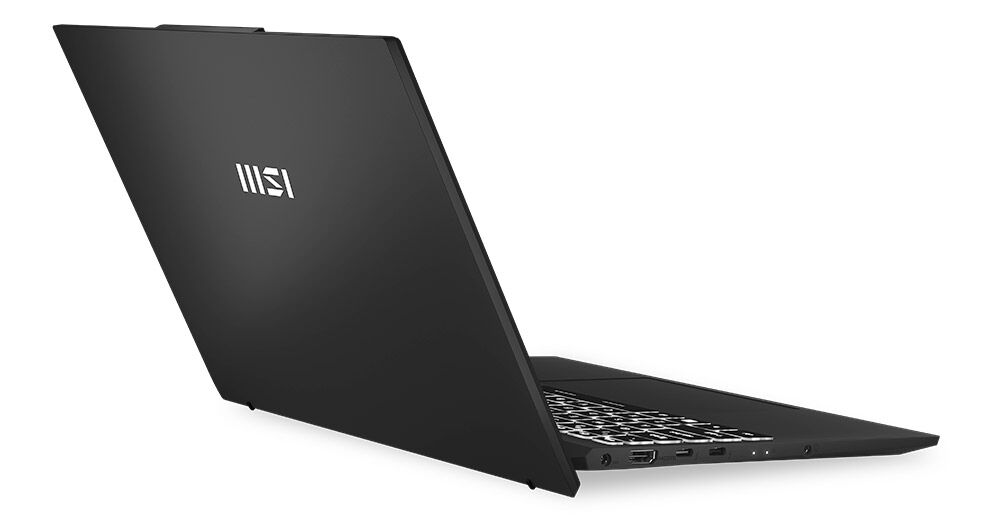 ---
MSI Modern 14: Meeting productivity standards without breaking the bank
Rounding off the work laptop range is the MSI Modern 14, which serves as a more affordable alternative with its S$1,199 price tag. While there's truth to the saying 'quality comes at a price', it isn't quite as relevant here, as the 1.4kg trooper still delivers plenty on the productivity front, from its 14-inch FHD display and 12th Gen Intel Core i7 processor to the 180-degree lay-flat design.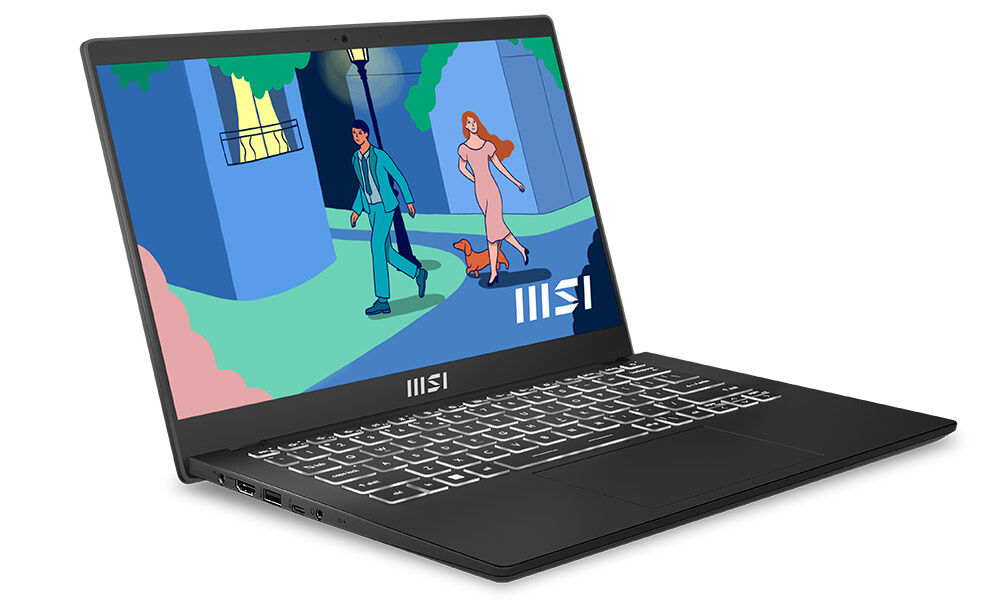 ---
This article is brought to you together with MSI Singapore.