For players of Call of Duty: Warzone, the stakes have never been higher with the arrival of Operation Monarch. The two-week-long event in the battle royale sees two iconic monsters arrive on Caldera, ready to do battle with you in the mix.
Whether you are jumping in as a veteran or new to the game, here's everything you need to know about Operation Monarch in Call of Duty: Warzone happening between 11 May to 25 May.
---
Operation Monarch Limited-time Mode
In the titular mode that has both Kong and Godzilla be part of the fun, the two creatures can be found going about their business around Caldera. Initially peaceful, players can go around collecting Monarch Intel, completing challenges, gearing up with Monsterverse Bundles, and engaging each other.
The mode is all about Quads, so team up with three other friends and drop into the match of 60 players. With Resurgence rules in play, you can always respawn as long as one player on your team is still alive. As you go about collecting the Intel, you can build a meter that helps unlock Killstreaks and Loadout Drops, but more importantly, a special Titan Killstreak. Dealing damage to Kong or Godzilla also fills the meter, but at the risk of causing Titan Frenzy.
When Titan Frenzy is in effect, both Kong and Godzilla will start attacking players in an enraged state. You can either hide and try to survive, or fight back against the colossal creatures in exchange for precious rewards. The team that deals the most damage to either Titan will obtain the Monarch S.C.R.E.A.M device, with runner-ups gaining Intel.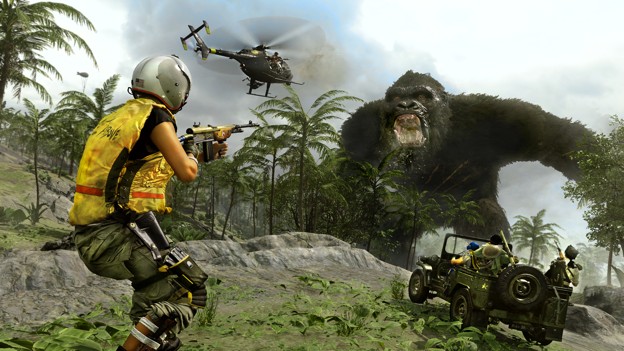 The Titan S.C.R.E.A.M. Device (Titan Sonic Communication Radar and Echolocation Array Module) is a prototypical device developed by Monarch that lets Operatives unleash the awesome power of Godzilla and Kong in battle. Yes, you can utilise the Heat Ray breath from Godzilla or the powerful ground pound from Kong in Call of Duty: Warzone Operation Monarch. Time it well, and watch your enemies cower in fear.
Challenges
This event contains eight challenges — complete all eight to receive a special Ancient Rivalry Marksman Rifle Blueprint:
Play Operation Monarch for 6 Hours: Reward — Epic "Ancestral Skull" Charm
Use a Kong or Godzilla Killstreak Once: Reward — Rare "Ancient Remains" Charm
Use a Kong or Godzilla Killstreak Three Times: Reward — Rare "Monarch Eyes Only" Charm
Deal 500,000 damage to Titans: Reward — Rare "Concrete Jungle" Sticker
Deal 135,000 total damage to Kong in Titan Frenzy Events: Reward — Legendary "Team Godzilla" Emblem
Deal 135,000 total damage to Godzilla in Titan Frenzy Events: Reward — Legendary "Team Kong" Emblem
Collect 3,000 Monarch Intel: Reward — Epic "Skyline Crasher" Calling Card
Place in the Top 15 twelve times in the Operation Monarch Limited-Time Mode: Reward — Epic "One Will Fall" Spray
Item Bundles
While you can go against the Titans with conventional weaponry, why not turn their powers against them with these three Monsterverse Bundles available in Operation Monarch for Call of Duty: Warzone:
Tracer Pack: Godzilla Reactive Mastercraft Limited Time Bundle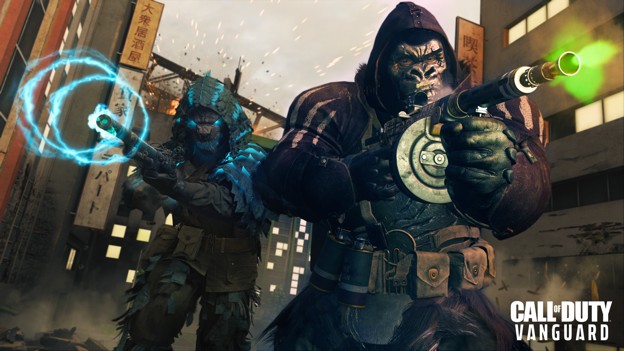 This contains nine items, including a Legendary "Godzilla Ghillie" Operator Skin for Shigenori and its other marquee item: the Heroic "Breath of Godzilla" Mastercraft Weapon Blueprint.
Outside of shooting cool-blue tracer rounds, the "Breath of Godzilla" can be phenomenal against Kong. Its extended magazines and low recoil help deliver consistent damage over time without too much aim adjustment. Against a target that jumps and stomps around, being able to keep a weapon steady with little effort can be crucial to success during a Titan Frenzy.
The other weapon in this Bundle, the Legendary "Awakened Alpha" LMG, is an overall menace against squads and monsters. Use it within a few dozen meters of your target to get reliable damage output.
Tracer Pack: Kong Limited Time Bundle
This pack includes a Legendary "Kong" Operator Skin for Wade and other items, which are the three Legendary Weapon Blueprints: the "Temple of Kong" Sniper Rifle and "Skull Island Shaker" SMG, both of which shoot jungle green tracers, and "Kong's Scepter."
While awesome, "Kong's Scepter" has limited range and is more recommended to be used against Operators. Whereas the "Temple of Kong" and "Skull Island Shaker" are loaded with extended magazines and built to deal consistent damage to either Titan at a reasonable range.
Specifically, the "Temple of Kong" can be a great weapon against Godzilla. Given that he is off the shoreline, this weapon's extended range helps an Operator output great damage at a distance. And as a Secondary Weapon via the Overkill Perk, the "Skull Island Shaker" helps keep nearby enemy Operators at bay during Titan Frenzy attacks.
Mechagodzilla Limited Time Bundle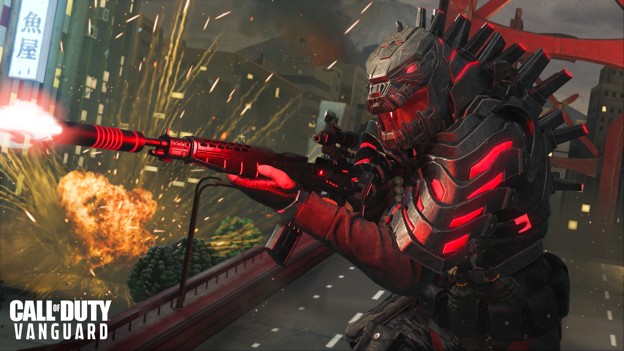 As much as we love Kong and Godzilla, we know the power of the Destroyer Titans and Apex Cybernetics combined can be enough to deal significant damage to the Protector Titans. Whether you long for King Ghidorah's return or just want to use the latest and greatest Apex technology for humanity's sake, there are two ranged weapons built for taking on Titans.
Both weapons feature rapid-fire attachments, with the "Cybernetic Destroyer" Assault Rifle able to pierce the thick defences of Kong and Godzilla at midrange. The "Neural Uplink" SMG favours a bit more close-range action, for those unafraid to step up to beasts that stand over 300 feet tall or full squads that are distracted trying to "befriend" monsters in Operation Monarch for Call of Duty: Warzone.
Getting multiple bundles before 13 June will also net players additional rewards.
Monsterverse Calling Cards
For fans who want to truly immerse themselves in the experience, there are exclusive calling cards to obtain. Unlock them by visiting Monsterverse.com and sharing your email details
After doing so, look for an email from the Monsterverse team to receive a special code. Then, log in with your Activision Account at the Call of Duty website, enter your code when prompted, and claim your rewards!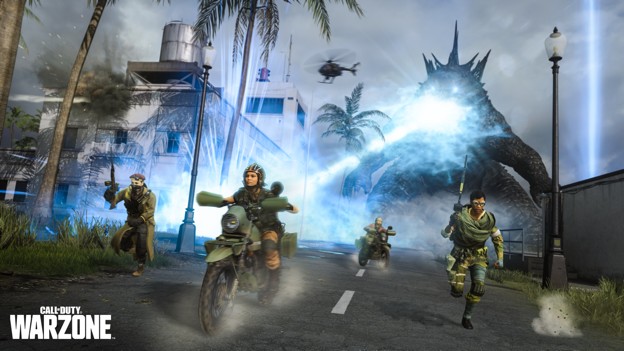 Tips for Survival
If you need even more tips on how to navigate the unique circumstances of Operation Monarch in Call of Duty: Warzone, read on.
Map Around the Monsters. The Tac Map shows current monster positions, while the minimap shows their area of attack. Check these often, especially during Titan Frenzy events.

Scavenge for Intel. The Titan Frenzy event isn't the only way to earn a S.C.R.E.A.M. Device. Watch out for Intel supply drops, and be sure to open Supply Boxes and scavenge enemy bodies for additional intel, which can add up to Killstreaks, Loadout Drops, and the S.C.R.E.A.M. device.

Remember: Resurgence Rules. Being eliminated during Operation Monarch does not necessarily mean death. If your squadmates are down due to enemies or monsters, stay alive until they redeploy.

High Capacity, High Damage. Kong and Godzilla may never die, but you better believe that they will take tons of damage from a weapon with a large magazine and damage per second. Consider planning your Loadout for max-damage capacity if your squad is aiming to win a Titan Frenzy… Or look around for some conveniently placed heavy weaponry.

Strike, then S.C.R.E.A.M. Participating in Titan Frenzy events is one of the quickest ways to get a S.C.R.E.A.M. Device. Keep targeting either monster to get rewards, and consider saving them until the final circles for maximum damage.