[UPDATE]: In the build-up to the opening of Star Wars: Galaxy's Edge, Disneyland's ticket prices have gone up a staggering 23 %!
After months of being in the works, Disneyland and Disney Worlds' Star Wars themed attraction is almost ready to receive its first visitors. Whether you're looking to take the iconic Millenium Falcon out for a spin, or the oppressive First Order down a peg or fifty, Star Wars: Galaxy's Edge will absolutely deliver (or well, you'll deliver — precious cargo using the Millenium Falcon, actually).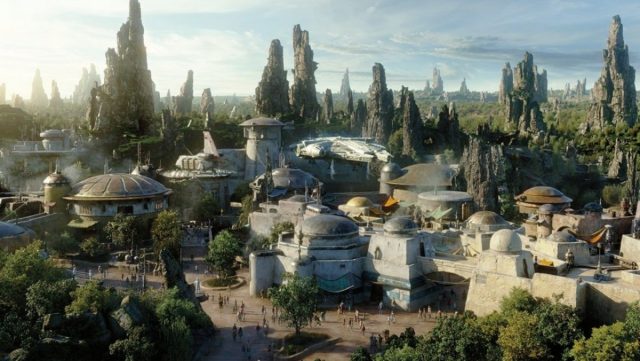 Building up the hype in the months running up to its grand opening, Disney has just dropped a behind-the-scenes video for Galaxy's Edge on YouTube, revealing some fantastic footage of the park and its rides.
"I hope that when people come to Star Wars: Galaxy's Edge and they're experiencing it for the first time, this place they're walking through — and the characters they're seeing, and the beasts and aliens and droids — puts them in a position where they can give themselves over to the moment, to the story, and play with us in the world of Star wars."

Scott Trowbridge, Creative Executive at Walt Disney Imagineering
The level of immersion is going to be incredible, according to Disney — it's been announced previously that our performance on the Millenium Falcon ride could actually change our experience in the park. They've also assured fans that merchandise sold there are going to fit nicely into the outpost's whole mise-en-scene, so no tacky T-shirts we presume.
We can't wait till its doors open in Summer and Fall 2019, for Disneyland and Disney World respectively — now if only someone could fund our trip there.
---

Drop a Facebook comment below!