We are coming up close to a year following the explosive debut of Sucker Punch Productions' excellent Ghost of Tsushima, and almost like clockwork, the speculation of more content had begun building. Rumours of an expansion revolving around the nearby Ikishima island were rife, but now, we have official word a year on. The Ghost of Tsushima Director's Cut is slicing its way onto PS4 and PS5, together with the brand new Iki Island.
Come 20 August, players will be rejoining Jin Sakai in a new edition of the game. The Ghost of Tsushima Director's Cut will contain the original game as well as every piece of additional content released to date. Of course, there is also the expansion content.
For those who are into their history, the nearby island of Iki was also invaded by the Mongols. Jin's travels will bring him to Iki for a whole new chapter in investigating the Mongol threat. Yet, that is not all awaiting our hero. He will soon find himself "caught up in events with deeply personal stakes that will force him to relive some traumatic moments from his past."
Ghost Of Tsushima Director's Cut Enhancements
While the studio is still keeping mum about story details, there are some interesting facts about the expansion. More story, new characters, and new content are all part of the deal. Players can expect to explore new environments, obtain new armour for Jin and his horse, new mini-games, techniques, enemies, and more. The Ghost of Tsushima Director's Cut will even have more animals for you to pet.
The arrival of the PS5 also means that the new edition can take advantage of the tech. Purists who have been asking for Japanese lip sync will get their wish, thanks to the PS5's ability to render cinematics in real time.
Haptic feedback and adaptive triggers will also play into the entire Ghost of Tsushima Director's Cut experience. Drastically improved load times, enhancements to 3D audio, and 4K dynamic resolution targeting 60FPS will provide players with even more immersive gameplay.
As many of us have already joined Jin's adventures, on PS4, your progress will matter. You will be able to transfer your save to the PS5. The new Iki Island content will become available in Act 2.
If you are not thinking of the Ghost of Tsushima Director's Cut yet, new updates are still coming for the base game. All players will receive a patch with some new updates. Photo mode is being improved, new accessibility options for controller remapping will arrive, as well as the option to enable a target lock-on during combat. Players can also hide their quiver during gameplay.
Players who enjoyed their time in Ghost of Tsushima: Legends should also be excited. An all-new mode is coming, with details being revealed soon.
Pre-orders have already kicked off. Getting the Ghost of Tsushima Director's Cut digitally now will give you access to the PS4 version of the base game. That way, you can start your gameplay early before transferring your progress.
PS4/PS5 Upgrade Details
You can pre-order an upgrade to Director's Cut on PS4 for SGD26.90 / MYR89 / IDR289,000 / THB690. This upgrade will become available starting on 20 August.
Starting on August 20:
If you bought Director's Cut PS4, you'll be able to upgrade to Director's Cut PS5 at any time for SGD18 / MYR50 / IDR150,000 / THB300
You can also upgrade directly (from original Ghost of Tsushima PS4) to Director's Cut on PS5 for SGD40.90 / MYR129 / IDR439,000 / THB990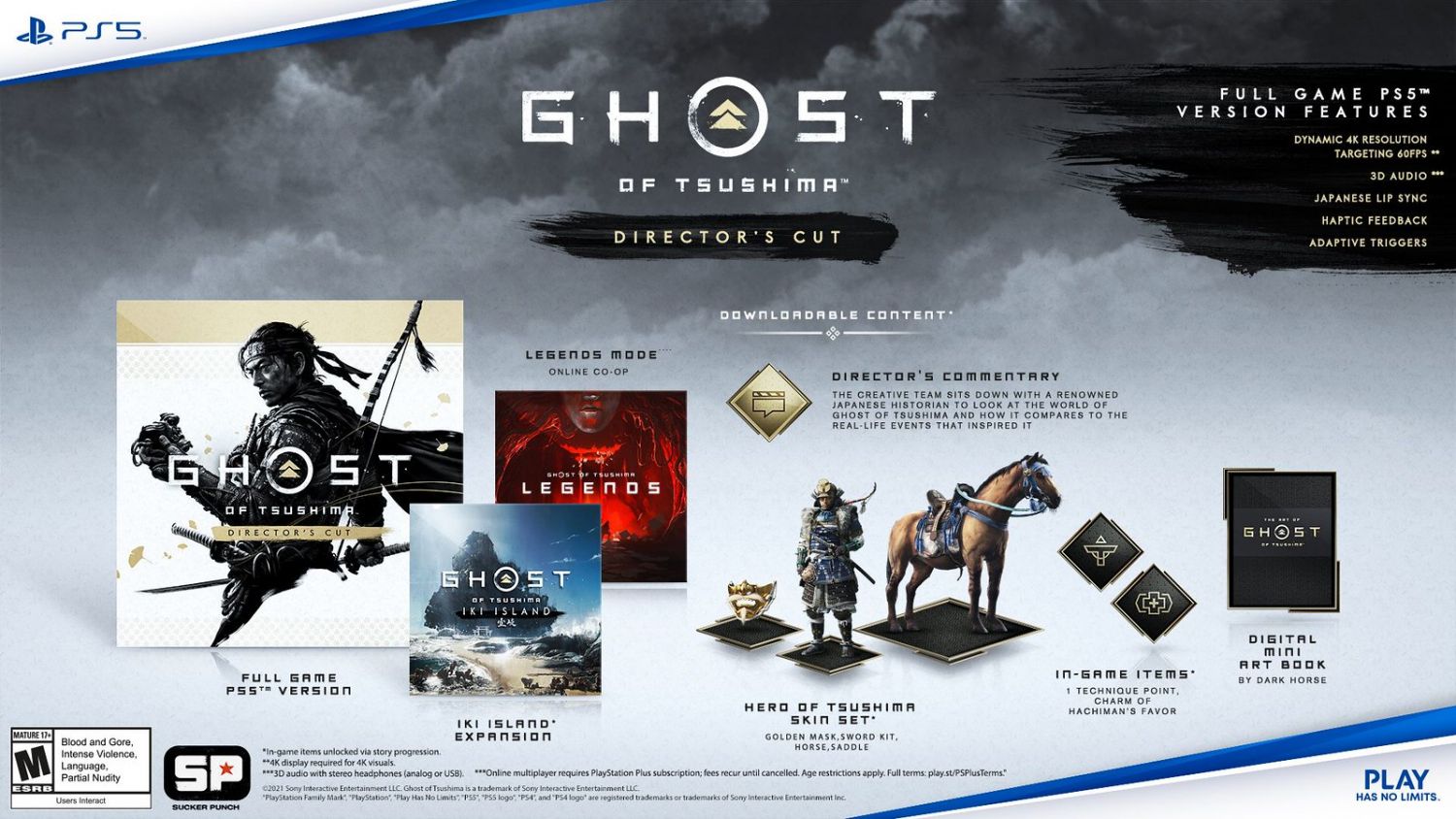 Additional details about upgrades will be available at PlayStation Store closer to launch.
---

Drop a Facebook comment below!