The overly large noggin and gigantic eyes peering right at you – if Bimtoy's Tiny Ghost reminds you of the popular Funko Pops, you can thank designer Reis O'Brien, who created the former, and designing many of the latter.
After years of designing toys, with the last seven years as Design Manager at Funko, arguably one of the largest toy companies in the world, O'Brien decided to come up with his own toy line of figurines in 2013 under the Bimtoy brand.
Following the hugely successful debut of the Singapore Limited Edition Rangka Tiny Ghost at this year's Singapore Toy, Game & Comic Convention (STGCC), with collectors both local and abroad gathering in a celebration of the adorable vinyl figure, O'Brien could not be happier.
Brought in by local toy retailer Simply Toys, the big and mini versions of O'Brien and Bimtoy's Tiny Ghosts were snapped up like hotcakes and promptly sold out during the two-day show.
The attendees not only got to meet O'Brien, but also the chance to have him customise their Tiny Ghosts, which was something he was looking forward to, said O'Brien in an exclusive interview with Geek Culture.
"The difference between a Singapore convention in an American convention is like night and day, really. Everyone's very polite, respectful, and they seem to appreciate things a little better. They stop to appreciate these one or two things. And that's very satisfying to me. It's nice when people look more closely at your work and more thoughtfully."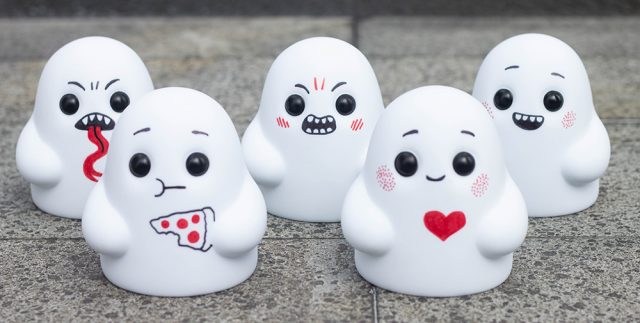 With Tiny Ghost, O'Brien found another avenue for his creativity and a more intimate way of interacting with his many fervent fans, some who flew in just to meet him.
Over the weekend, the Facebook groups, Tiny Ghost (Asia) and Tiny Ghosts Bimtoy Collectors, exploded with excited faces and even more photos of collectors' hauls. American collectors Christina Cooper and Karen Tenney Miller flew all the way to Singapore to support Tiny Ghost's Asian debut, and were welcomed like celebrities by the community. Miller, especially, gave O'Brien a wonderful surprise.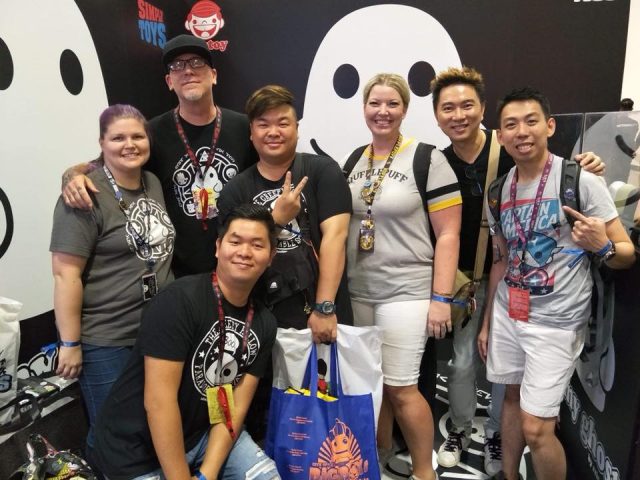 "She made me this Chewbacca, it's covered in fur, it looks just like Chewbacca, and she glued a little nose! That's my current favourite, I love it when people send me customs."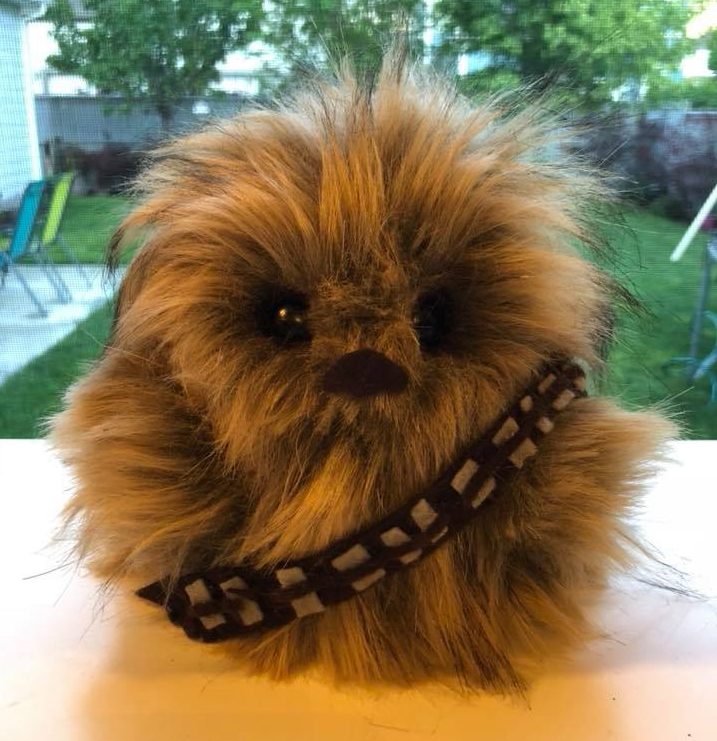 A custom R2-D2 Tiny Ghost sits on his desk in Funko as well, gathering envious looks from colleagues as a true, one-of-a-kind collectable.
The group remains an unofficial gathering place for fellow fans and collectors, with O'Brien popping by once in a while. It is a conscious choice to have it fan run, and "it's more organic that way."
But there's nothing quite like meeting his fans in real life, and seeing them behave like a tightly knit community.
"What I noticed, especially at conventions, and this is one of my favourite things, is when people get together, and they don't even know each other, and just start talking and trading. Later on, you see on Instagram, folks are like 'I'm so glad I made new friends!' and stuff. So that's that's one of the hidden benefits of doing this kind of thing is that people get to know each other."
And it is this simplicity of relationships that guide his design philosophy, of doing more with less.
"I love how much expression you can get out of just a couple of lines. Do you know what I mean? Like, especially like the simple smile and two eyebrows, you get a lot of charm out of that, you know, I have more fun with this kind of thing. Just because that's more my personal style that I am applying."
And of course, being in Singapore helps.
"I love it, it's amazing and beautiful, how clean it is, how safe it feels," said O'Brien about his first trip here to promote Tiny Ghost.
With designs that include the OG all-white Tiny Ghost, colourful variants like the Bomb Pop, and more elaborate pieces like the Space Cult, each variant comes in limited numbers. Surprising no one, they sell out fast, and can often fetch exorbitant prices on sites like eBay.
Such popularity demands more, and O'Brien is always workshopping new ideas. "Next year, we will have more skeletons coming out like Hallows' Eve, black with orange bones. We also have one that's called Silver Spectre, it's an all-clear Ghost with just silver metallic bones on it, it's really beautiful. We also made a plush sample, so that's in the works as well."
More will be joining the Tiny Ghost family, as his friends like "Nerdy Ghost, Puppy Ghost, Kitty Ghost, and Luna, his crush, will be coming out next year with new designs and moulds."
O'Brien is certainly in it for the long haul, "One day I pictured it's like the Smurfs, it's a whole village of haunted houses, haunted bakeries, and haunted police departments, and libraries and there's a ghost haunts every one of these buildings. So one day I would like to see little ghosts and all these playsets."
But why, of all things, a Tiny Ghost?
"I've always been obsessed with ghosts since I was probably three years old. I've always liked that simple white sheet with the two dotted eyes. So what I wanted to do was, I was doodling and I was trying to see how simple I could make something and still maintain cuteness, just a little exercise in my head. I was thinking about like Snoopy, and Hello Kitty, and Miffy. So I was thinking about these very, very simple, clean characters. And I ended up just kind of deciding on a ghost."
So I was just trying to see how simple I could make something that's cute. And a ghost is a perfect format for that.
"People wonder why I am weird, my parents took me to see Jaws and The Exorcist when I was still a kid!"
After discussions with Bottleneck Gallery, a pop-culture and contemporary art print gallery in New York, went smoothly in 2013, the first ever Tiny Ghost became reality with Bimtoy. The first batch of 500 Tiny Ghosts sold out in under a month, and in 2018, 600 pieces of the latest launch were snapped up in just 11 seconds.
The rest, as they say, is history.
In his other job as Design Manager of Funko, O'Brien works at what is arguably the biggest toy company in the world currently, and has a hand in many of the vinyl figures coming out of the Washington-based corporation.
From "2 hand sculptors that worked in China for the factories to 30 digital sculptors," both Funko and O'Brien have come a long way since.
"That's my trick there, I come up with an idea. And I draw it and then I put it up on my board by my desk. And I leave it there for like a year. And every time Brian (Mariotti, President and CEO of Funko) comes in to talk to me about something else, he sees it, And then what happens, is like a year later, he'll finally think it's a good idea. Sometimes it happens faster. Sometimes. It's a long game!"
Funko's own line, Savage World, is next in line to dominate the toy markets, and is done in the familiar style of having muscular bodies, articulation, and accessories.
But O'Brien is combining the barbaric inspirations with other hit properties with Thundercats and the likes of Freddy Krueger, Jason Voorhees, and Leatherface as part of the Horror collection.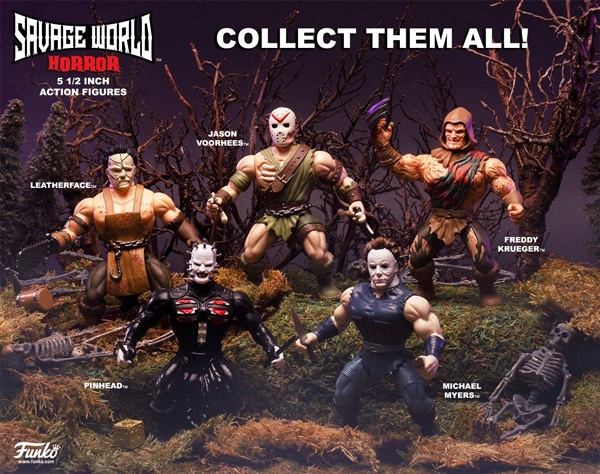 "I did, like Freddy Krueger, Leatherface. Jason Voorhees. I drew them as if they lived. I even changed like, their costumes. So they look like they're like barbarian warriors. I left them all pinned up. And then I did a bunch of others. I left them up there for like a year. And those are now hitting stores."
As we ended our interview, the authoritative figure (that we had access to) on all things Funko had the final say on the "boxed versus unboxed war" for all the Funko collectors out there,
I am firmly and out of box person, but I'm coming at it from a designer's point of view, because they don't understand how much work we put into, like the back of the figure. The box, to me, is meant to protect the product inside. So if it gets torn, dinged up, or whatever, that means you figure didn't. It's the bumper of the car, do you know what I mean?

I'm just a firm believer in that. Let the box be torn up, who cares, that means the products are fine.
They say that it is best not to meet your heroes, but for the throngs of passionate Tiny Ghost and Funko fans in Singapore during STGCC, meeting Reis O'Brien would have been a dream come true.
Accompanying photos courtesy of the Facebook group, Tiny Ghost Bimtoy Collectors.
---

Drop a Facebook comment below!