With ONE PUNCH MAN: The Strongest now fully running on iOS and Android, fans of the iconic manga and anime series can indulge in high-stakes battles against bad guys with their favourite heroes on their mobile devices.
On 16 July, the Child Emperor Event will kick off, which gives players a higher chance to recruit and play as the super rare robot-piloting, lollipop-eating genius hero, who is one of the best support characters in teams who specialise in decimating foes within one round.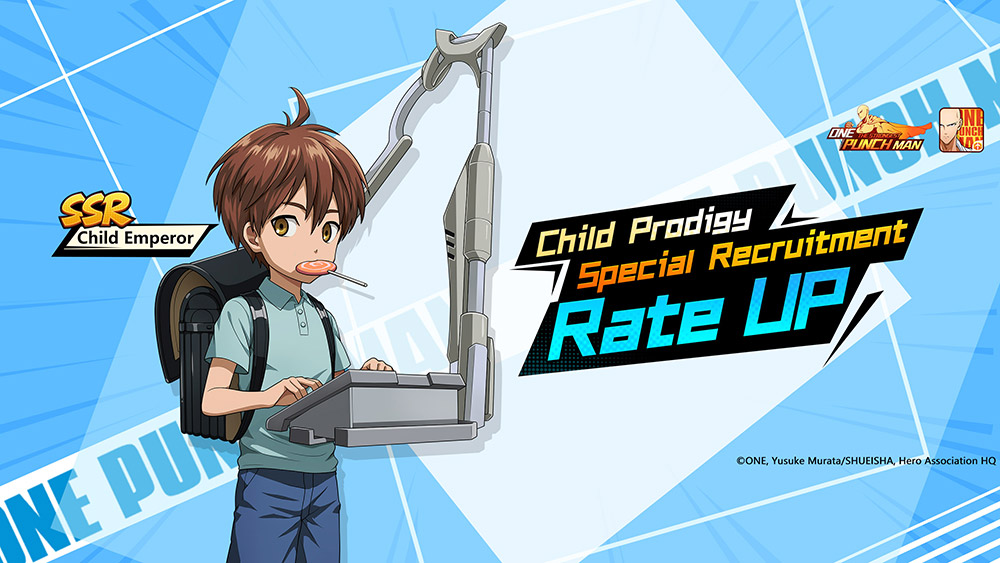 If you've managed to obtain Child Emperor during the event, here's a handy guide on how to utilise this child prodigy to his fullest potential, with his array of abilities, as well as optimising your hero line-up to get the best out of him.
During this Special Recruitment event, the drop-rate for Child Emperor is 3 times higher than other SSR characters. In the Special Recruitment pool, he will appear as one of the first 3 SSR characters. Good luck in obtaining him!
Active Skills
Mech Arm Swing: Single-target attack with 120% ATK damage.

Simple, practical and powerful.

Mech Arm Strike: Attacks all enemies in a row. A Crit Hit will Shatter the enemies. This skill also has a 50% chance of Stun.

This skill is inspired by Child Emperor's weaponised backpack from the manga and anime. It grants him great versatility so that he can fit in most combat lineups. The Stun chance, in particular, brings an additional element of surprise in battles.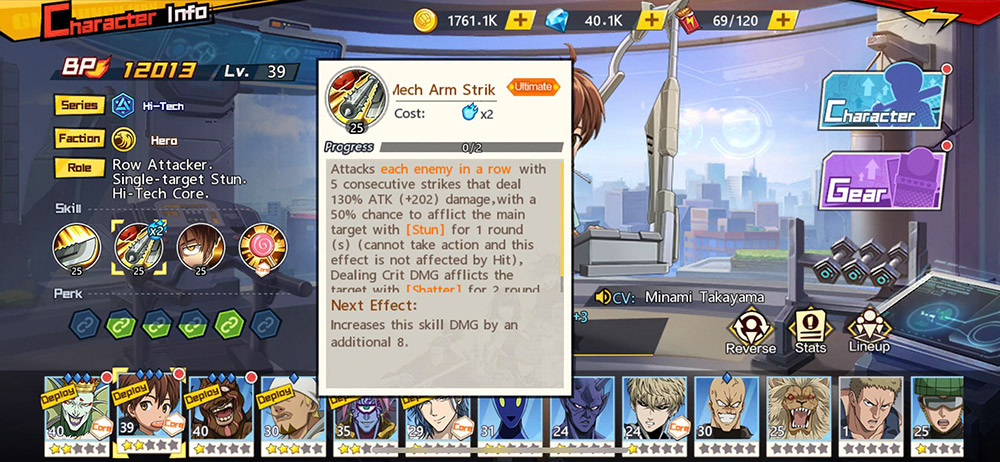 Passive Skill – Child Prodigy
Child Emperor's passive skill will grant the Berserk state to allies in the same row after their action.

It's clear here that building Speed on Child Emperor is preferred as it will allow the buff to be granted to allies. He is an amazing supporter in boosting allies' damage!

The Basic Effect of his passive skill lets Child Emperor recover Energy quickly, which allows allies to deal huge amounts of damage within 1 round.

This works well in PVE instances, including the Institute of Genetics, and is approved by top PVP players.

The Advanced Effect of this skill further boosts attack and damage of the whole team.
Gear Suggestions
Monk Set for support

Main stat(s): ATK
Secondary stats: 3 pieces of SPD, 1 piece of CRIT / 4 pieces of SPD
This set allows you to inflict Shatter at the beginning of battle more easily. Also, if you can Stun a target, then victory is as good as assured.

Swordsman or Knight Sets for offense

Main stat(s): ATK
Secondary stats: 3 pieces of SPD, 1 piece of CRIT / 4 pieces of SPD
These two sets will grant quite a substantial damage boost.
Optimal Lineups
To maximise Child Emperor's power, here are some sample lineups that you can consider for "one-round" teams:
Basic

Front row: Hellish Blizzard, Carnage Kabuto, Amai Mask
Back row: Child Emperor, Iairon, Golden Ball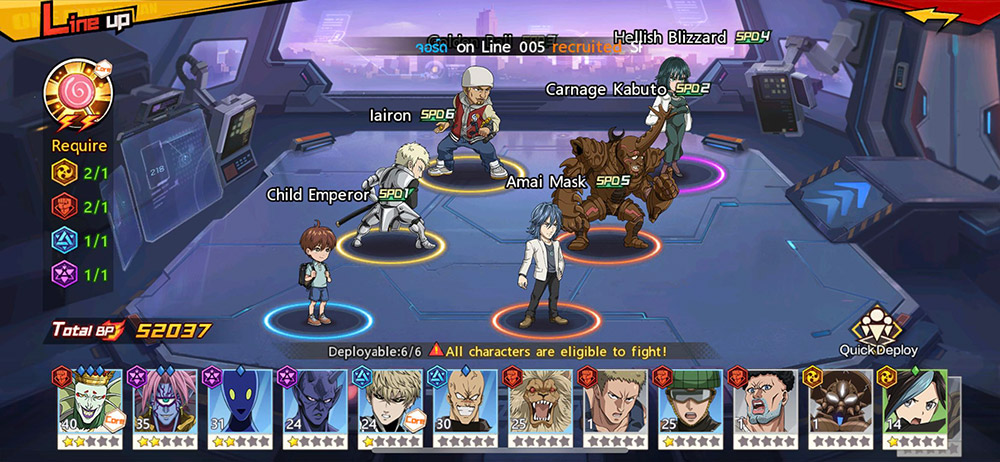 Advanced

Front row: Boros, Carnage Kabuto, Amai Mask
Back row: Child Emperor, Atomic Samurai, Golden Ball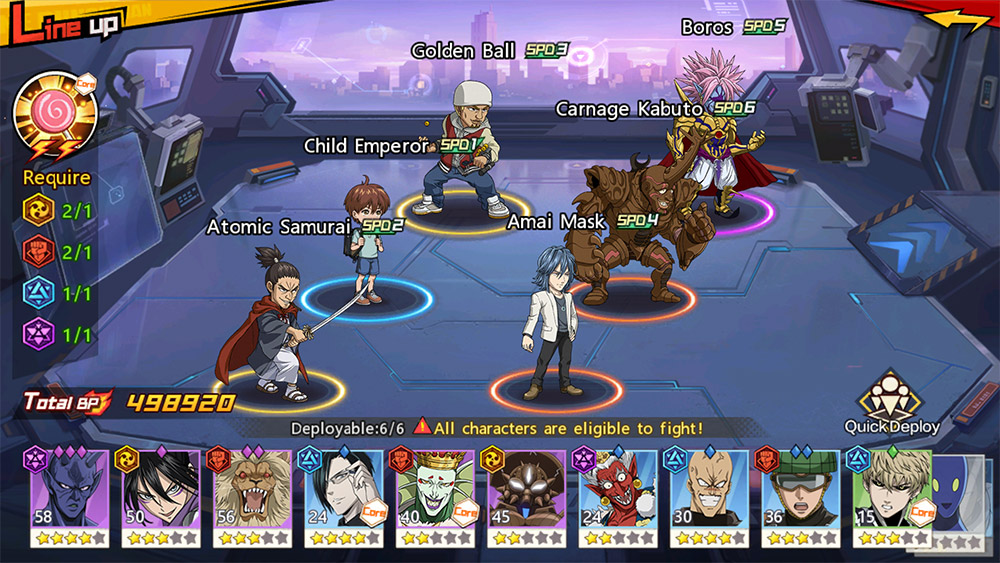 Ideally, you want Child Emperor to go first in battle, followed by Atomic Samurai, and then Golden Ball. For best results, you'd want to keep the speed of all your characters above 200. Try your best to defeat main targets within one round. This is the best proof of Child Emperor's role as a key supporting character in "one-round" teams.
And that's our handy guide for Child Emperor. The Special Recruitment event for Child Emperor starts on 16 July, with a 3x pick-up rate during this period.
But that's not all for ONE PUNCH MAN: The Strongest players, as the developers have more surprises in store in the coming weeks and months. We wish you the best of luck in recruiting this child prodigy!
ONE PUNCH MAN: The Strongest is out now on both App Store and Google Play Store in Southeast Asia. Visit the official Facebook page for the latest updates.
---

Drop a Facebook comment below!