These days, animated films have such big shoes to fill. For example, Inside Out (2015) drew both popular and critical acclaim for its nuanced portrayal of a child's emotional maturation. It set the benchmark for what a kid movie could achieve, which means there's no going back – or is there? Meet Trolls (2016).
The film's advertising campaign says little about who these trolls are and what they do. But if memory serves you well, you may recall the 90's toy fad of the same name. Yup, the troll dolls of your childhood are making a comeback in 3D computer-animated form, complete with fantastic hair and topnotch vocals! (Alas, they're not just Smurf rip-offs you can rain hate upon).
Eschewing the complexities of real-world issues, Trolls is a throwback to the golden days of plain good versus evil with a romantic subplot. Twenty years after the eternally happy Trolls escape a rather bleak annual fate bestowed upon them by their grinch-like, troll-devouring captors, the Bergens – who in all honesty resemble more what you think a troll would look like – the whole community once again gets in trouble with the Bergens. This time, Princess Poppy (Anna Kendrick), who is the epitome of all things bright, sing-song and vaguely hallucinogenic, must unite with the dismal and colourless Branch (Justin Timberlake) to save their village from disaster.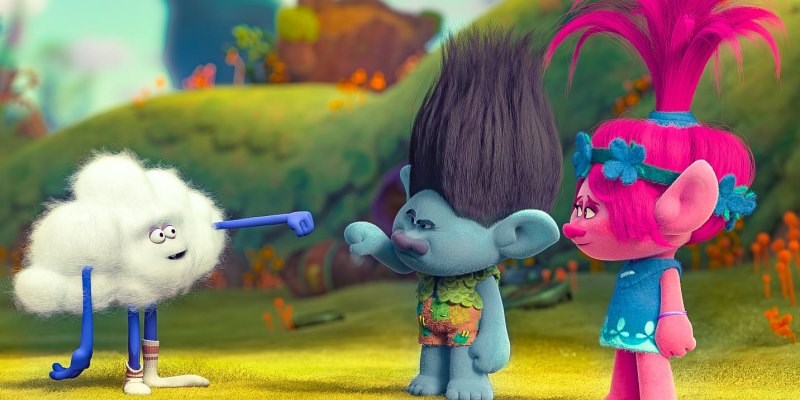 Much like their toy counterparts, their hair is the most outstanding thing about them. But unlike the brittle, gravity-defying hair of your childhood troll dolls, movie trolls have flowy tresses: these weapons of mass happiness lengthen at will, change colours (cue Instagrammable hair colouring fantasies), and reliably extract their owners out of even the stickiest of situations. Talk about hair envy.
Trolls actively positions itself as a kid-friendly and family-oriented movie. And what's unmistakably significant about Trolls is how it pays homage to the generation that grew up with these toys, and who would now be parents of the children they're taking to watch this movie. The trolls occasionally break out in song as covered by leading voice actors-slash-singers Kendrick and Timberlake, and the choices are no mere coincidence. With a repertoire that includes hit 80's classics like Lionel Richie's "Hello" and Cyndi Lauper's "True Colours", they at once allow parents nostalgic flashbacks while entertaining the young ones with musical numbers.
It's a nod to the passage of time and provides opportunity for parent-child bonding – because who better to ask what song your favourite troll is singing than mommy dearest?
Of course there's flaws with Trolls. The film's attempt at diversity is feeble at best. The flashy silver troll with cringeworthy auto-tuned vocals and a half-horse hippie who bears slight stereotypical undertones? There's also times when you stop to think about the inconsistent ways in which they deploy their magical hair. But truth be told, these issues aren't weighty enough to disrupt your hearty laughter at the film's modest jokes and good-natured story. After all, doesn't it help that it has female heroes to save the day?
If you're looking for a fun film to bring the kids to this weekend, pick up your 3D glasses and be on your way to Trolls.
GEEK REVIEW
Summary
Trolls is a movie you won't lose your hair over as an adult if you're bringing your kids along to the show.
Story -

7.5/10

Direction -

7/10

Characterisation -

6/10

Geek Satisfaction -

7.5/10
Ruiming is a freelance writer that has lived in Singapore, Melbourne and Hongkong. When he's not waddling waist-deep in deadlines, he finds time for life's simple pleasures: Teh-O Peng, Lao Gan Ma chilli oil and HBO's award-winning TV series Game Of Thrones.
---

Drop a Facebook comment below!