With the newer, faster and more efficient Wi-Fi 6 now increasingly becoming the norm, there is a need for general consumers to upgrade their existing home networking setups to take full advantage of faster download and upload speeds to complement their new hardware. While there are plenty of router options out there, nothing beats the ease and convenience of easy setups. and TP-Link's Archer AX72 AX5400 Dual-Band Gigabit Wi-Fi 6 Router offers just that plus support for multiple devices, and can expand its coverage with support for the brand's OneMesh system.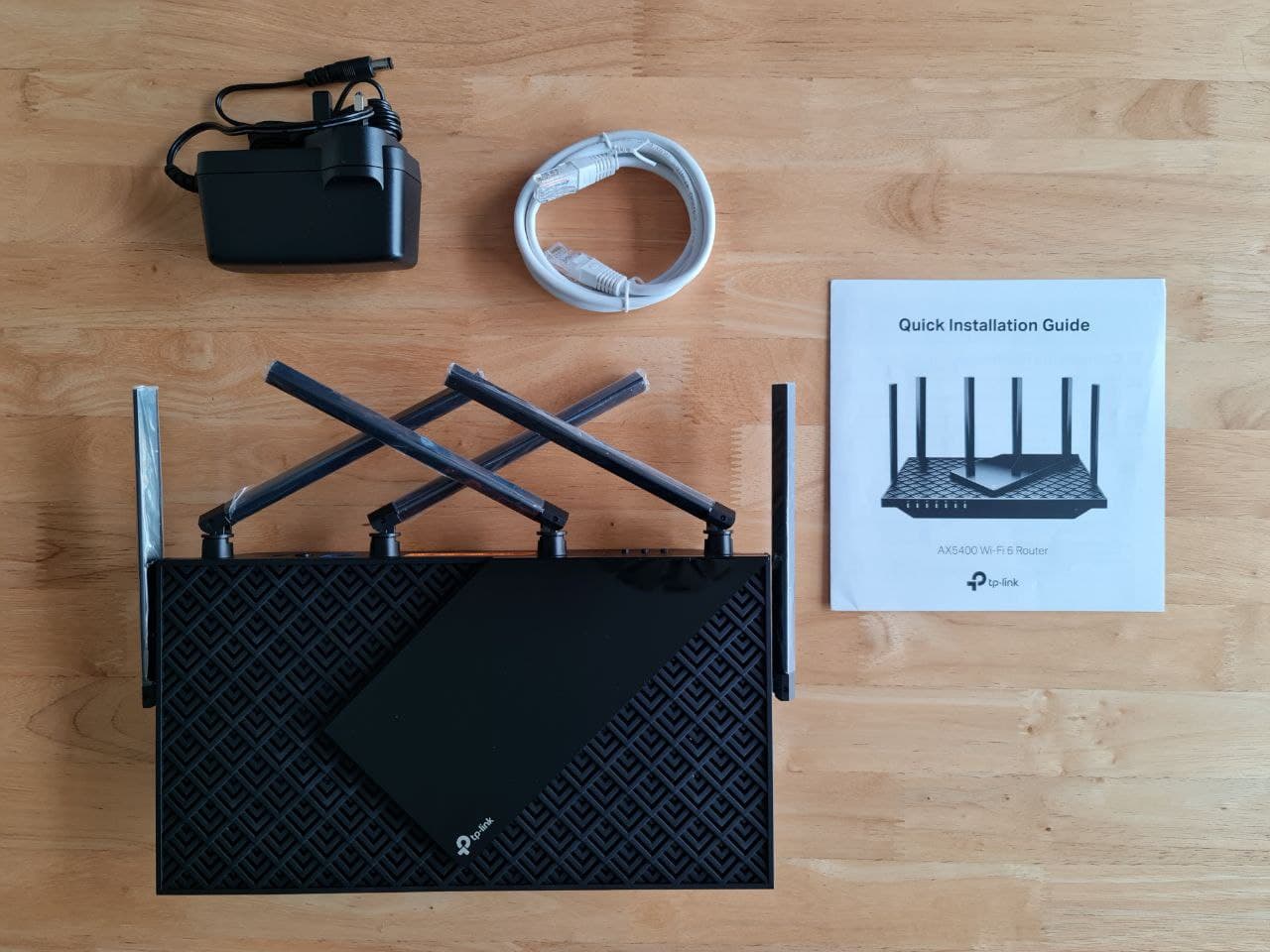 At first glance, one might confuse the Archer AX72 with the AX73, and who can blame you? These are essentially the same products, but the AX72 has a dual-core CPU instead of a triple-core, which explains the price difference.
Unlike other mesh routers in the market, the AX72 is more of a regular router proficient in keeping the home connected (ours is 92 sqm), but capable of more. You are looking at a device measuring 27.2 x 14.7 x 19 cm that takes up very little space, has plenty of ventilation to mitigate heat, and has six prominent antennas to send that Wi-Fi 6 signal to every corner of the house. The scaled patterns along with the glossy vanity plate are just the cherries on top, but do watch out for fingerprints though.
Users will be able to determine if the device is working properly with the helpful LEDs on the front, and on the back, the following can be found:
1x USB 3.0 port
4x Gigabit LAN ports
1x Gigabit WAN port
1x Power button
1 x Reset button
1 x WPS on/off button
1 x LED on/off button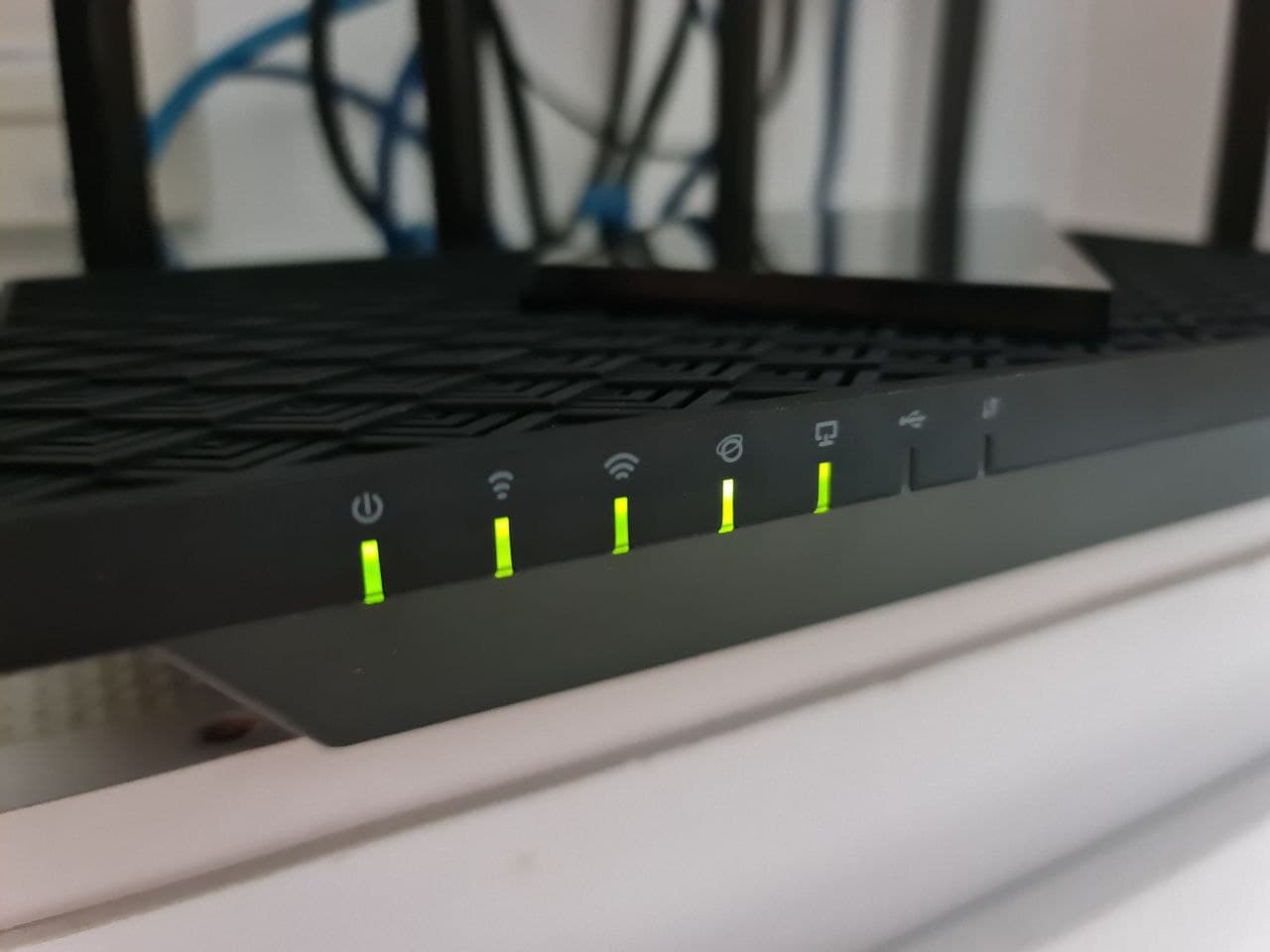 Setting up the Archer AX72 takes little effort, especially if you already have an existing setup. Migrating to the new router just requires making the right LAN/Ethernet connections, powering on the device, and using either your browser or TP-Link's Tether app to finalise your settings.
While using a browser for the setup is pretty much the standard, the Tether app is by no means a step down. The design is definitely made for those used to smartphones, and even for novices doing the setup for the first time, the instructions included will get you up and running in no time.
Another key selling point for the Archer AX72 is its support for the TP-Link OneMesh system. Similar to what other brands are doing, if you are looking to ensure strong coverage throughout a bigger home or even a small office, you can do so easily without high costs.
Just hook up your current network to TP-Link's OneMesh extenders, and you can theoretically enjoy the same high speeds with intelligent connections and easy centralised management via Tether or your browser. Alas, TP-Link didn't send us any extenders, so we were only able to test the AX72 on its own.
Even without tapping on the OneMesh support, the Archer AX72 provides solid Wi-Fi 6 coverage for a space of around 92 sqm with several walls acting as obstacles. Here are some of our results using both Wi-Fi 6 and an Ethernet connection:
Ethernet: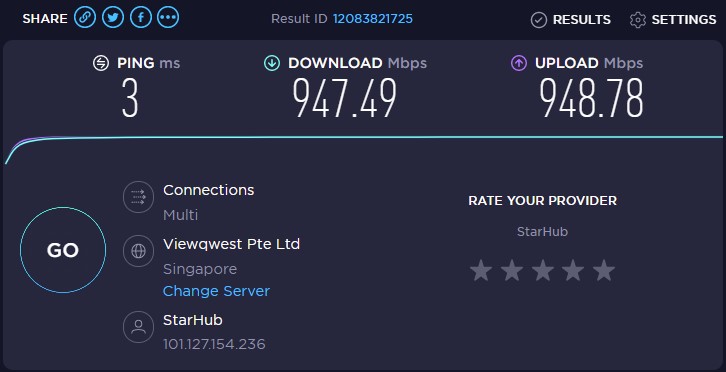 Wi-Fi 6 2.4GHz: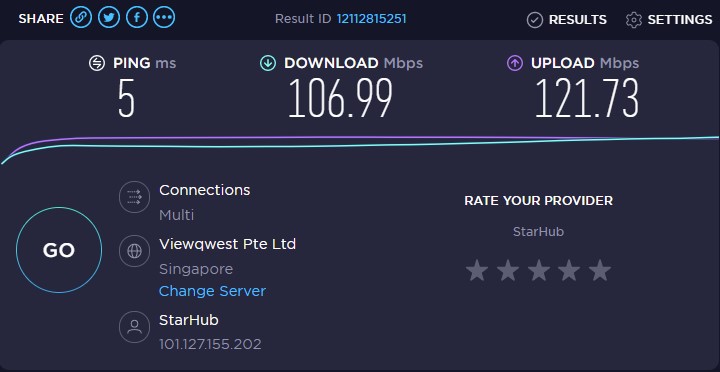 Wi-Fi 6 5.0GHz: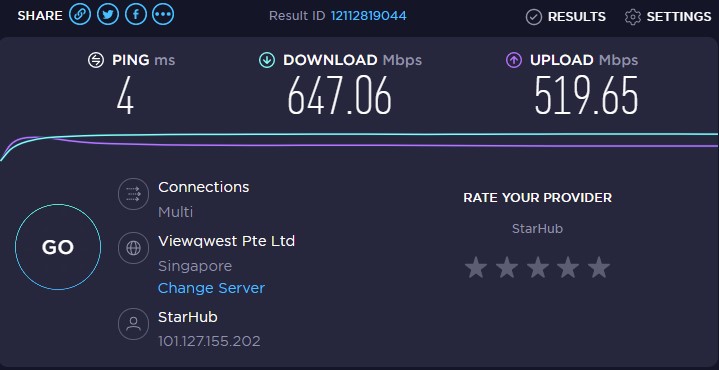 Obviously, performance is at its peak with the Ethernet connection, with close to 1Tbps for both upload and download speeds using Starhub Fibre Broadband. Uploading a 5 GB file onto YouTube was a swift enough affair, taking about 5 to 8 seconds, while downloading a file of the same size takes slightly longer, at 9 to 10 seconds.
As for the Wi-Fi 6 connection, the same YouTube test saw consistent performance of about 500 – 600Mbps for a 9 to 11 seconds upload, while downloads were slower but still impressive, clocking in at about 15 seconds or so. Of course, the performance will vary based on factors outside of your control too.
The Archer AX72 can support up to 24 devices on the 2.4GHz band, and 64 devices for the 5GHz, promising to maintain its good performance thanks to the Orthogonal frequency-division multiple access (OFDMA) and Multi-user, multiple-input, multiple-output (MU-MIMO) technologies which increases transmission efficiency.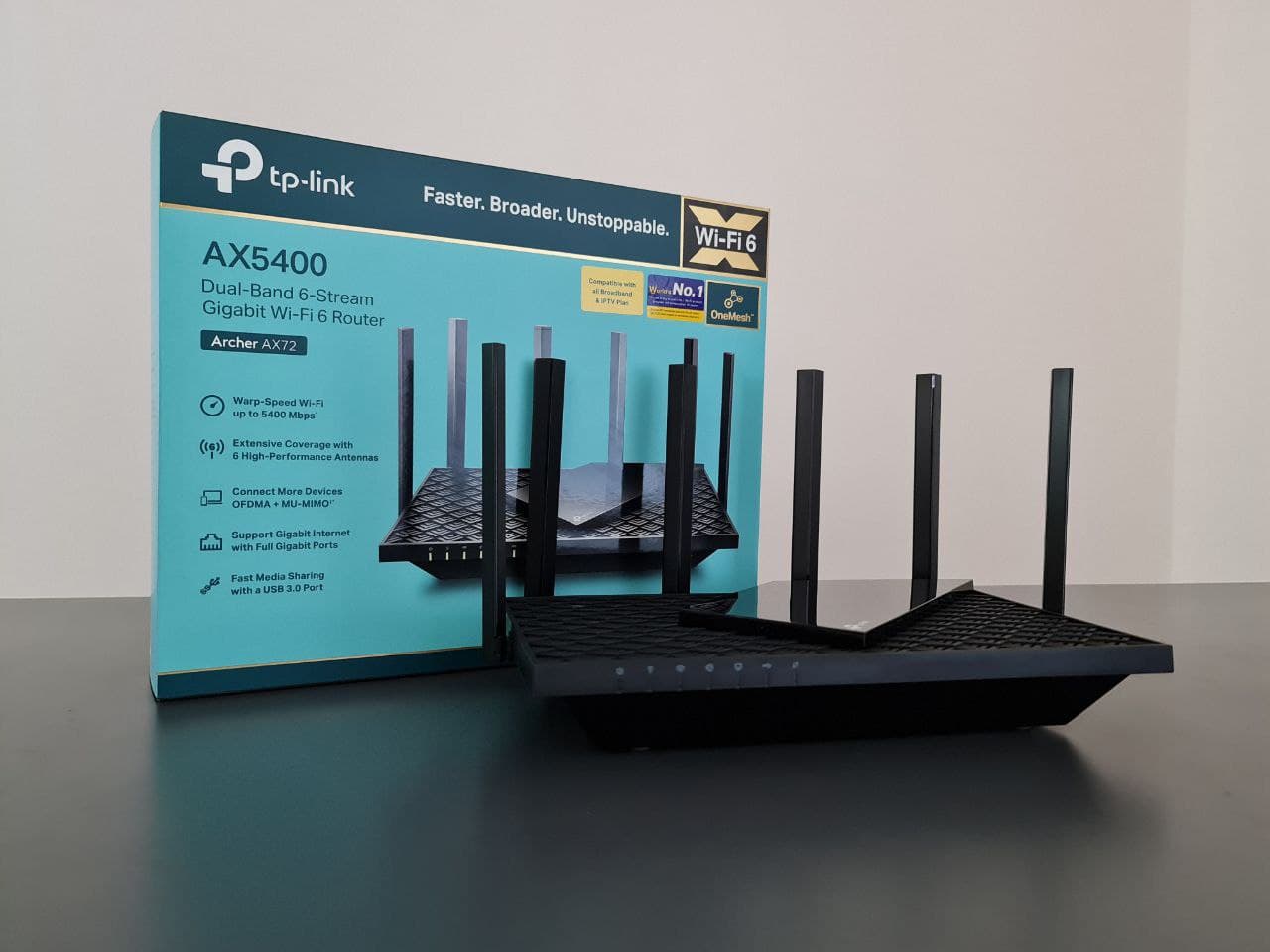 While we were unable to test its capabilities to the maximum, we saw little to no performance dropoff with these Wi-Fi 6 compatible devices connected to the network and streaming or downloading files:
3 x smartphones
2 x laptops
1 x desktop PC
2 x PS5s
1 x Xbox Series X
It would seem TP-Link's claim of drastically improved speeds ring true, particularly when on the 5GHz band, even with multiple devices connected. Additional bells and whistles come in the form of the brand's HomeShield security service, which has both a Basic and Pro tier. The latter brings real-time protection, increased parental controls, professional reports, and more, all for a subscription of S$8.98/month or S$80.98/year. A free 30-day trial is also included.
With more and more devices jumping onto the Wi-Fi 6 bandwagon, the time to upgrade your router is now. The Archer AX72 offers an affordable option for a great product that delivers quite handsomely in performance. The strong coverage and stability, coupled with how easy it is to get set up, make it a great choice for those looking for a hardware refresh without any fancy gimmicks for less than S$200.
GEEK REVIEW SCORE
Summary
Experience the benefits of Wi-Fi 6 in an instant with the help of TP-Link's Archer AX72 router, which provides excellent coverage and promises long-term support from the brand without breaking the bank.
Aesthetics -

8.5/10

Build Quality -

8.5/10

Performance -

9/10

Value -

9/10

Geek Satisfaction -

9/10