I'm a huge fan of puzzle adventure games, and a sucker for pretty visuals. Tiny Thief combines both perfectly to tell its simple yet engaging story of our little Robin Hood-esque hero's adventures through towns, castles and even a pirate ship. Together with his trusty ferret companion, he stands up for the downtrodden people of the kingdom, explores the underworld and vanquishes evil to rescue the kidnapped royal family, which includes a lovely Princess 😉
The story progresses via a series of stages, which we must help our hero use his wit and stealth to complete. Solving the main puzzle in each stage unlocks the next, and although these won't be much of a challenge for seasoned puzzle gamers, I was quite happy to plow my way through, wanting to know what happens next in the captivating tale. The real challenge to me, were the mini puzzles within each stage – cleverly hidden items to uncover, and playing hide-and-seek with my ferret friend. These had me glued to my iPad for hours, tapping on every possible thing to see if it could be interacted with. I admit that for a particularly hard stage, I referred to the in-game stage-by-stage walk-through guide that can only be accessed once every few hours.
Attention to little details is something I appreciate a lot in games, so apart from an engaging story and clever puzzles, what I really loved about Tiny Thief were the delightful animations, music and humour that gave the game its charming personality. I found myself smiling at the little dance, twirl or pose my tiny hero would do at the end of each stage, and the geek in me was pleased when I spotted references to other games hidden in the art.
Maybe it's just me, but in this era of free-to-play that lets you download a game but makes you pay for progress, I appreciate being able to pay upfront for a full game like Tiny Thief and complete it on my terms. I hope there's a sequel! Tiny Thief is easily my favourite mobile game for 2013, and I encourage you to give it a try this holiday season.
Tiny Thief is out on iOS and Android. For those who prefer clicking instead of tapping, the game was recently released for PC and Mac and is available on Steam.
Watch the cute little trailer here:
GEEK REVIEW SCORE
Summary
A charming point-and-click puzzle adventure game for everyone that will keep you entertained throughout. Highly recommended!
Overall
9.2/10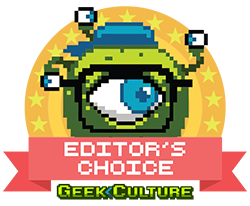 Gameplay -

9.6/10

Story -

8.6/10

Presentation -

9.6/10

Value -

8.8/10
Tsugi played her first DOS game, 'The Faery Tale Adventure' before computers were cool, and never looked back. These days she's a sleep-deficit closet otaku who tries to balance gaming, anime, her cat and 'real life' while finding extra time to waste online.
---

Drop a Facebook comment below!

---