Do we need another place to go for ice cream? Of course we do – because when it comes to Singapore's weather, there's nothing like a cold and creamy dessert to soothe your nerves.
And as Singaporeans, we aren't contented with conventional things like chocolate ice cream cones and vanilla ice cream waffles. Over the years, we've seen countless ice cream parlours offering innovative flavours like honey sea coconut, wasabi and black pepper crab. While some of these concoctions are interestingly tasty, others just turned out weird.
Tucked away at the basement of Katong Shopping Centre, this newly-opened ice cream parlour aptly named The Humble Scoop will make your trip to the Eastern part of Singapore worthwhile. Its selling point? Locally inspired flavours which will bring back fond memories of your childhood. Ice cream flavours often swing between novelty and nostalgia, and the handcrafted ice cream sold here definitely belong to the latter category.
Affordably priced (from S$3.90 for a single scoop), the ice cream flavours range from favourites (Old School Chocolate, Atas Ripple, Black Sesame Paste and Earl Grey Milk Tea) to the more unique creations. We love the Sugar Cane for its refreshing feel and zesty lemon aftertaste. The Guava Sour Plum is also a must-have on a warm day to beat the sweltering heat. If you want something rich and chocolatey, go for the Tak-Kiu Dinosaur.
Talk to the friendly owners of the parlour and they will tell you the inspirations behind the other signature flavours. The epic Cereal Killer is a nostalgic throwback to devouring milk-drenched cereal while watching Saturday morning cartoons, the sweet and fiery Huat Lah is a tribute to Grandma's chilli lime pineapple snack, while the bold In-Kueh-dible brings back fond memories of the salted coconut gratings and gula melaka that accompanied our favourite kuehs.
We take our hats off the tongue-in-cheek and clever names of these flavours.
You can also choose to have your ice cream served with cones or waffles. We had one glorious scoop of the Orh-Bee-Good (pulut hitam, the Nyonya black sticky glutinous rice) with a freshly-made waffle. It's a satisfying take on a beloved Asian dessert – the cool and textured ice cream goes along perfectly with the warm and crispy waffle. We can assure you that this is at least ten times better than eating a combat ration pack of pulut hitam during National Service.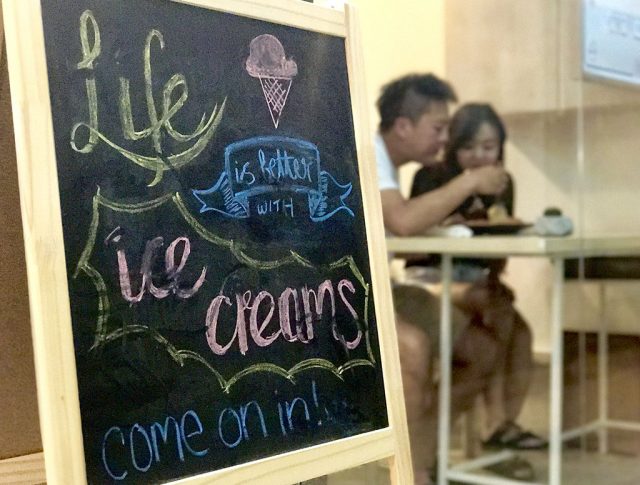 The unpretentious and ahem, humble location of the parlour makes this a nice place for you to truly enjoy ice cream without being distracted by hordes of people taking Instagram photos and videos. Coffee and tea are also available on the menu, with homemade cakes and brownies in the works.
If you are lucky, you may also witness the owners preparing their ice cream.
– the freshest ingredients are used to ensure quality products. We hear that they are testing the recipe for a tau huay (beancurd) flavour and we can't wait to taste it!
There are many eateries along East Coast Road and this is one stop you have to make. It's where you will find the taste of nostalgia. And who says happiness is non-existent? Here, it can be found in a humble scoop of ice cream.
---
Where: Katong Shopping Centre, 865 Mountbatten Road, #B1-92, Singapore 437844.
Opening Hours: Noon to 9.30pm (Tuesdays to Fridays), 11am to 9.30pm (Saturdays and Sundays), closed on Mondays.